Vegan, gluten free, no oil and refined sugar free. Oat cookies filled with ingredients to help nursing moms but delicious enough to be devoured by everyone!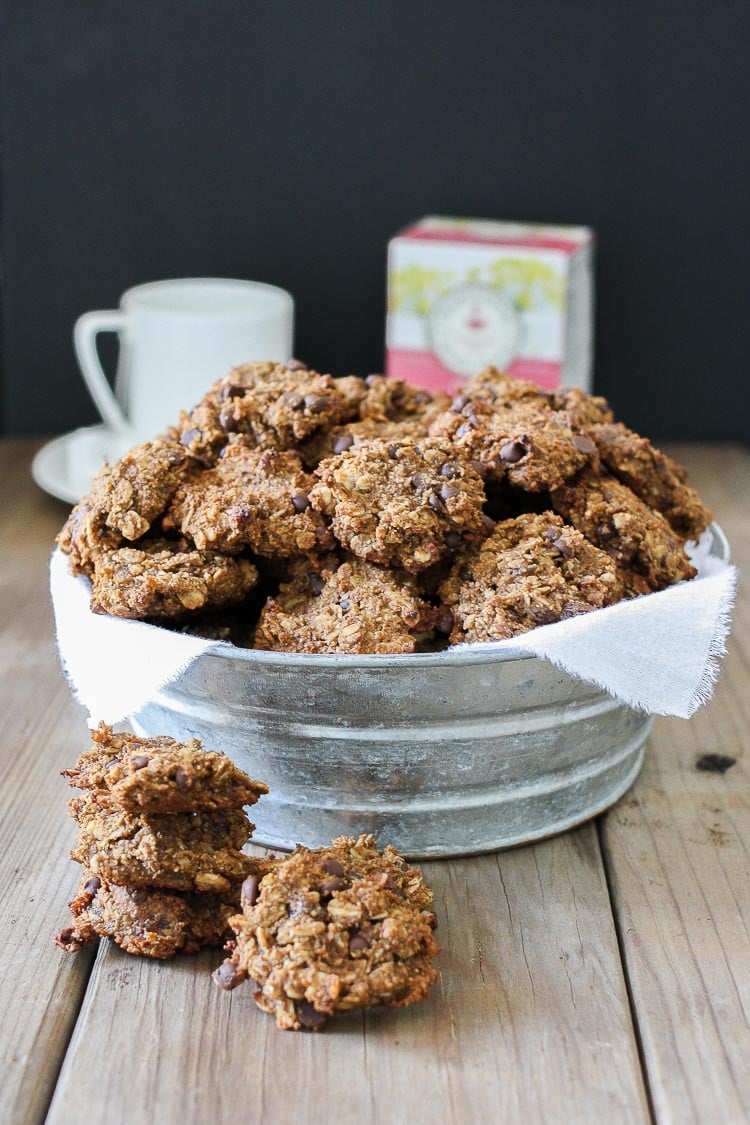 Yes, you read that right...lactation is in the title! Lol. No, these cookies will not make you lactate on first bite. They are simply filled with ingredients that are supposed to be good for breast milk.
As most of you know, I had my 3rd baby boy exactly 3 weeks ago today! He is the first baby I've had since we changed our diet. With my first two boys, I was not able to breastfeed much, almost none with my first, as I never got my milk.
I had a little bit with my second, but no where near enough. So I was very curious to see what would happen this time around. Well, I definitely have some milk! It's not a ton, and I'm not sure how long it will last, but it's there, so I am doing what I can to keep it.
Foods That Help With Nursing
The first thing I did was get online and start to research whole foods that help with milk production. I found a bunch of good resources and spent a good amount of time reading about it.
Basically I learned that, other that staying really hydrated and eating a healthy whole food diet (which I do), some of the nutrients in food that may help with milk supply are iron, protein, and B vitamins.
Also, there are herbs like fenugreek and fennel that help as well. So with all my new info, of course my brain began creating. I had heard about others baking "lactation cookies" in the past, and oat cookies are something I am definitely obsessed with, so I figured it's a perfect reason to create another cookie for the blog! And Mother's Milk tea is a common way to get in some of those lactation promoting herbs, and what goes better with tea than cookies!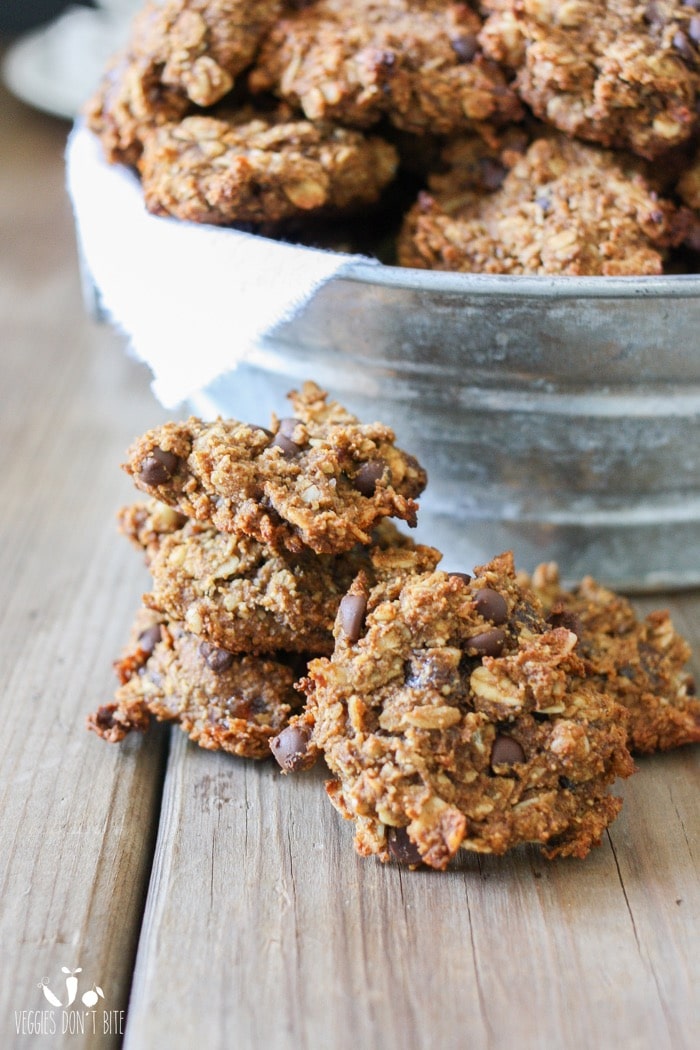 Since I literally had JUST gotten home from the hospital, and being on my feet baking cookies was not in the cards, my amazing wonderful hubby offered to be my "legs" in the kitchen while I stayed on the couch and tried to communicate to him my crazy recipe idea for these new cookies of mine.
He was a rockstar and before I knew it trial 1 was complete! It took 3 trials to get these just right, and just right they sure were! I'm talking deeeeelicous! Every ingredient I used was carefully thought out.
So What's In These Oat Cookies?
They are filled with nutrients, many of which have shown to help contribute to healthy lactation. Here's a list of everything I used that contains loads of goodness like iron, protein, or B vitamins:
oats, almond flour, nutritional yeast, molasses, flax, raisins, macadamia nuts, coconut butter versus oil, and dates versus refined sugar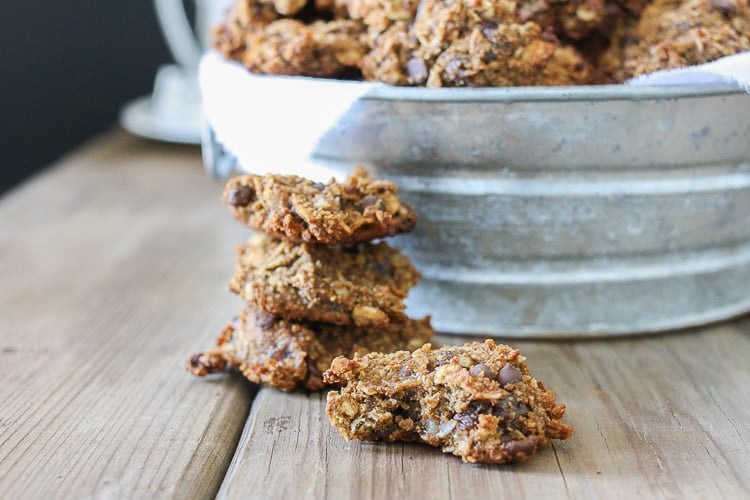 These cookies turned out SO darn good! The texture is soft and chewy with crispy edges. They are not only vegan, but they are made without any refined sugar or oil and are gluten free!
So popping a few in my mouth not only gives me an absolutely delicious and healthy snack, but also feels awesome to know I am doing something to help my milk! And another bonus is that these freeze pretty darn well. I made a huge batch of these oat cookies and keep them in the freezer. Then I take a few out every morning and eat them throughout the day. They keep great!
Keep in mind that I am not certified to promise any of this will help increase your milk, and all my info has come from resources online that I read to help me, but as I see it, eating some healthy cookies is not a bad idea in general!
Plus, these are filled with healthy ingredients and nutrients, so breastfeeding or not they are a great snack. My two boys and my husband love them so they serve our whole family well!
If you try making my oat cookies, make sure to let me know! I love hearing your feedback on my recipes. You can also tag me on Instagram at veggiesdontbite #veggiesdontbite so I don't miss it! Hope you enjoy!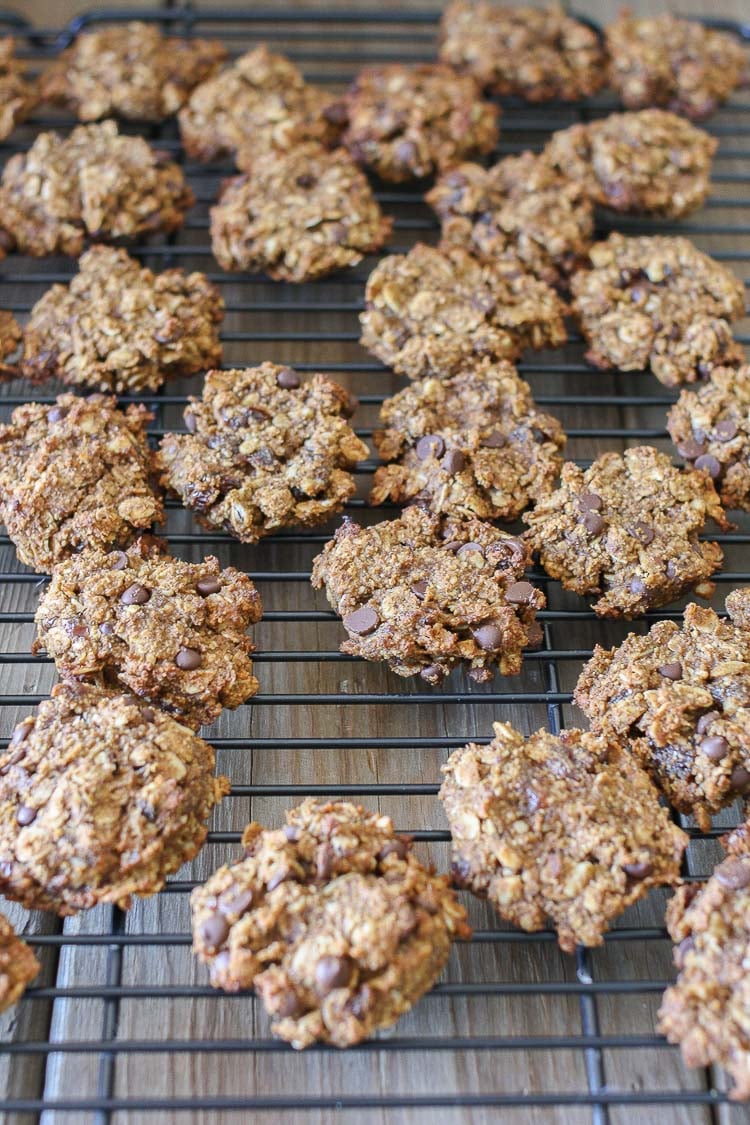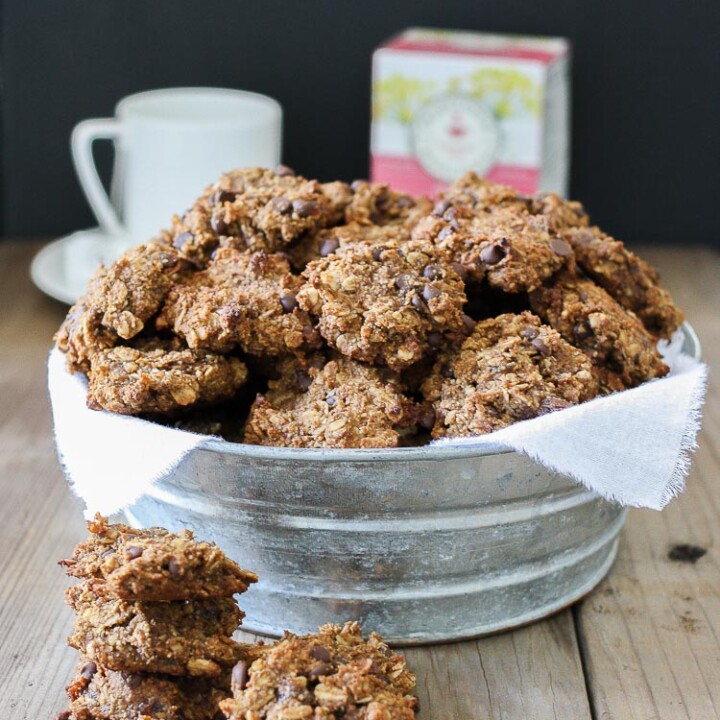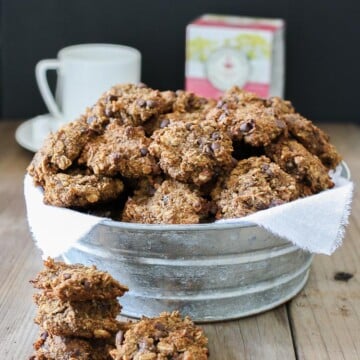 Vegan Chocolate Chip Raisin Macadamia Nut Oat Lactation Cookies
Vegan, gluten free, no oil and free of refined sugar. A cookie filled with ingredients to help nursing moms but delicious enough to be devoured by everyone!
Ingredients
Add ins
1 cup chopped raisins
1 cup chopped macadamia nuts
1 cup dark chocolate pieces or vegan chocolate chips optional for sweeter cookie
Instructions
Preheat oven to 350°F (180°C). Mix 2 tablespoons ground flaxseed with 6 tablespoons water to make flax eggs and set aside.

Mix together the oats, flours, baking soda, nutritional yeast, cinnamon and salt in a bowl and set aside. Make sure you break up any clumps, using a whisk works well.

Add the coconut butter, date paste, molasses, flax eggs and vanilla into a large bowl and using a stand or hand mixer, beat until mixed well.

Using the paddle attachment on your stand mixer or a spoon, mix in dry ingredients putting in half first, then the rest. Mix until just combined. Add in raisins, macadamia nuts, and chocolate chips if using. Mix together well.

Using a spoon or small ice cream scooper, drop balls of dough on parchment lined cookie sheets. Pat down flat with your fingers. You want them about 2 inches in diameter.

Bake at 350°F (180°C) for 13-15 minutes or until they become golden brown at the edges. Cookies will harden a bit more as they cool.
Notes
My date paste recipe may make a little over one cup, depending on how big your dates are.
I use the whole thing in this cookie recipe. These also keep well in the freezer. I make a big batch to store and then take a few out each morning. They keep great!
Recipe by Veggies Don't Bite, visit our site for more great plant-based recipes.
Nutrition
Calories: 92kcalCarbohydrates: 10gProtein: 1gFat: 5gSaturated Fat: 1gCholesterol: 0mgSodium: 43mgPotassium: 98mgFiber: 1gSugar: 4gVitamin C: 0.2mgCalcium: 23mgIron: 0.6mg
Nutrition and metric information should be considered an estimate.
Never miss a recipe!
Sign up here and get a FREE quick and easy meal guide!
For all you breastfeeding moms out there, especially for those of you not in a place to make your own cookies, I found these awesome bars that have been created by a certified lactation consultant.
They are called Boobie Bars, how cute is that?! You can order them online here. These also have ingredients that have shown to help with lactation, but they are more "official" because they have research behind them...I ordered some to try, especially for those weeks I'm booked with awesome recipes to create for you all and making cookies just isn't in the cards. Bonus is that they are vegan and they have a gluten free option! Can't wait to get them!