Vegan colcannon potatoes are a delicious way to get in greens! This recipe is just as rich and creamy as the original.
If you love mashed potatoes and you love getting more veggies into your diet, then this is the perfect recipe for you. A traditional Irish recipe you can eat year round!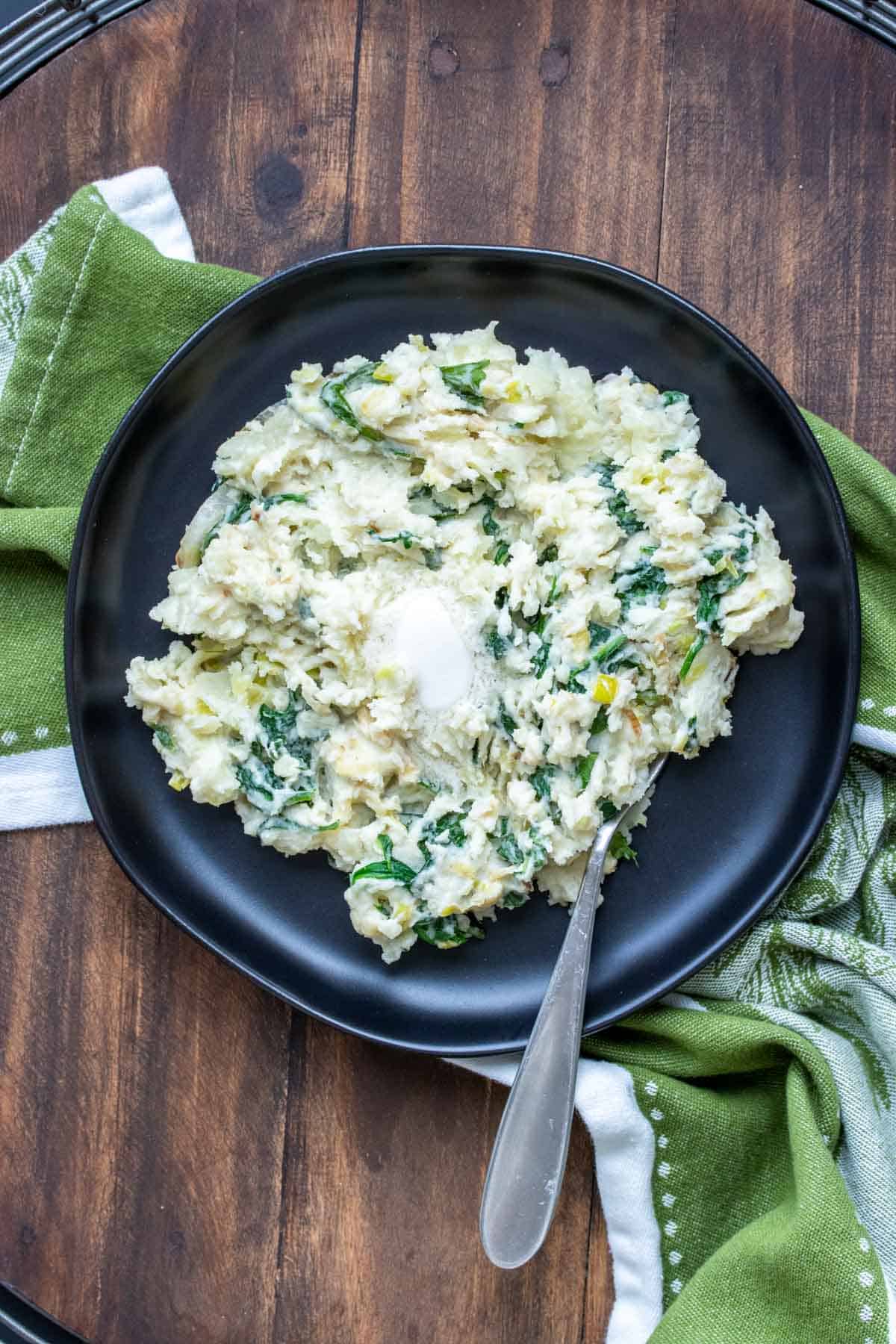 This post was originally published on January 21, 2021.
My vegan mashed potatoes is one of our top go to recipes, we love potatoes! So adding in some greens for an extra veggie dose makes these vegan colcannon potatoes the perfect side dish.
Ingredients
Colcannon, or Irish Mashed Potatoes are generally served around St. Patrick's Day here in the United Sates due to their Irish heritage.
In Ireland, there's an old Halloween tradition where a variety of items like rings and thimbles are hidden inside the dish. Personally, I like serving this easy and flavorful dish year round- thimble excluded!
Just a handful of wholesome plant based items are needed to create this creamy masterpiece. Here's what you'll need:
Potatoes
Leek
Garlic
Kale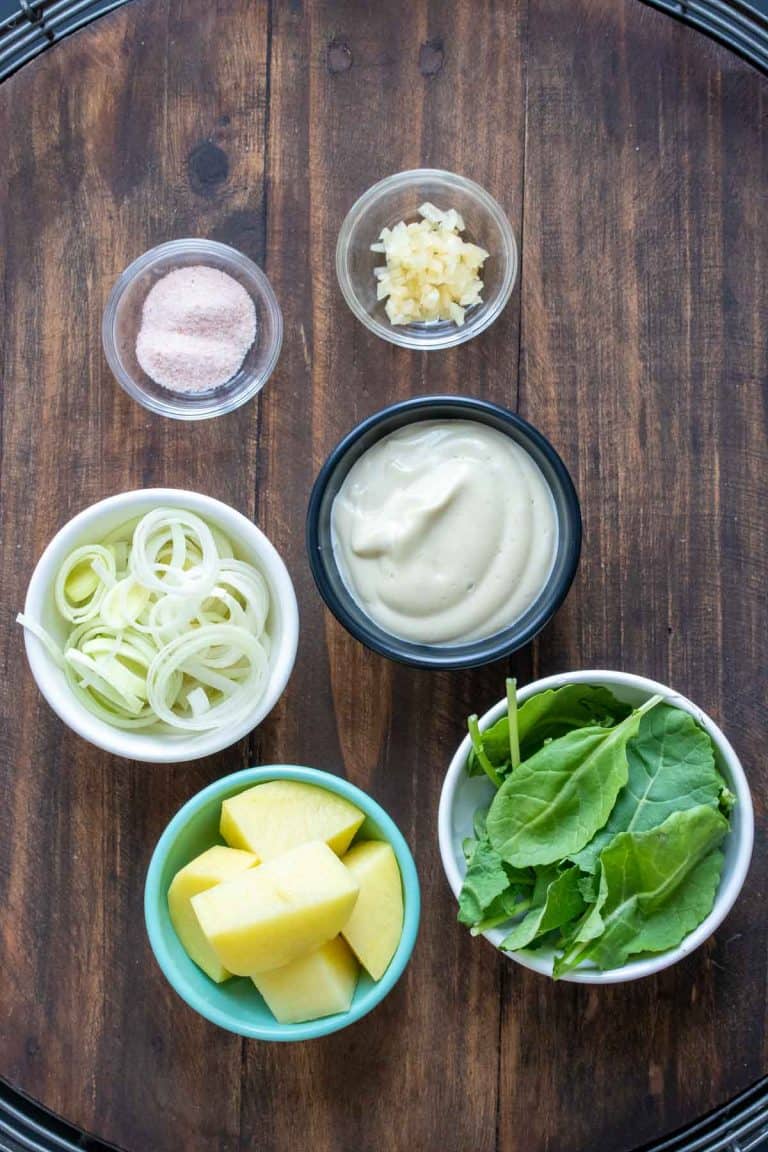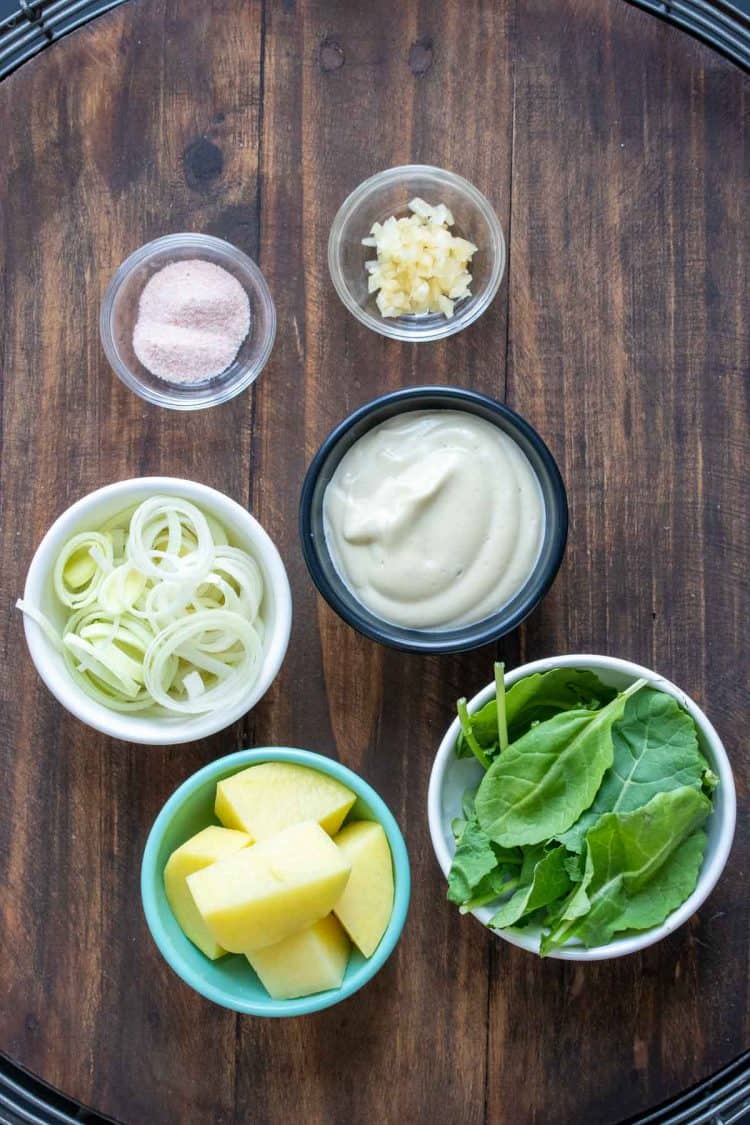 How To Make Vegan Colcannon Potatoes
The best dishes are the easiest dishes, and this one is pretty simple! Follow these steps to deliciousness:
Sauté the leek, garlic, and kale.
Mix the cashew cream and greens into mashed potatoes.
Enjoy!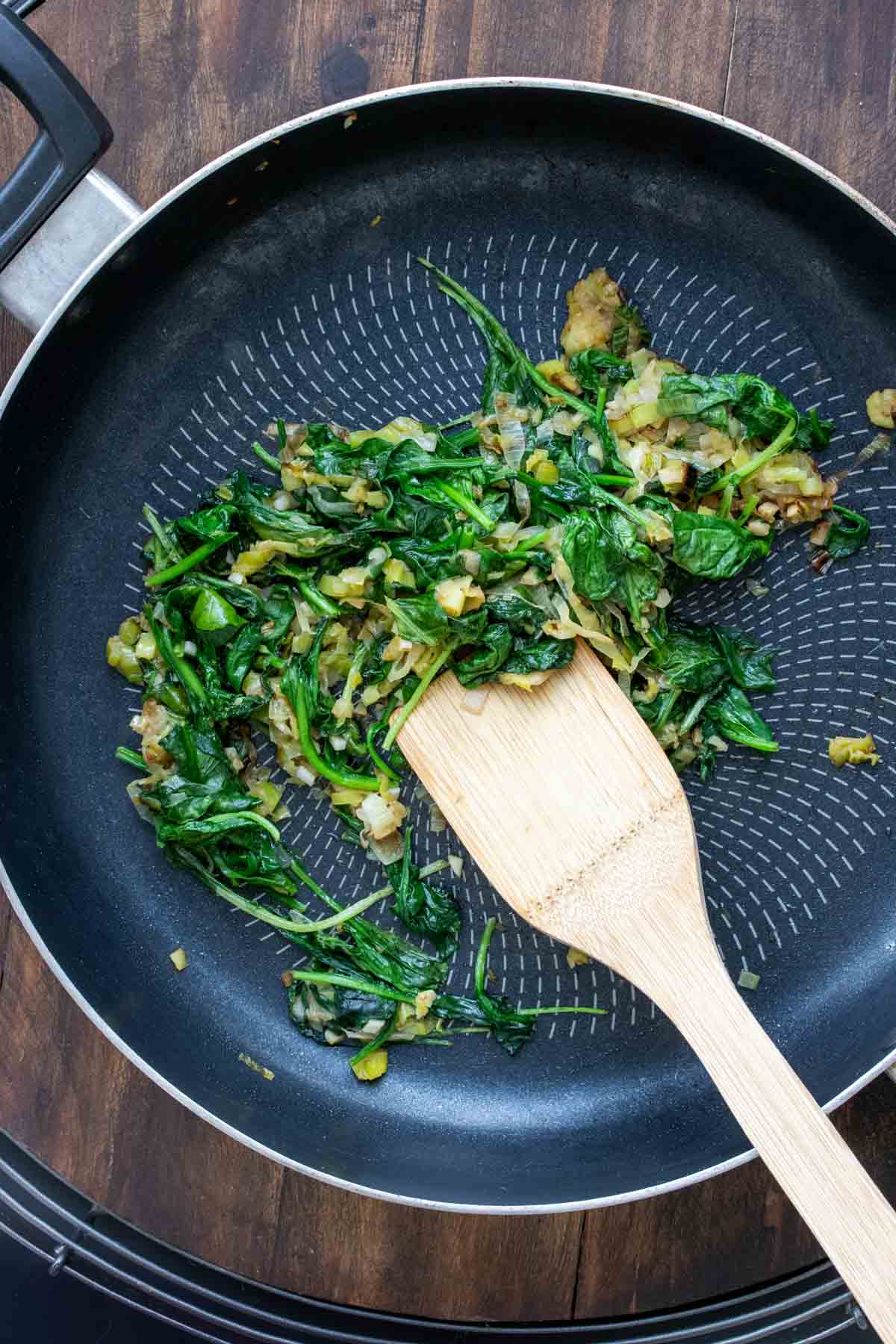 Flavor Tips
This vegan colcannon recipe is great as is, but since variety is the spice of life, here are some options for you:
Mix in vegan parmesan while you're mixing everything together.
Swap out the kale for any other greens, like chard, cabbage, or spinach.
You can use coconut cream instead of the cashew cream, which will add a little coconut flavor.
Add in some coconut bacon for extra flavor and texture.
What to Serve With Colcannon
Traditionally colcannon is served with bangers (sausages), corned beef, short ribs, etc. We really love them with any of the plant based recipes:
Preparation Tips
For the best vegan Irish mashed potatoes, keep the following suggestions in mind:
Russet potatoes work best for their fluffy texture, but you can use Yukon gold instead, or in a pinch any other potato. It will change the flavor and feel, but will still be delicious!
If you don't have leeks, green onions will work as a substitute.
To mash the potatoes, peel and chop them, then boil until they're tender. Immediately drain them and carefully mash to your desired smoothness. (What can I say, some people like lumps!)
Make sure to salt to taste, depending on the ingredients used you may not need all of it.
Make Ahead and Storage Tips
You can make vegan colcannon ahead of time, just let it cool completely before storing.
Keep leftovers in an airtight container in the refrigerator for up to a 3-4 days. However, the longer it sits the more likely the texture is to change.
You can also freeze Colcannon! Store in an airtight freezer safe container for up to three months.

Just make sure to defrost in the refrigerator overnight before reheating.

Reheat in the microwave or oven, just make sure to use a microwave or oven safe dish!
The made ahead or leftover Colcannon may dry out a little between storage and reheating. If this happens, add a little bit of warm veggie broth, cashew cream, or coconut cream to help bring back its glory.
Common Questions
What is Colcannon?
Traditional Colcannon is made from potatoes mashed with dairy, and mixed with kale or cabbage. This version emulates the creamy texture but with only using plant based ingredients.
Can you reheat Colcannon?
You sure can! Use either your microwave or oven. This may dry out the potatoes a little, use the tips above to prevent this!
Can I freeze Colcannon?
Yes you can! Just make sure it's cooled completely and seal tightly in a freezer safe container. It should keep for up to three months.
More Vegan Side Dishes
So many vegan recipes are versatile and can stand alone as a main dish or pair perfectly with other dishes as a side. Check out these other plant based recipes for meal inspiration: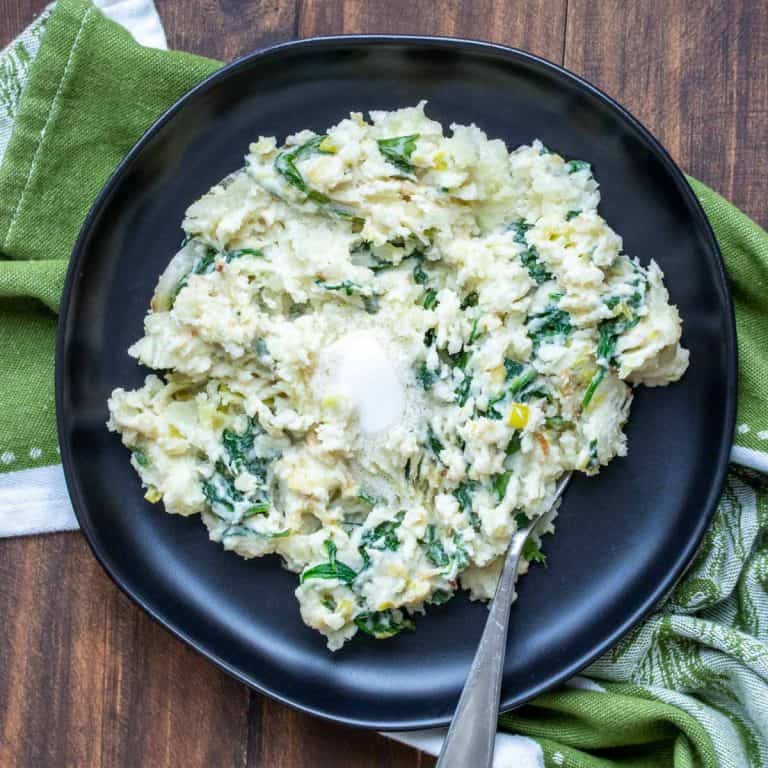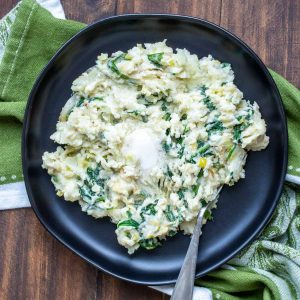 Vegan Colcannon Potatoes
Vegan colcannon potatoes are a delicious way to get in greens! This recipe is just as rich and creamy as the original.
Ingredients
1 ½ pounds potatoes , I used russet (see note)
1 leek , sliced white parts only (see note)
1 teaspoon sea salt , adjust depending on salt in cashew cream and parmesan
Drizzle of your favorite oil to sauté , or broth if oil free
2 cloves garlic , chopped
3 cups chopped kale , see note
½ cup cashew cream , see note
Vegan parmesan , optional
Instructions
Peel and cut the potatoes into pieces. Put them in a pot and cover them with water. Boil until soft, about 15 minutes.

Meanwhile, sauté the leeks and salt until soft. About 5 minutes.

Add the garlic and sauté another minute. Then add the kale and cook for 2-3 minutes until wilted.

Once the potatoes are done, drain and put them in a bowl. Mash them until smooth.

Add in the kale mixture and the cashew cream (and parmesan if using). Mix until combined. Add more salt if needed.

Serve!
Notes
I like the fluffiness russet potatoes give but Yukon gold work well too. You can use any potato you prefer however.
You can sub in green onions as well.
You can sub in any green you love like chard or cabbage too.
If you don't mind the flavor you can use coconut cream for a quick add in. You will need more salt for this option
Recipe by Veggies Don't Bite, visit our site for more great plant-based recipes.
Nutrition
Calories: 64kcalCarbohydrates: 9gProtein: 3gFat: 3gSaturated Fat: 1gSodium: 552mgPotassium: 308mgFiber: 1gSugar: 1gVitamin A: 5391IUVitamin C: 63mgCalcium: 91mgIron: 1mg
Nutrition and metric information should be considered an estimate.
Never miss a recipe!
Sign up here and get a FREE quick and easy meal guide!