Vegan cream cheese frosting that's so ultra rich and smooth, you won't believe it's made with whole food ingredients and no dairy!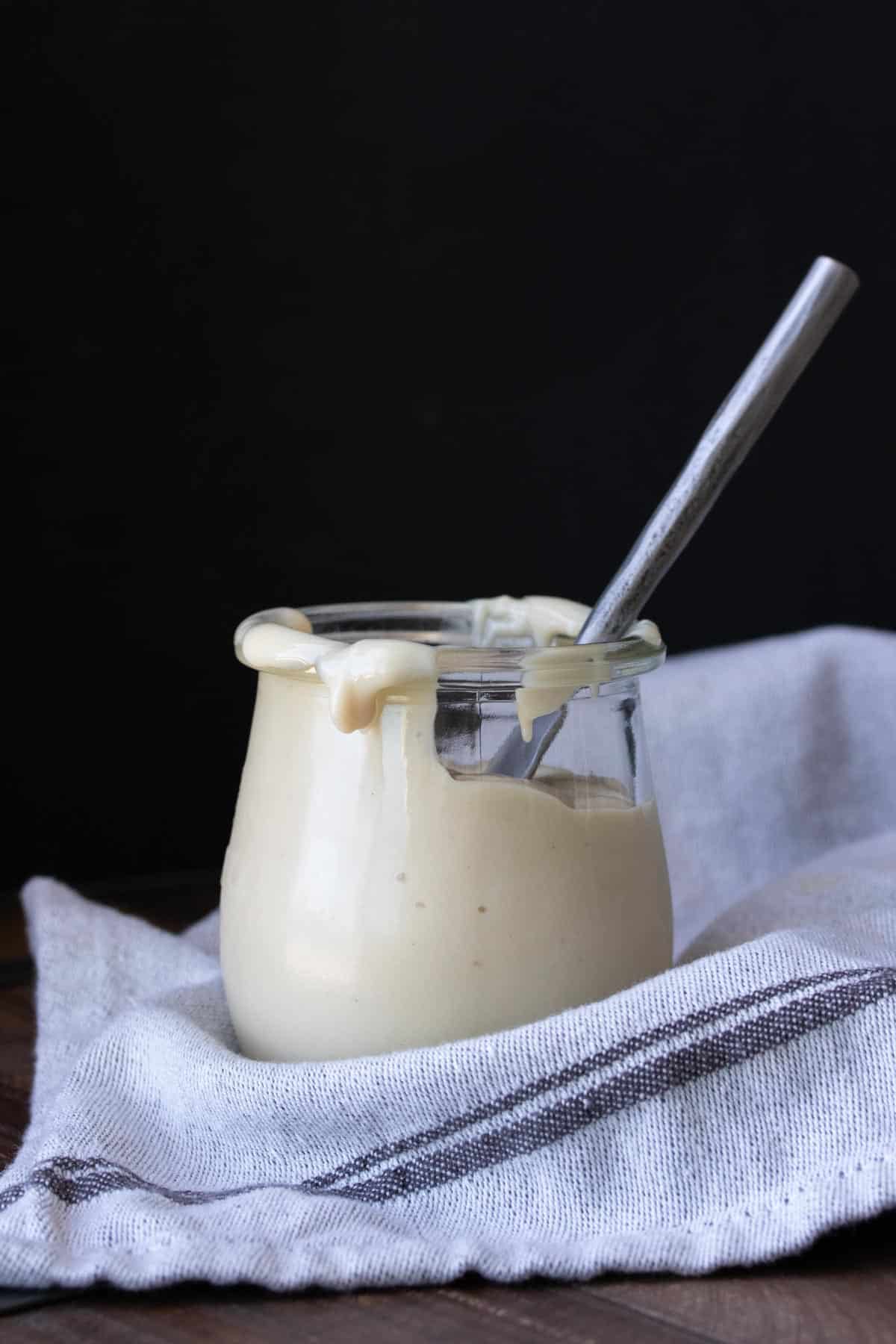 This post was originally published on September 12, 2019.
I have been putting this vegan frosting recipe on just about everything. It's tangy sweetness is super addicting and I can't get enough! And it's made with whole food ingredients instead of processed dairy free alternatives, which makes it even better.
Most of the vegan cream cheese frosting recipes I have seen use store bought vegan cream cheese as a base, or really just don't have that sweet tang I love. But when my husband took the first bite of this frosting, I think I saw rainbows come out of his eyes. Legit.
Ingredients
Unlike other frosting recipes, cream cheese is not included at all because well, basically you're making it yourself! Here's what you need:
Cane sugar
Lime juice
Distilled white vinegar
Coconut cream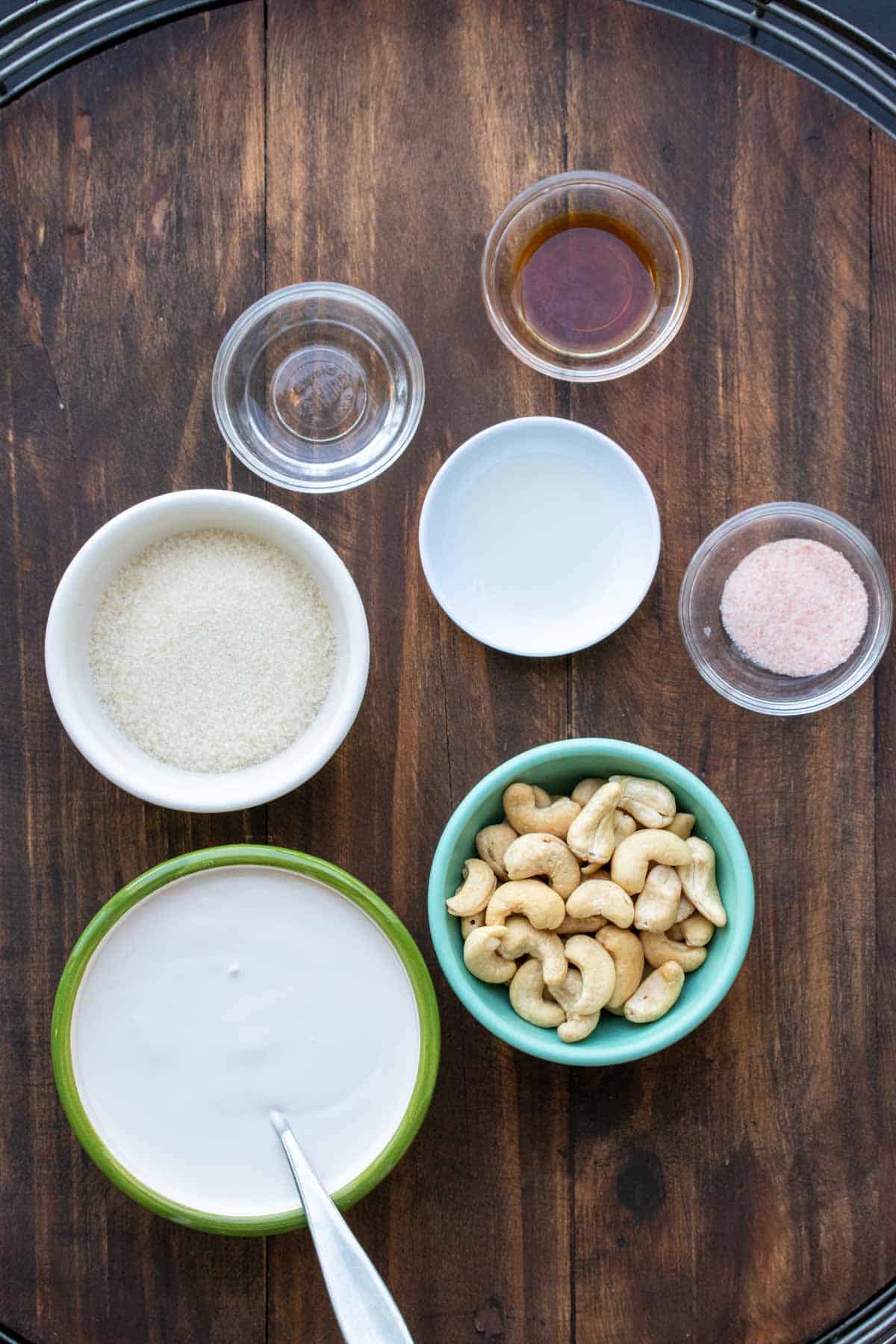 How To Make Vegan Cream Cheese Frosting
Making your own vegan frosting is a pretty simple process, it just takes a little patience waiting for it to set! Here's what to do:
Blend everything in a high speed blender.
If you don't have a high speed blender, you can use a food processor, but the consistency won't be as smooth.
Transfer to an airtight container and refrigerate overnight to thicken.
Use on your favorite treats!
Flavor suggestions
This vegan cream cheese frosting is fantastic all on its own, but it's also fun to give it a little extra pizazz. Experiment with these flavor additions:
Lemon or orange zest
Cinnamon
Cacao powder
Almond extract
Mint
Pumpkin Spice
Serving suggestions
Resist the urge to eat this all up with a spoon! Instead, spread all over your favorite goodies or serve as a dip with fruit! Here's a few ideas of how to use it: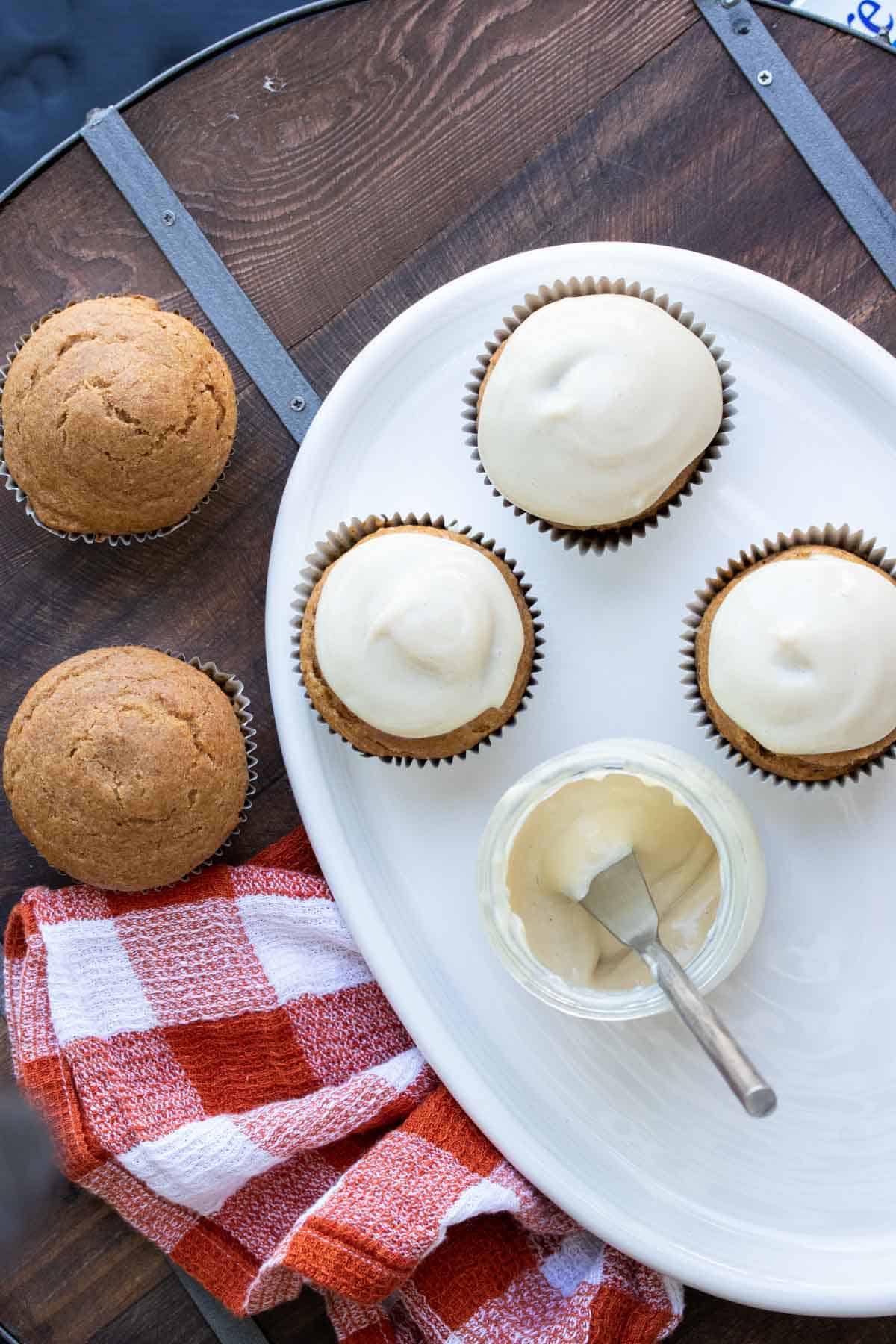 Decorating tips
I'm just going to put it out there...I should be the poster child for Pinterest fails. Really. So I'm not exactly one to give you decorating advice, however I am really good at easy tips that even I can't screw up!
Make sure you refrigerate this, or even freeze it a bit to get it nice and firm.
I like to use a spoon and simply drop a spoonful on the top of the cupcake and use the back of the spoon to smooth it out.
You can use a piping bag to get a little fancy too!
I love these vegan sprinkles because they add a pop of color and they are naturally colored instead of using synthetic dyes.
You can shave chocolate over it for another easy contrast.
When frosting, you can cover the whole top, or just do the center and look hip and fancy!
Preparation tips
To make the smoothest and most delicious Vegan Cream Cheese Frosting ever, follow these suggestions:
As mentioned above, a high speed blender is your best bet for the absolute silkiest frosting. However, you can get by with a food processor, just make sure the cashews have been soaked.
Soak the cashews overnight, it is essential to the recipe no matter what method you use. If you forget, you can boil them for 30 minutes.
When using a high speed blender, use the tamper tool at first and pulse until the ingredients are moving along. Once they are, take out the tamper and blend until your desired consistency.
Distilled white vinegar is the preferred vinegar to use. You can substitute for apple cider vinegar but you won't get as much of that classic tang.
Storing tips
Because this uses coconut cream, it does need to be refrigerated. Avoid leaving it out at room temperature for more than 2 hours.
This frosting will keep in the refrigerator for 7-10 days.
Store sealed well in an airtight glass container to keep it from drying out and to preserve the best flavor.
You can also store in a freezer safe container for up to three months, just make sure to leave a little room for expansion.
Common Questions
Does vegan frosting need to be refrigerated?
Because vegan frosting does not contain any real dairy, it can be left out much longer than the dairy variety. However if it is warm, this frosting will melt a bit so it is best for it to be stored in the refrigerator.
How long does cream cheese frosting last?
If you have any tastebuds, this won't last long!! But it is still good for about 7-10 days. The flavor gets deeper as the days go on, so even after a week this vegan frosting was delicious!
How do you make vegan cream cheese frosting from scratch?
Gather all of your ingredients and blend them in a high speed blender until smooth, then refrigerate to thicken!
What is a good substitute for cream cheese frosting?
It depends on the reason you're looking to avoid it. If it's the dairy, this recipe is perfect as you still get to enjoy that creamy taste! If you don't like the taste, try using Vegan Whipped Cream instead for a lighter flavor.
More Vegan Recipes
If you like making your own whole food, plant based versions of your favorite foods as much as I do, check out these other easy to make recipes: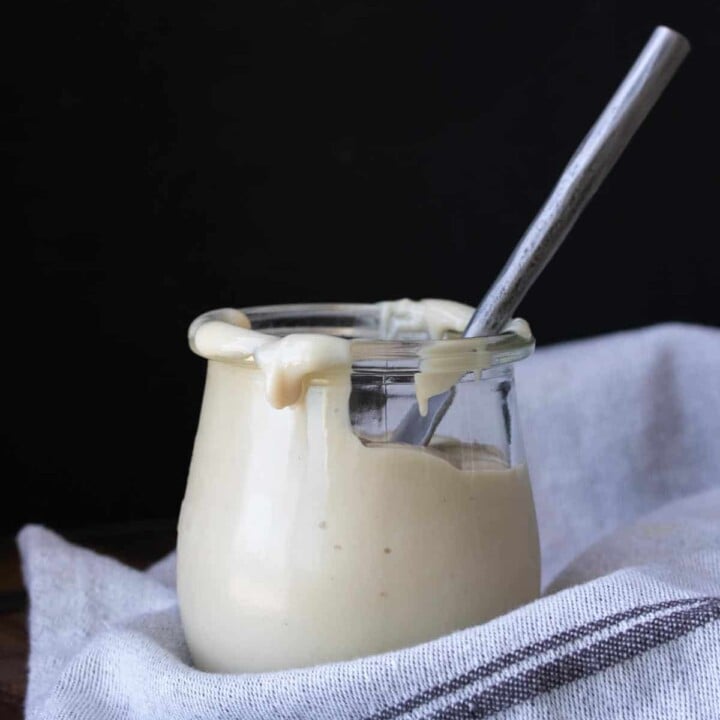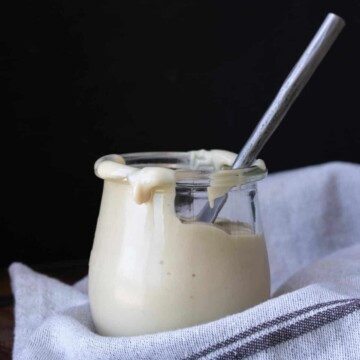 Healthy Vegan Cream Cheese Frosting Recipe
This vegan cream cheese frosting recipe is homemade so healthier than the store bought alternative. It's easy and perfect for any use!
Ingredients
1 cup raw cashews , soaked overnight or at least 6 hours
5 tablespoons cane sugar
1 tablespoon lime juice
1 tablespoon distilled white vinegar
1 tablespoon coconut cream
½ teaspoon vanilla extract
¼ teaspoon sea salt
Instructions
Put everything into a high speed blender. Using the tamper tool slowly begin to pulse until the ingredients blend. This will take some effort and time, but be patient. Eventually the heat from the blender will begin to move everything and blend it into an ultra creamy consistency.

1 cup raw cashews, 5 tablespoons cane sugar, 1 tablespoon lime juice, 1 tablespoon distilled white vinegar, 1 tablespoon coconut cream, ½ teaspoon vanilla extract, ¼ teaspoon sea salt

Put in an airtight container and allow to set in the fridge overnight. It will firm up. For an even firmer consistency put in the freezer.

If you do not have a high spend blender, this can be made in a food processor or regular blender. It won't get as smooth as with a high speed one, but it will eventually smooth out enough.
Notes
Make sure you soak the cashews. It's really important for the texture and flavor of this recipe. If you forget you can boil them for 30 minutes.
If you try and sub with apple cider vinegar, you won't get as much of a tang.
This makes 1 ½ cups of frosting. Serving size is 2 tablespoons.
Recipe by Veggies Don't Bite, visit our site for more great plant-based recipes.
Nutrition
Calories: 82kcalCarbohydrates: 8gProtein: 2gFat: 5gSaturated Fat: 1gSodium: 45mgPotassium: 73mgFiber: 1gSugar: 6gVitamin A: 1IUVitamin C: 1mgCalcium: 4mgIron: 1mg
Nutrition and metric information should be considered an estimate.
Never miss a recipe!
Sign up here and get a FREE quick and easy meal guide!