There is no reason you can only eat falafel in ball form! This vegan falafel burger is the perfect way to switch up your burger game. Baked and delicious!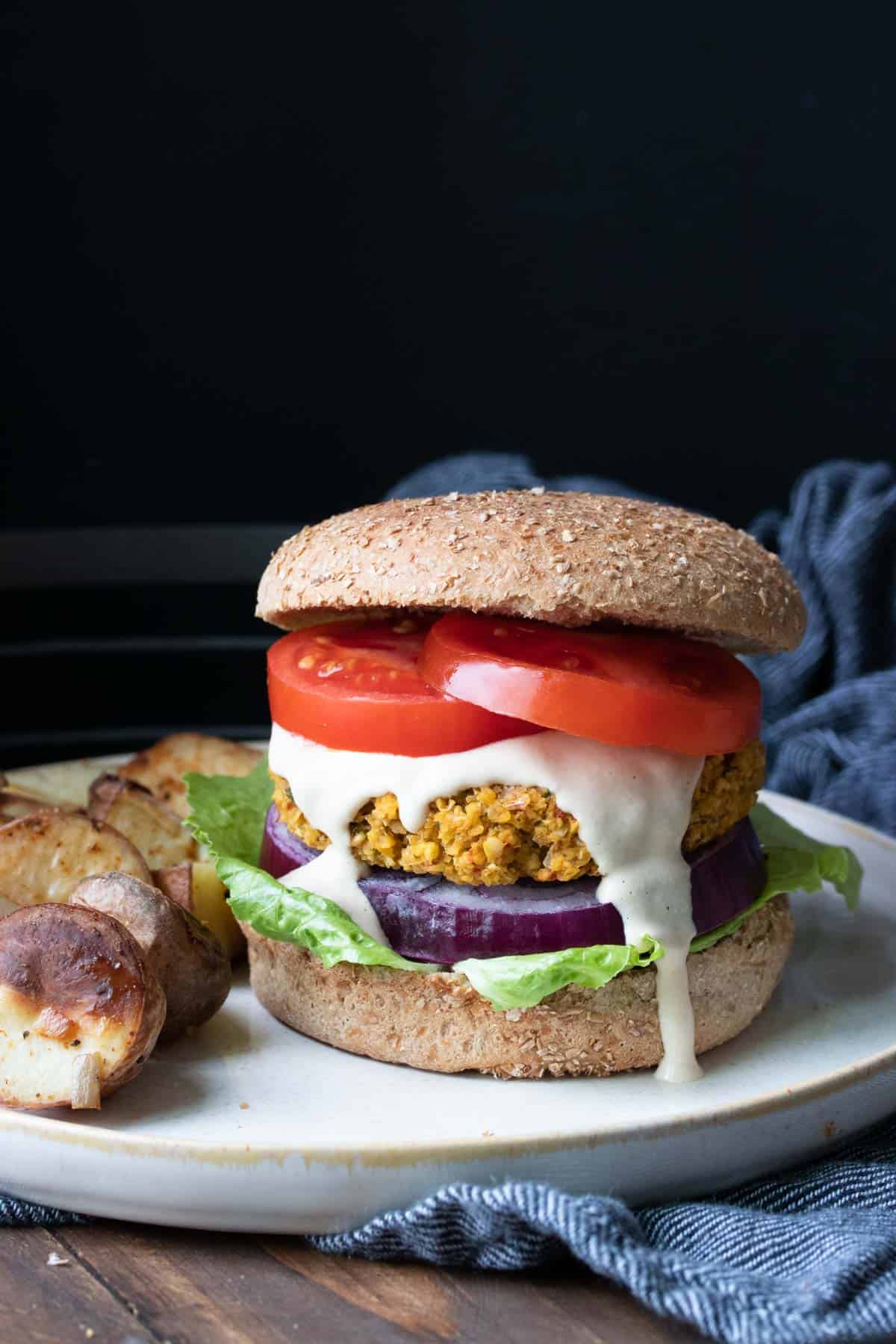 We love falafel but sometimes we need to switch it up so it doesn't get boring. So I decided to change up the style and got this burger piled high with all the things on the dinner table with success!
Falafel Basics
Traditionally falafel are round shaped balls of ground chickpeas that are fried to gain that crispy outside texture. They are served in pitas, over salads, and as a wrap.
You can smother them with tahini sauce or tzatziki and top them with anything you love.
So I basically took the basic falafel recipe on this website, added a little bit to the recipe and reshaped it into burger form!
Ingredients
The base of these falafel burgers is very similar to my regular falafel recipe, with a few ingredients switched up or added:
Chickpeas (I use dried for the best texture)
Red onion
Cilantro (you can sub parsley if you must)
Red pepper
Garlic
Starch
Cumin
Salt
How to Make a Falafel Burger
Most of the time put into this meal is the baking that the oven does. Human effort is pretty low, making this a great low energy meal! Here's how to do it:
Add ingredients into a food processor and pulse until crumbled and the mixture sticks together.
Shape into patties and put on a cookie sheet lined with parchment.
Bake.
Top with all your favorites!
Serving suggestions
You can serve these burgers on anything you prefer. It's great to mix it up so you can keep it exciting. Anything goes, but here are our favorite ways we've eaten these:
On a bun
In a pita
On sliced bread
In lettuce wraps
In a tortilla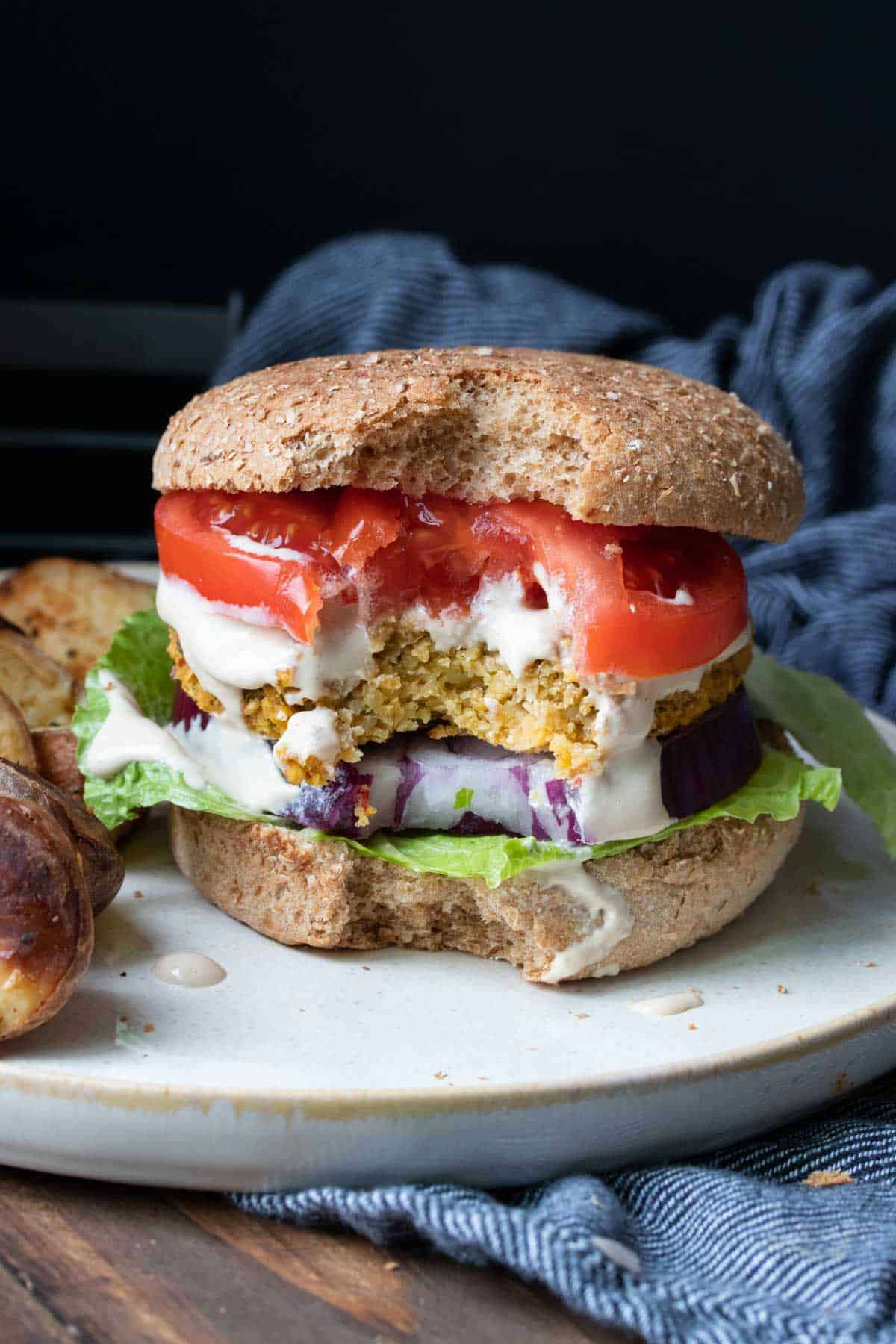 Topping ideas
Because this is a burger, and we all have different tastes, you can switch this up any way you want. The topping ideas are endless! These are some of our favorites:
Lettuce
Tomato
Red onion
Jalapeños
Nacho slices
Cucumber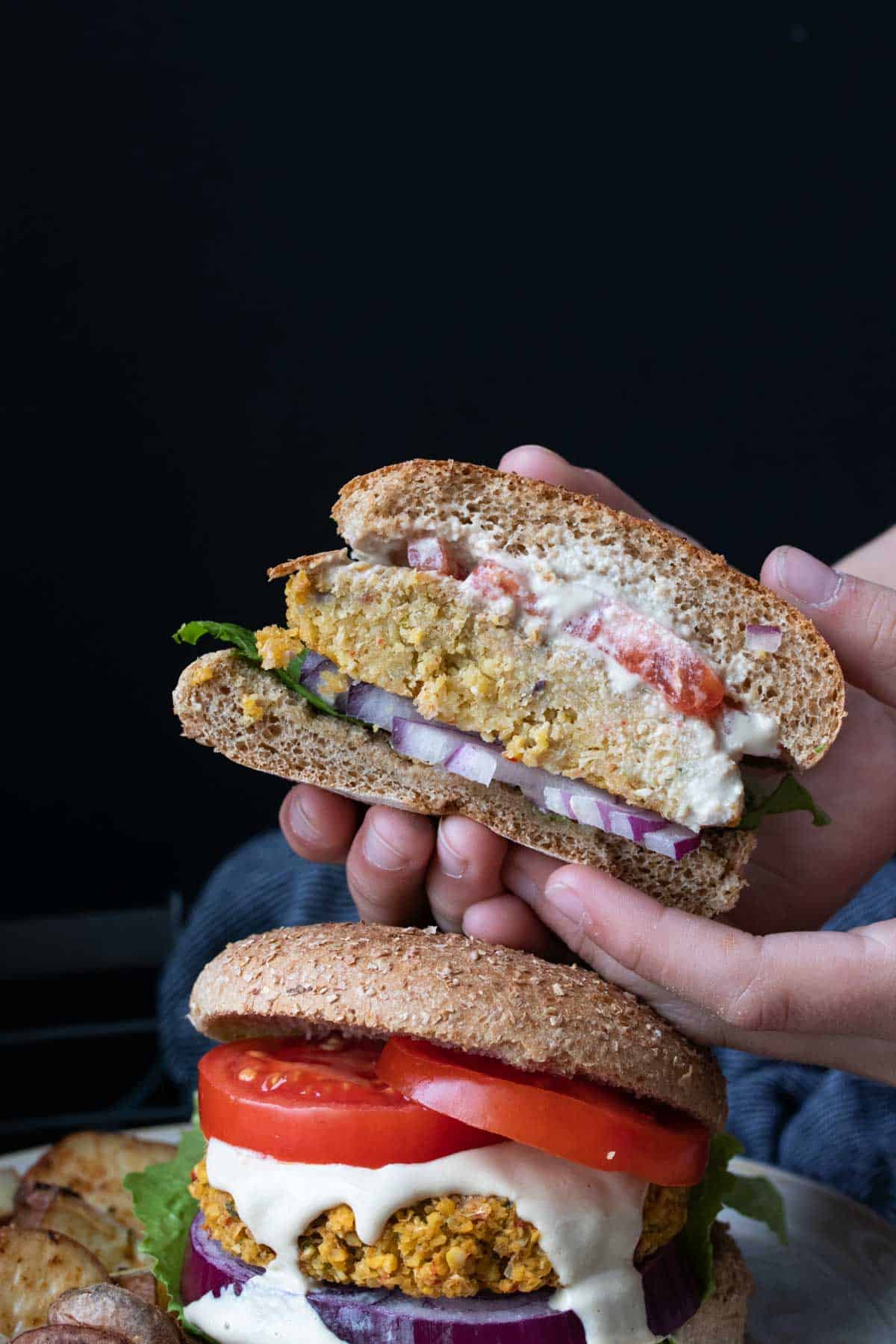 Optional sides
While this falafel burger is awesome all on it's own, adding sides makes for a delicious all around meal. Especially if your sides add extra veggies! Here are some of our go-to recipes:
Tips and Tricks
This is a pretty full proof recipe, but here is some info to help you along the way!
Make sure to drain the chickpeas well before adding to the food processor. Extra water will make the filling thinner.
When blending the filling, you want a medium sized crumble. If they are too large, the mix won't stick. If they are too small, you'll get hummus.
Check to see if the mixture sticks together before you stop blending. If it doesn't, it needs to be blended more.
When shaping, make a large ball, then flatten a bit in your hands. Place on the parchment and flatten a little more. Press the mixture gently.
These are best baked on parchment so they get a nice crisp on both side.
Flip carefully, if they crack at all just shape back into place with the spatula.
Common Questions
What does a falafel burger taste like?
The main ingredient in falafel is chickpeas and since those are mild in flavor, most of the taste comes from the other ingredients used. The spices and seasonings are what gives falafel their signature taste.

This falafel burger has a fresh garlicky taste, with a little earthiness from the dried chickpeas and cumin. The texture is grainy with a chew, almost like a meatball.
How do you store falafel burgers?
If you make the mixture and don't plan to use it all, store it uncooked in an airtight container in the fridge. Then cook more burgers the next day as you need them.

If the burgers are already cooked, I like to seal them with plastic wrap, then put them in an air tight container.
Can you freeze a falafel burger?
Yes! Once you cook them, allow them to cool. I like to individually wrap each burger in plastic wrap, then wrap all of them in foil and put in an airtight container. This helps prevent freezer burn.

You could also freeze the raw mixture, but I wouldn't shape them until after you defrost when you are ready to make them.
Can you prep falafel burgers ahead of time?
If you want to prep ahead, the best thing to do is make the mixture and save in the fridge until ready to use. You can also prep all the toppings so that dinner is quick and easy.
Can I sub canned chickpeas?
Using canned chickpeas will give you a mushier result. Dried soaked chickpeas have a chewy more firm texture. So just be aware of the texture different canned will give.
Other Recipes with Falafel
If you love falafel, here are some other awesome recipes to try!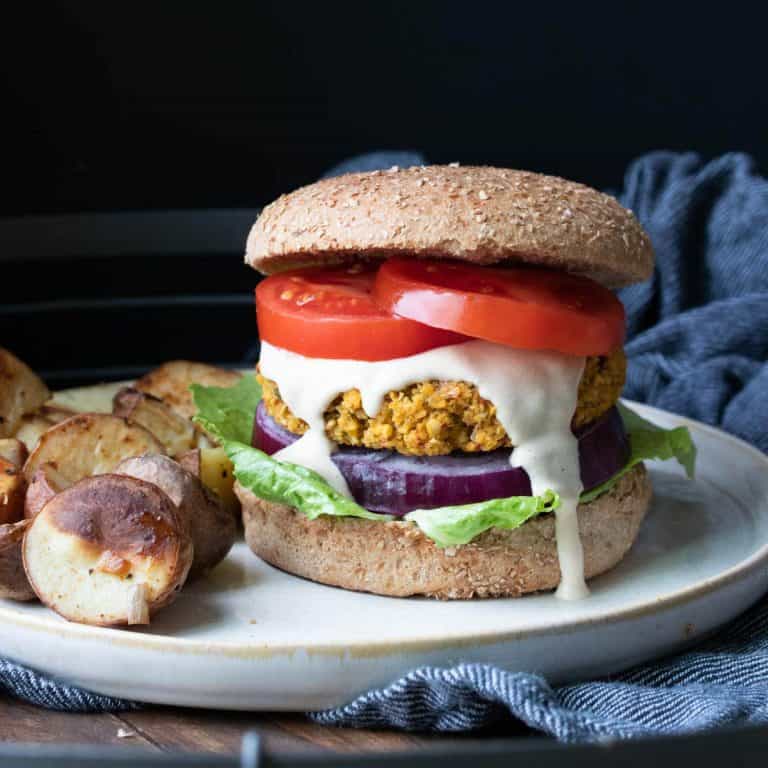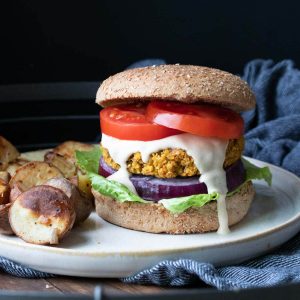 Falafel Burgers Recipe (Vegan, Gluten Free)
These easy falafel burgers are made with simple fresh ingredients and require only 5 minutes of prep. They are satisfying, nourishing and the perfect meal!
Ingredients
To serve:
Burger buns
Red onion
Lettuce
Tomato
Instructions
Put everything into a food processor and blend until you get medium sized crumbles or until mixture sticks together.

Shape into burgers and place on a parchment lined cookie sheet.

Bake at 350 F/ 175 C for about 15 minutes on each side.

Serve with toppings of choice!
Notes
If you forget to soak the chickpeas you can do the quick soak method. 
Nutrition facts are for the burgers alone.
Recipe by Veggies Don't Bite, visit our site for more great plant-based recipes.
Nutrition
Calories: 153kcalCarbohydrates: 26gProtein: 8gFat: 2gSaturated Fat: 1gSodium: 401mgPotassium: 386mgFiber: 7gSugar: 5gVitamin A: 245IUVitamin C: 10mgCalcium: 51mgIron: 3mg
Nutrition and metric information should be considered an estimate.
Never miss a recipe!
Sign up here and get a FREE quick and easy meal guide!