Hearts of palm disguise themselves in this whole-food based vegan fish taco in a bowl! Easy to make and put together, healthy, flavorful and customizable!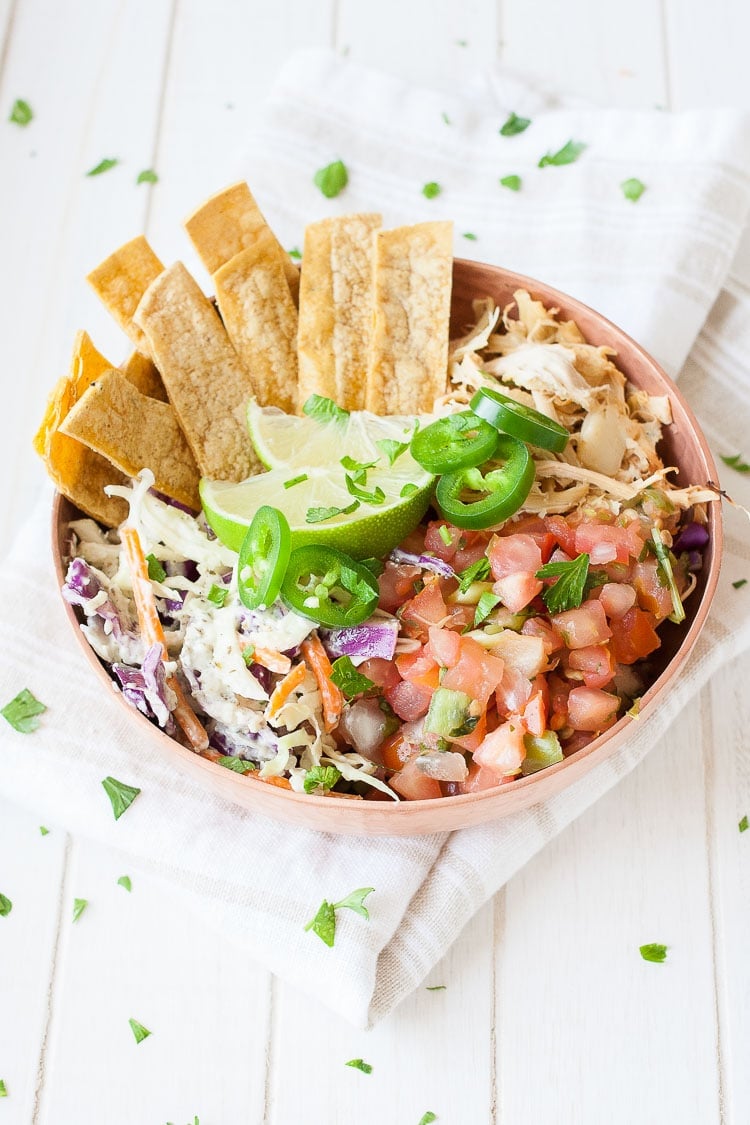 I received a free copy of Vegan Bowl Attack cookbook to review, all options are mine.
Meals in a bowl. One of my absolute favorites things! Not only are they quick and easy if you prep all the parts the night before, but this is one of the best ways to avoid the picky eater, no I hate it, refuse to even look at my food tantrum that often ensues in a household that is blessed enough to include that family member.
Giving a little one the freedom and responsibility to build their own dinner, often encourages them to eat their meal because they own it. Now, I'm not guaranteeing anything here since we still have those "moods," but I can say that the odds are significantly higher!
Jackie from Vegan Yack Attack is pretty much my hero because her new book "Vegan Bowl Attack" is full of amazing meals that my 4 year old will not throw at me, including this vegan fish taco bowl. I owe you a drink Jackie!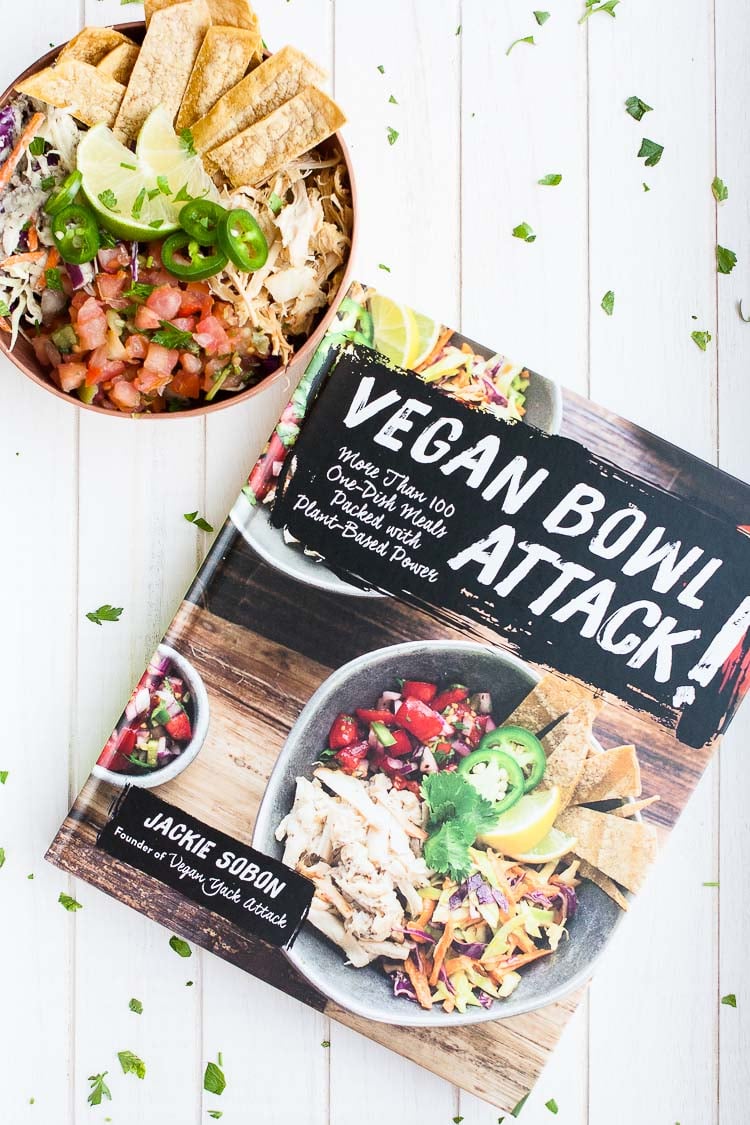 First off, Jackie is an incredible human. I am blessed enough to know her through the blogging world, and every time we hang out not only do I laugh constantly but I am blown away by her amazing food.
I still dream about the chili she made at one of our get togethers. So when her book was ready to make it's debut into the food world, I jumped at the chance to review it. IT. IS. AMAZING. And the photography kinda makes me want to eat the pages!
This recipe, her vegan fish taco bowl, was so so tasty and I love the whole food approach that she takes in making the "fish." I was blown away by the texture and flavor of the hearts of palm that was the base of it!
Side Note: I tried both a jarred hearts of palm and a canned variety, and by far the canned one was better. The texture is firmer, where the jarred is a little too soft and slimy for me. So keep that in mind.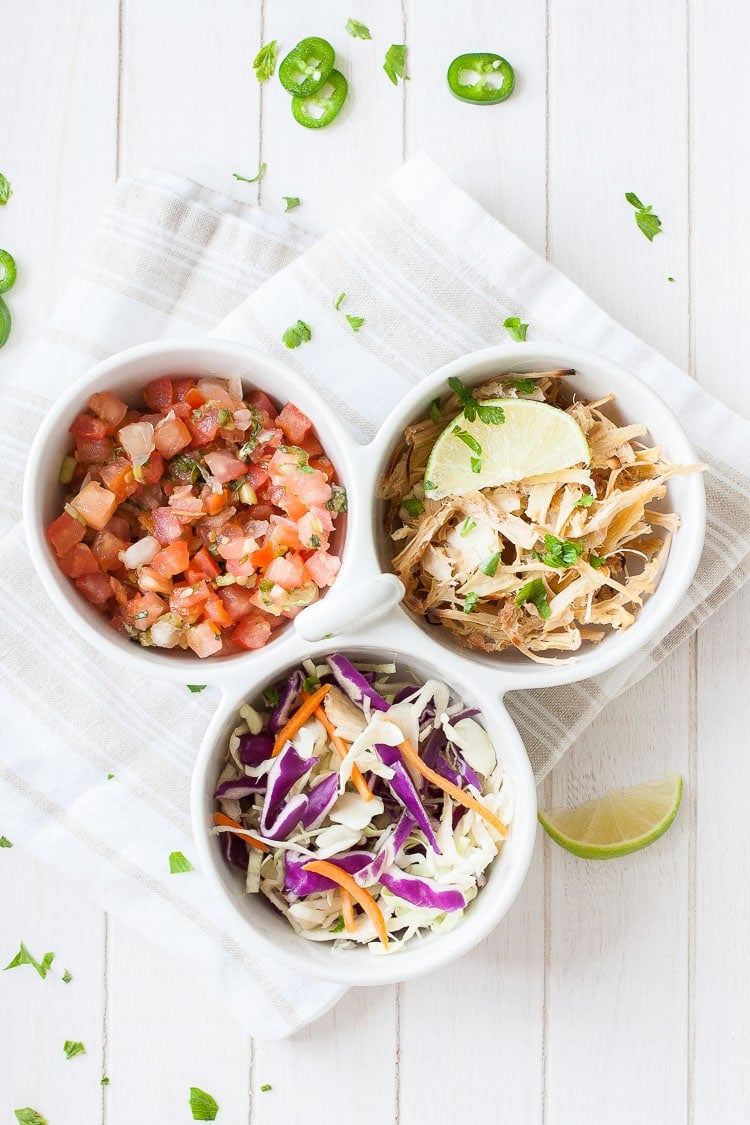 Fish Taco Bowl Of Dreams
I prepped all of the parts the night before we were having these vegan fish taco bowls for dinner, which made this one of the quickest meals we have ever had! Then, I allowed the kids to build their own (they all loved the "fish" and the little one kept calling it "tita" and screaming for more, he's a weird one).
I did make two salsas since I am huge on heat and I needed a mild version for the boys, all 4 of them 😉 The tortilla strips came out nice and crispy, so everyone loved using them as chips to scoop up the bowl ingredients. Huge hit!
We will definitely make this again, along with every other recipe in the book. Check out the little hand that wouldn't stop eating: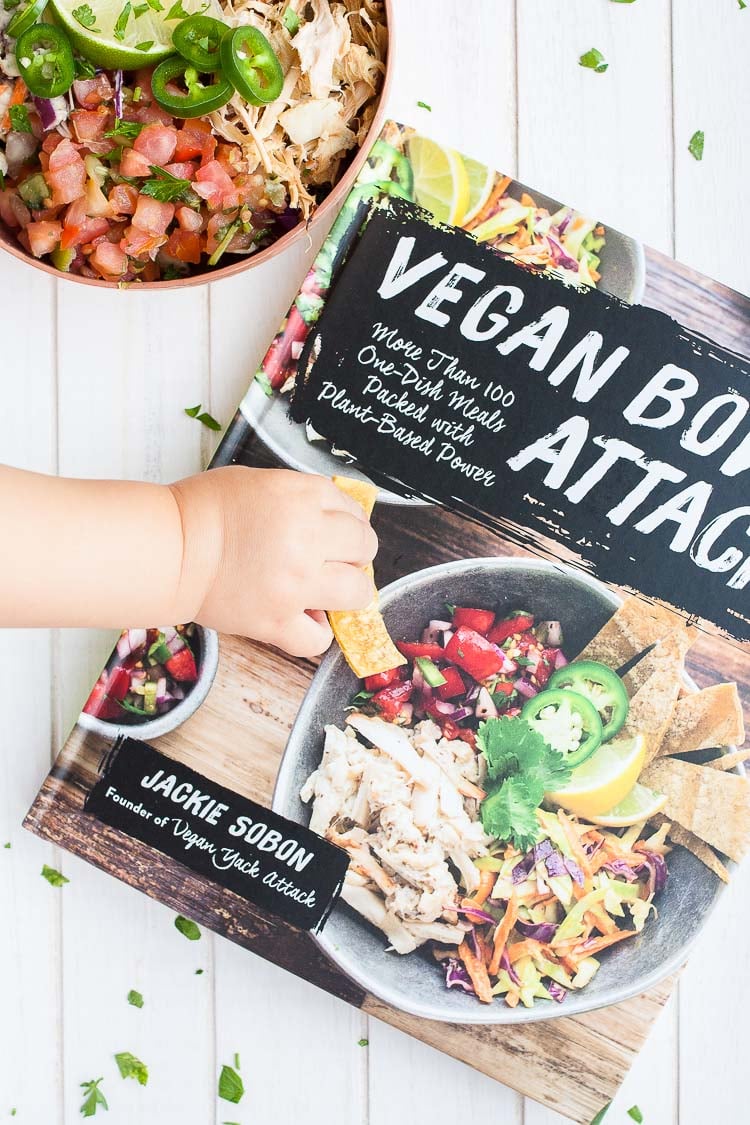 Other mouthwatering recipes in Vegan Bowl Attack:
Loaded Potato Breakfast Bowl
Tempeh Bacon Hollandaise Bowl
Scramble Burrito Bowl
Smoky Corn Chowder Bread Bowl
Mean Green Ramen
Spicy Sushi Bowl
Kimchi Bowl with Red Curry Almond Sauce
Raw Apple Crisp
S'mores Pudding Bowl
Leave me a comment and let me know which other recipe you'd like to try! Do you have a tantrum loving human this approach may help? You can also snap a picture and tag me on Instagram, at veggiesdontbite AND #veggiesdontbite. Or you can even find me on Facebook. Let's spread some bowl love! Now go enter the giveaway so this awesomeness can be all yours!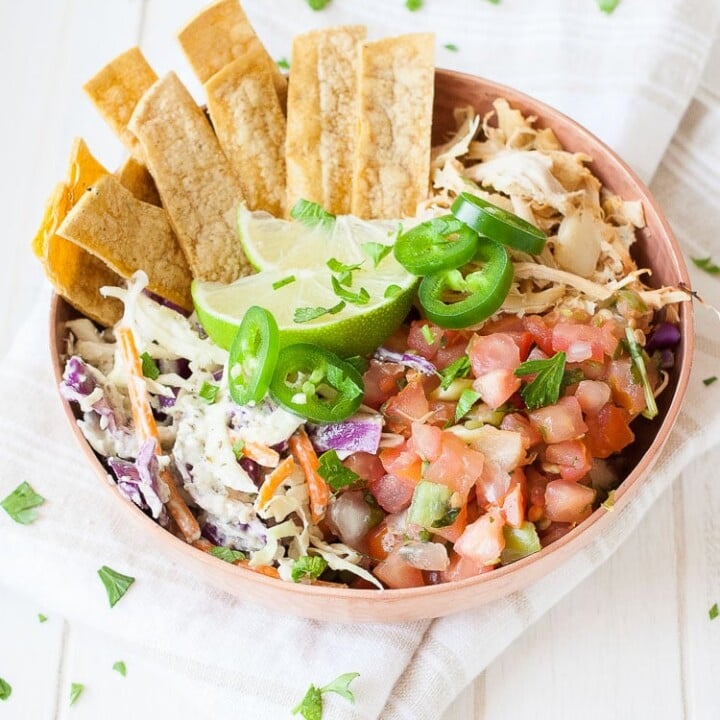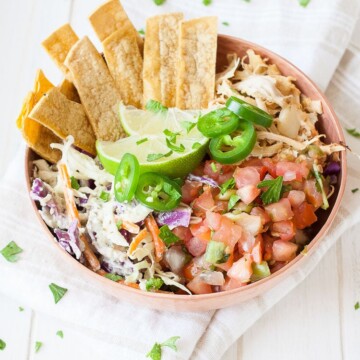 Vegan Fish Taco Bowl from Vegan Bowl Attack
Hearts of palm disguise themselves in this whole-food based vegan fish taco in a bowl! Easy to make and put together, healthy, flavorful and customizable!
Ingredients
For the cabbage slaw:
1 cup (70g) shredded red cabbage
1 cup (70g) shredded green cabbage
1 cup (110g) grated carrot
¼ cup (60g) vegan mayonnaise (soy-free, if necessary)
1 teaspoon white vinegar
For the pico de gallo:
½ cup (90g) diced tomato
⅓ cup (55g) diced red onion
1 tablespoon minced fresh cilantro
1 tablespoon minced fresh jalapeno (optional)
½ teaspoon lime juice
Salt and freshly ground black pepper to taste
For the "Fish":
2 cans (14 ounces, or 400 g) hearts of palm , drained
2 teaspoons lime juice
½ teaspoon dulse seaweed flakes
Pinch of salt
For the assembly:
4 small corn tortillas cut into strips
¼ cup (4g) loosely packed fresh cilantro leaves
2 tablespoons (11g) sliced fresh jalapeno
8 lime wedges
Instructions
To make the cabbage slaw:
Place all of the ingredients in a bowl, stir together until combined, and then refrigerate for 20 minutes.
To make the pico de gallo:
Place all of the ingredients in a bowl, stir together until combined, and then refrigerate for 20 minutes.
To make the "fish":
Preheat the oven to 350°F (176°C, or gas mark 4) and coat a baking sheet with a thin layer of oil or nonstick cooking spray.

In a mixing bowl, using two forks or your hands, pull apart the hearts of palm until they appear shredded.

Stir in the lime juice, dulse flakes (see note on page 104), and salt until combined and then spread the mixture out on the baking sheet in a single layer.

Bake for 12 to 15 minutes until the edges start to turn golden brown.
To assemble:
While the "fish" is baking, place the tortilla strips on a baking sheet, brush with a thin layer of oil, and sprinkle with salt.

Bake for 10 to 12 minutes until crispy. Divide the slaw, pico de gallo, "fish," and tortillas among 4 shallow bowls, arranging the components in quadrants.

Nestle the cilantro, jalapeño, and lime wedges in with the tortilla strips. Serve immediately.
Notes
Gluten-free • Soy-free option • nut-free • Sugar-free
I made these without oil by simple baking the tortilla strips plain. I didn't use the salt when doing it this way, however you could try using veggie broth to coat if you wanted the salt.
Tips to prep ahead: Make all parts the night before for a quick and easy meal!
Reprinted from Vegan Bowl Attack!: More than 100 One-Dish Meals Packed with Plant-Based Power By Jackie Sobon, published by Fair Winds Press
Recipe by Veggies Don't Bite, visit our site for more great plant-based recipes.
Nutrition
Calories: 270kcalCarbohydrates: 44gProtein: 5gFat: 10gSaturated Fat: 1gCholesterol: 0mgSodium: 178mgPotassium: 816mgFiber: 11gSugar: 11gVitamin A: 11820IUVitamin C: 120mgCalcium: 159mgIron: 2.6mg
Nutrition and metric information should be considered an estimate.
Never miss a recipe!
Sign up here and get a FREE quick and easy meal guide!