Vegan chocolate lava cake made with 9 simple ingredients and done in 20 minutes! It's gluten free and absolutely amazing.
You'll never guess the secret ingredient that really ups the flavor in this lava cake recipe. It may sound weird but it really adds to the chocolatey goodness!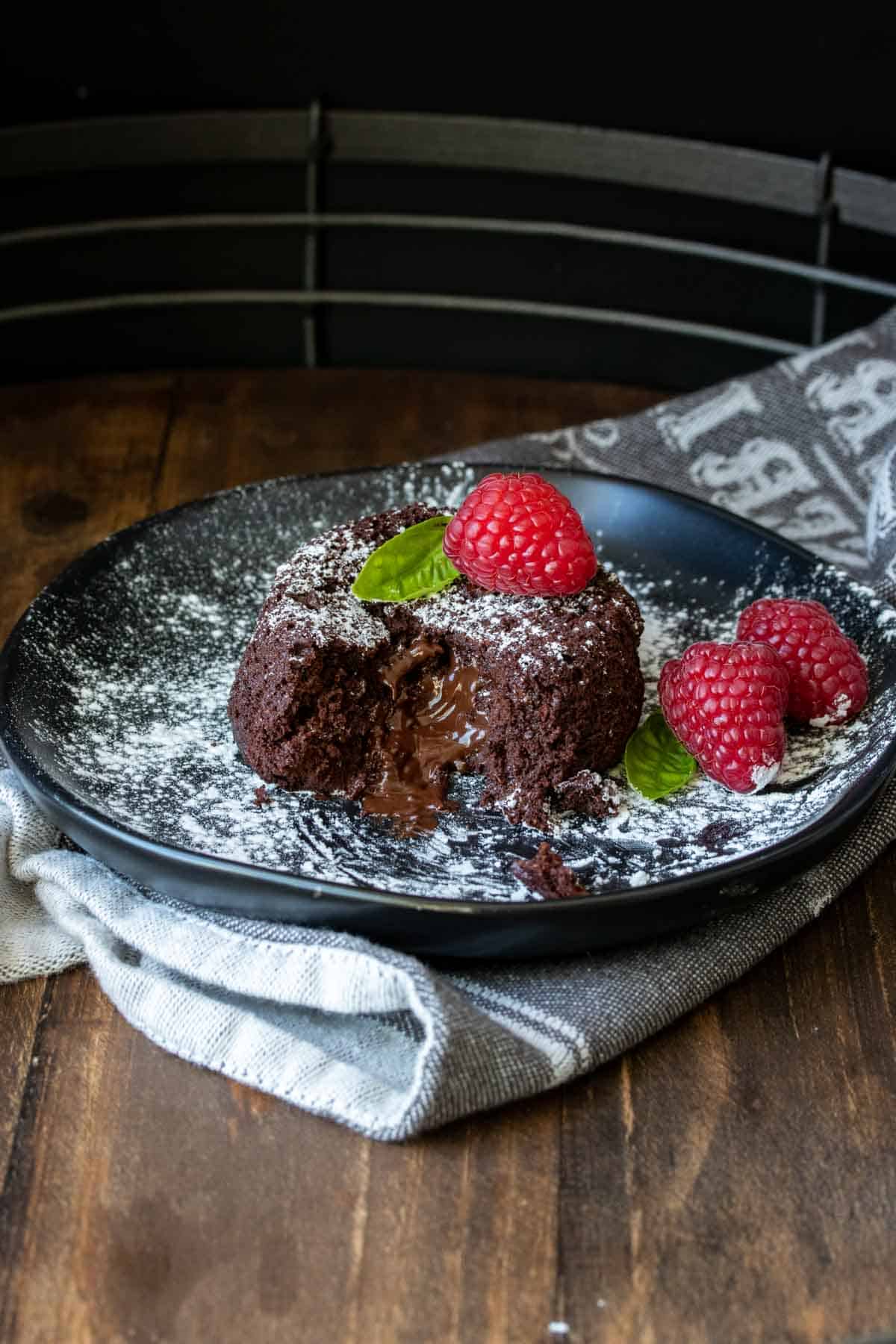 This post was originally published on January 16, 2021.
If you've had my ultra rich vegan chocolate zucchini cake, you're going to love this vegan lava cake recipe! It has all the chocolate richness without the dairy or gluten.
Ingredients
A classic fancy pants restaurant dessert that you can enjoy in your own home in not so fancy pants! Cuddle up on the couch in your PJs and indulge, or share this healthy lava cake as part of a romantic Valentine's dinner, whatever floats your boat.
Ooey gooey rich and decadent chocolate volcano cake without eggs, dairy, or gluten? You betcha! Here's what you'll need:
Dairy free chocolate chips
Almond butter
Tomato paste (yep, don't knock it till you try it!)
Cashew milk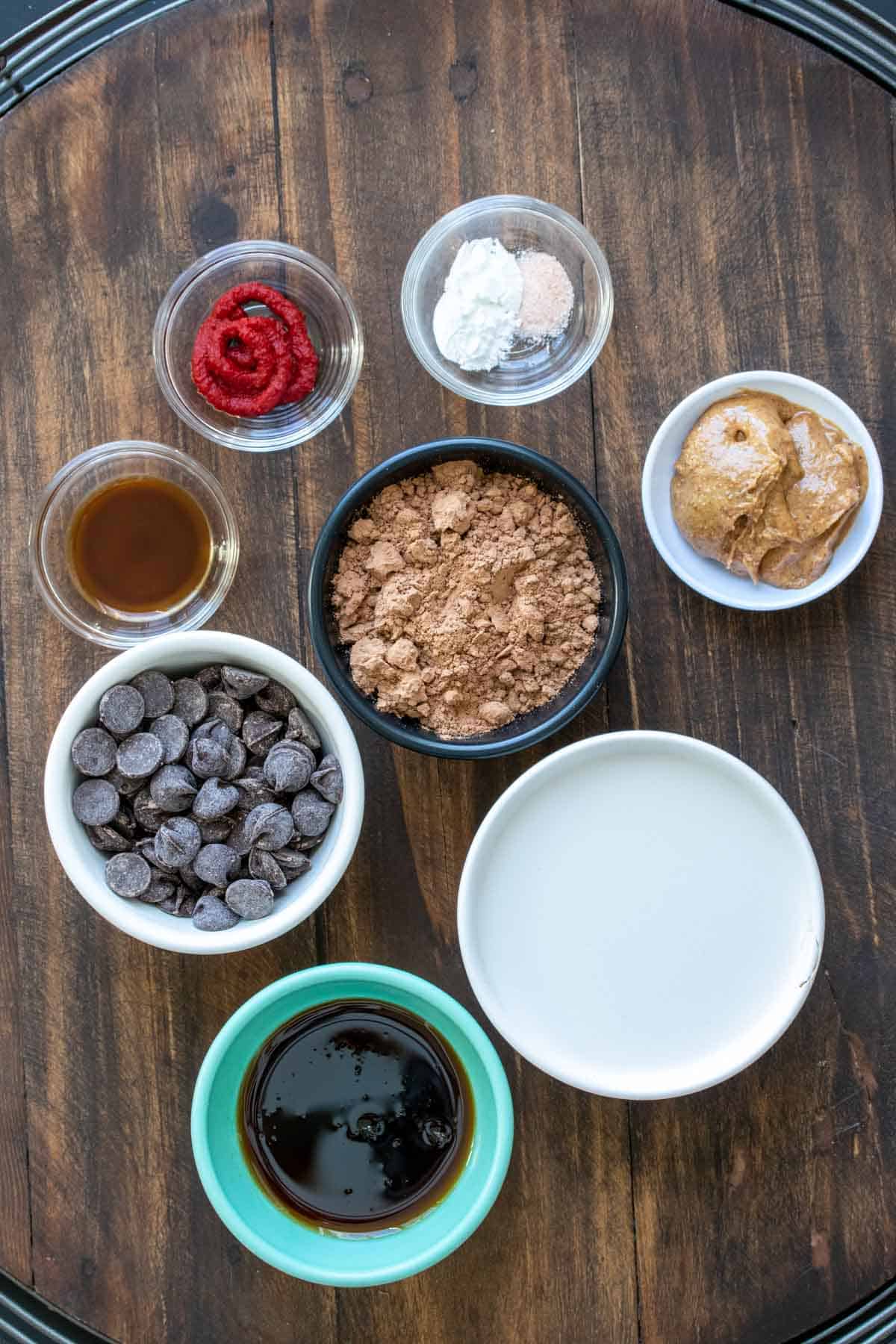 I you're a little skeptical on the tomato paste addition, I get it. But I promise it makes the chocolate even more rich and delicious! I use it in my vegan chocolate ice cream recipe, chocolate oat smoothie, hot chocolate and my chocolate mug cake recipes with big success!
How To Make Lava Cake
Making your own vegan lava cake at home is more simple than you may think. Here's what you'll need to do:
Mix dry ingredients in a bowl.
Add the rest of the ingredients.
Prep the ramekins and put in the batter.
Bake.
Transfer to a plate and top with powdered sugar and berries if you prefer.
Enjoy!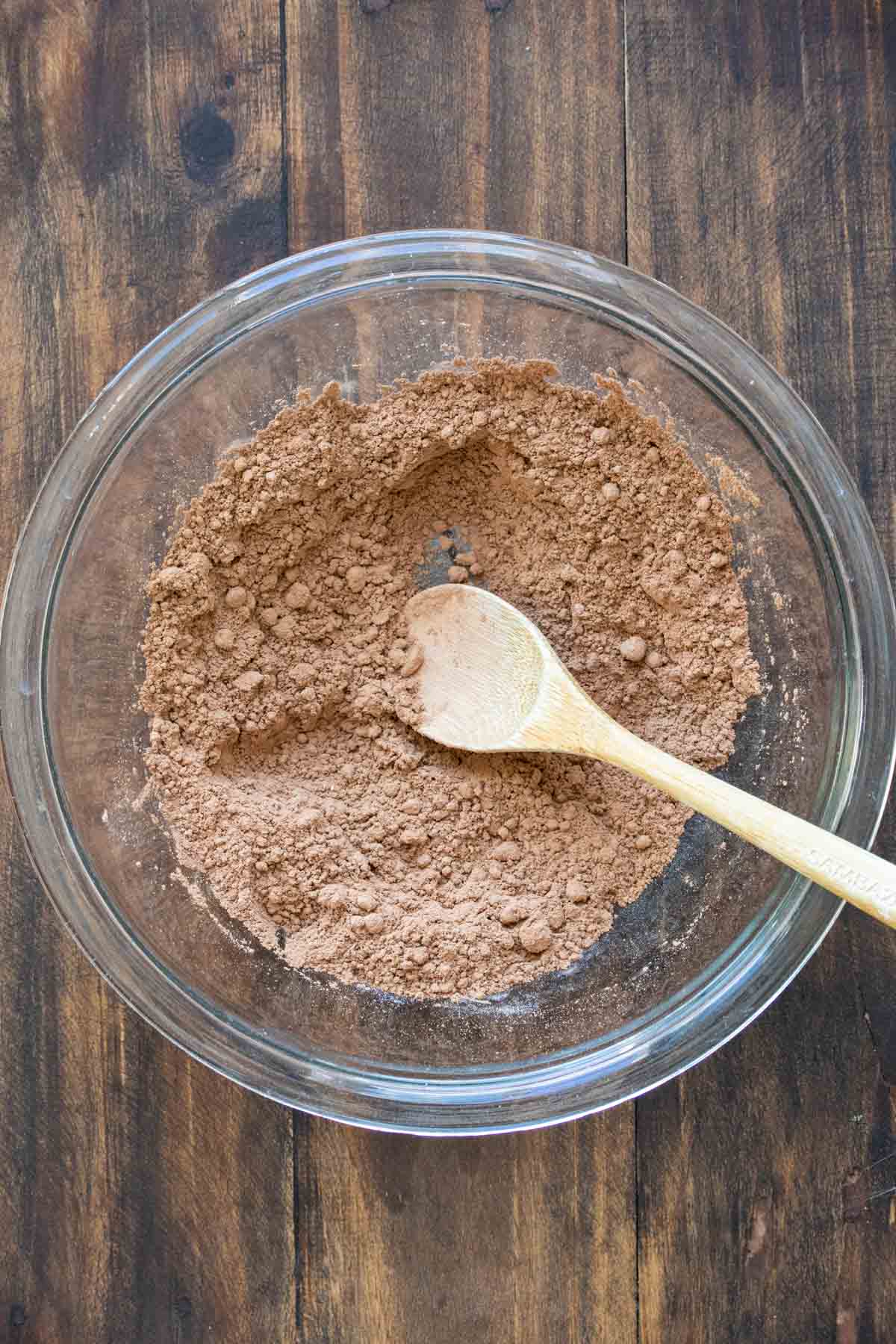 What to Serve With Vegan Chocolate Lava Cake
Dress up your flourless lava cake with any of these toppings:
Preparation Tips
While this recipe for lava cake is on the more simple side, there's still a few key things to keep in mind:
Flipping the chocolate volcano cakes onto a plate is the most classic way to serve them, but you can also serve directly in the ramekin if you prefer.
Make sure you prep the ramekins well to ensure the cakes don't stick by coating well with oil and dusting with cocoa powder.

This recipe works best in ramekins, but if you don't have them you can use muffin tins. 

Serving the lava cake immediately will ensure that the center is still melted. If you let it cool too long the center will still be soft and gooey but not as melted.
If you want a more melted chocolate center, after you fill the ramekins with batter, add extra chocolate chips and push those into the center of the batter.
For the best texture you need accuracy with the dry ingredients. Which is why I include precise weights. If you don't have a scale, then you can purchase this fairly inexpensive one.
If you prefer to measure, then measure the cocoa by scooping your measuring cup into the flour versus spooning it into it. This is how I measured when getting my weights.
Make Ahead and Storage Tips
To prep these gluten free lava cakes ahead of time:

Mix the batter and fill the ramekins, cover, and store in the refrigerator until you're ready to bake.
Let them start to come to room temperature, add the chocolate chips and bake.

You can also bake them and let cool.

Simply reheat before serving in the oven or microwave to re-melt the center.
This may result in loosing the molten lava center but it will still taste fabulous!

If you end up with leftovers, wrap them well in plastic wrap and store in the fridge for up to 3 days.
Common Questions
How long can I keep molten lava cake?
Three days is pretty much the max for storing baked lava cakes. After that it will dry out and the quality won't be as good.
Is Lava Cake just undercooked cake?
Nope! The molten lava center is created by melted chocolate. The edges are still crisp and cake like.
Can you reheat a lava cake?
Yes you can! The quickest way is microwaving it for about 30 seconds, but you can also reheat in the oven.
How do you remove a lava cake from a ramekin?
The key to this is your preparation. Make sure the ramekins are coated well in oil along with a dusting of cocoa powder. If they don't slide out easily, gently run a butter knife around the edges to loosen the cake from the sides of the ramekin.
More Vegan Dessert Recipes
To keep your sweet tooth satisfied, try out these other delectable whole food dessert recipes: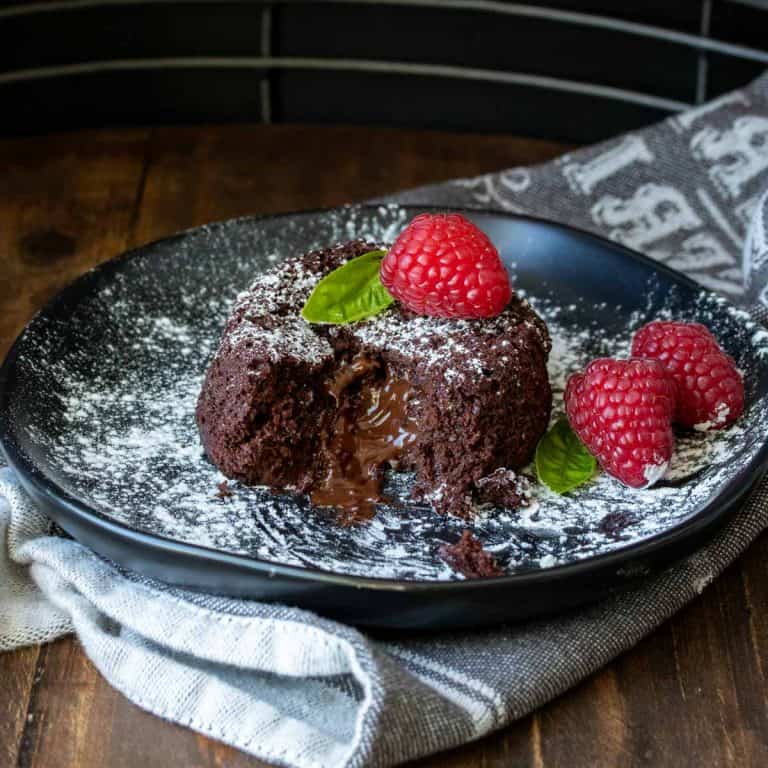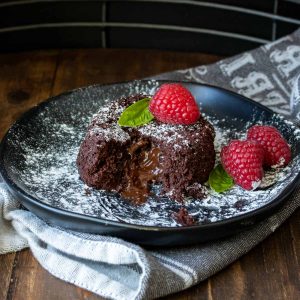 Vegan Chocolate Lava Cake (Gluten Free)
Vegan chocolate lava cake made with 9 simple ingredients and done in 20 minutes! It's gluten free and absolutely amazing.
Ingredients
Optional for extra gooey center (I liked it without, my kids liked it with):
Instructions
Preheat oven to 425 F/ 220 C

Mix cocoa powder, chocolate chips, baking powder and salt in a bowl breaking up clumps.

Add in the rest of the ingredients and mix well.

Prep your ramekins with a spray of oil, rub around to coat. Then dust each with a little cocoa powder.

Split the batter into the ramekins.

If you want an extra gooey center, add 1 teaspoon of chocolate chips in the middle of each ramekin and push down to cover them with batter.

Bake for 15 minutes. Allow to cool a bit, but enjoy warm.
Notes
This works best in ramekins, but if you don't have them you can use muffin tins. Prep the same way.
The ramekins I use are 4 ounces.
Use the extra chocolate chips for a more chocolatey gooey center but I loved this without it just as much if not more!
If you let it cool too much it won't be as lava like.
The center will puff up when baking and fall as it cools. This is normal for lava cake. The top edges of the cake in the ramekin will still have a crisp.
Nutrition facts do not include the extra chocolate chips.
Recipe by Veggies Don't Bite, visit our site for more great plant-based recipes.
Nutrition
Calories: 531kcalCarbohydrates: 76gProtein: 9gFat: 27gSaturated Fat: 2gSodium: 176mgPotassium: 480mgFiber: 10gSugar: 53gCalcium: 134mgIron: 2mg
Nutrition and metric information should be considered an estimate.
Never miss a recipe!
Sign up here and get a FREE quick and easy meal guide!