Weather you grill, bake or pan fry, these vegan portobello mushroom burgers are loaded with flavor and a perfect burger alternative! Easy and customizable!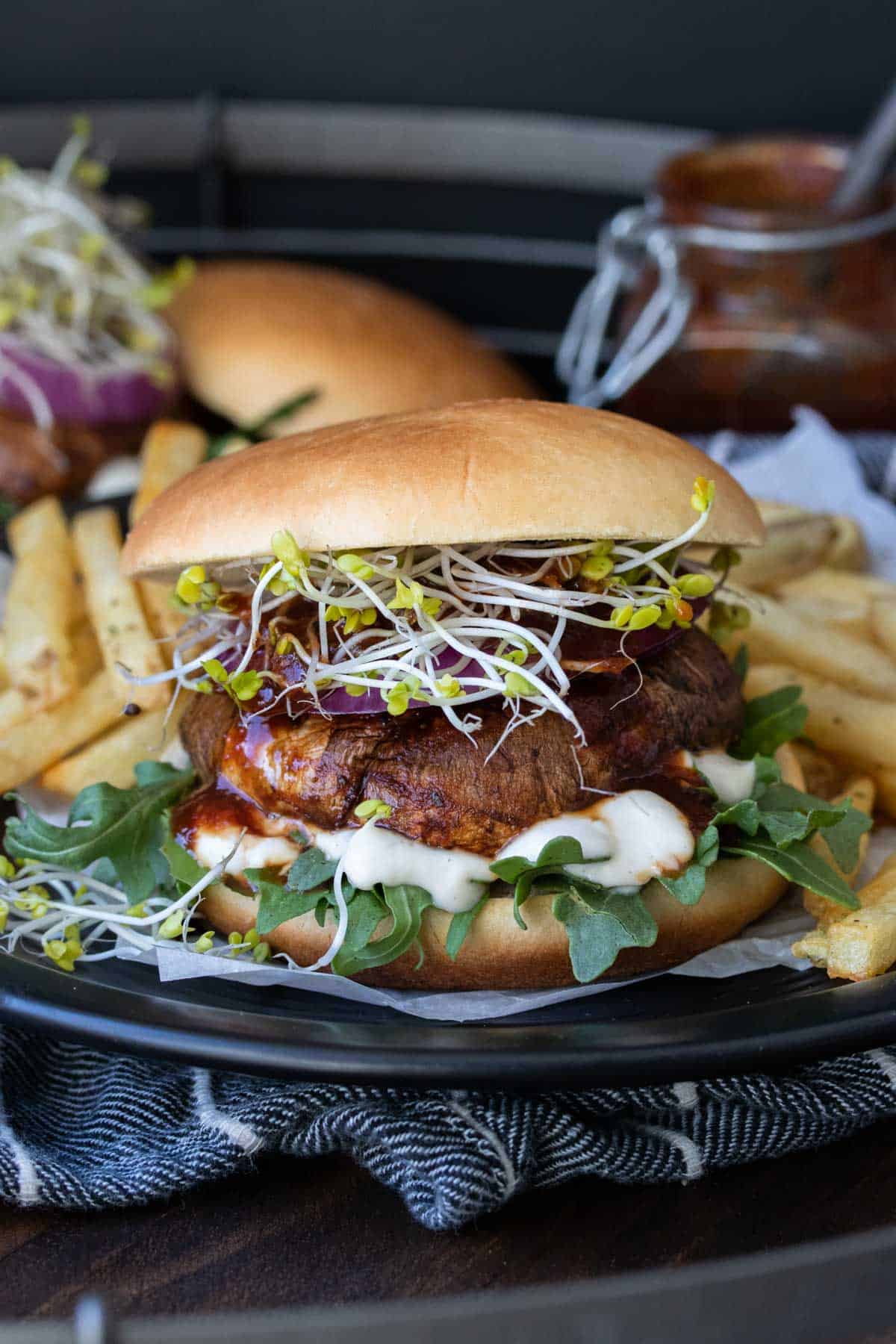 As the weather warms up, I love to take my dinners outside. There's something about the smell of the grill and the flavor it gives to food that makes me happy. These grilled portobello mushrooms burgers are one of my favorites! But don't fret, you can bake or pan grill them too!
Grilled Portobello Mushroom Burgers
The key to taking these portobellos from good to fantastic is all in the sauce. I love using my homemade steak sauce to marinate the mushrooms overnight. Then I grill, and even brush a little more on as they sizzle and cook.
How do you prepare a portobello mushroom?
While some say that you shouldn't run the mushrooms under water because they absorb it and it can affect the texture, I still wash them to make sure all dirt and bacteria are washed away. The key is to allow them to dry well before using, so I do this the night before,
After that, preparing mushrooms only takes a few minutes, you'll want to start by gently removing the stem. You can do this by wiggling the stem back and forth gently until it detaches from the mushroom. I save it to grill separately or to use in other recipes!
You'll then want to use a spoon to scoop the gills away.
Can you eat the gills of a portobello mushroom?
You can, but can turn whatever you are cooking a dark muddy color. They also have a stronger mushroom flavor so keep that in mind. For this recipe, you could go either way but since my husband is picky with flavor I remove them. It really is a personal preference though!
Tips for marinating
As I said, the key to an amazing portobello burger is in the flavor. Since mushrooms absorb liquid, marinating them can really amp up the yum. Here are my favorite ways to marinate:
Tips for making ahead
Making these mushroom burgers ahead of time is easy to do, although I do recommend eating them fresh. Having them marinated and ready allows them to be grilled pretty quickly, so dinner will be ready in no time.
However if you do want to cook these before hand, I would suggest allowing them to cool completely then wrap in foil and store in an airtight container in the fridge.
Serving suggestions
These grilled portobello  mushroom burgers are good in so many ways! You can add the typical lettuce, tomato, etc but change up the bun. Here are a few ways to serve them:
On a bun
Open faced on a piece of bread
In a wrap
In pita bread
Use pieces of lettuce for buns for a lower carb option
When it comes to flavor ideas, here are a few ways we have switched them up to keep them exciting: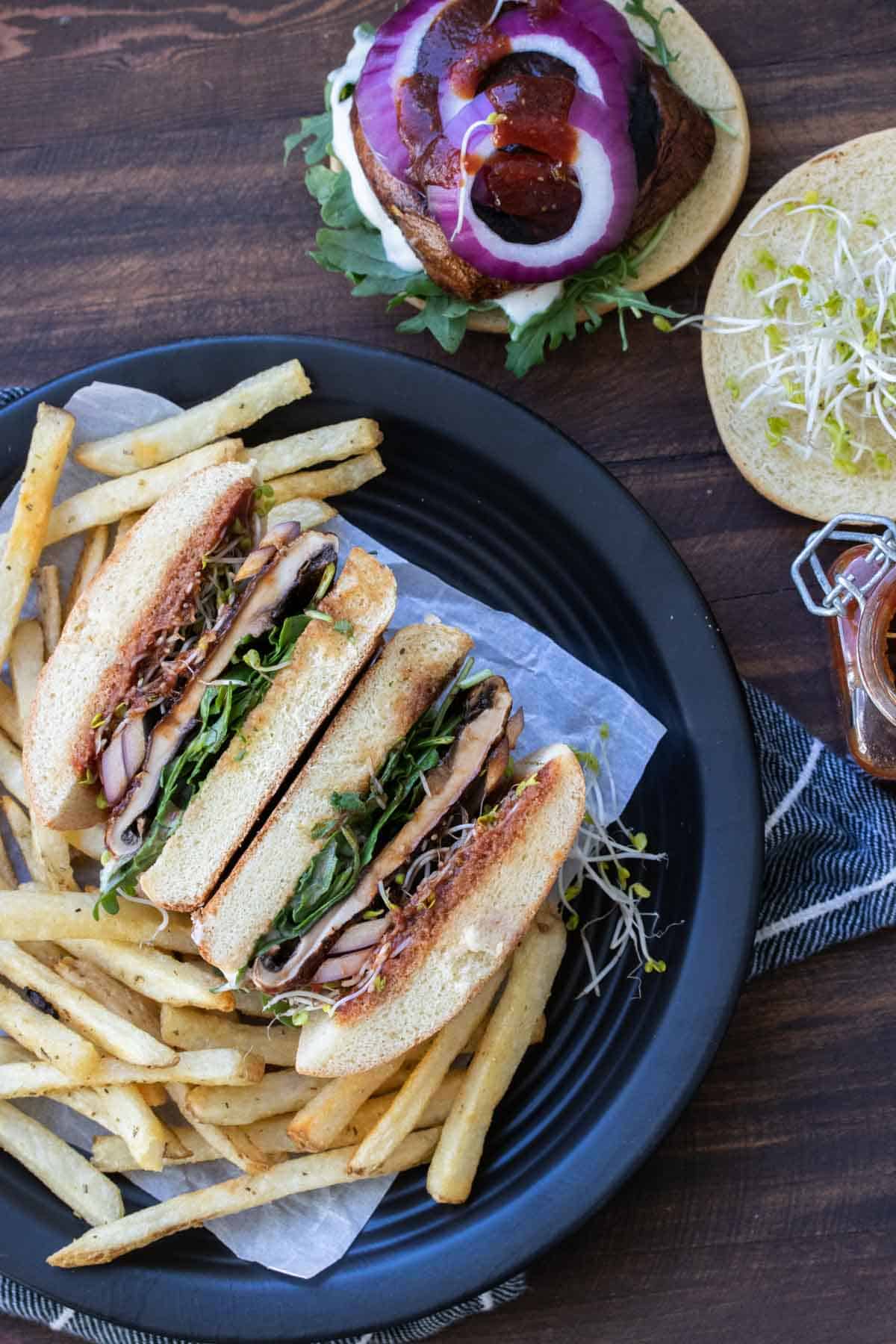 Portobello Mushroom Burger Sides
As important as the flavors you top your burgers with are, the sides are also as important! I love a good burger side, and we often mix it up so it doesn't get boring! Here are some of our go-to's:
What to do with leftovers
If you happen to not eat all you made, like when your 5 year old revolts against dinner, I happen to have options! It's nice to switch things up and not have the same thing over and over again, so here are some ideas of what you can turn your leftover portobello burgers into:
How to reheat
If you need to reheat the portobello mushrooms, you can either give them a quick grill to warm them up, or you can warm them in the oven. You can also microwave them but this will affect the texture and make them more rubbery.
How To Make Portobello Mushroom Burgers
Prepare the mushrooms.
Marinate overnight and grill, bake or pan cook.
Build however you like!
Stove top tips
You can also cook these on the stove top in a pan. Grill them much like you would on an actual grill, over medium heat for about 3-5 minutes on each side.
Baking tips
If you are going to bake these, put them in an oven safe dish and bake about 15 minutes on each side. You can also bake them on a parchment lined cookie sheet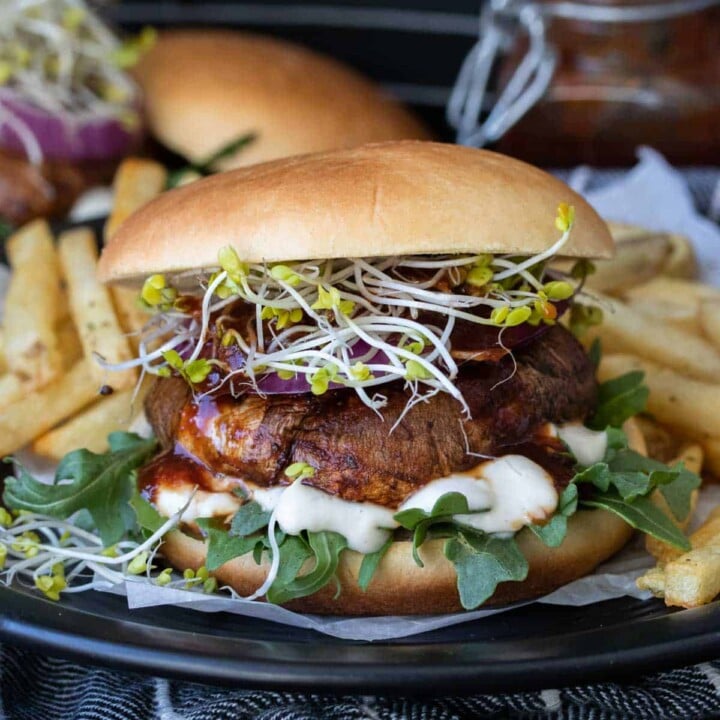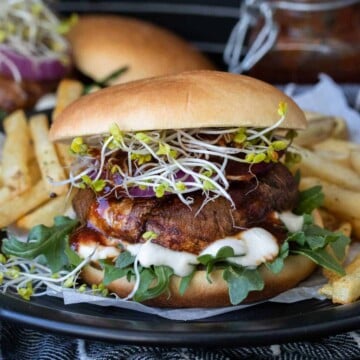 Vegan Grilled Portobello Mushroom Burgers
Weather you grill, bake or pan fry, these vegan portobello mushroom burgers are loaded with flavor and a perfect burger alternative! Easy and customizable!
Ingredients
4 portobello mushrooms
drizzle of your favorite oil for grilling/baking , optional
Servings suggestions (see post for more):
Burger buns
Lettuce
Tomatoes
Ketchup
Mustard
Mayo
Extra sauce
Pickles
Instructions
Marinate Overnight (optional for optimal flavor)
Clean the mushrooms by removing the stem and scraping out the gills using a spoon. Removing the gills is optional but I recommend it. I save the stems to cook separately or chop up to use in a different recipe.

Brush the mushrooms with sauce marinade of choice (and oil if using), I used about ¼ cup for each mushroom. Allow to marinate overnight or at least an hour for optimal flavor.
If baking:
Put into a baking dish, and bake at 350 F/ 175 C for about 15 minutes.

Flip over and bake another 15 minutes.
If grilling:
Add to a hot grill pan and cook for 3-5 minutes on each side, until nice and browned.

If using an outside grill, cook for 3-5 minutes over a medium flame and flip over, making sure to watch for burning.
Serve with toppings of your choice!
Notes
You can use extra sauce as a topping to make this super easy.
You can top these with so many things, see the post for more ideas.
Nutrition facts are for portobello burger part only using steak sauce as a marinade.
Recipe by Veggies Don't Bite, visit our site for more great plant-based recipes.
Nutrition
Calories: 83kcalCarbohydrates: 16gProtein: 4gFat: 3gSaturated Fat: 1gSodium: 625mgPotassium: 353mgFiber: 4gSugar: 7gVitamin C: 3mgCalcium: 13mgIron: 3mg
Nutrition and metric information should be considered an estimate.
Never miss a recipe!
Sign up here and get a FREE quick and easy meal guide!