This homemade vegan hamburger helper recipe is healthy and the perfect family friendly meal. Can be made gluten free too!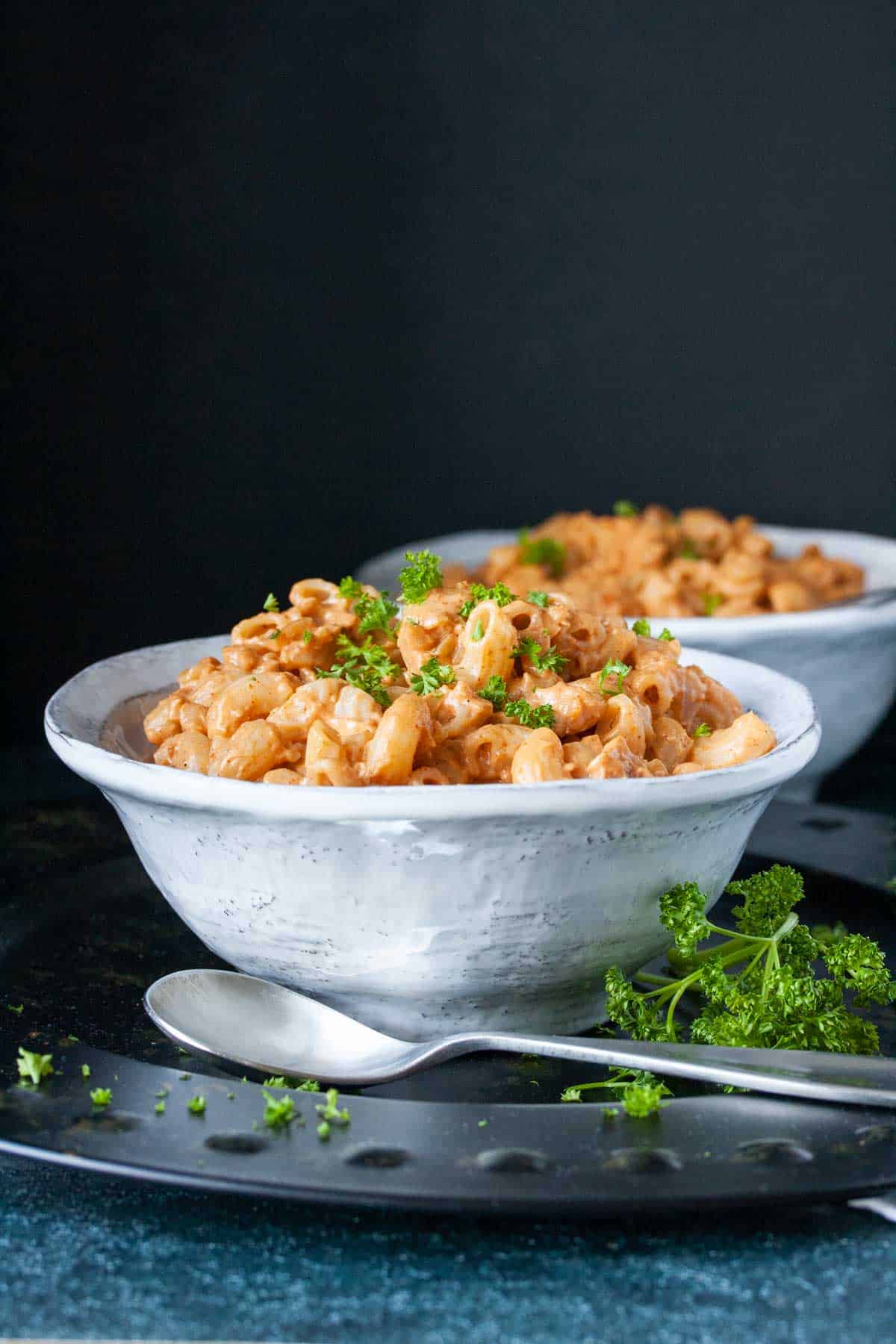 This post was sponsored by NOW Foods but the content and opinions expressed are fully my own.
This post was originally published on March 26, 2017.
Anyone else NOT grow up on hamburger helper? I never ate it as a kid because my mom was from Greece and made all the classic Greek dishes. But as an adult, I obviously needed to recreate this as a tad healthier version to stuff my face with!
Top reasons why this vegan hamburger helper is actually good for you:
Protein packed with meaty chickpea crumble.
A cheese sauce made primarily of veggies.
A pasta made from naturally gluten free whole food ingredients.
No processed trickery.
Ingredients
No boxed processed cheese food product here. Only real, wholesome ingredients! Here's what you need:
Chickpeas
Sweet or yellow onion
Diced roasted tomatoes
Tomato paste
Seasonings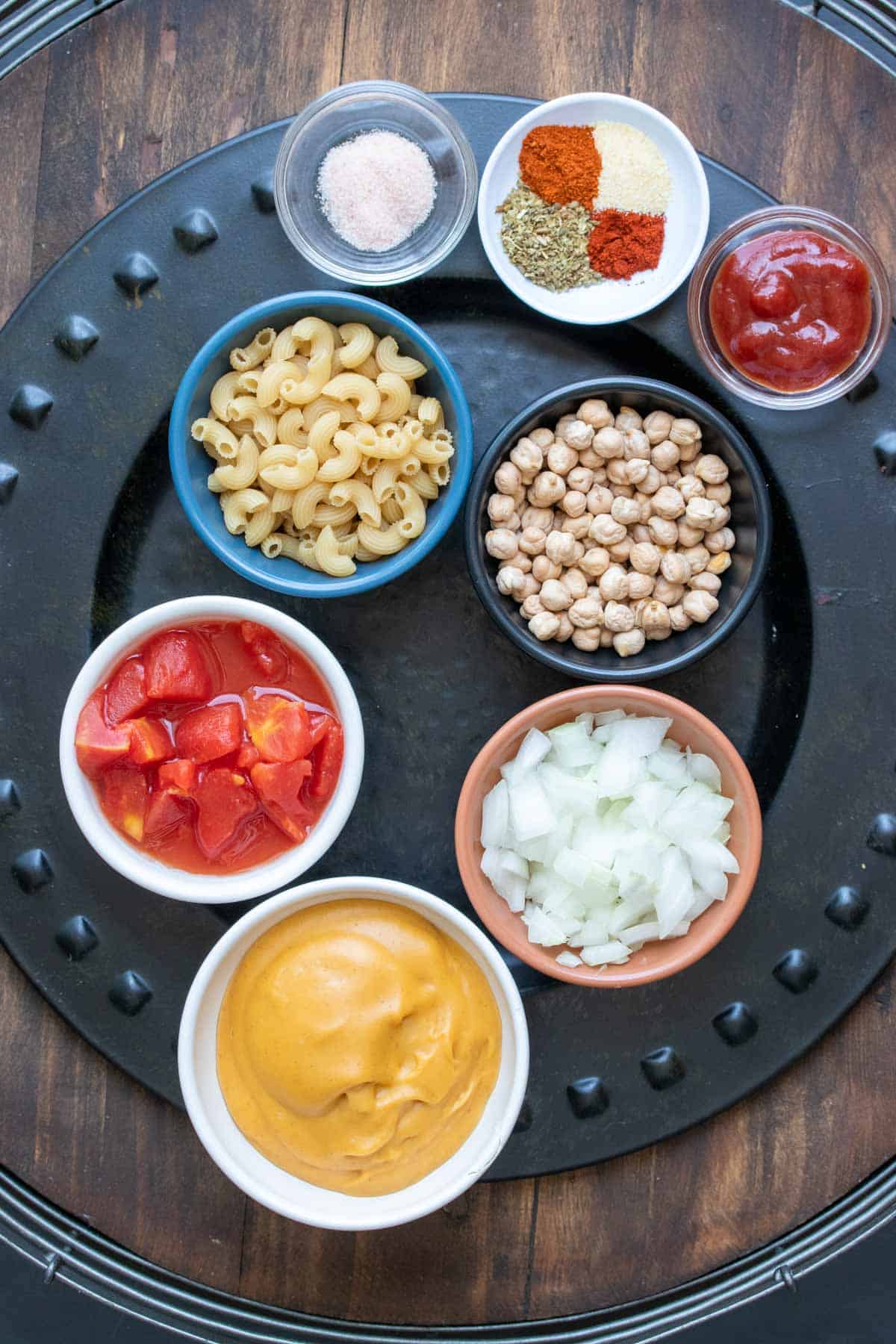 My favorite trick is using dried soaked chickpeas, then chopping them into a fine crumble and cooking them with broth and spices. The texture is awesome and the flavor is amazing.
Couple that with my Ultimate Cheese Sauce and a bowl full of pasta and it doesn't get much better. But here's the thing, I am a pasta snob. There is nothing worse than digging into noodles that plain suck.
So what kind of pasta do I like? This. Living Now Organic Quinoa Macaroni. If you're looking for a macaroni that looks like the real deal and tastes like the real deal, this is it.
No weird color. No weird texture. No weird flavor. Just the good stuff. When I found this stuff, I knew I'd hit the gluten free, whole food, full of nutrients jackpot.
How to Make Vegan Hamburger Helper
This recipe for homemade Vegan Hamburger Helper is seriously almost as easy as the box! Here's what to do:
Crumble soaked chickpeas in a food processor.
Sauté onion, then mix in the rest of the meaty crumble ingredients.
Once cooked, add cheese sauce and mix well.
Stir cooked pasta into the hamburger cheese mix.
Serve!
Tips and tricks
These suggestions will come in handy when you're making your own healthy hamburger helper:
The Cheese Sauce recipe makes 4 cups, but you'll only need about 2 cups. Save the rest for later! Make nachos, plain macaroni and cheese, a dip for veggies, cheese fries, and more. It also freezes well.
If using canned chickpeas, skip the broth or water and just drain, rinse, and chop.
Make sure to use gluten-free pasta if needed.
The homemade cheese sauce actually is made from veggies, bu you can still mix in extra nutrition. Add finely diced mushrooms, zucchini, carrots, or spinach to the dish.
Prepare this ahead of time by making the cheese sauce and soak the chickpeas.
Save leftovers in the fridge in an airtight container for up to 3-5 days.
You can also freeze for up to 3 months by sealing the cooked and cooled hamburger helper in an airtight freezer safe container.
Common Questions
How do you make Hamburger Helper better?
Add in some onion and garlic and veggies along with more seasonings to your taste.
Can I use beyond meat in Hamburger Helper?
You sure can! Plant based meats, crumbled beans or lentils, or veggies work great as a vegan option.
Can you make Hamburger Helper without hamburger meat?
Yes you can, just follow the directions and skip the meat.
What can I substitute for milk in Hamburger Helper?
Use a dairy free milk alternative or water, just know that the flavor and consistency will change a bit.
What should I make with Hamburger Helper?
Serve hamburger helper with fresh sides. Crisp salads, or veggies like broccoli, green beans, asparagus, mushrooms, carrots, and zucchini make great options.
More Vegan Family Friendly Recipes
These plant based meals have something for everyone in the family, plus they're nutritious, and easy to make!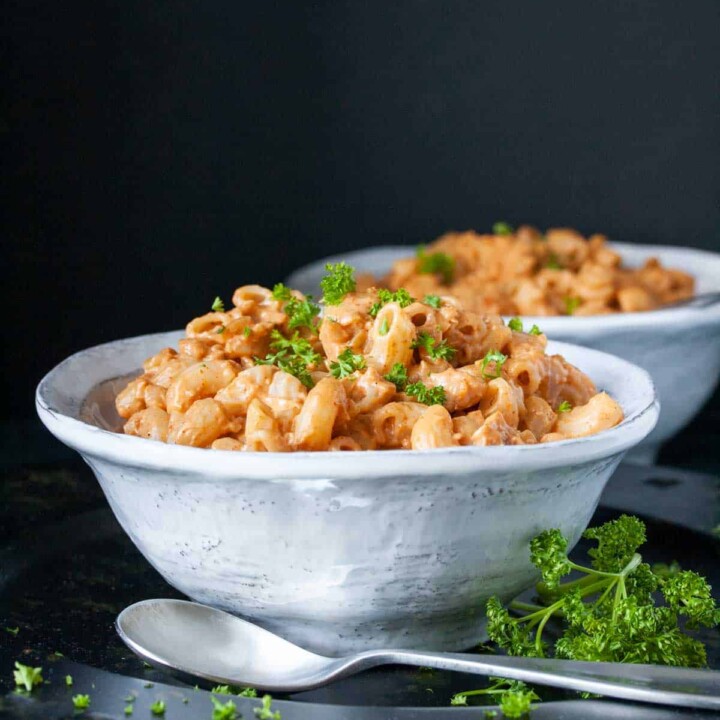 Healthy Vegan Hamburger Helper Recipe
This homemade vegan hamburger helper recipe is healthy and the perfect family friendly meal. Can be made gluten free too!
Ingredients
Meaty crumble:
½ cup dried chickpeas , soaked overnight (see note for canned)
¼ cup sweet or yellow onion , finely chopped
veggie broth or drizzle of oil to sauté
1 cup veggie broth , low sodium if needed
½ cup diced roasted tomatoes
1 tablespoon tomato paste
1 tablespoon paprika
1 teaspoon dried oregano
½ teaspoon garlic powder
½ teaspoon sea salt
¼ teaspoon chili powder
Instructions
Chop soaked chickpeas in a food processor until you get a nice crumble.

Saute onion with broth or oil until it gets translucent. Add the rest of the meaty crumble ingredients and mix well.

Cook over low heat for about 15-20 minutes or until the liquid has evaporated and the beans are cooked, stirring often. Watch closely because the beans can stick, especially if not using oil. If they begin to stick, lower heat and continue to mix.

Once done, add cheese sauce and mix well. You can add less or more cheese sauce to make it as cheesy as you prefer. I added 1 ½ cups

Meanwhile, cook your favorite pasta according to package directions. Drain and rinse, then add to the hamburger cheese mix. Stir to incorporate.

Serve!
Notes
The cheese sauce recipe makes 4 cups. Save the leftovers for another use, such as nachos, plain macaroni and cheese, a dip for veggies, cheese fries, etc. It also freezes well.
If you use canned chickpeas, skip the broth/water and just drain and rinse about a can of chickpeas (you need around 1 ½ cups) and chop.
Tips to prep ahead:
Make cheese sauce. Soak chickpeas.
Baby/toddler food idea:
Best kid food ever. Overcook pasta for young baby and mash well.
Recipe by Veggies Don't Bite, visit our site for more great plant-based recipes.
Nutrition
Calories: 296kcalCarbohydrates: 51gProtein: 9gFat: 5gSaturated Fat: 0gPolyunsaturated Fat: 0gMonounsaturated Fat: 0gTrans Fat: 0gCholesterol: 0mgSodium: 654mgPotassium: 898mgFiber: 10gSugar: 13gVitamin A: 34125IUVitamin C: 28.8mgCalcium: 117mgIron: 2.7mg
Nutrition and metric information should be considered an estimate.
Never miss a recipe!
Sign up here and get a FREE quick and easy meal guide!