This kung pao tofu recipe is easy, takes minimal prep time and makes a perfect healthy weeknight dinner! This version is also vegan and gluten free.
This recipe is super versatile allowing you to change up your veggies and what you serve it with. Eat it alone or alongside another Asian dish for a themed dinner!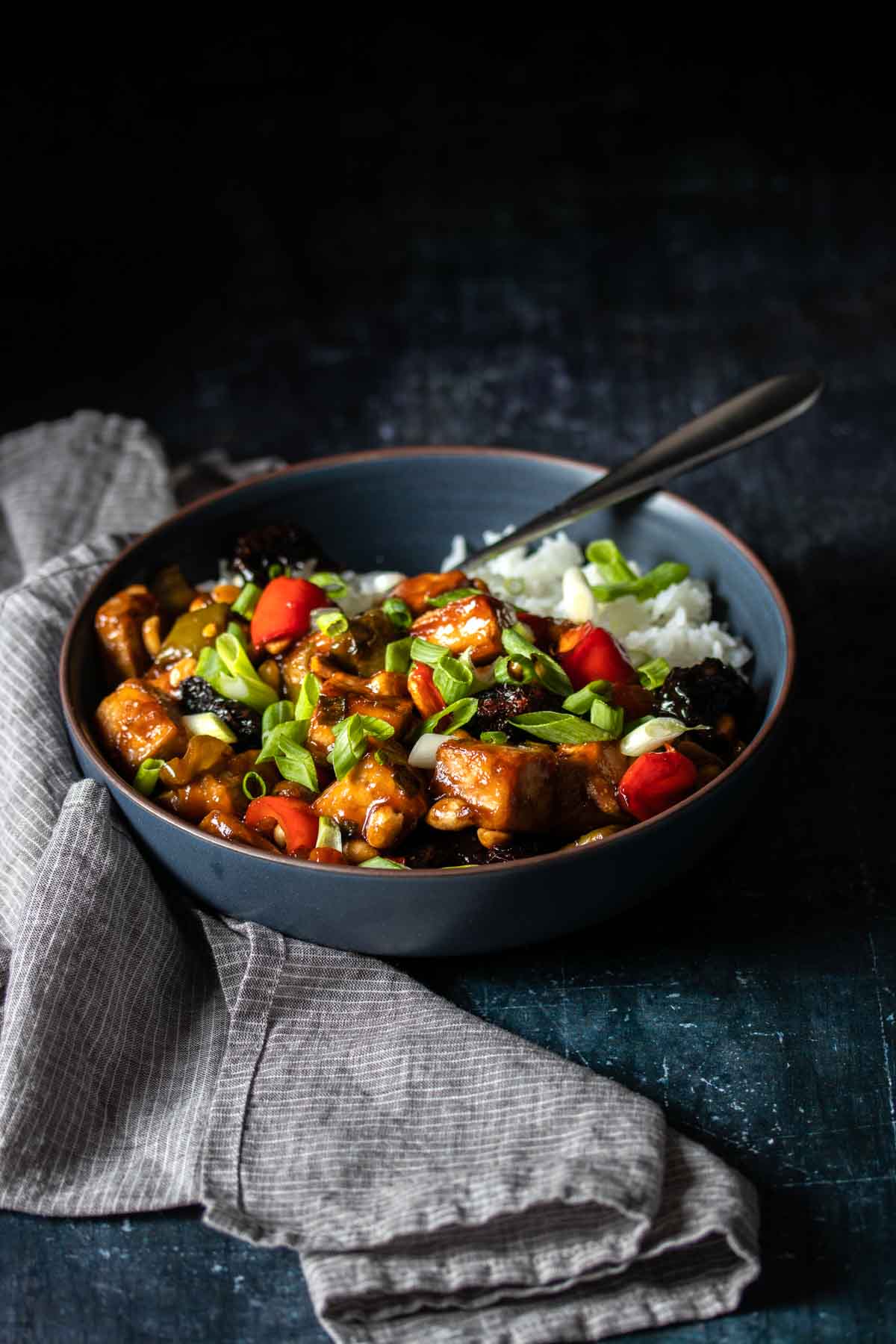 This post was sponsored by Rubbermaid but the content and opinions expressed are fully my own.
We serve kung pao tofu in a variety of ways. Sometimes it's plain white or brown rice, sometimes we mix in some cauliflower rice and then other times it's over vegan fried rice!
Kung Pao vs General Tso
Kung Pao is a dish made with spicy peppers, vegetables, peanuts, and usually chicken. It originated in the Sichuan province of China, and is more spicy and nutty than General Tso recipes.
General Tso, whether it be chicken or another protein, is actually a Western creation inspired by Asian flavors. It's usually saucier than kung pao, and has more of a sweeter flavor.
Ingredients
When it comes to Chinese tofu recipes, Kung Pao tofu is probably our favorite! This dish was inspired by the classic recipe; however, instead of chicken this recipe uses tofu to make it vegetarian, and even vegan, friendly.
Tamari or soy sauce
Cornstarch
Red bell pepper
Green bell pepper
Green onion
Garlic cloves
Dried red chilies, optional for spice
Roasted unsalted peanuts
Drizzle of sesame oil
For the Sauce:
Tamari or soy sauce
Hoisin sauce
Dry sherry, or a dry white wine
Balsamic vinegar
Ground ginger
Crushed red pepper , reduce or omit for less spice
Cornstarch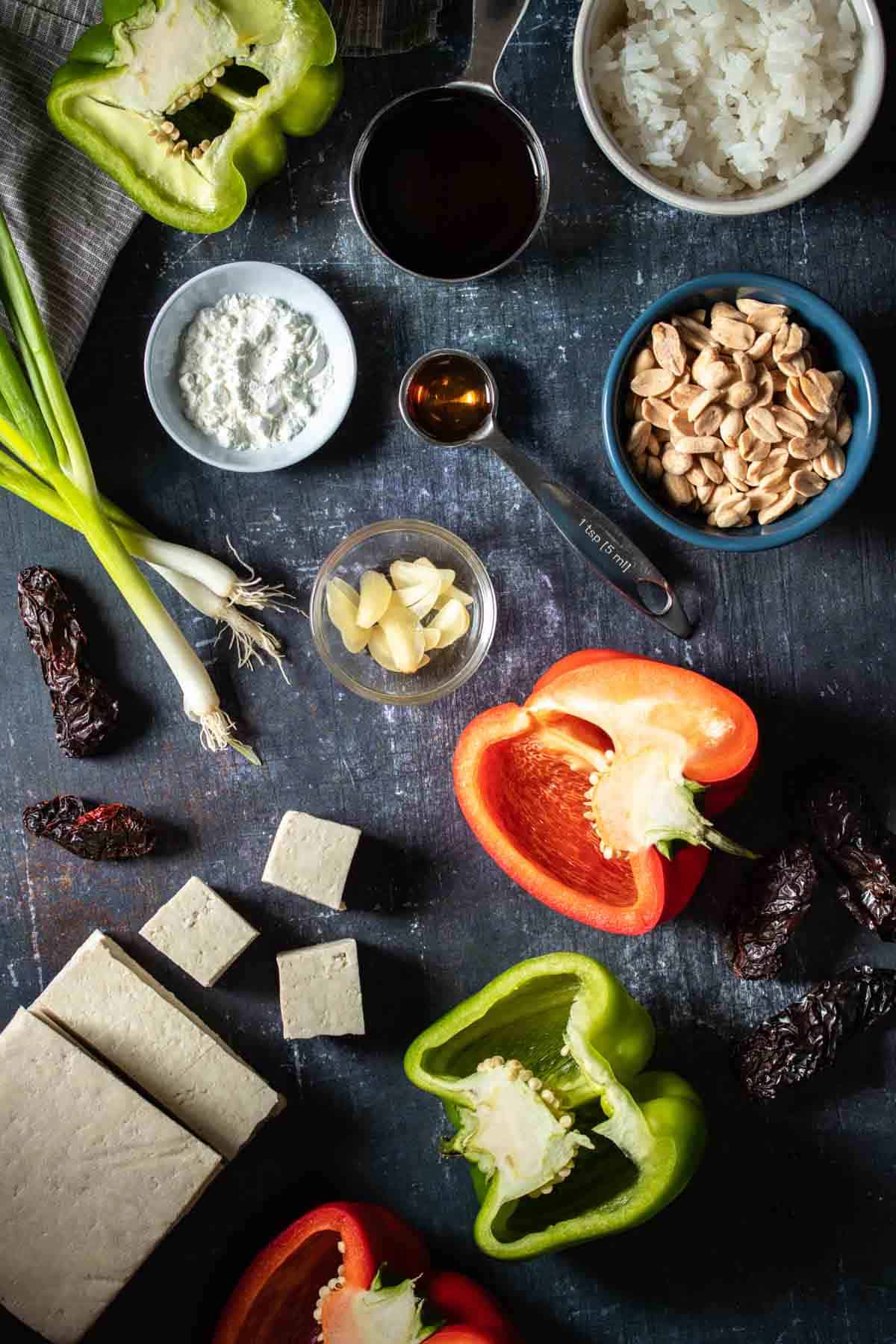 How to Make Kung Pao Tofu
Press and cut the tofu.
Coat with the Tamari/soy sauce and cornstarch.
Spread the seasoned tofu in a baking dish meant for high heat, like the Rubbermaid DuraLite series.
Add the veggies and bake.
Make the sauce.
Pour the sauce over the tofu and veggies and bake some more.
Mix in the peanuts.
Serve with rice, more green onions and you can even add other veggies if you want!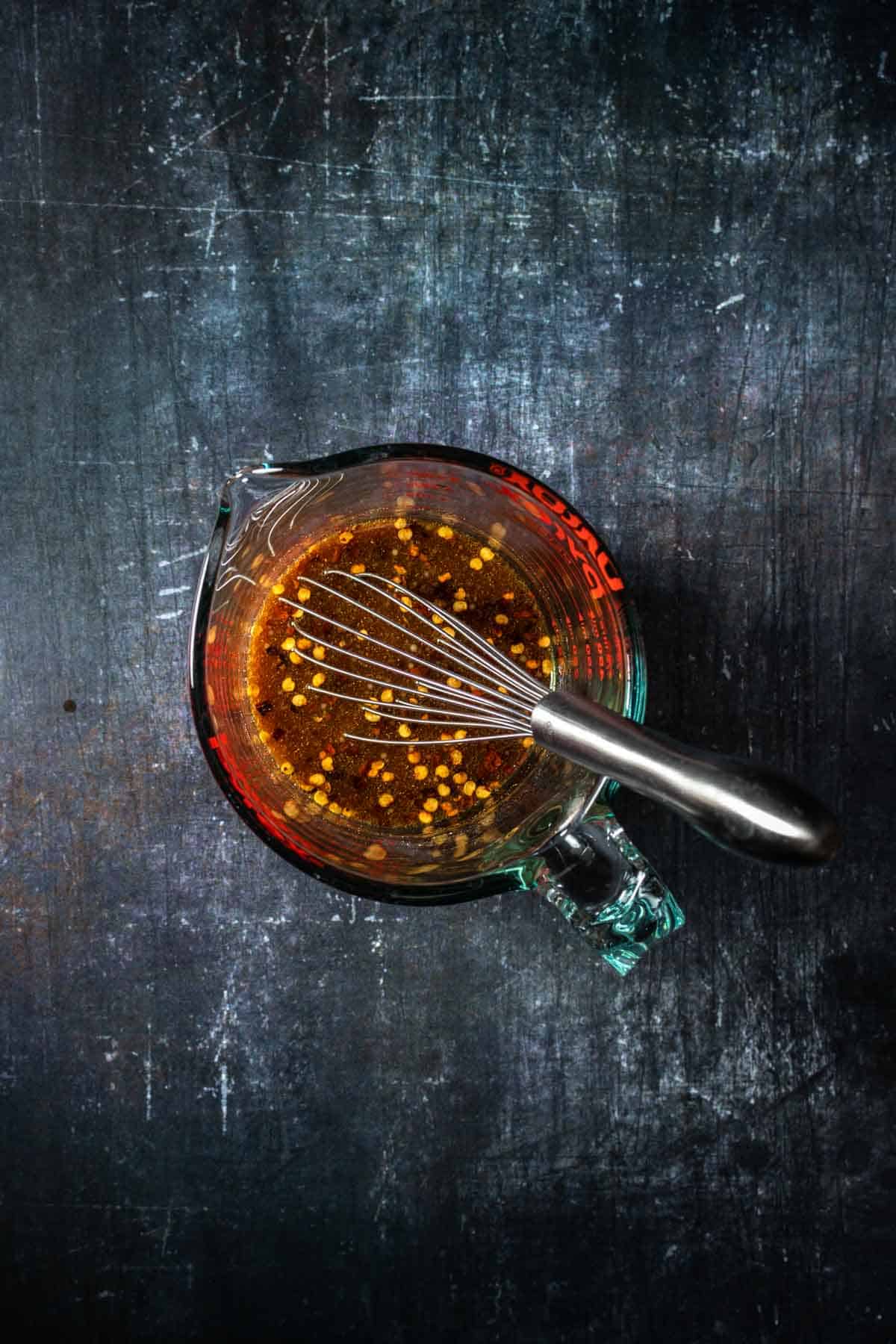 Make sure you are using a high heat baking dish to get the best texture. I use the Rubbermaid DuraLite™ Bakeware because they are safe for up to 550⁰F!
While this recipe bakes at 450⁰F, this bakeware is formulated to stand high heat and gives a fantastic texture to the end result.
What to Serve with Kung Pao Tofu
This can be served all on its own, but we love serving it over a base or along with other Asian inspired recipes:
Rice, either white or brown rice (learn how to cook rice here!) or even fried rice
Cauliflower Rice is another good option, even if you just mix a little into regular rice
Noodles
We also like to serve this with even more vegetables like broccoli, mushrooms and carrots.
Green salad with Japanese Carrot Ginger Salad Dressing
Preparation Tips
Make sure to cut the tofu into evenly sized chunks so they bake at the same rate.
Pressing the tofu helps to make it extra crispy, as well as absorb more flavor.
Any type of dried chilies will do, just try to find some that are similar in size.

Or, substitute crushed red pepper flakes for the dried chilies, start with ½ teaspoon since you use these in the sauce too.

To make this recipe mild, completely leave out the chilies.
If you are gluten free make sure to check the label if your hoisin sauce. I like the gluten free one from Lee Kum Kee.

If you can't find hoisin sauce you can try equal amounts of molasses and bbq sauce to make a similar flavor.

Sherry helps to capture the classic flavor, but you can leave it out or use white wine instead.
You can also reduce the sauce by half the sauce if you don't want it too overwhelming in flavor.
We prefer to use fresh veggies, but frozen veggies work too.

Do not defrost before baking.
You may need to cook them for a few extra minutes.
Meal Prep Tips
Prepare this vegan kung pao recipe in advance for an easy dinner!
Press and cut the tofu, then mix it with the sauce and cornstarch up to 24 hours in advance.
Wash and chop the veggies up to 3 days ahead of time.
Mix up the sauce up to 3 days early.
If you're serving with rice or noodles you can also cook those in advance (rice freezes awesome!)
You can even follow the directions up to the first round of baking and store it in the baking dish in the refrigerator for up to 24 hours. This is where Rubbermaid's new DuraLite™ Bakeware comes in handy, store AND bake in one!
On the day of take the dish out of the refrigerator about 15-20 minutes before baking so it can start to come to room temp, then follow the remaining directions.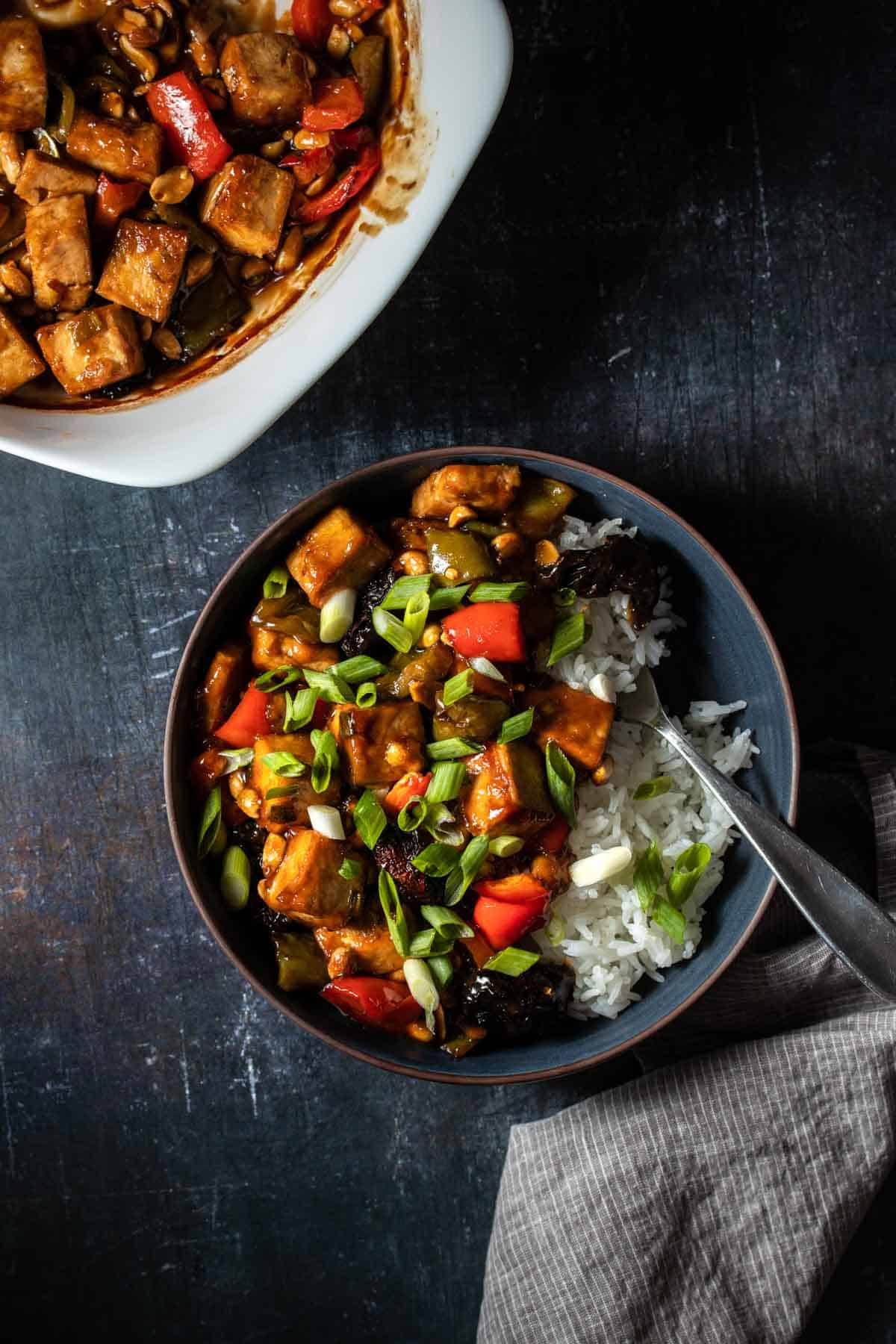 Storage Suggestions
Whether you're meal prepping or storing leftovers, these Rubbermaid DuraLite™ Bakeware are a life saver! Instead of one dish to bake (or broil!), one dish to store, one to reheat, and even another for freezing, you have them all rolled into one!
Here's a few reasons why I'm obsessed:
They use a revolutionary type of glass that can withstand high heat. I'm talking oven and broiler safe up to 550⁰F! (Most glass bakeware sets are only good up to 450⁰F.)
Safe for clumsy people since they're break and chip resistant!
Thankfully they are nestable which saves precious space in your cabinets, and they stack easily in the fridge to save space there too!
Good to use in the microwave, freezer and can be washed in the dishwasher!
AND they're pretty enough to double as serving dishes as well!
If you end up with leftovers, or want to completely make the recipe to save for an easy meal, here is how to store this kung pao tofu recipe:
Place in a container, if you're using the Rubbermaid DuraLite™ Bakeware you can easily pop the lid on, store and reheat in the same dish!
Keep in the refrigerator for up to 3-5 days.
You can also freeze this recipe for up to 3 months.
Reheat in the oven or microwave!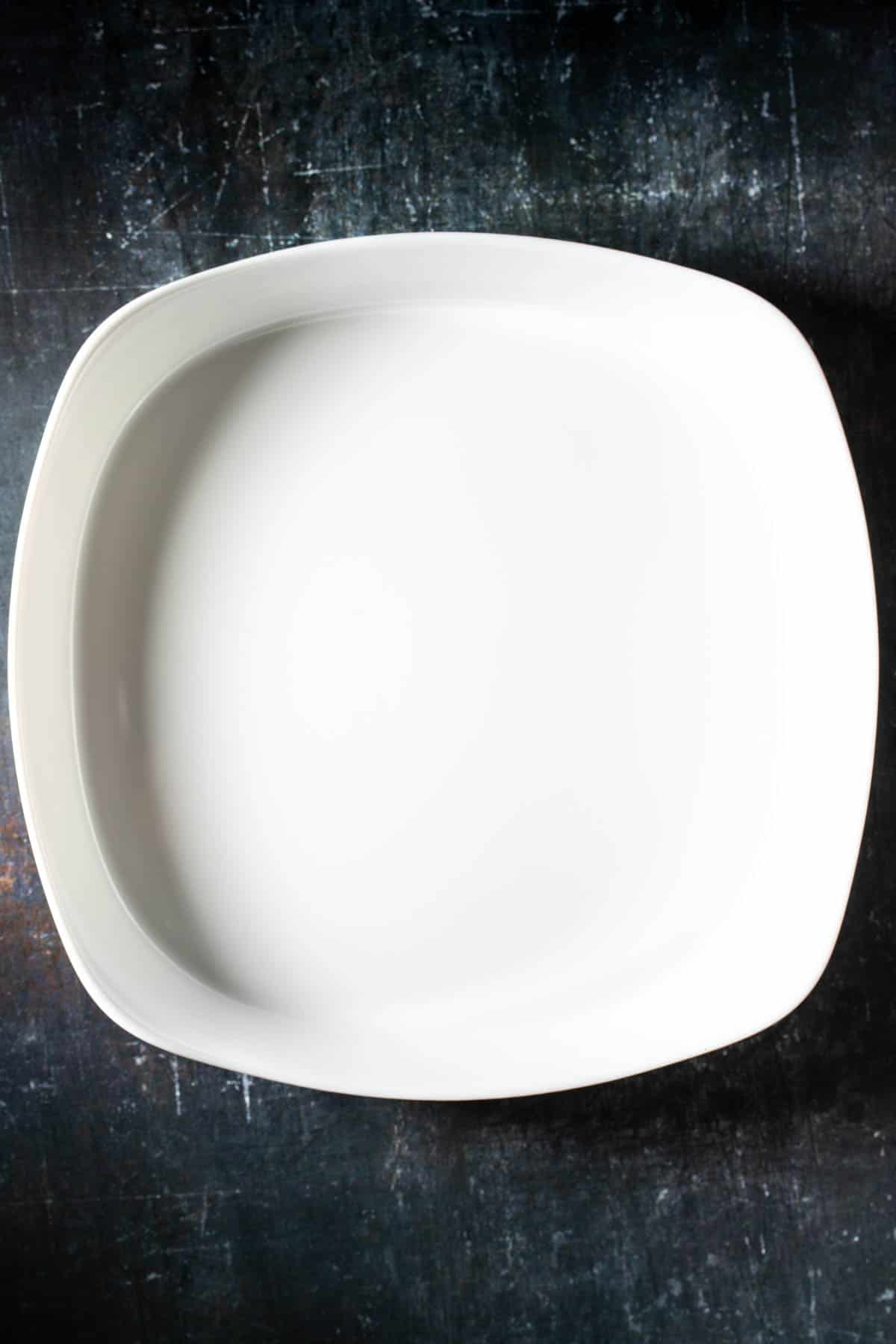 Common Questions
What is kung pao tofu made of?
This recipe uses extra firm tofu, dried peppers, vegetables, peanuts, and a variety of sauces and seasonings to create a deliciously spicy dish.
What is kung pao sauce made of?
Each recipe varies but most contain soy sauce or tamari, hoisin sauce, a sweetener, and spices.
Is kung pao spicy?
Yes, due to the fact that peppers are one of the featured ingredients this recipe is on the spicy side. You can leave out the peppers to make a mild version.
What does kung pao mean?
The term translates to "palace guardian", and story has it the name was inspired by an official in the Sichuan province in the 1800s.
More Easy Tofu Recipes
Want more plant based recipes that are delicious and can be put together with minimal effort? Check these out: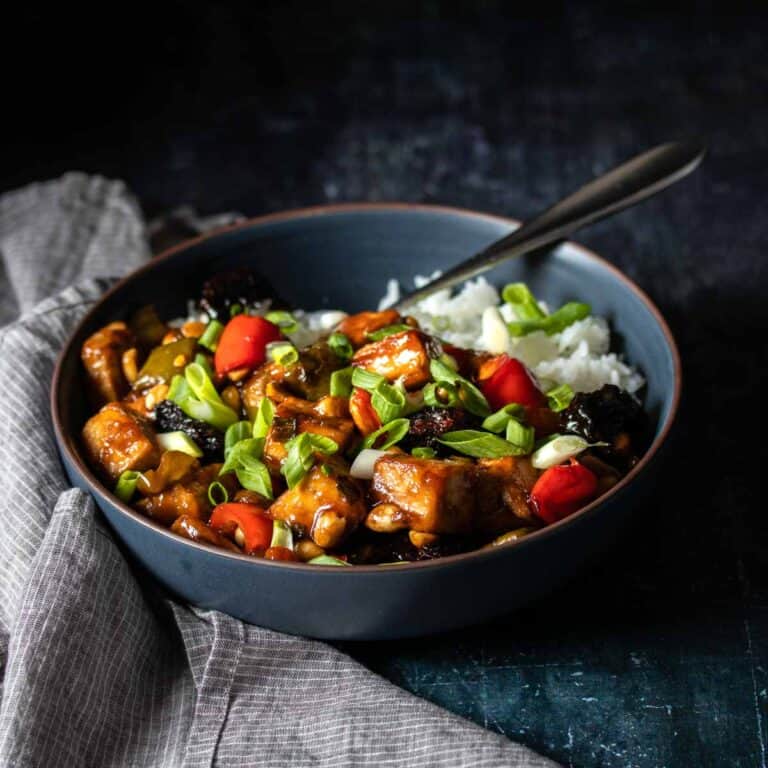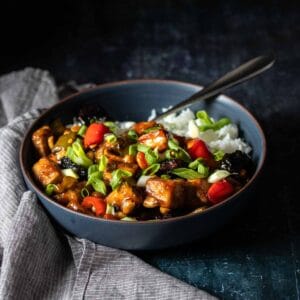 Vegan Kung Pao Tofu
This kung pao tofu recipe is easy, takes minimal prep time and makes a perfect healthy weeknight dinner! This version is also vegan and gluten free.
Instructions
Preheat the oven to 450°F/ 232°C.

Cut the tofu into pieces. You can do squares, rectangles, triangles, or anything else you prefer. Just make sure pieces are all around the same size so that baking time is equal.

Put the tofu in a large bowl and drizzle 2 tablespoons of the tamari/soy sauce over the top. Mix well.

Next, add ¼ cup cornstarch and mix again. It will get goupy but that's ok. Some pieces may also fall apart a little if they are too big, so mix carefully. You can also do the tamari/soy sauce and cornstarch in a plastic bag and shake to mix.

Add to a baking dish (make sure it is high heat approved, you can also use a parchment lined baking sheet if you don't have one).

Next mix the bell peppers, garlic, green onions and dried chilies (if using) with a drizzle of sesame oil (or broth if oil free) and add add to the baking dish.

Bake for about 20 minutes, until tofu is just browning.

Meanwhile, whisk all the sauce ingredients in a bowl until the cornstarch is mixed in.

When the tofu is done, add the sauce to the baking dish and mix around.

Bake for about 15 minutes, until sauce is thickening and bubbling.

Take out of the oven and mix in the peanuts.

Serve over rice and a sprinkle of green onion.
Notes
Pressing the tofu helps with the end texture and allows the tofu to absorb more flavor.
Any dried chilies can work, but make sure they are the smaller sized ones.
You can also use crushed red pepper flakes for the dried chilies, start with ½ teaspoon since you use these in the sauce too.
Leave out the chilies for a more family friendly meal without spice.
Hoisin sauce is found at most grocery stores, I use a gluten free version by Lee Kum Kee. If you can't find it you could try equal amounts of molasses and bbq sauce to make a similar like flavor.
You can omit the dry sherry but the flavor will be slightly different.
We serve this with other vegetables as well for a veggie filled meal. Broccoli, mushrooms and carrots work well.
You can also half the sauce if you don't want it too overwhelming in flavor. 
Recipe by Veggies Don't Bite, visit our site for more great plant-based recipes.
Nutrition
Calories: 492kcalCarbohydrates: 69gProtein: 19gFat: 16gSaturated Fat: 2gPolyunsaturated Fat: 5gMonounsaturated Fat: 7gTrans Fat: 0gCholesterol: 1mgSodium: 1194mgPotassium: 711mgFiber: 5gSugar: 24gVitamin A: 1843IUVitamin C: 82mgCalcium: 116mgIron: 3mg
Nutrition and metric information should be considered an estimate.
Never miss a recipe!
Sign up here and get a FREE quick and easy meal guide!