This vegan lentil walnut taco meat is easy to make and versatile. Put it in tacos, enchiladas or use it in burritos. Super flavorful and family friendly!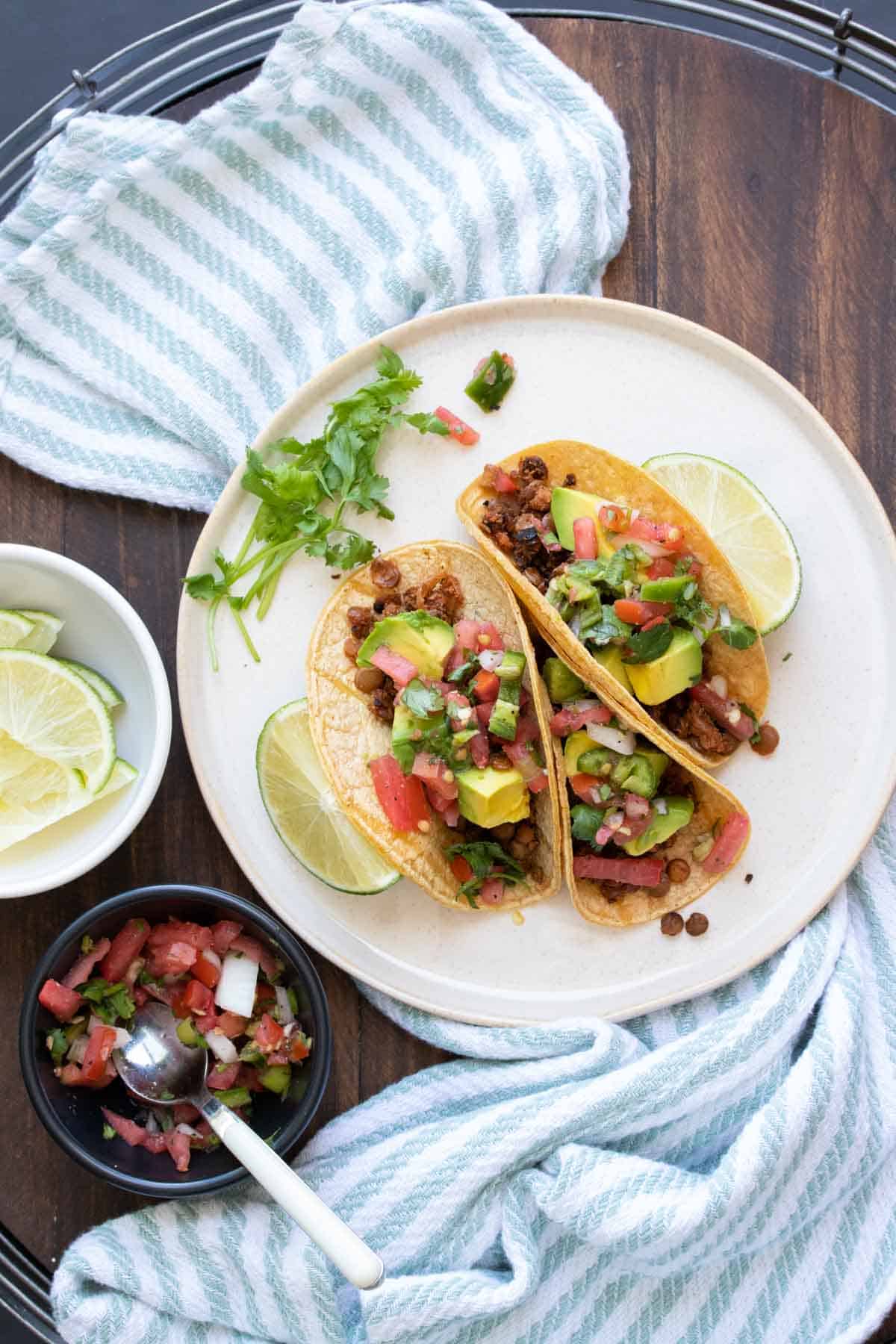 I love a good taco, but I like to switch it up. So creating all different types of meaty filling is key to keeping things exciting. This easy recipe is the perfect addition to our component meals!
Vegan Taco Meat
When it comes to a meaty like taco meat made from plants, there are many ways you can go. One of my favorite bases is walnuts paired with lentils like I do for my Vegan Shepherd's Pie. This combo gives a great texture and satisfying flavor when combined with taco seasoning.
Ingredients
Once you make the taco meat, all you need to do is gather a few basic ingredients and you'll be on your way to amazing meaty like tacos!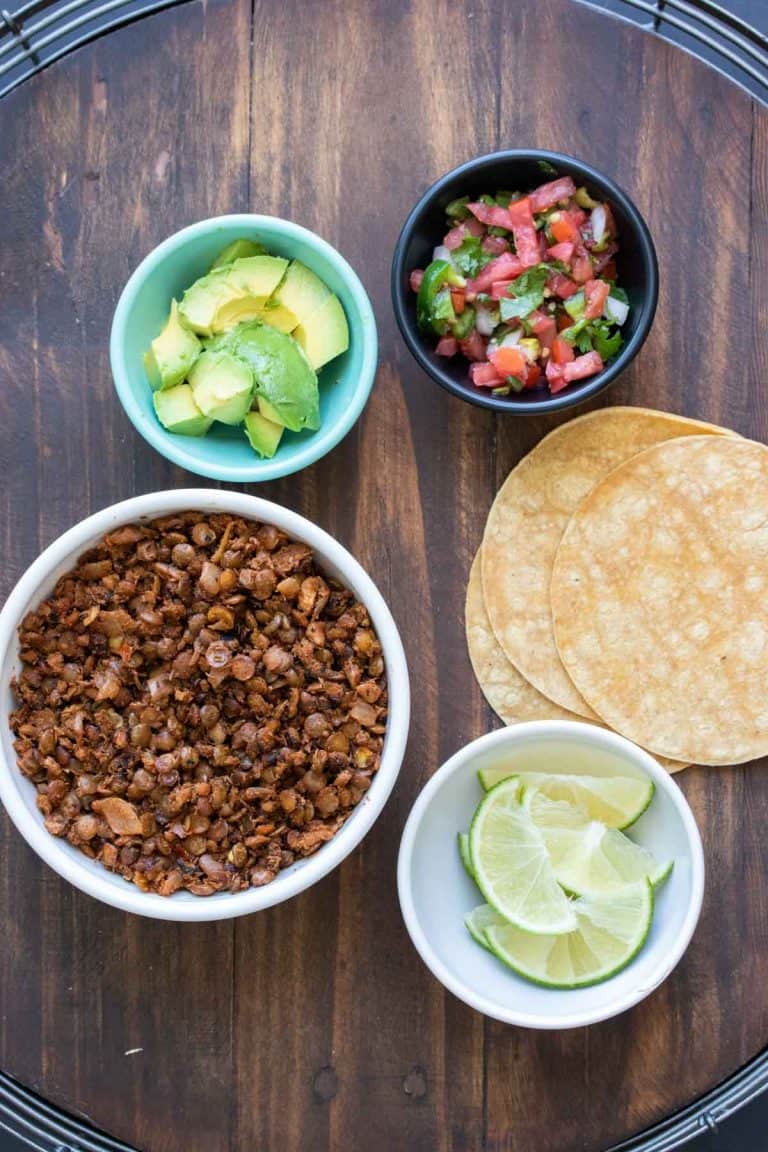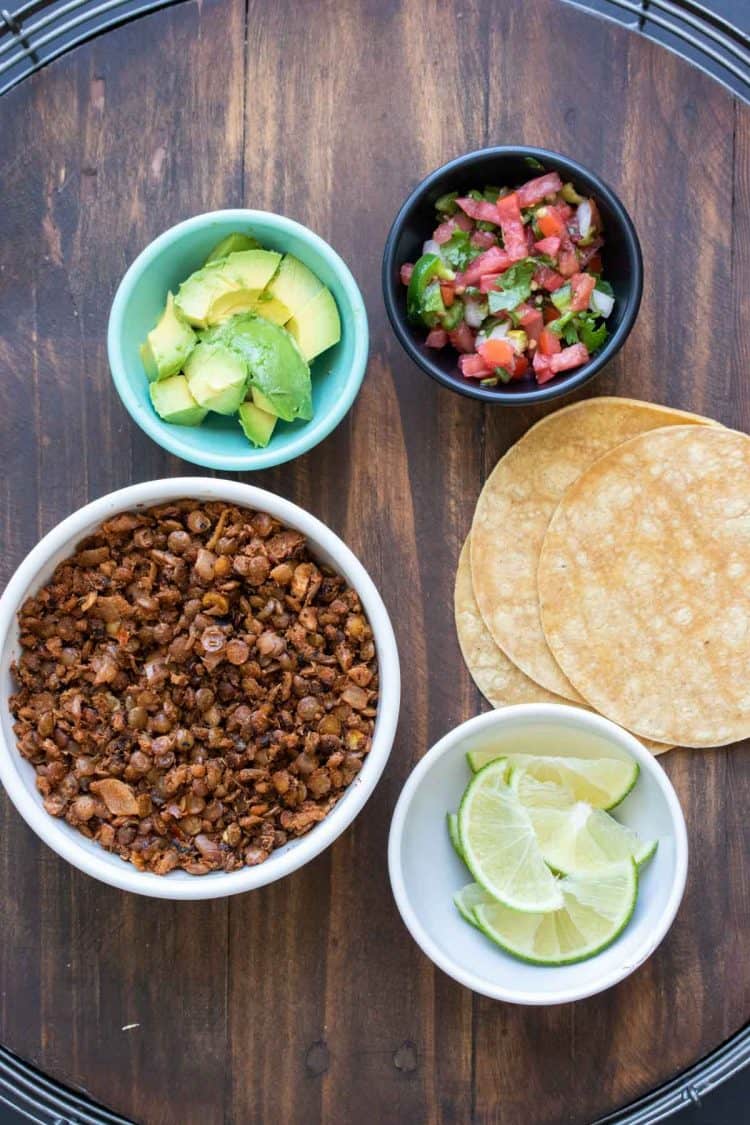 There are two types of walnuts, English and black walnut. I prefer to use English walnuts as they have the most health benefits and can be grown in the USA. Most walnuts are grown in California, which ensures you can buy quality nuts and support local businesses.
You might be thinking, taco meat made out of walnuts? And I am here to tell you absolutely! Walnuts are a great vegan alternative to make things like taco meat and can be bought in bulk, making your life even easier.
How To Make Lentil Walnut Taco Meat
Saute.
Add the rest of the ingredients.
Cook until lentils are soft and the broth has evaporated!
Serve!
How To Use Lentil Walnut Taco Meat
This walnut taco meat can be used in so many different recipes. My favorite is in good, old fashioned tacos. But I also enjoy putting this meat into enchiladas, quesadillas, a taco bowl or taco salad.
Can't decide what to pair this walnut taco meat with? Try these!
Tips and Tricks
This is a pretty full proof recipe, but here is some info to help you along the way!
If you want to add some veggies to this, you can definitely pulse in some neutral things like cauliflower, carrots, or zucchini. If you mince greens you may be able to get away with adding a little and pass it to the kids as herbs.
This can easily be prepped ahead of time by making sure everything is chopped and the spices are pre-measured.
Make this walnut meat at the beginning of the week to eat all week in different ways. It goes great in tacos, but also in burritos, bowls, enchiladas, quesadillas or even soup!
Store unused taco meat in an airtight container in the fridge. You can also freeze it for longer shelf life.
It lasts about one week in the fridge and a good 6 months or more in the freezer.
Common Questions
How do you mince walnuts?
The easiest way to get walnuts nice and finely chopped is using a food processor.
Can you freeze walnut taco meat?
Yes! I like to put a sheet of plastic wrap directly on the top of the walnut meat so it is touching it. Then store in an airtight container. This helps prevent freezer burn.
What can you put in tacos instead of meat?
This walnut taco meat is delicious in tacos, but I also love all the toppings. Any traditional taco topping would go great, but you can also add some roasted veggies for a little extra nutrition.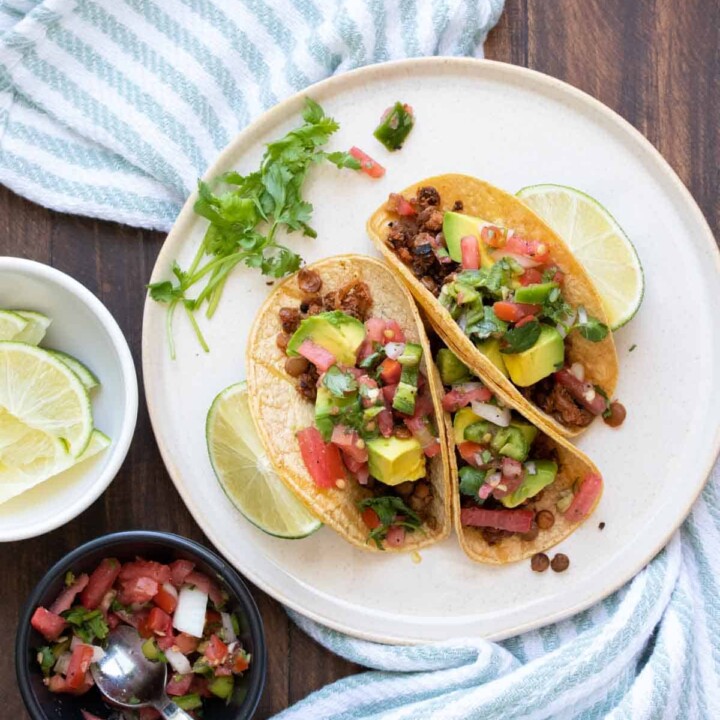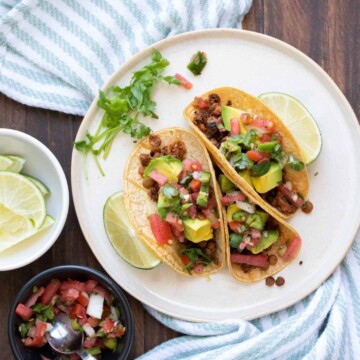 Vegan Lentil Walnut Taco Meat
This vegan lentil walnut taco meat is easy to make and versatile. Put it in tacos, enchiladas or use it in burritos. Super flavorful and family friendly!
Instructions
Using a food processor, pulse dry uncooked lentils until partially chopped and chunky. Set aside. You can also skip this step and pulse the cooked end result.

Next pulse walnuts until chopped into small pieces. Set aside.

In a large pan over medium heat, sauté chopped onion in oil or broth until onion begins to get translucent. About 5 minutes.

Add walnuts and sauté 3 more minutes until mixture begins to caramelize.

Add chopped lentils to the pan and sauté for 1 minute.

Add 3 ½ cups veggie broth and spices and mix well.

Cook covered for 10-15minutes until lentils have softened and broth is almost gone.

Uncover and sauté until all broth is gone and mixture begins to brown and get dry, about 3 minutes. If you prefer, pulse once cooled a bit instead of at the beginning.

Serve however you please!
Notes
It's best to soak the walnuts overnight, however, if you forget, you can also soak in hot water for 2-3 hours or boil for 30 minutes in a pinch.
You can also use brown lentils for this. The green will cook a little more "al dente" than the brown.
This makes about 4 cups. Serving size is ½ cup.
Baby/toddler food idea:
Cook some lentils separately and add spices of choice from those listed. Puree and serve. You can also add cooked onion before blending. For toddlers make as is without the spice.
Recipe by Veggies Don't Bite, visit our site for more great plant-based recipes.
Nutrition
Calories: 244kcalCarbohydrates: 27gProtein: 12gFat: 11gSaturated Fat: 1gPolyunsaturated Fat: 1gMonounsaturated Fat: 1gTrans Fat: 1gCholesterol: 1mgSodium: 381mgPotassium: 540mgFiber: 12gSugar: 3gVitamin A: 1461IUVitamin C: 3mgCalcium: 82mgIron: 6mg
Nutrition and metric information should be considered an estimate.
Never miss a recipe!
Sign up here and get a FREE quick and easy meal guide!