If you're looking for a dairy-free substitute for all those delicious desserts, this vegan mascarpone recipe is the perfect choice. It's easy and versatile!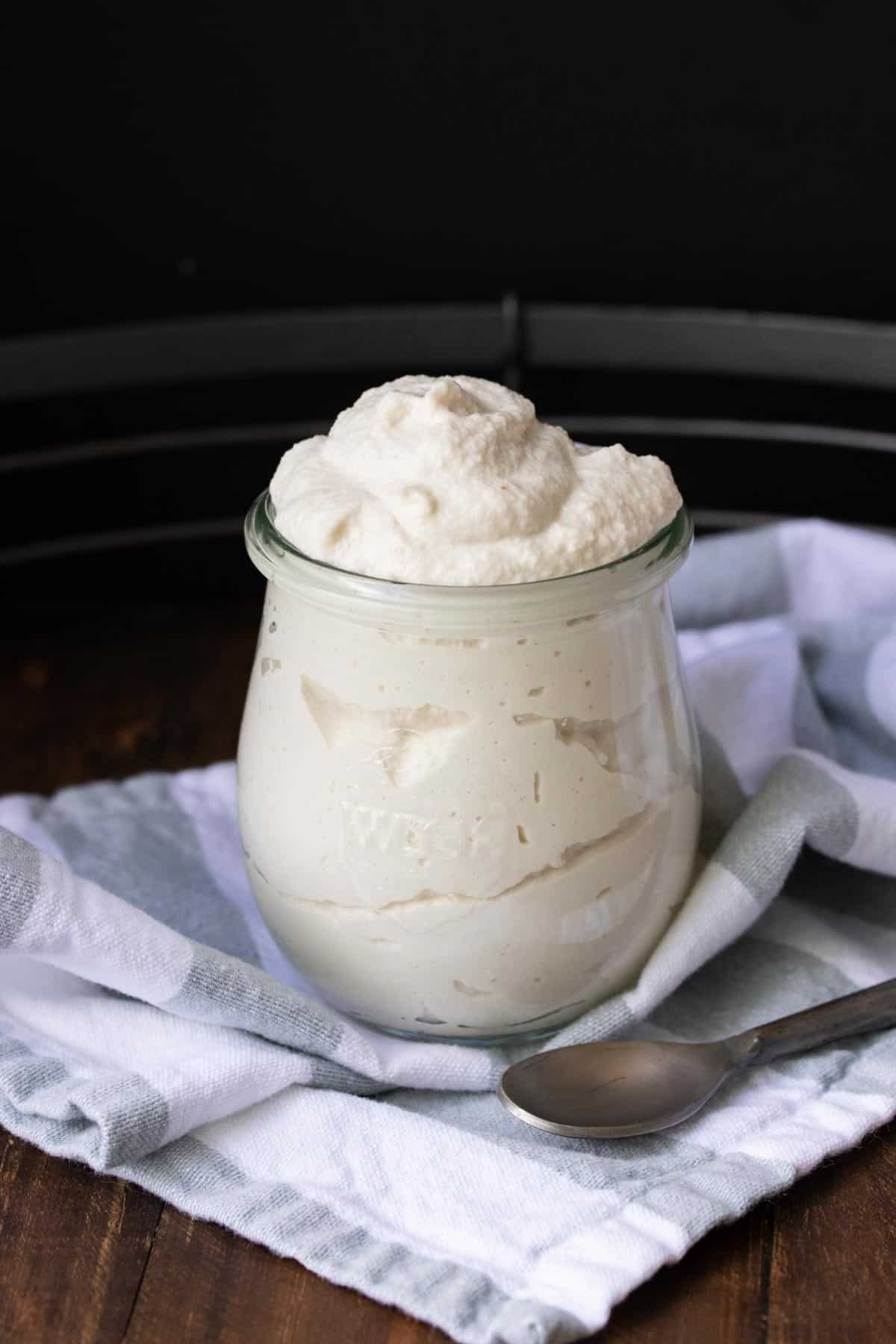 I love having all the dairy-free cream options ready to use when needed, so creating this mascarpone cheese substitute was a much needed addition to my list.
What is Mascarpone?
The easy explanation is that mascarpone is like an Italian cream cheese. It has a sweeter flavor because of the high fat content and is also not as thick.
Cream cheese was created in America, and it uses whole milk as a base. Mascarpone is Italian and is made using heavy cream. Which is where the richer and slightly sweet flavor come from.
How to Make Vegan Mascarpone?
Since mascarpone is traditionally dairy filled and not vegan, I had to make a mascarpone cheese substitute. I used my vegan cream cheese recipe as a base, since the mix of raw cashews and slivered almonds created a great creamy flavor.
The recipes are similar, with this one focusing on a little less tang and bringing out some of the sweetness.
Ingredients
In order to get the flavor I was looking for I needed the perfect mix or tang and nut base. Here is what I used:
Raw cashews
Blanched slivered almonds
Creamy dairy-free yogurt
Lemon juice
White vinegar
Sea salt
Sugar (this is optional for use in sweet recipes)
Making the recipe itself is super easy as all you need to do it blend them well. Here are the simple steps:
Add everything to a food processor and blend until smooth.
Serve as a topper or mix into recipes.
Uses and recipes
Since mascarpone has a slightly sweet flavor, it is often used in desserts. However you can also use it in savory dishes. Some general ways to use mascarpone are:
Dip for fruit
Spread on toast
Pizza topper or sauce
Sub for whipped cream
Mix it into pasta sauce
Soup topper
Add it in vegetable dishes for a creamy twist
Make desserts with it
This vegan mascarpone is great used in many of the recipes on this site. Here are some ideas: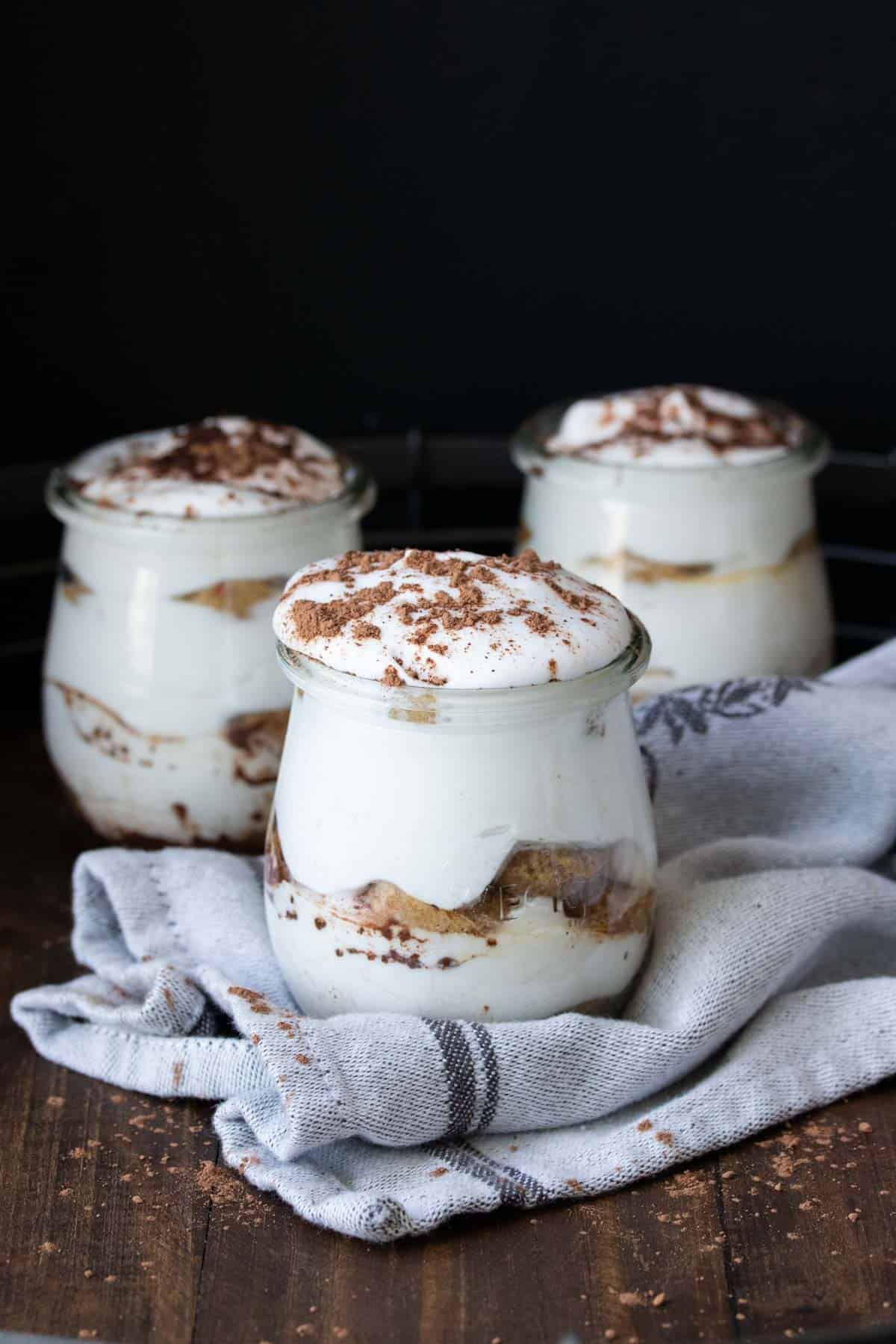 Common Questions
What's the difference between ricotta and mascarpone?
The main difference is the flavor. Ricotta isn't as sweet as mascarpone. It also has a little bit of a different texture. It's more textured and although creamy, isn't as smooth.
What would be a suitable substitute for mascarpone for a vegan dessert?
If you don't have mascarpone, you can substitute cream cheese, but you may want to mix it with a touch of milk to remove some of the tartness and thin it out a bit.

You can even sub coconut whip if you are using it in dessert and don't mind the fluffier texture. For savory dishes I would use a plain yogurt or sour cream.
How do you store mascarpone?
This is best stored in an airtight container in the fridge.
What is the shelf life?
You don't want to keep this longer than 7 days in the fridge. You can freeze it for longer shelf life but it will need to be blended up again once defrosted to get back some of the texture.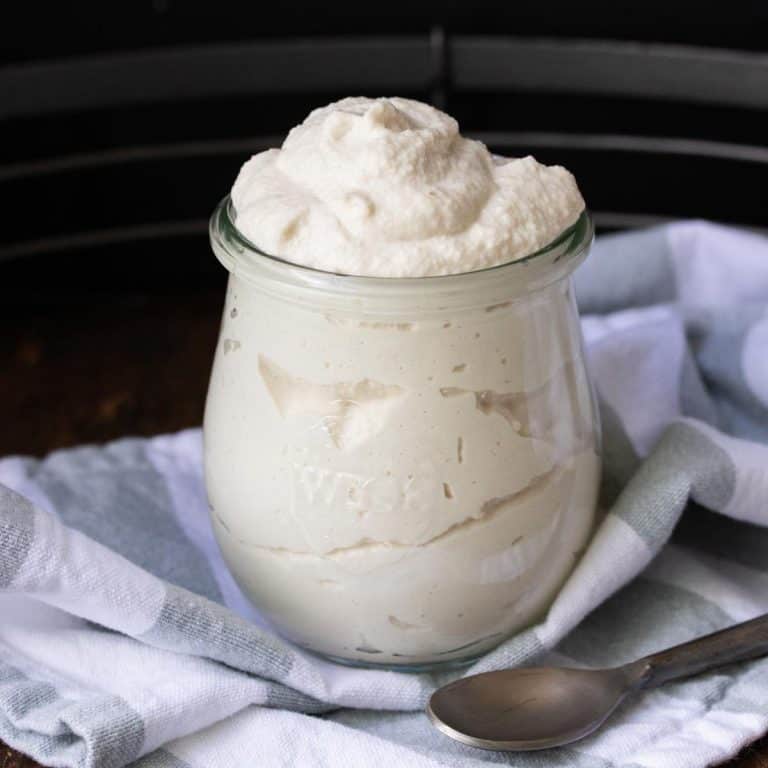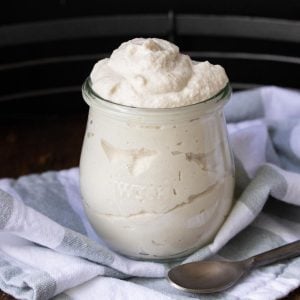 Vegan Mascarpone Recipe
This vegan mascarpone recipe is easily made with simple ingredients to get a rich creamy result! The perfect dairy-free mascarpone substitute.
Ingredients
1 ¼ cup raw cashews , soaked overnight
¼ cup blanched slivered almonds , soaked overnight (see note)
½ cup plain dairy free yogurt (see note)
5 teaspoons lemon juice
3 teaspoons distilled white vinegar
¼ teaspoon sea salt
2 teaspoons cane sugar ,optional (see note)
Instructions
Put everything into a food processor and blend until creamy and smooth.

Use in your favorite recipes or as a dip!
Notes
The nuts need to be soaked for the right result. If you forget to soak, you can boil them for 30 minutes.
If you want a lighter result, use up to ½ cup almonds. If you want it thicker and heavier use all cashews. Just make sure the total amount of nuts is 1 ½ cups.
Make sure to use a creamy full fat yogurt for best results.
Regular mascarpone doesn't have sugar but it does have a touch of sweetness from the heavy cream. To mimic that adding a touch of sugar helps. Feel free to leave it out depending on what you are making.
This makes about 2 cups, serving size is 2 tablespoons.
Recipe by Veggies Don't Bite, visit our site for more great plant-based recipes.
Nutrition
Calories: 73kcalCarbohydrates: 5gProtein: 2gFat: 5gSaturated Fat: 1gSodium: 35mgPotassium: 78mgFiber: 1gSugar: 2gVitamin C: 2mgCalcium: 17mgIron: 1mg
Nutrition and metric information should be considered an estimate.
Never miss a recipe!
Sign up here and get a FREE quick and easy meal guide!