These vegan pinwheels are the perfect snack! Super kid friendly, versatile and easy enough the littles can make them too!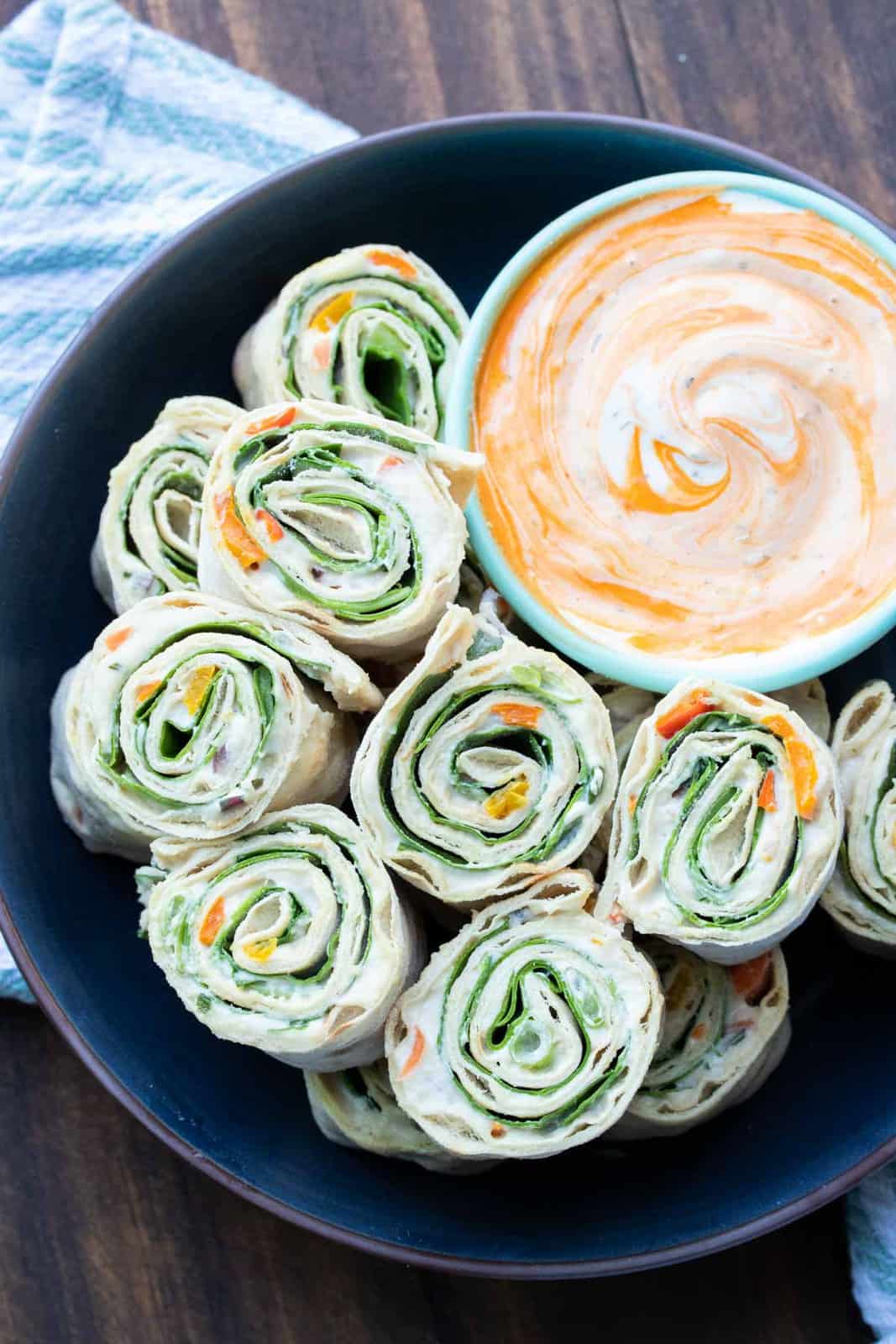 This conversation is sponsored by Atoria's Family Bakery. The opinions and text are all mine.
I love a snack that not only my kids will eat, but something they can get involved in making. These vegan pinwheels can be filled with just about anything you like. Making them perfect to meet all the tastebud needs!
Vegan Pinwheels
The thing about pinwheels is that the key to success lies in two things: the wrap and what you stuff inside. If you hit the mark on both of those, you get these perfect little roll ups filled with flavor and loved by everyone because of the variety that is possible! Let me translate, NO complaining!
What are pinwheel sandwiches?
Pinwheels are classified as a tea sandwich. They are filled with a spread and other ingredients then rolled up and cut into slices. Super delicious and easy to prepare for snacks, parties or to take on the go.
The best thing about them is the million ways you can fill them. No matter what flavors you like, it can happen in a pinwheel. It's like your trusty cozy blanket, always there for you!
An important component to the perfect pinwheel is the bread you use as the base. This keeps the shape and gives you a vehicle for all that yummy filling. But you don't want a blah flavored, falls apart easily bread. You need flavor and structure.
In comes one of our fave flatbreads, the traditional lavash by Atoria's Family Bakery. This is no weakling. It withstands the kid grasp, smells so fresh right out of the package and the flavor tastes like you made it at home. Not only that but:
Atoria's uses only pure simple ingredients.
There are zero preservatives, colors or flavors.
They work with school districts to provide flatbread for healthy school lunches.
Which is why we decided to use it as center to the perfect vegan pinwheel.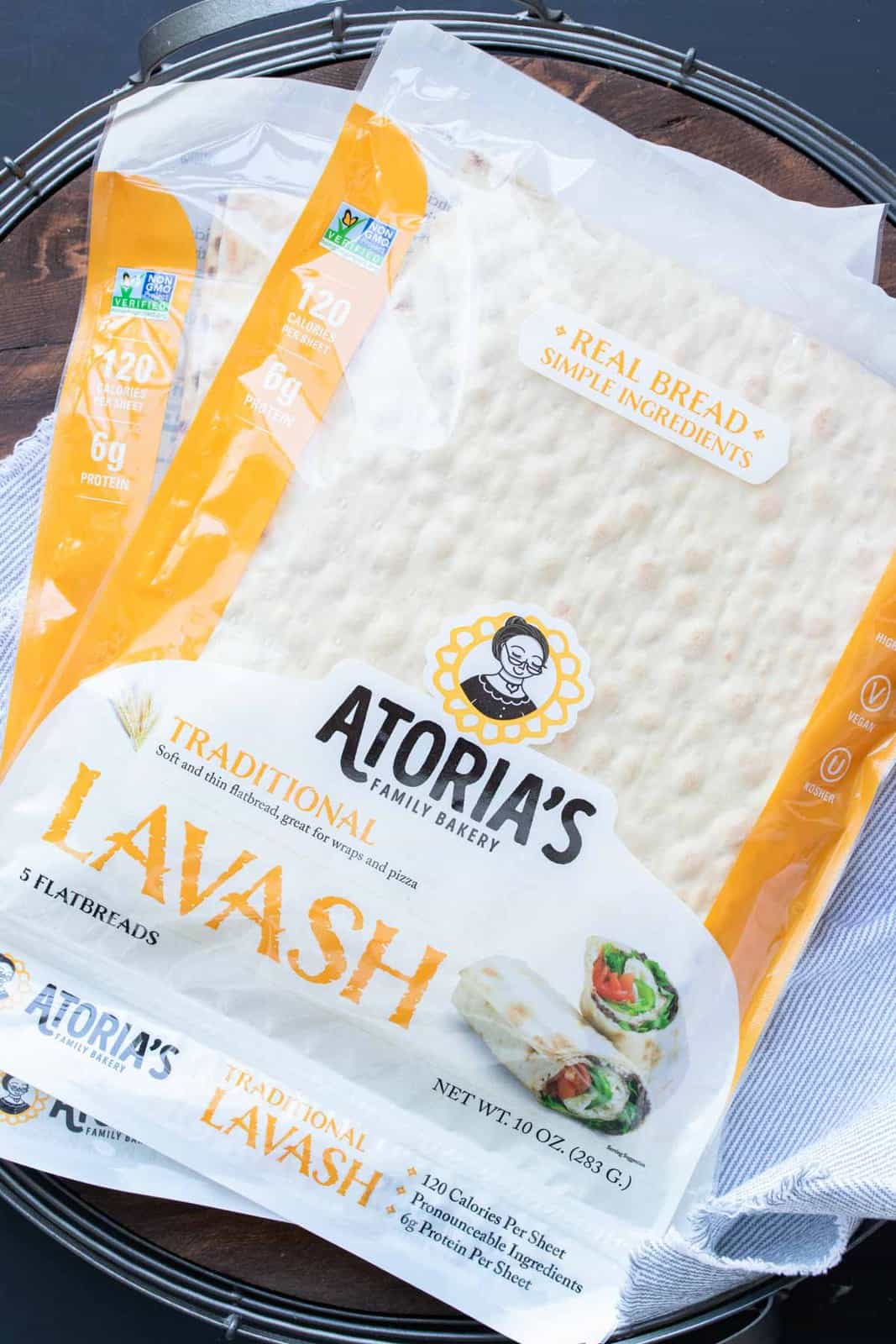 Variations to switch up flavor
So what did we fill this amazing flatbread with? Glad you asked. The question really is, what DIDN'T we fill it with!! There are so many options. Here are some of the delicious fun things we have tried:
Vegan Veggie Cream Cheese, lettuce or spinach
Vegan Plain Cream Cheese, salsa
Pizza sauce, cheese or Vegan Cheese Sauce
Vegan Bruschetta Cheese Ball, spinach, basil
Vegan Plain Cream Cheese, broccoli, peppers
Pepperoncini, roasted red pepper, Greek Hummus
Vegan Mashed Chickpea Salad, lettuce
Peanut butter and jelly
Vegan Plain Cream Cheese, maple syrup, cinnamon
Butter, cinnamon, sugar
Date Paste, almond butter
Vegan Chocolate Frosting, bananas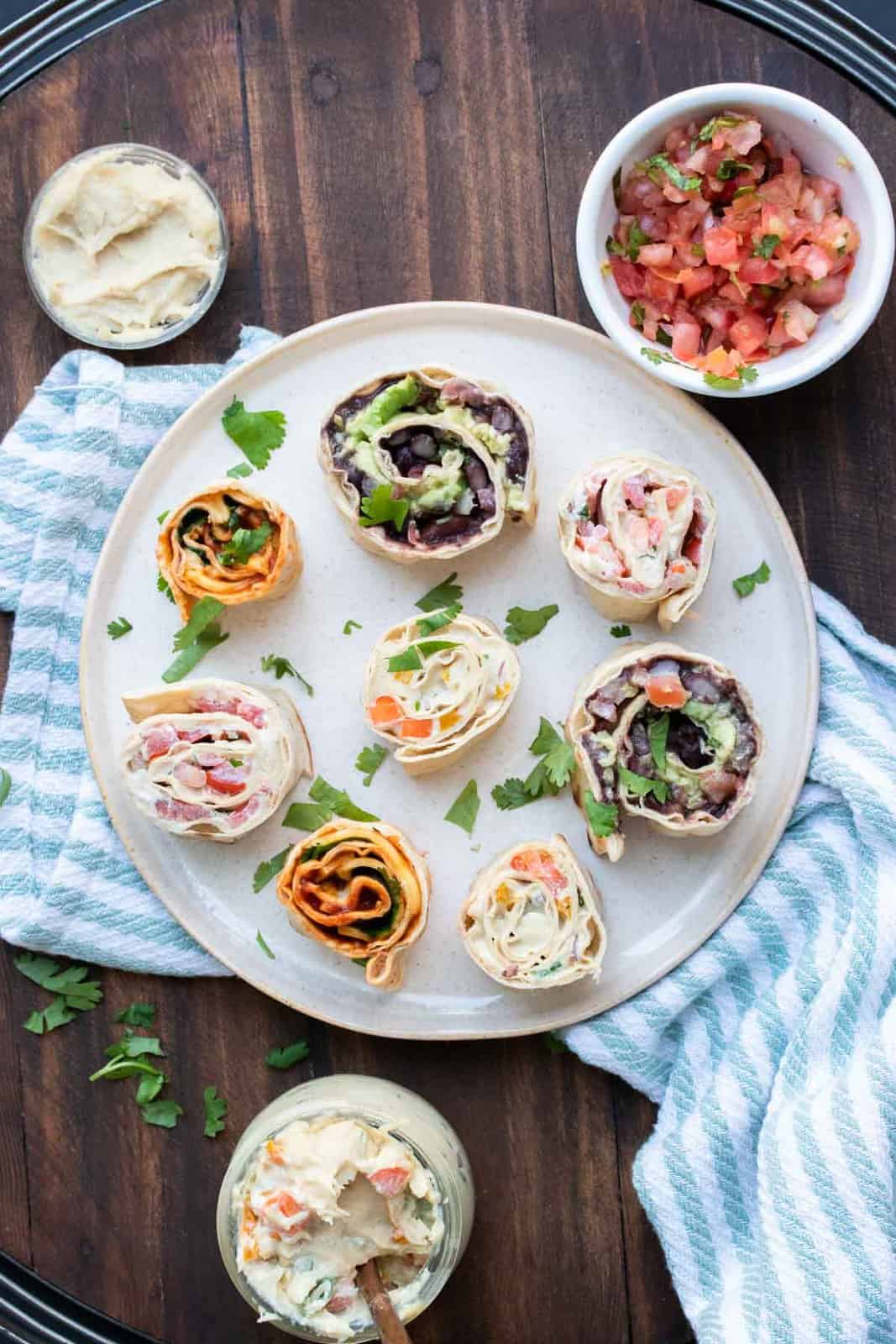 Can you make pinwheels the night before?
Yes! There are two trains of thought for this. One, prep all the fillings and make them fresh so they are perfect when served.
Two, make them ahead of time and store them in the fridge so they are ready for the next day. This makes them perfect for parties and leaves you plenty of time the day of to get all your other tasks done.
Also, if you wrap them in plastic wrap this will keep them from unrolling and keeps them fresh so the bread doesn't dry out. This is a perfect way to keep them if you are bringing them to a vegan picnic!
How do you keep them from getting soggy?
If you decide to make them ahead of time, be prepared you may get some softness in the bread. But there are things you can do to help this! Other than making sure to use a quality bread, like Atoria's, here are some tips:
Add a layer of lettuce, spinach or some other veggie onto the bread first, to keep any soggy ingredients from mushing into the bread.
Use a layer of sliced cheese onto the bread first.
Focus on spreads that don't have too much moisture.
Use only a thin layer of spread onto the bread, then your veggies and other ingredients.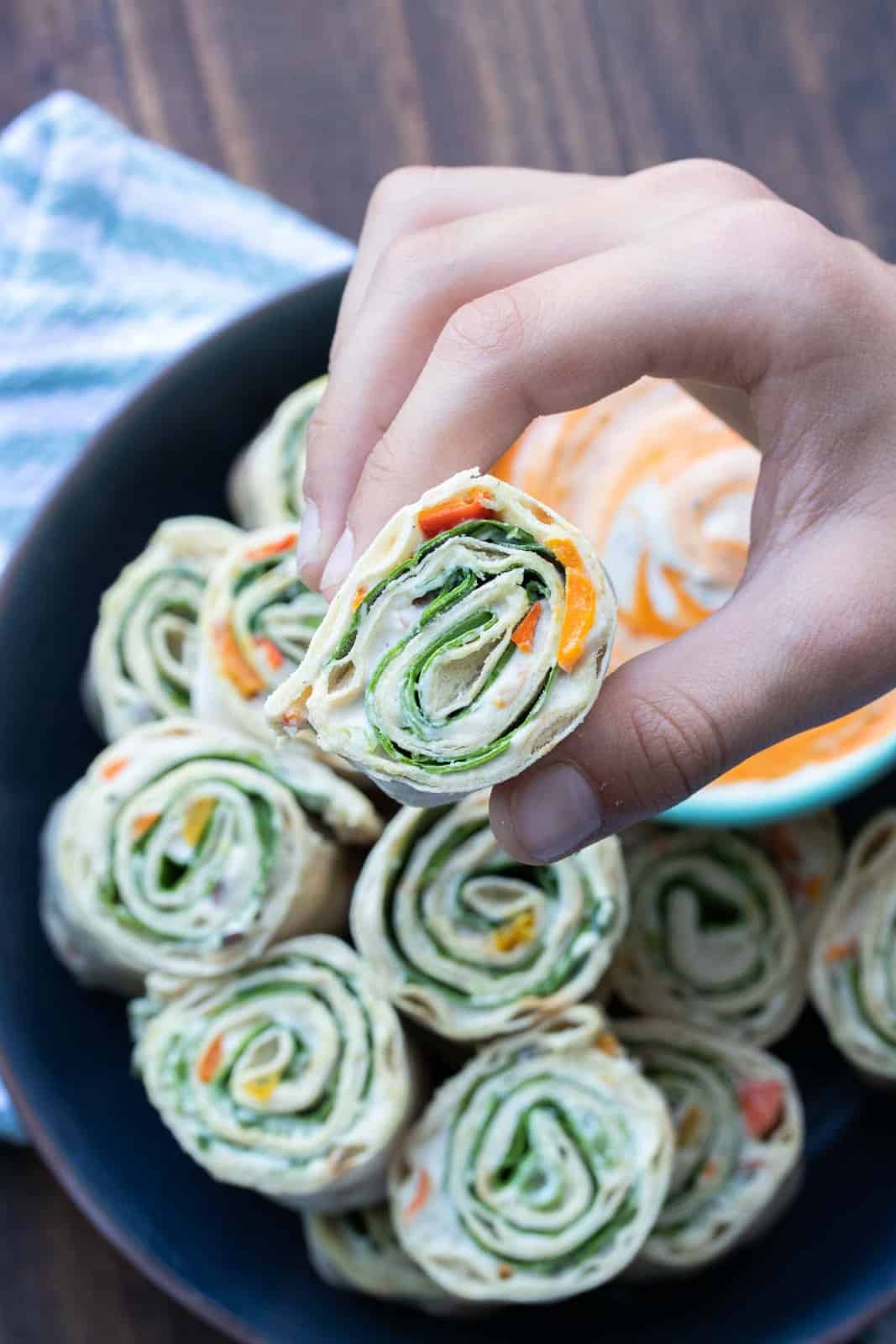 Are these kid friendly?
Yes!! They are so kid friendly because kids can choose whatever filling they like. Heck, they can change it up daily if they want! Because we all know how quickly they change their minds!
In fact, making pinwheels is even a fabulous kid activity. All you need to do is get out all the fillings and put them into bowls. Then let kids spread on and fill them with what they want. Using a plastic knife is a perfect tool.
With some guidance, let them roll them up. Then help them cut into pieces. This activity can keep them busy for a while! Bonus for us, and fun for them. Plus when you cook with your kids they get these awesome benefits:
Confidence in their life skills
Builds self help
Teaches them math, organization, sequencing, visual spacial skills and fine motor strength
How To Make Vegan Pinwheels
There are a few ways to go about making pinwheels. Many people layer the fillings onto the large piece of bread, then roll and cut. However, I find that after a few cuts, the roll tends to squish and you end up squeezing some of the ingredients out.
So I took a different approach. I cut the lavash bread into smaller strips first. This reduced the number of cuts but still let the process go quickly.
Cut strips of bread.
Spread with topping of choice and top with ingredients.
Roll, cut in half and serve!
Tips on how to roll correctly
The key for that perfect end result is to make sure you don't overstuff them. You want enough filler to be tasty, but not so much that the bread can't be rolled. Also, when you start with smaller strips, you only need a few cuts so the ingredients stay in place!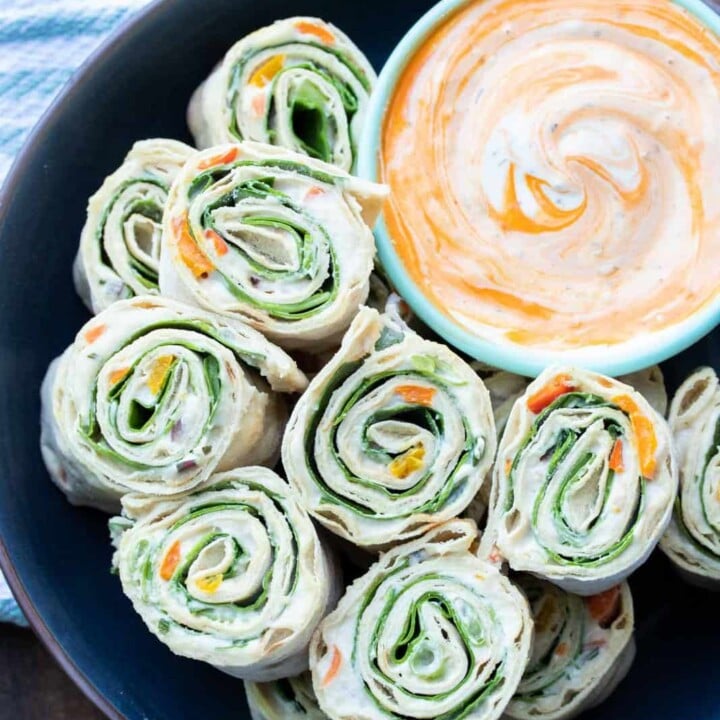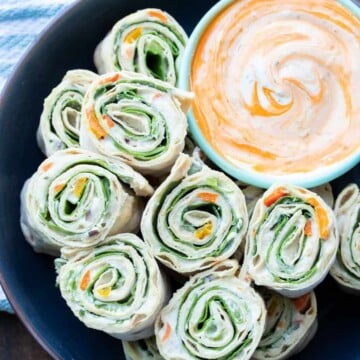 Vegan Pinwheels
These vegan pinwheels are the perfect snack! Super kid friendly, versatile and easy enough the littles can make them too!
Ingredients
1 sheet lavash bread I used Atoria's Lavash (see note)
6 tablespoons vegan cream cheese
3 tablespoons salsa
3 pieces lettuce , you can remove the rib to make it easier to roll
Italian flavor option
your favorite cheese , dairy free to keep it vegan
See other flavor options in the post
Instructions
If preferred, slice the lavash bread into 4 long pieces.

Lay lettuce down onto the lavash bread. This helps protect it from getting soggy from the cream cheese and salsa. You will need to cut the lettuce a bit to fit the strips if you cut the bread.

Spread cream cheese over the lettuce.

Spread salsa over the cream cheese.

Tightly roll the lavash bread until the end.

Slowly and carefully slice into 1-2 inch pieces.

Enjoy!
Notes
If you need a gluten-free option, use a gluten-free tortilla.
Adjust amounts of filling to your liking.
Nutritional info will change depending on ingredients used for filling. The info here is for the basic lettuce, cream cheese and salsa option.
Recipe by Veggies Don't Bite, visit our site for more great plant-based recipes.
Nutrition
Calories: 198kcalCarbohydrates: 22gProtein: 8gFat: 10gSaturated Fat: 1gSodium: 238mgPotassium: 257mgFiber: 4gSugar: 5gVitamin A: 429IUVitamin C: 5mgCalcium: 39mgIron: 2mg
Nutrition and metric information should be considered an estimate.
Never miss a recipe!
Sign up here and get a FREE quick and easy meal guide!