This easy vegan portobello steak recipe is the perfect flavorful main dish. Pairs amazing with all the sides for a well rounded hearty meal!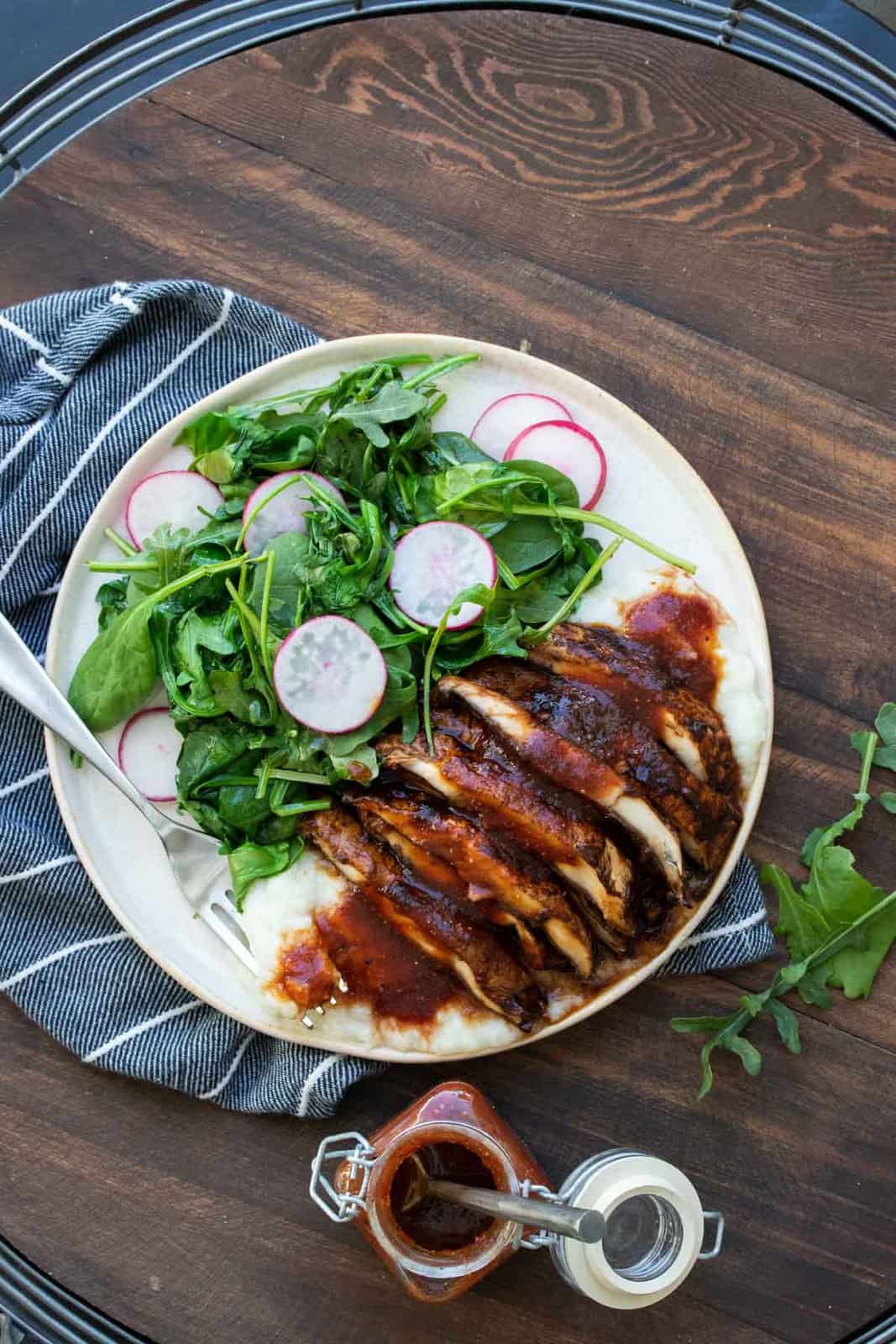 When it comes to mushrooms, many people think they are additions or ingredients to main recipes. This time, it is their time to shine because this main dish is so good all on it's own!
Vegan Portobello Steak
These portobello steaks are awesome! While they are amazing on their own, they also make delicious a delicious portobello mushroom burger. You can also chop this portobello steak up and add it to so many things, from wraps, to salads and even as toddler food.
What is Portobello meat?
Portobellos are those big mushroom caps you see in the store, usually sold in packs of two. These make great options for alternatives to steak or burgers! They pack a great meaty flavor, as well as being loaded with nutrients.
The meat is the main part of the mushroom, not counting the gills and stem. Although both of those can be eaten as well!
How do you prepare a portobello mushroom?
Properly cleaning and prepping your mushrooms is important to ensure you get the right texture and flavor. Because you don't want to end up with slimy mushrooms, make sure that if you wash them under water, you dry them well.
After they are dry, wiggle the stem to gently remove, then using a spoon or small knife, scrape the gills (ribs) out. You can definitely keep the stem and gills, but I prefer taking them out. I still cook the stem as well, just separate. Then it's time to add flavor!
Since portobello mushrooms need a little flavor added, I like to prepare them with marinade before I cook them. This can be as simple as herbs and spices with some lemon juice and a little olive oil. Or something more fancy like the amazing Homemade Steak Sauce Recipe I use in this recipe!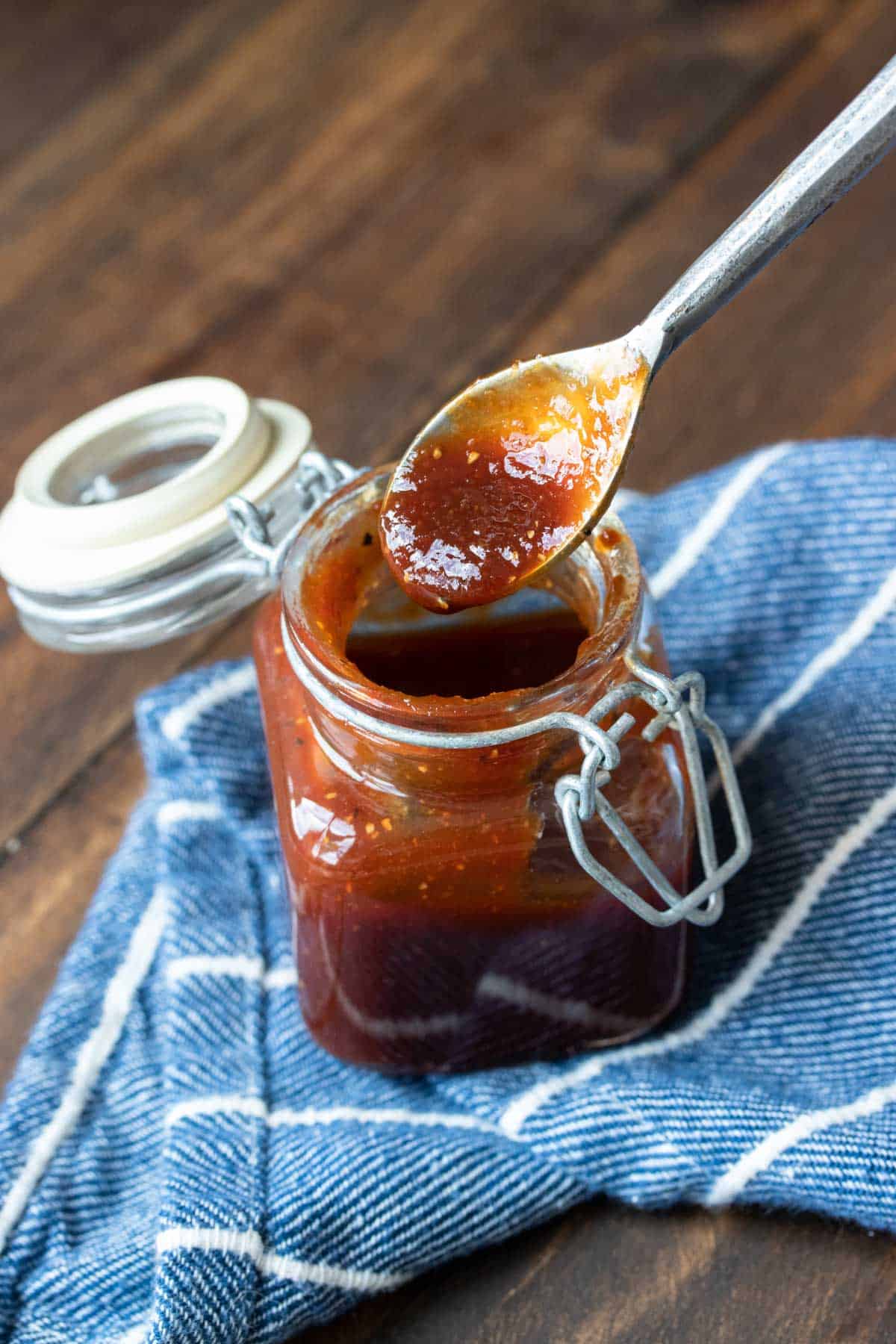 Some other great sauces that you could marinate this with, changing up the flavor a bit, would be:
How do you clean a portobello mushroom?
Making sure you clean your produce is important, but mushrooms can be tricky because they can absorb the water and get slimy if you don't dry them fast. So use your preferred method to clean produce (I love the Eat Cleaner produce wash), then dry quickly.
Can you eat the gills?
While you can definitely eat the gills without harm, they do have a pretty pronounced mushroom flavor. So I suggest cleaning them out if you don't want that.
Is there such thing as vegan steak?
There are vegan meats out there that mimic the flavor and consistency of steak. Things like processed meat alternatives and also setian. I'm not a huge fan of either of those, so for me using portobellos is a better option. You'll get a lot more nutrients this way and they are much easier to prepare!
I do advocate balanced eating however, so processed meat alternatives are definitely something we are ok with sometimes. I don't really love the texture of seitan though, so I don't usually eat it.
What do you serve with portobello steak?
This portobello steak recipe goes great with just about any side dish to make a full well rounded meal. Some of my favorite sides to eat with these are:
How To Make Vegan Portobello Steak
De-stem and de-rib the mushrooms.
Brush with steak sauce and allow to marinate.
Cook and serve with your favorite sides!
Tips for grilling and baking portobello mushrooms
You can either bake, pan cook or grill this portobello steak. Here are some things to consider when trying to decide which to do!
Baking will take the longest, about 30 minutes total.
Baking is easy because you can walk away.
Grilling them on a pan or on an outdoor grill only takes about 3-5 minutes on each side!
You can watch them if you grill them to decide how charred, cooked etc you prefer them.
Grilling them gives a more browned on the outside like texture.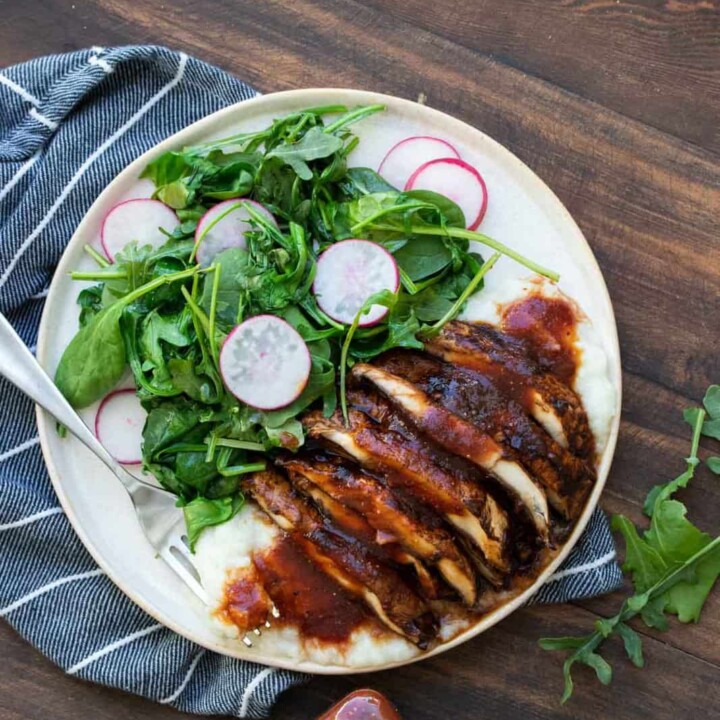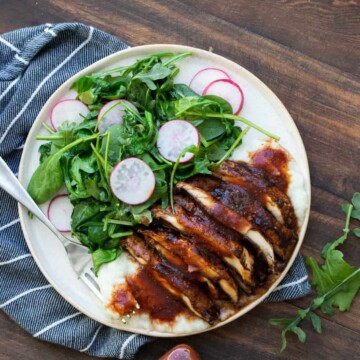 Vegan Portobello Mushroom Steak Recipe
This easy vegan portobello steak recipe is the perfect flavorful main dish. Pairs amazing with all the sides for a well rounded hearty meal!
Ingredients
4 portobello mushrooms
1 ¼ cups homemade steak sauce , or store bought (use extra for topping, see note)
drizzle of your favorite oil for grilling/baking , optional
Instructions
Marinate Overnight (optional for optimal flavor)
Clean the mushrooms by removing the stem and scraping out the gills using a spoon. This is optional but I recommend it. I save the stems to cook separately or chop up to use in a different recipe.

Brush the mushrooms with steak sauce (and oil if using), I used about ¼ cup for each. Allow to marinate overnight or at least an hour for the best flavor.
If baking:
Put into a baking dish, and bake at 350 F/ 175 C for about 15 minutes.

Flip over and bake another 15 minutes.
If grilling:
Add to a hot grill pan and cook for 3-5 minutes on each side, until nice and browned.

If using an outside grill, cook for 3-5 minutes over a medium flame and flip over, making sure to watch for burning.
Serve with sides of your choice!
Notes
If making the homemade steak sauce, make the entire recipe and use any extra to drizzle on top. Make double the sauce if you want a lot left to drizzle on top.
These pair with just about anything, see the post for more ideas.
Recipe by Veggies Don't Bite, visit our site for more great plant-based recipes.
Nutrition
Calories: 83kcalCarbohydrates: 16gProtein: 4gFat: 3gSaturated Fat: 1gSodium: 625mgPotassium: 353mgFiber: 4gSugar: 7gVitamin C: 3mgCalcium: 13mgIron: 3mg
Nutrition and metric information should be considered an estimate.
Never miss a recipe!
Sign up here and get a FREE quick and easy meal guide!