Thinly sliced shiitake and baby portobello mushrooms slathered in flavorful BBQ sauce makes this meaty and chewy vegan pulled pork sandwich the perfect addition to any party. Forget the grill and grab some buns!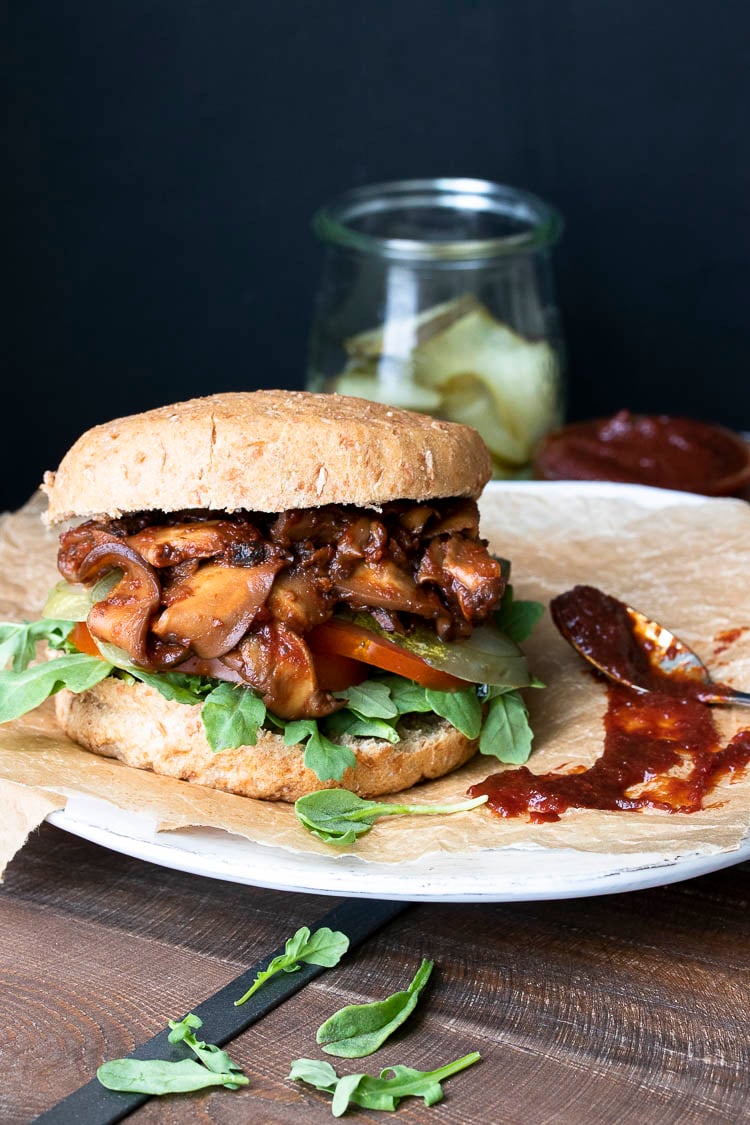 This is a cookbook review written by me on behalf of Linda and Alex Meyer, for which I received a free copy of the book. All the opinions and text are all mine.
If you're a mushroom lover, and love the flavor of rich barbecue sauce, then you're going to love these. It's the perfect addition to your summer meal plan (or really any meal plan); easy to make, comes together in no time and topped with peppery arugula, fresh tomatoes and tangy pickles. Perfect for any crowd!
Veganosity's Great Vegan BBQ Cookbook
This delicious recipe comes from the new cookbook, Great Vegan BBQ Without A Grill,  by mother and daughter team Linda and Alex Meyer, otherwise known as Veganosity. Linda and I connected through a FB blogger group and became instant friends. She is not only the nicest most supportive person, but she is a talented chef (and she loves mindless reading, shopping and trash TV so obviously we'd get along). So it comes as no surprise that she and her daughter created this amazing book!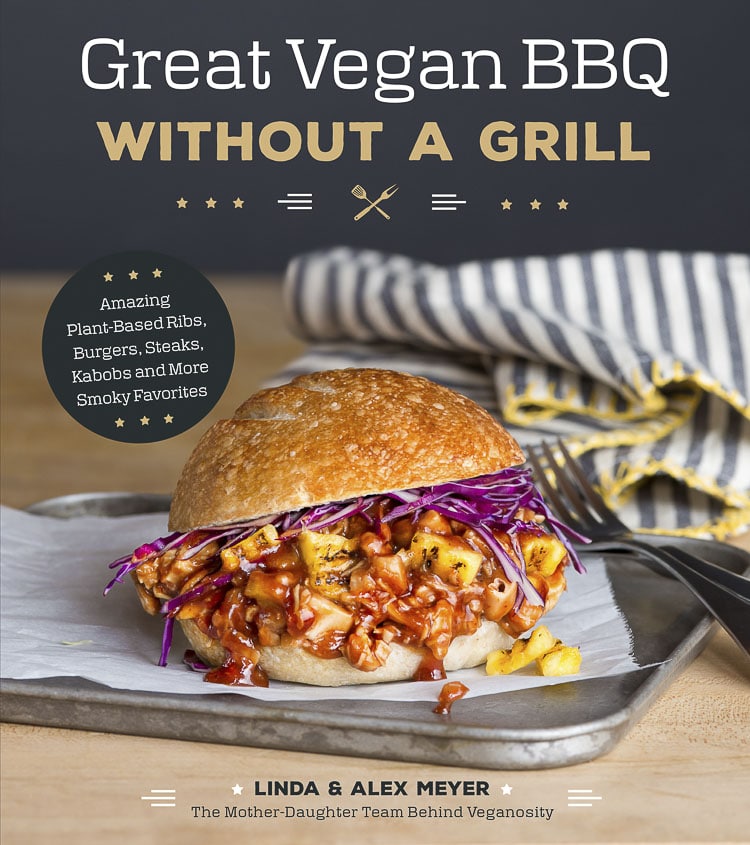 If you're a fan of barbecue then you need this book. It has you covered with everything from baked beans to their take on vegan ribs. The chapters cover it all:
vegan versions of classic meaty BBQ
burgers and sammies
food on sticks
fun takes on stuffed and foil foods
sides
dips
sauces and rubs
And of course, photos for every recipe! This is a deal breaker for me. I need photos with my food. The other hook, line and sinker with this book: no fillers. They have one page of notes on ingredients and tools, then they get straight to business, food. It's why we buy these books right?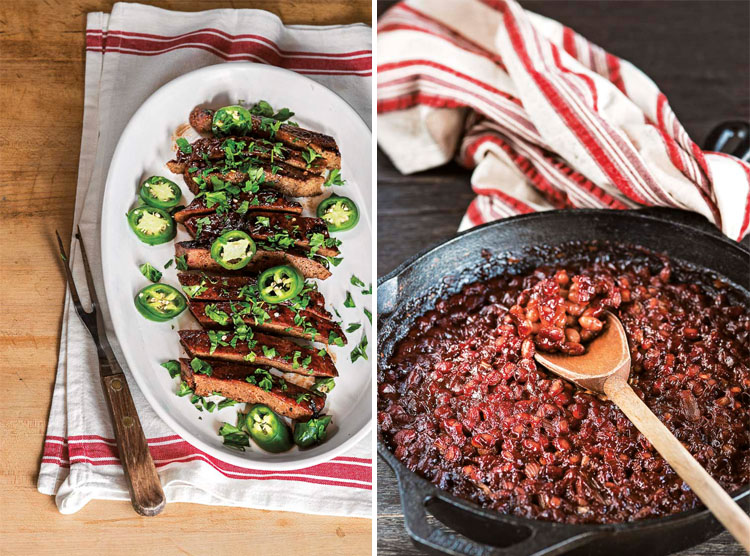 How to make vegan pulled pork
So, let's get to it. There are loads of ways to get vegan versions of traditionally meaty recipes, mushrooms being the focus in this one. I am personally a mushrooms lover, so this was a no brainer for me. Plus seeing the simple list of ingredients drew me in.
The key here is to thinly slice the mushrooms so they almost make ribbons. This helps give these vegan pulled pork sandwiches a meaty chewy texture that makes your taste buds dance. Once you add the BBQ sauce and cook it down a bit until sticky, the texture is amazing!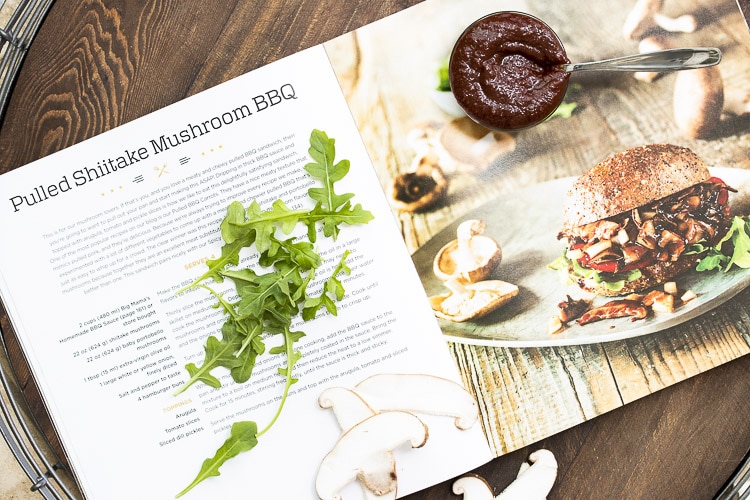 Side note: I used my own BBQ sauce since I had it in the freezer, but their list of sauce options is incredible and I will definitely be trying them soon. If you get your sauce prepped ahead of time then this meal pulls together in no time! The arugula gives these a bite that counters the sweetness of the barbecue, a perfect combo. Then you add the tang of pickles and OMG, hello mouth party.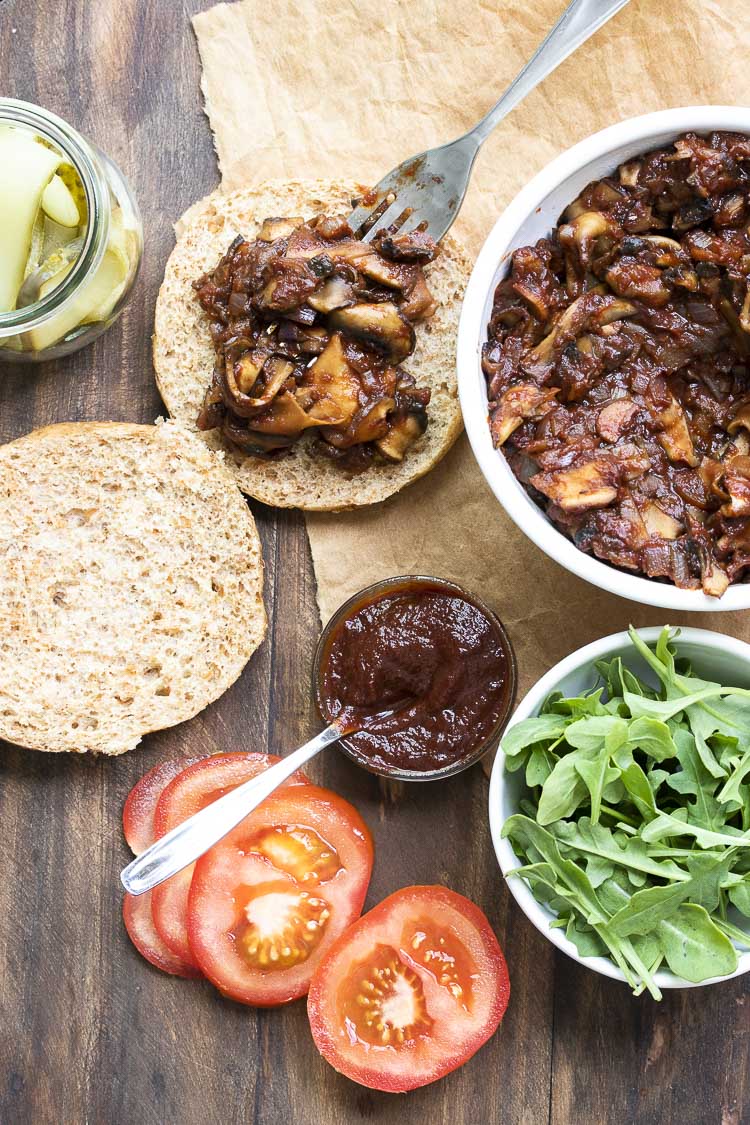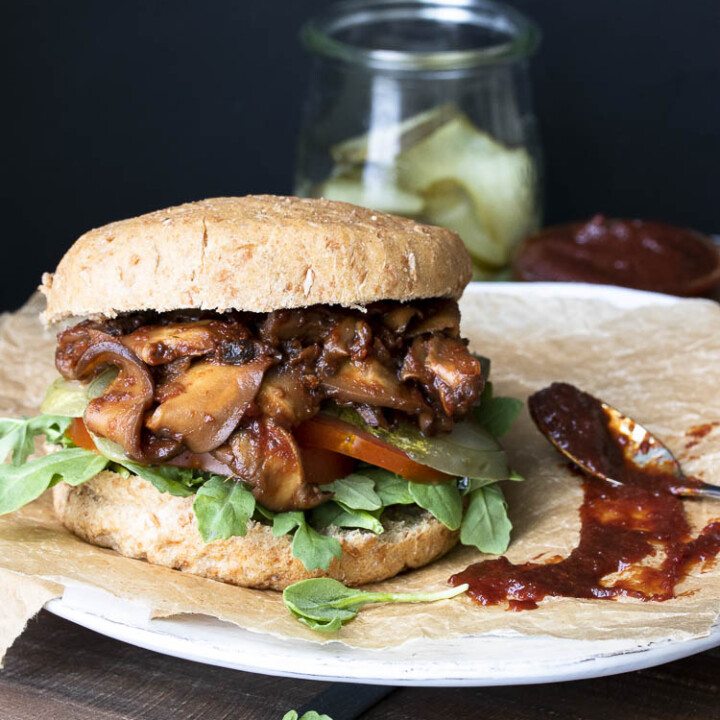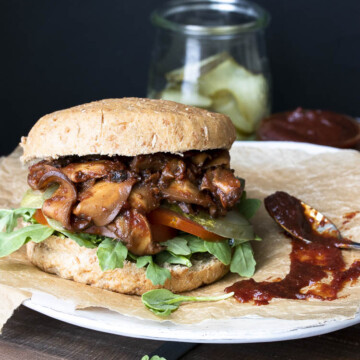 Vegan Pulled "Pork" Mushroom Sandwich
Thinly sliced shiitake and baby portobello mushrooms slathered in flavorful BBQ sauce makes this meaty and chewy vegan pulled pork sandwich the perfect addition to any party. Forget the grill and grab some buns!
Ingredients
22 oz shiitake mushrooms
22 oz baby Portobello mushrooms
1 tablespoon extra-virgin olive oil (see note for oil free)
1 large white or yellow onion , finely diced
Salt and pepper , to taste
4 hamburger buns
Toppings
Arugula
Tomato slices
Sliced dill pickles
Instructions
Make the BBQ sauce, if you don't already have some on hand, to allow the flavors to infuse while you prepare the mushrooms.

Thinly slice the mushrooms. They should look shredded. Heat the oil in a large skillet on medium heat. Depending on the size of the pan, you may need to cook the mushrooms and onions in two batches. When the oil is hot, add the mushrooms and onions and stir frequently until the mushrooms lose their water and the onions become translucent and soft, approximately 5 to 7 minutes.

Turn up the heat to medium-high and add salt and pepper to taste. Cook until the onions caramelize and the edges of the mushrooms begin to crisp up, approximately 5 minutes.

When the mushrooms and onions are done cooking, add the BBQ sauce to the pan and stir until the mushrooms are completely coated in the sauce. Bring the mixture to a boil on medium heat and then reduce the heat to a low simmer. Cook for 15 minutes, stirring frequently, until the sauce is thick and sticky.

Serve the mushrooms on the buns and top with the arugula, tomato and sliced pickles.
Notes
Nutrition info is calculated without the BBQ sauce since it will differ depending on which one you use. It includes sprouted wheat burger buns.
To make this oil free simply sauté with broth or water.
Reprinted with permission from Great Vegan BBQ Without a Grill, copyright © 2018 by Linda & Alex Meyer. Published by Page Street Publishing Company.
Recipe by Veggies Don't Bite, visit our site for more great plant-based recipes.
Nutrition
Calories: 299kcalCarbohydrates: 53gProtein: 16gFat: 6gSaturated Fat: 0gCholesterol: 0mgSodium: 199mgPotassium: 1261mgFiber: 12gSugar: 8gVitamin C: 2.1mgCalcium: 14mgIron: 1.2mg
Nutrition and metric information should be considered an estimate.
Never miss a recipe!
Sign up here and get a FREE quick and easy meal guide!