Fluffy, soft and perfectly moist, these baked vegan pumpkin donuts with chocolate chips from the new cookbook by The Vegan 8 are absolute perfection!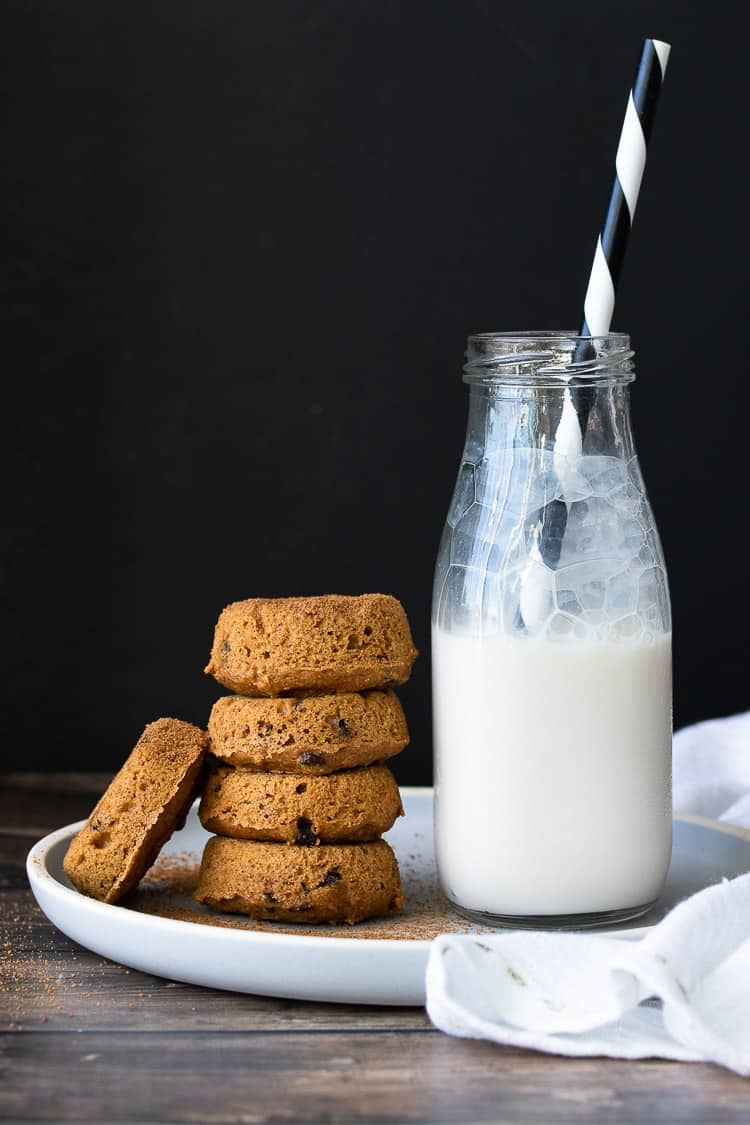 This is a cookbook review written by me on behalf of Brandi Doming, for which I received a free copy of the book. All the opinions and text are my own.
If you love fall as much as I do, then you are going to need these amazing baked vegan pumpkin spice chocolate chip donuts. They are so easy to throw together and loved by kids and adults. They come from this new cookbook by my incredibly talented friend Brandi from The Vegan 8. This is a book you won't want to miss!
The Vegan 8 Cookbook: 100 Simple, Delicious Recipes Made With 8 Ingredients or Less
Yes, you read that right. 8 ingredients or less. This is the theme from Brandi's blog, now done in book form! She has created enough amazing recipes to keep your family full for years to come. A few reader favorites from her amazing website, but most are brand new recipes.
I can't say enough good things about this book. Easy, check. Everyday ingredients, check. Whole foods, check. This cookbook has it all! It is literally the perfect book for people starting a vegan diet, those already eating a vegan diet, and those that have no desire to eat a vegan diet but really just like GOOD FOOD.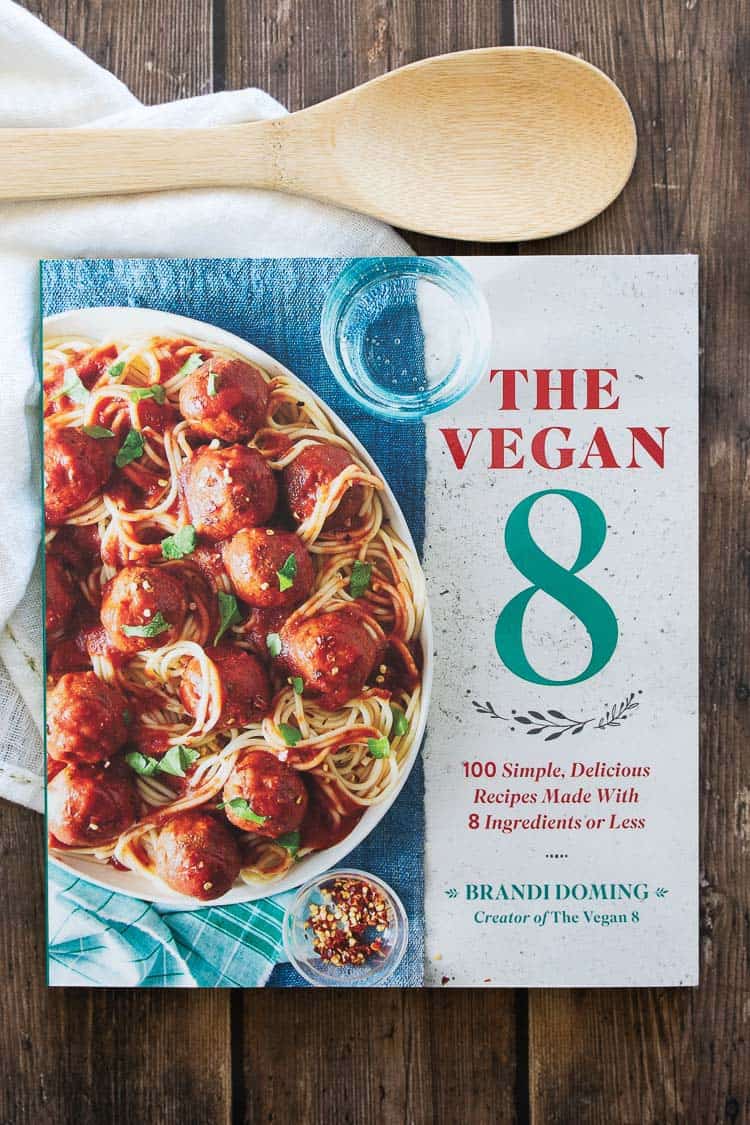 Why you need this book now:
easy vegan recipes for ALL types of eaters
mostly all gluten free and oil free
every recipe is 8 ingredients or less (not including salt, pepper and water)
wide range of recipes from breakfast to snacks to entrees and more
beautiful photos for every recipe
tips, substitutions, nutrition and labels for each recipe
The chapters:
Brandi has some amazing sections included in this book. Other than the wide range of meal chapters (my favorites are the Time-Crunch Lunches and Crowd Pleasing Desserts), she includes some really useful information.
First, she gives a whole section on stocking a vegan kitchen. If you ever had a doubt, or didn't know where to start, this is it. There is no detail left out. So basically just bring this book to the store and you're all set!
But I think one of my favorite things in here, other than the food, is the one page cheat sheet on Metric Equivalents. From temperatures, to weight and even length! I'll even use this to help my kids with math! Haha!
But let's get back to the food and the mouthwatering photos. I wish I could say I didn't try licking a few pages. Here are a few sneak peeks at some of the recipes, get your stretchy pants ready!
Easy One-Pan Ready Curry With Spinach and Carrots (Even a curry not so much lover like me wants all in here.)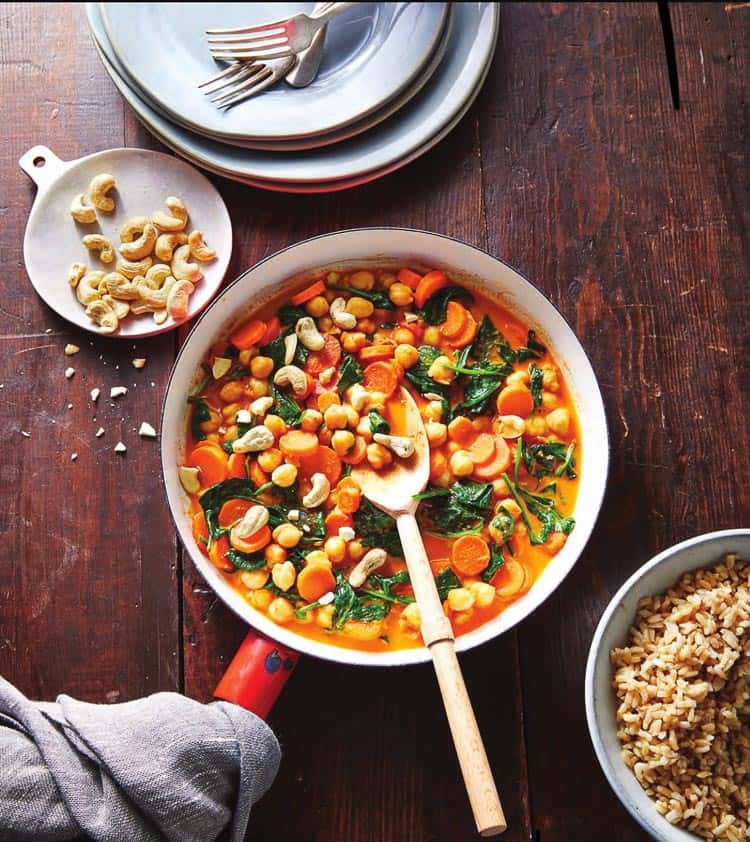 Creamy Lemon and Garlic White Bean Crostini (I know this is in the appetizer section, but can I just face plant in it for dinner please?)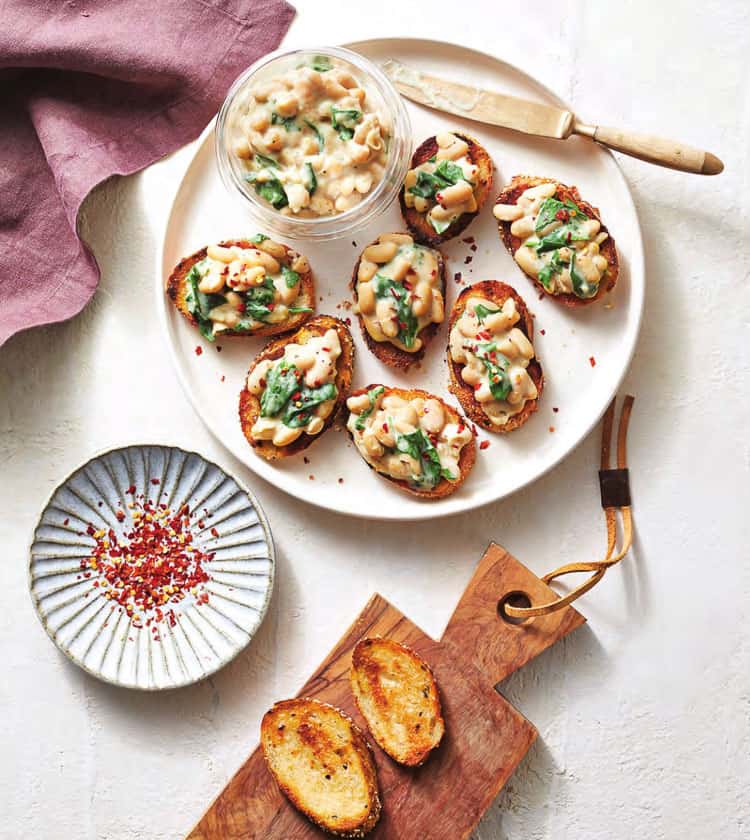 That Rice Noodle and Bok Choy Soup (Yeah I'm going to go ahead and say I'll be slurping this one up rude style at some point this week)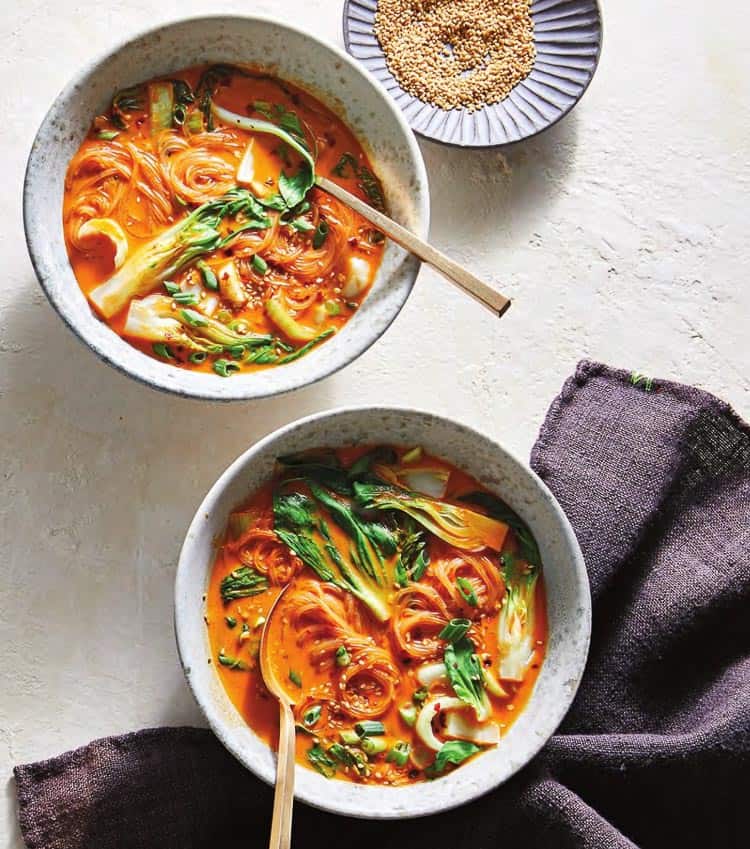 Double Chocolate Fluffy Pancakes (I have had these and they are amazing. I mean, who doesn't want chocolate for breakfast?!)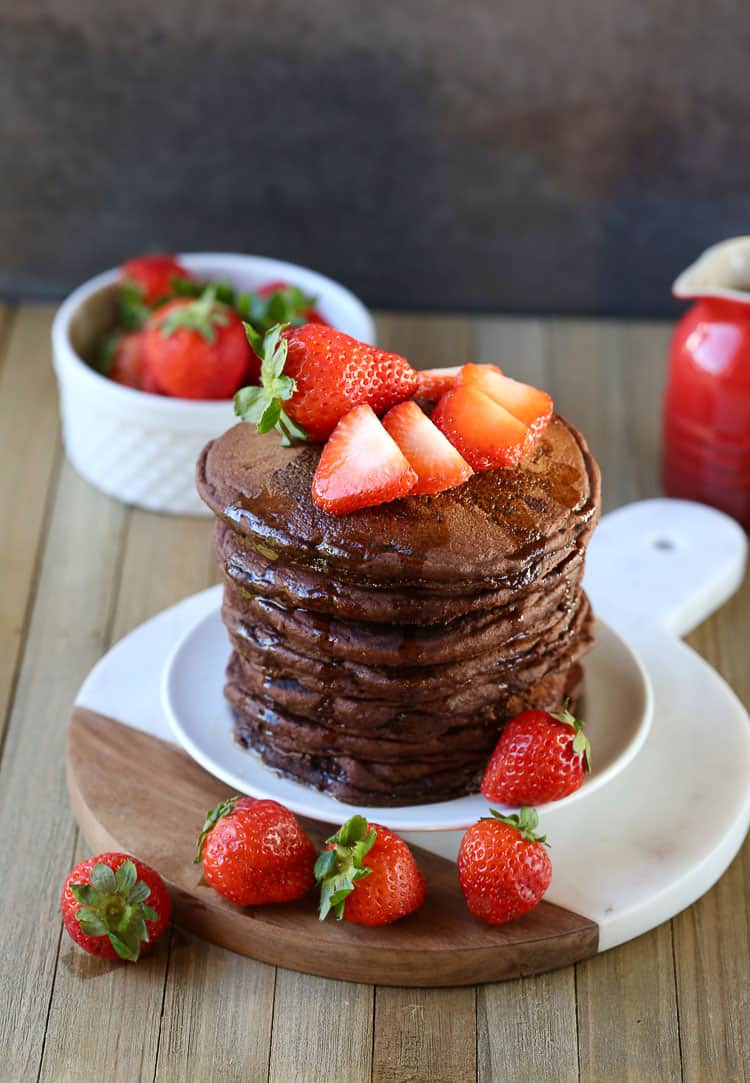 So if you are still reading this and not sprinting to the store to buy the book already, then you're in for a treat. Scroll down past the recipe and find yourself a little early holiday gift. I am giving away a copy to one lucky winner! Technically it isn't actually ME giving it away, it's the publisher, but I'm putting all the work in sooooo…..you're welcome.
Making Baked Vegan Pumpkin Spice Donuts with Chocolate Chips
So now for the main event. Donuts. All you really need to know, is that I made these in less than 3o minutes including clean up. It takes you longer to read this post than it does to make these donuts.
Why did I time myself? Because I ate the first batch and only left two, so I quickly had to make another round before school pick up time or I'd have some angry children.
It's a good thing these are so easy to make. They literally are a few steps and BOOM. Baked Vegan Pumpkin Donuts.
Put the dry ingredients into a bowl. Add in the wet. Mix. 
Put into a prepared donut pan and bake. 
Once cooled, remove from the pan and devour. Don't forget to notice how absolutely soft and fluffy they are. 
Pumpkin Donut Topping Options
So because these were SO uber easy to throw together, I had extra time to make eating these even more fun for my kids. I created two dippers: Pumpkin Spice Sugar and Pumpkin Chocolate Sauce. Both recipes are in the recipe card below.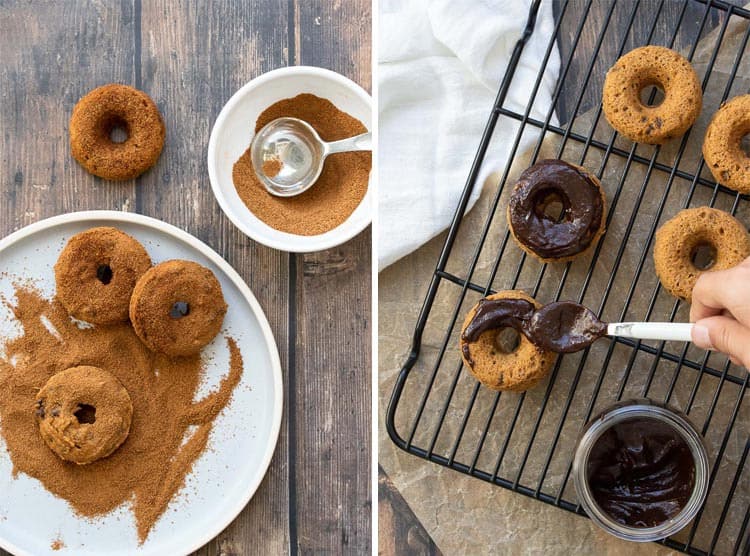 To get the sugar mixture to stick, you can either spray them with a light coat of the oil you used to spray the pan, or you could even spray with a little water. My kids loved it.
The pumpkin chocolate is a no brainer, because who doesn't like chocolate?! (My niece actually, but we tell her she's nuts!)
So if you are still not convinced, and haven't already bought your copy of The Vegan 8 Cookbook while reading this, you have a chance to win one below! Just scroll down below the recipe. US only and ends Wednesday!!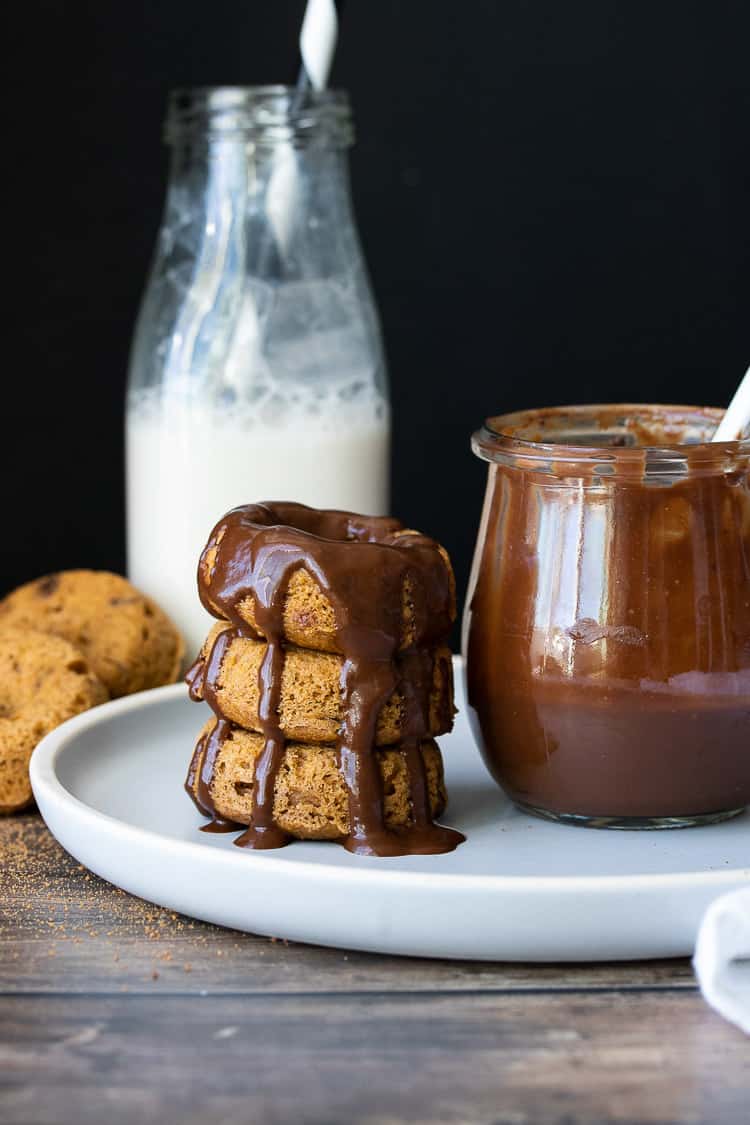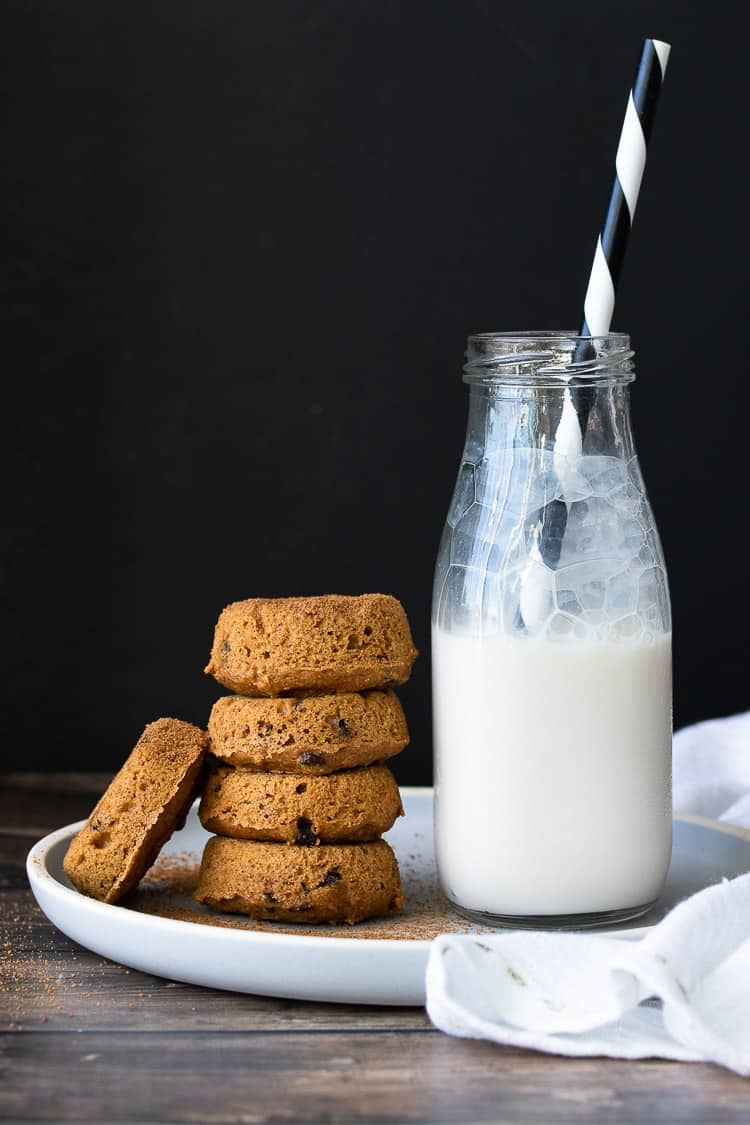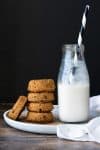 Baked Pumpkin Spice Chocolate Chip Donuts
Just because you crave a donut, doesn't mean you need to resort to a greasy, fried one. Sure, those taste good but they are not the healthiest choice. These pumpkin spice ones are fluffy, moist, and super soft.
Keyword:
healthy donuts, vegan donuts
Ingredients
1¼

Cups

spelt flour

2

Tablespoons

cornstarch

2½

Teaspoons

Pumpkin Pie Spice

1½

Teaspoons

baking powder

½

Teaspoon

fine salt

9

Tablespoons

pure maple syrup

(½ cup + 1 Tablespoon)

½

Cup

pumpkin puree

¼

Cup

vanilla dairy-free yogurt

, room temperature

6

Tablespoons

dairy-free semisweet chocolate chips
Pumpkin Spice Sugar
1/4

Cup

coconut or cane sugar

1

Tablespoon

Pumpkin Pie Spice
Chocolate Pumpkin Sauce
1/4

Cup

dairy-free semisweet chocolate chips

2

Tablespoons

pumpkin puree

Dash

fine salt
Instructions
Preheat the oven to 350 F (177C). Spray a regular-size 6-donut pan with nonstick spray. You can also make these in a regular-size muffin pan, which will yield 8 muffins.

Add the flour, cornstarch, pumpkin pie spice, baking powder, and salt to a large bowl, and whisk well.

To the same bowl, add the syrup, pumpkin, yogurt, and chocolate chips. Stir the ingredients well until a smooth batter is formed. The batter will be on the thick side. Be careful not to overmix.

Spoon the batter evenly into the prepared pan. Using the back of a spoon, smooth and flatten out the tops of each donut. If you don't do this, they will bake up really lumpy and ugly. If you're making muffins, I find using an ice-cream scoop gives a nice rounded top.

Bake at 350F for 15 minutes or until the donuts have risen beautifully, are fluffy, have a golden-brown top, and lightly spring back when touched. Muffins may take closer to 20 minutes. Look for a clean toothpick when it's inserted in the center.

Let the donuts cool in the pan for about 5 minutes and then carefully flip them over onto a cooling rack. Let them cool completely. Once cooled, store any extras in a large, sealed container or ziplock bag so they don't dry out.

If you are making the Pumpkin Spice Sugar, simply mix both ingredients in a small bowl. You can spray the donuts with a light coat of the spray you used for the pan, or even spray water. Then sprinkle with sugar and it should stick pretty well.

If you are making the Chocolate Pumpkin Sauce, slowly melt the chocolate chips in the microwave or on the stove. Once melted stir in the pumpkin and dash of salt and mix well. Dip the pumpkin in or coat them with the sauce.
Recipe Notes
Be sure to use regular spelt flour, not sprouted.
To make these gluten free, you can sub the spelt flour with superfine gluten-free oat flour (160g). Please keep in mind that the oat flour does make these more dense, but the flavor is just as good. Baking times are basically the same. Check for a clean toothpick.
For the yogurt, I use soy but any will work. If you can't find vanilla-flavored yogurt, add 1 teaspoon of vanilla extract to the recipe.
I used a mini donut pan instead of a regular and it took 12 minutes to bake them perfectly.
Nutrition accounts for the basic donut only.
Reprinted with permission by Oxmoor Press and Brandi Doming/The Vegan 8 © 2018.
Nutrition Facts
Baked Pumpkin Spice Chocolate Chip Donuts
Amount Per Serving
Calories 279
Calories from Fat 54
% Daily Value*
Total Fat 6g 9%
Sodium 169mg 7%
Total Carbohydrates 55g 18%
Protein 5.3g 11%
* Percent Daily Values are based on a 2000 calorie diet.