This vegan stuffed jalapeños recipe is the perfect appetizer for even the biggest meat eaters! Mixed with a creamy queso, then baked, makes a filling to die for!
We love this vegan appetizer because it's a huge crowd pleaser. The flavor is unreal and will keep your guests coming back for more!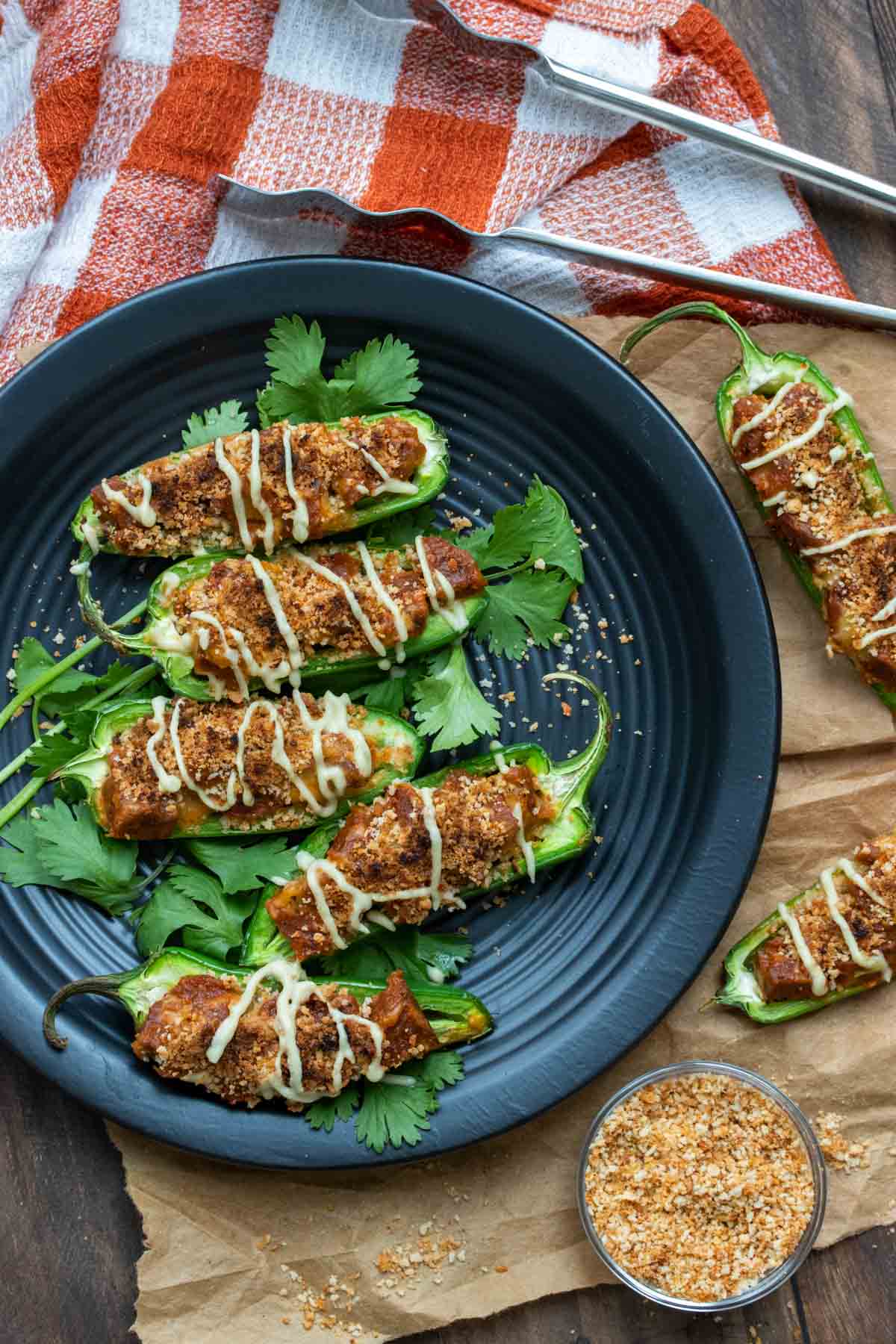 This is a sponsored conversation written by me on behalf of Field Roast. The opinions and text are all mine.
This post was originally published on June 11, 2018.
If you love spice, then this recipe is for you! I love the simplicity of it, and how you can prep the vegan queso ahead, or even use a store bought brand for a super easy option!
How to Make Vegan Jalapeño Poppers
These vegan stuffed jalapeños take their popper counterparts up like 5 notches. Not only in spice, but the flavor of the mixed ingredients is unreal.
Ingredients
Jalapeños
Vegan sausages
Breadcrumbs
Lemon juice
Seasonings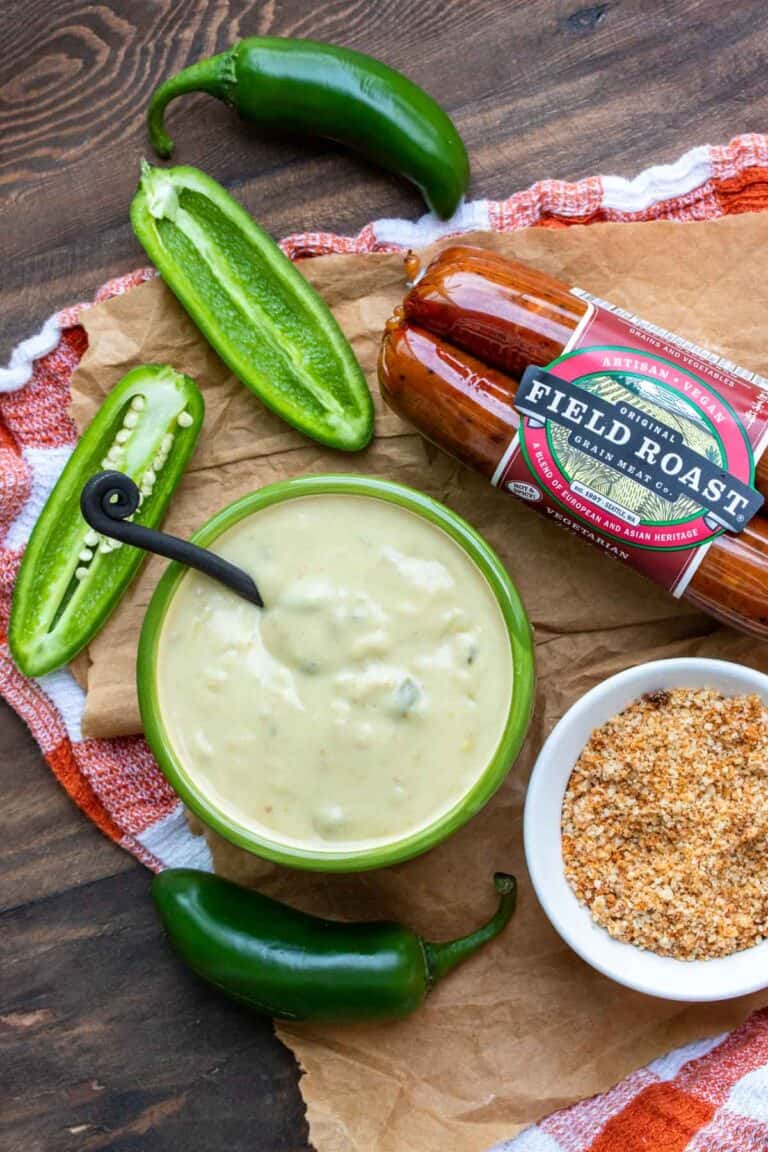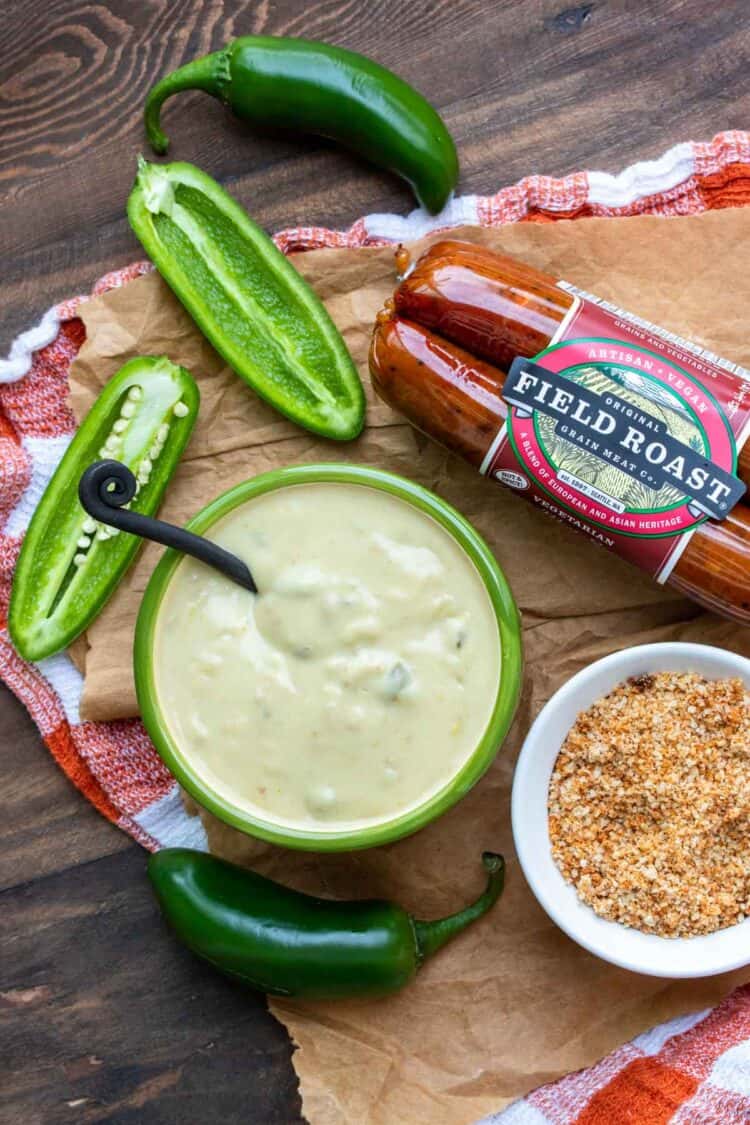 I love using the Field Roast brand sausages for these because they use simple ingredients and even have some vegetables in them! The vegetables are mixed with spices, seasonings and vital wheat gluten (so these are not gluten free).
The texture and flavor are amazing. I have many many non vegan friends that think these sausages are delicious!
Field Roast sausages come in 3 varieties: Italian, Smoked Apple Sage and Mexican Chipotle. They also have Frankfurters and Apple Maple Breakfast Sausage that we have used as well. For this recipe, I stuffed my jalapeños with the Mexican Chipotle flavor.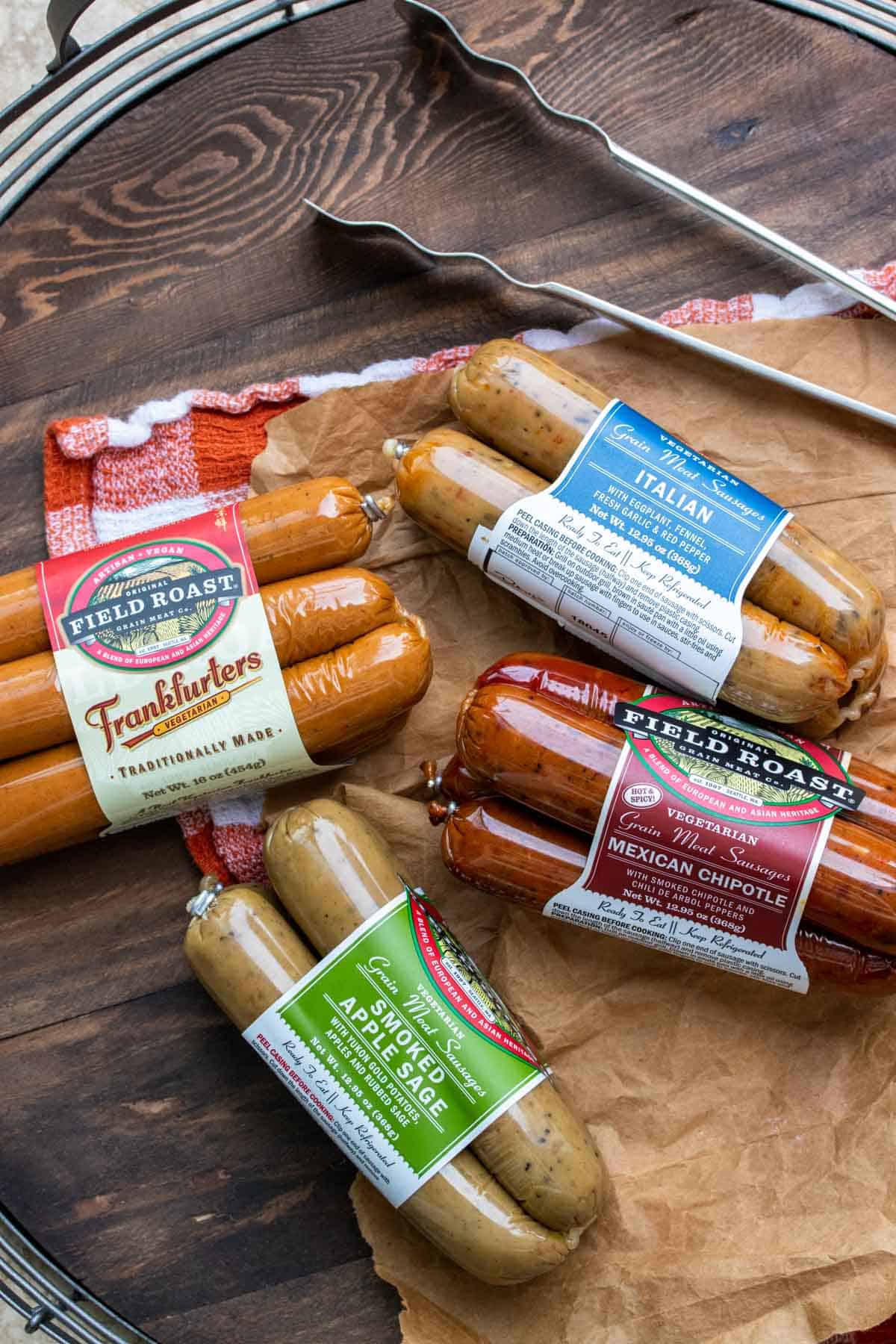 Step by Step Instructions
All I needed to do for the flavor bomb combo in this amazing appetizer is combine the two main ingredients. It went a little something like this:
Make the breadcrumb mixture.
Mix chopped sausage and queso.
Fill the jalapeños.
Top with breadcrumbs and bake.
Drizzle with more queso and serve!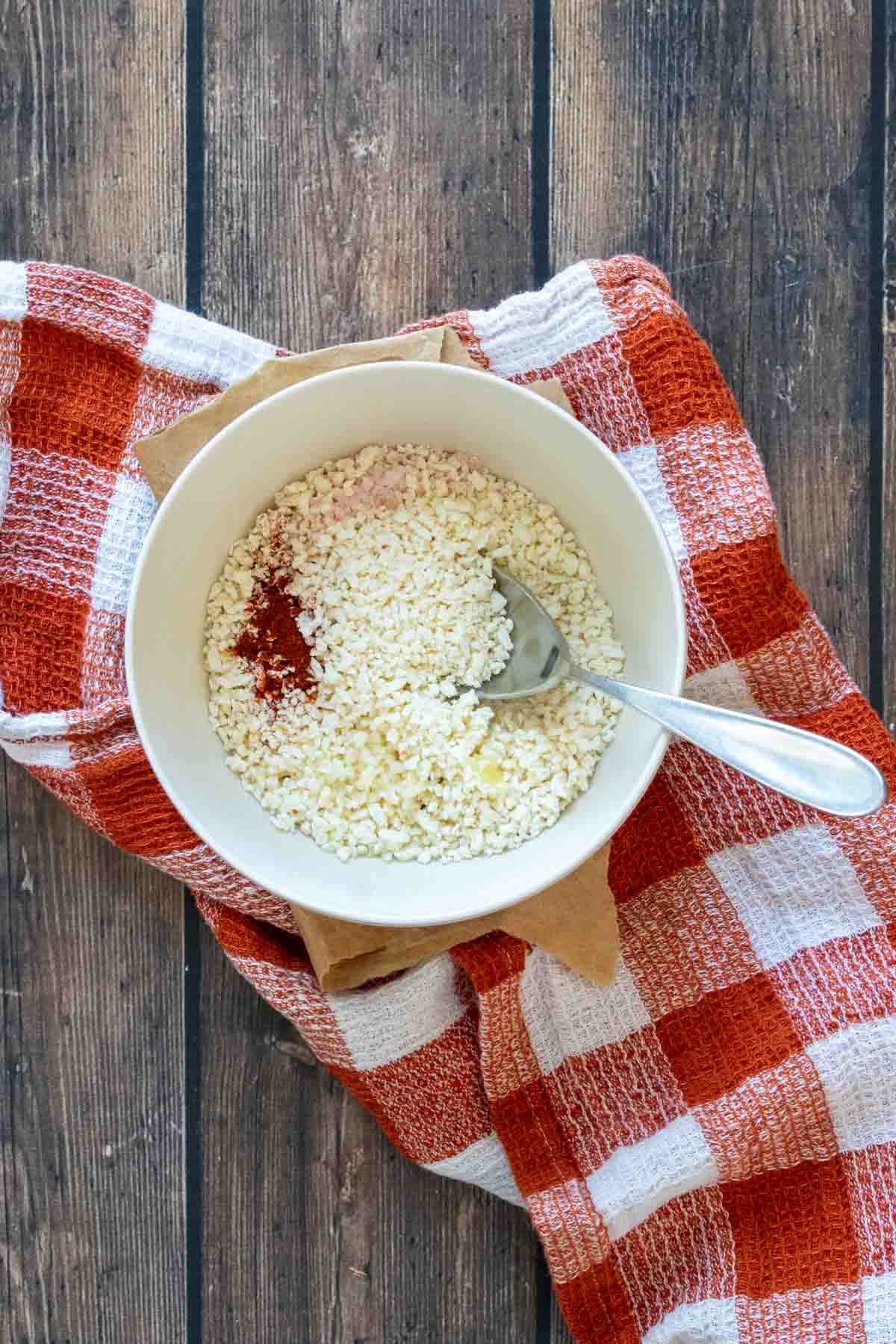 Serving Suggestions
If you need a party menu with minimal prep to go along with these vegan stuffed jalapeños for that perfect fiesta, I have a plan that is simple and easy to execute! No need to even label anything here as vegan, because I'm pretty sure no one will know or ask or care once they are stuffing their faces.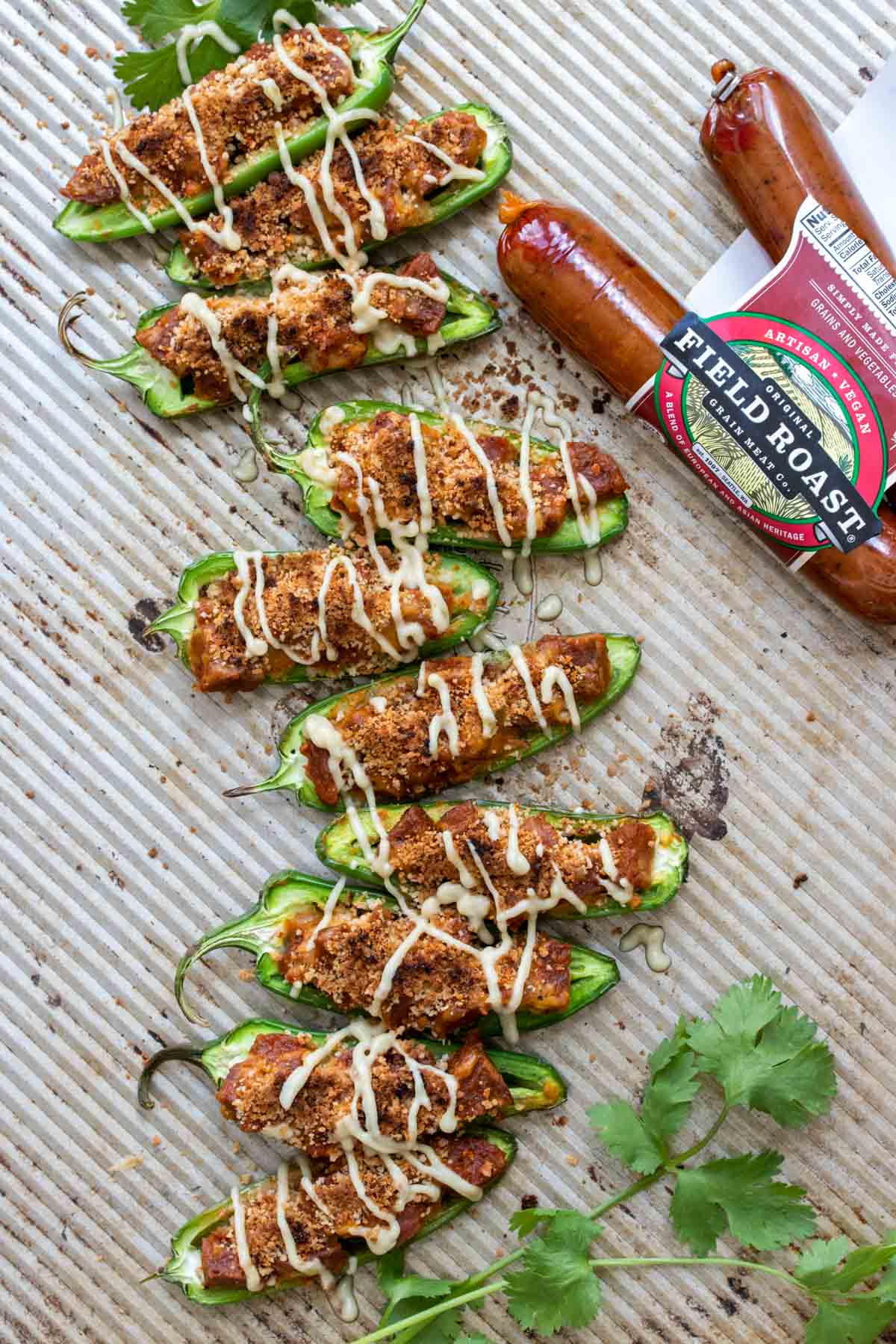 Prep Ahead Tips
Not good at planning and need your hand held? I'm here for you there too:
The day before: Make the queso and the ranch. Keep in the fridge until ready to use.
The morning of: Wash, cut, and deseed the jalapeños. Stuff them but don't grill or bake, keep in the fridge until ready. Prepare the fixings for the grilled sausages. Make margaritas (wait to add the ice), store in fridge.
Party time: Grill sausages. Grill or bake jalapeños. Toss salad. Have ice ready for margaritas. Devour it all!!
More Tips and Tricks
If you are baking the peppers you can slice a little from the bottom of each half to create a flat edge so they don't roll over on the baking sheet.
For grilling, place the peppers in between each grill grate rung to keep them from rolling.
Need gluten-free stuffed jalapeños? Swap out the sausage for Chickpea Sausage Crumbles.
The juices of the jalapeños can irritate your skin and is definitely dangerous for your eyes. Wear gloves when handling the peppers to avoid getting it on your hands.
Reheat leftover (if there are any!) stuffed jalapeños in an air fryer or oven at 350° until heated through.
Common Questions
How do you make stuffed jalapeños?
Cut the peppers in half, remove the seeds and membranes, fill and cook! See the recipe for more details.
What ingredients do you need to make vegan jalapeños?
You need jalapeño peppers, vegan cheese or cheese sauce, vegan sausage, and breadcrumbs.
How long do uncooked stuffed jalapeños last in the fridge?
You can stuff and refrigerate these up to 3 days in advance.
How do you cook jalapeños?
Grilling them is a great way to get a smoky flavor and perfect char. It's also easy to bake them, or even air fry!
More Vegan Party Food
Keep your party guests happy with all of these fabulous plant based recipes: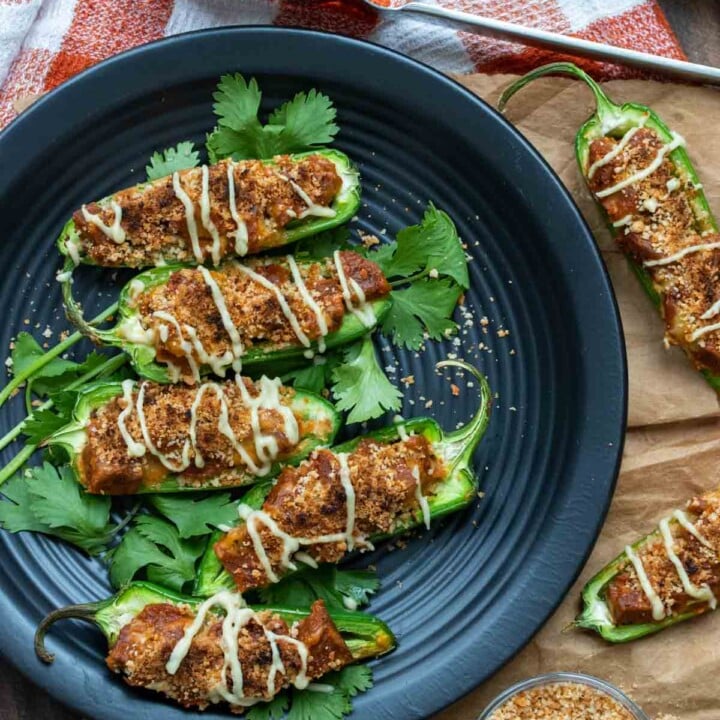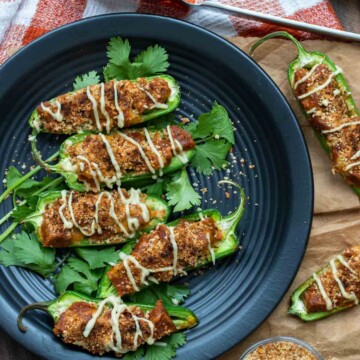 Vegan Stuffed Jalapeños Recipe
This vegan stuffed jalapeños recipe is the perfect appetizer for even the biggest meat eaters! Mixed with a creamy queso, then baked, makes a filling to die for!
Ingredients
8 jalapenos
2 vegan sausages (I use Field Roast, Mexican Chipotle flavor)
½ cup Vegan Queso Blanco , or use store bought queso (see note)
Smoky Lemon Breadcrumbs (see recipe below)
Smoky Lemon Breadcrumbs:
½ cup breadcrumbs
¼ teaspoon smoked paprika
¼ teaspoon sea salt (optional, omit for less salt since the rest of the recipe has plenty)
1 teaspoon fresh lemon juice
Instructions
Slice jalapenos in half length wise, to make 16 halves, and take out the seeds. If you are not placing them on a grill with a grate and baking (or grilling) on a flat surface, you may want to slice a small flat edge on the bottom so they don't roll sideways. On the grill, they may not need this because they will fit in-between the rungs.

Chop sausages into small pieces, place in a small bowl.

Mix all breadcrumb ingredients in a bowl except the lemon juice, until combined. Add lemon juice and mix well to break up clumps.

Put ½ cup queso blanco into the bowl with the chopped sausage. Mix well.

Spoon about 1 to 1 ½ tablespoons sausage mixture into the cut jalapenos.

Top with about 1 ½ teaspoons breadcrumbs.

Grill or bake. If grilling make sure to spray oil on any surfaces that are not nonstick in case of sticking. If on a grill, they should be ready in about 8-10 minutes but check and remove when the jalapenos are browning. The sausage is precooked. If baking, place on a parchment lined cookie sheet and bake at 425 F (220 C) for about 10-15 minutes, but check at the 10 minute mark for brownness. You can also broil for the last minute to get the tops nice and crisp.

Serve with more queso blanco drizzle on top! Be careful, they have a kick!
Notes
If you are gluten free and still want to give this a try use my recipes for Chickpea Sausage Crumbles to replace the sausage.
Use gloves when cutting and deseeding the jalapenos to avoid the spice being on your hands and transferring to other things you touch.
Use what you need from the queso blanco recipe then serve the rest as a dip or keep for another time. It freezes well, simply defrost slowly on the countertop when needed, then reheat in the microwave or on the stove whisking well.
Read the post above for party ideas with this recipe.
Recipe time includes making the queso.
Nutrition info includes ½ cup of the queso and uses the nutrition for the Field Roast brand sausages.
Tips to prep ahead:
Make queso blanco dip and keep in refrigerator until ready to use. Make breadcrumbs.
Recipe by Veggies Don't Bite, visit our site for more great plant-based recipes.
Nutrition
Calories: 48kcalCarbohydrates: 4gProtein: 4gFat: 1gSaturated Fat: 0gCholesterol: 0mgSodium: 111mgPotassium: 28mgFiber: 0gSugar: 0gVitamin A: 90IUVitamin C: 8.4mgCalcium: 1mgIron: 0mg
Nutrition and metric information should be considered an estimate.
Never miss a recipe!
Sign up here and get a FREE quick and easy meal guide!