This vegan sweet potato curry is easy to make, ultra flavorful and creamy. Pair it with rice or even some extra veggies for a perfect well rounded meal!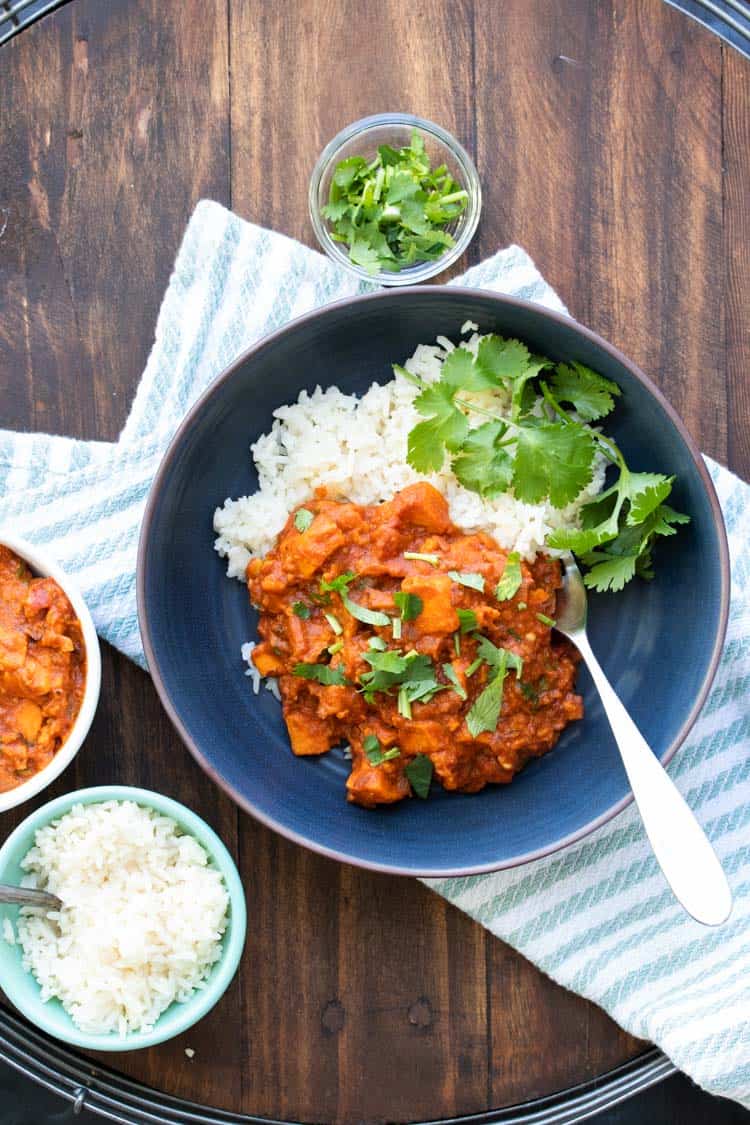 This is a cookbook review written by me on behalf of Jennifer Sebestyen, for which I received a free copy of the book. All the opinions and text are all mine.
Having an easy curry in your back pocket is always a good idea. Even for the curry hesitant like me, this ultra rich and satisfying recipe is easily one I'd go back to! Mild in flavor, but comforting and delicious!
Vegan Sweet Potato Curry
Who knew sweet potatoes could do so many things?! They play a key role in this curry recipe, not only for flavor but also for structure. They also give a little creaminess to the end result!
Do vegans eat curry?
Yes! As long as that curry doesn't have any animal based ingredients. There are so many recipe options out there for vegan curry!
This recipe comes from the new cookbook, The Meatless Monday Family Cookbook, by a blogger friend, Jennifer Sebestyen. Jennifer is one of my OG vegan blogger crew and I am thrilled for her success! I love the concept behind this book, and this vegan sweet potato curry was a huge success for me.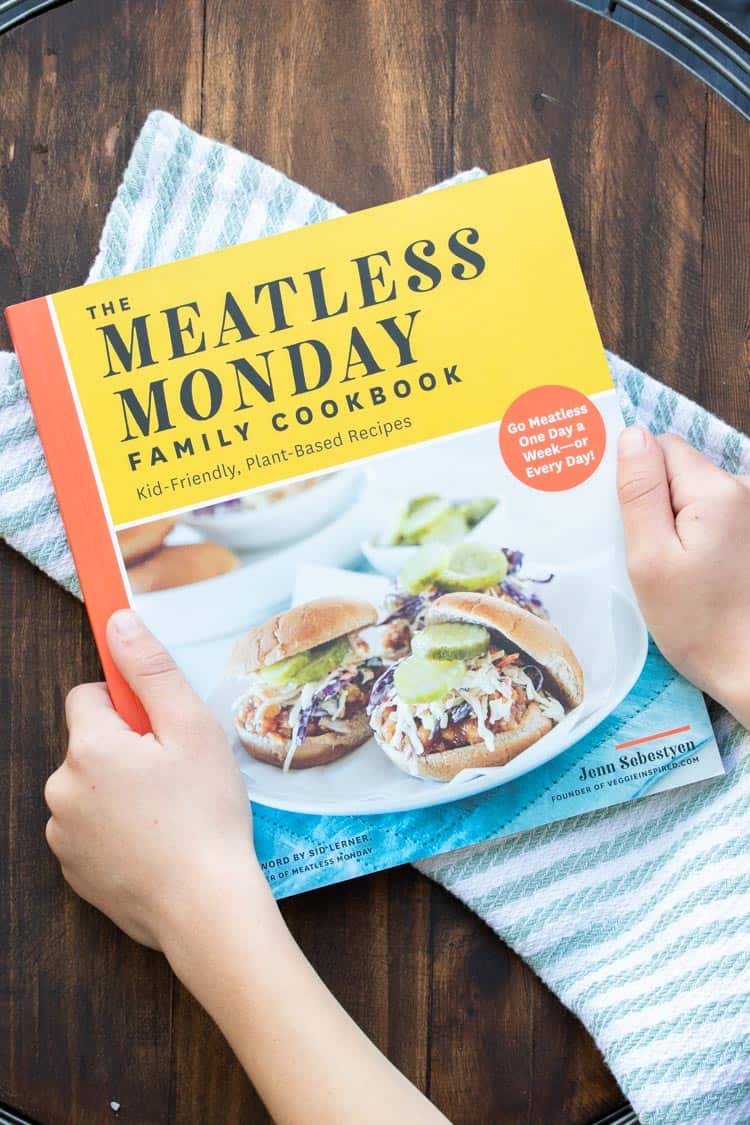 I say success because in general, I don't love most curry (I do have one vegan coconut curry soup I created that I do like a lot!). But the different ingredients she uses here to mesh the flavors are amazing.
The rich peanut butter combined with creamy coconut milk really pairs well with the tomato and curry paste. I was so surprised how much I liked it! Her book has over 100 other recipes that sounds delicious too!
It's a well rounded book with a little bit of everything. I love the titles of her chapters, like: One-Pot Wonders, Perfect Pasta, Loaded Handhelds, Comforting Casseroles, and my favorite...Breakfast for Dinner!
I also love that she includes little tips throughout the book on how to get your kids to help you in the kitchen. I am 100% on board with getting kids involved in the process because it increases the chances that they will be willing to try the meal.
Unless they are 4 and decide that they don't like red food anymore (insert eyeroll).
What are the best vegan Indian dishes?
This is truly an individual opinion, but for someone like me that is new to Indian recipes, I would say mild curries like this one are a perfect place to start. Some other good Indian dishes for newbies are dals, masalas, and vegetable biryani (which is basically an Indian fried rice).
Do you peel sweet potatoes?
It depends on what you are making. For fries (like these homemade oven fries or twice-baked potatoes), I like to leave the skin on. But for dishes like this sweet potato curry, it's best to peel the skin off so that the end result is creamy smooth.
How to serve vegan sweet potato curry
This recipe calls for serving this curry over jasmine rice, but there are many other ways you could eat this depending on your personal choice:
Brown rice
Cauliflower rice
Rice and cauliflower rice mix
Roasted veggies
Noodles like pad thai or other thai type noodles
With bread like naan
With sautéed greens
Can I make this in a slow cooker?
Absolutely! This would actually do very well in a slow cooker. Simply saute the onion, garlic and curry paste as directed, then throw it along with the other ingredients (except the peanut butter and coconut milk mix) into a slow cooker.
Slow cook on high for 4-5 hours or on low for 7-8 hours, or until the potatoes are tender. Then add the peanut butter and coconut milk mix and continue on with the recipe as written.
Tips for adding more/less heat
Because I am a curry whimp, I only added two tablespoons of curry paste. Which made this quite mild. However it will get spicier the more you add. If you want even more heat, you can add some cayenne pepper in or even top with come sriracha.
Adding more lime juice will help tame the heat a bit as well.
How to make vegan sweet potato curry
This is a fairly simple recipe to throw together and perfect for a busy night. Especially if you have everything prepped the night before!
Saute the onions, garlic and curry paste.
Add the other ingredients except the peanut butter and coconut milk mix.
When the sweet potatoes are cooked, add everything else and mix well.
Serve over rice or any other way you prefer!
Adding extra veggies
This sweet potato curry would be delicious over roasted or sautéed veggies. The flavors are so good and would go with so many things! Here are some ideas of other veggies you can serve this with:
Zucchini
Cauliflower
Carrots
Broccoli
Spinach, Kale or Chard
Peppers
Eggplant
Serve with cauliflower rice or a mix of regular rice and cauliflower rice
Tips for subbing the coconut milk
While coconut milk is awesome in this recipe, you do taste it and some people are not coconut lovers. So if you fall in that category, you're in luck! This recipe would also be delicious with other dairy free alternatives. Here are my top picks:
Another dairy free milk, but because it is much thinner you may have to cook longer to thicken.
Adding some vegan butter along with another dairy free milk
Mixing another dairy free milk with cornstarch to thicken it
A dairy free half and half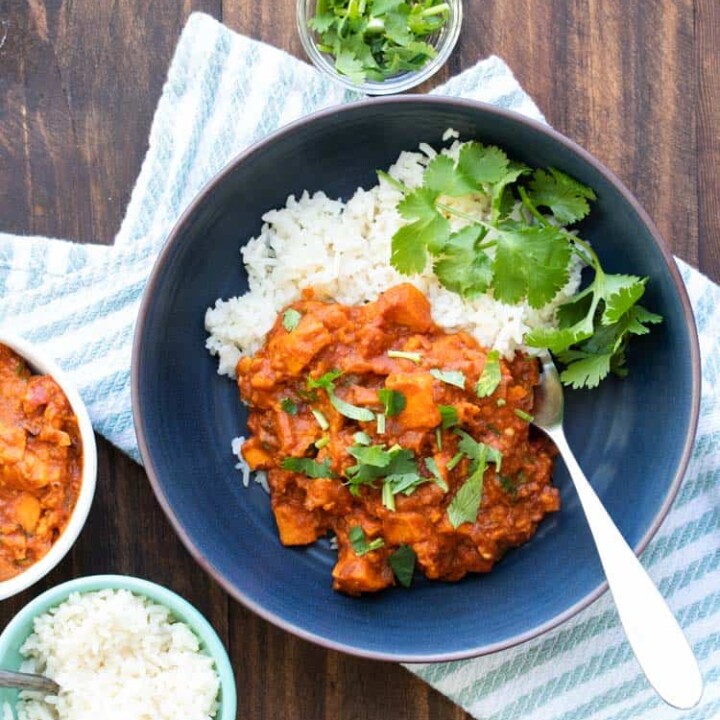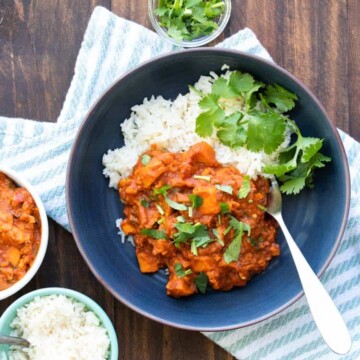 Vegan Thai Sweet Potato Curry
This vegan sweet potato curry is easy to make, ultra flavorful and creamy. Pair it with rice or even some extra veggies for a perfect well rounded meal!
Instructions
Heat the coconut oil in a pot or large skillet over medium heat. Add the onion and sauté for 5 to 6 minutes until soft and translucent. Add the garlic and red curry paste and stir until fully incorporated with the onions.

Add the sweet potatoes, tomatoes, vegetable broth, 1 teaspoon of salt, and pepper. Increase the heat to high and bring to a boil and then reduce the heat to medium-low. Simmer for 30 to 35 minutes until the sweet potatoes are fork tender.

Meanwhile, in a small cup or bowl, whisk together the peanut butter, coconut milk, and remaining 1 of teaspoon of salt. Pour into the skillet with the sweet potatoes and stir to combine.

Remove from the heat. Add the cilantro and lime juice. Serve with the cooked rice and garnish with the chopped peanuts.

Jasmine rice cooks in just 15 minutes, so you could easily make it while the curry is simmering.
Notes
Jasmine rice cooks in just 15 minutes, so you could easily make it while the curry is simmering. Or use frozen cooked rice.
You can also serve this with more vegetables for an even bigger dose of veggies.
See post for slow cooker directions
Reprinted with permission from Jenn Sebestyen and Fair Winds Press, an imprint of Quarto Publishing Group USA Inc. © 2019.
Recipe by Veggies Don't Bite, visit our site for more great plant-based recipes.
Nutrition
Calories: 459kcalCarbohydrates: 64gProtein: 12gFat: 18gSaturated Fat: 8gCholesterol: 1mgSodium: 1414mgPotassium: 668mgFiber: 6gSugar: 10gVitamin A: 11256IUVitamin C: 15mgCalcium: 100mgIron: 3mg
Nutrition and metric information should be considered an estimate.
Never miss a recipe!
Sign up here and get a FREE quick and easy meal guide!