An easy lentil veggie burger recipe that uses up any veggies you have hanging around. It's flavorful, has a great texture and can even be made gluten-free!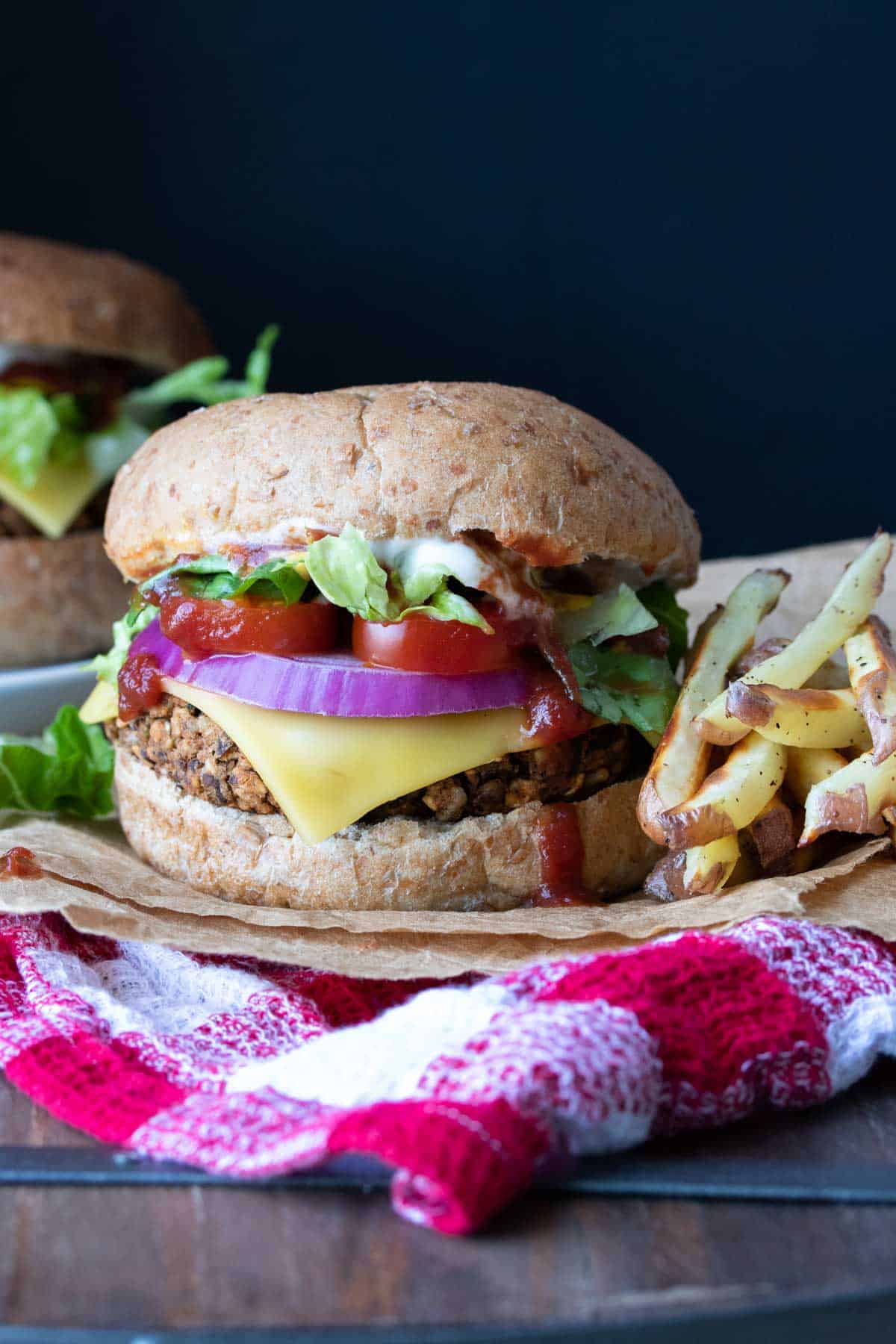 This recipe was originally published on 11/25/13
I'm a sucker for a good burger and have been making my own since the beginning. I could never find a store bought burger I loved. These easy veggie burgers are the perfect recipe to help clean out the fridge with those leftover veggies!
Lentil Veggie Burger
I love the versatility of lentils and how much the give health wise. Not only are they filled with protein, but they have great iron content and have loads of fiber. They work so well in veggie burger recipes because their texture is amazing and I love the flavor.
Vegan veggie burgers are one of my favorite things to make, in fact I have a cookbook filled with them! It's called Vegan Burgers and Burritos and we still use it weekly.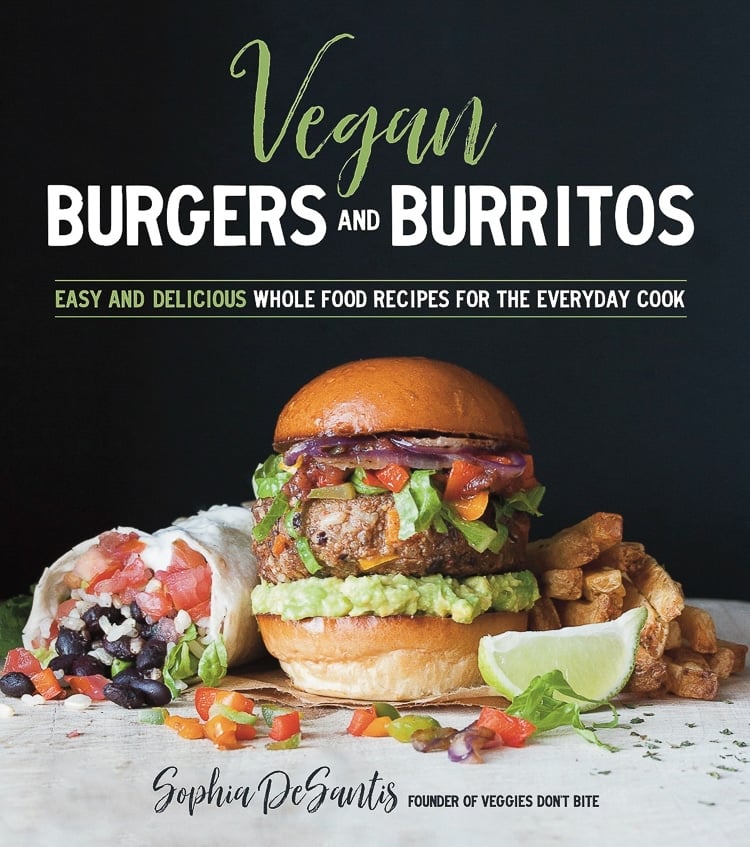 What is the best veggie burger?
The thing to keep in mind when making a veggie burger is the texture. You don't want them too mushy, so you need a good balance of moisture and dryness. The best veggie burgers have the following characteristics:
aren't overly mushy
have loads of flavor
sneak in some veggies
add good protein into the meal
are easy to make
can be frozen
are sturdy enough so they don't fall apart
How do you make veggie burgers that don't fall apart?
When a veggie burger falls apart it means that there is not enough structure. It is either overly wet or overly dry. The balance is what you need to achieve in order to get a steady burger.
Ingredients that add moisture to a veggie burger, like beans, veggies and liquid of any kind, need to be balanced out by ingredients that absorb that liquid, like breadcrumbs, cornmeal and flour.
That is the first thing I do when creating a veggie burger. Once I have that down, I add all my seasonings and spices. Keep in mind that some flavor will be found in liquid form so make sure to add those when balancing out the moisture content.
What can be used in place of eggs as a binder?
Making sure you have a binder also keeps your veggie burgers in tact. Eggs are definitely not needed. Here are some of my favorite veggie burger binders:
beans
potato
breadcrumbs
oats
flour
flax egg (the combination of ground flaxseed and water)
chia egg (the combination of ground flaxseed and water)
What's in a veggie burger?
You can really make a veggie burger in so many ways. But there are some basics that I usually turn to:
beans (any kind work great)
potato
cooked veggies
breadcrumbs
oats
almond flour
seeds for texture
rice
How to Make a Lentil Veggie Burger
The best thing about veggie burgers is how easy the come together! Here are the few steps these lentil veggie burger need:
Gather the veggies you need to use up and the other ingredients.
Pulse everything in a food processor.
Shape into patties and cook.
Build with all the things.
Serve!
Veggies that work best
I love that these veggie burgers use up leftovers. There is nothing worse to me than throwing away rotten veggies! While almost any veggie will work great, here are the ones I usually use along with recipes that could have leftovers or you could make extra to use for these:
Serving suggestions
You don't have to keep veggie burgers to the traditional bun. You can think out of the bun to change them up so you don't get bored! Here are some of my favorite ways to use these lentil veggie burgers:
lettuce "buns"- I like to criss cross sturdy romaine leaves to make buns when I'm not feeling like too much bread
crumbled over salad
in a wrap
in a lettuce cup/taco
pretzel buns
cut into strips and dip into sauces
crumbled into pasta
Also don't forget that these go amazing with my baked oven fries!
Veggie burger sauces
If you know me at all, you'll know that I am sauce obsessed. Like, I probably need an intervention but don't want an intervention kind of obsessed. So I have just a few, ok a boatload, of sauces on this site. Here are a few that I would pick to drown these burgers in: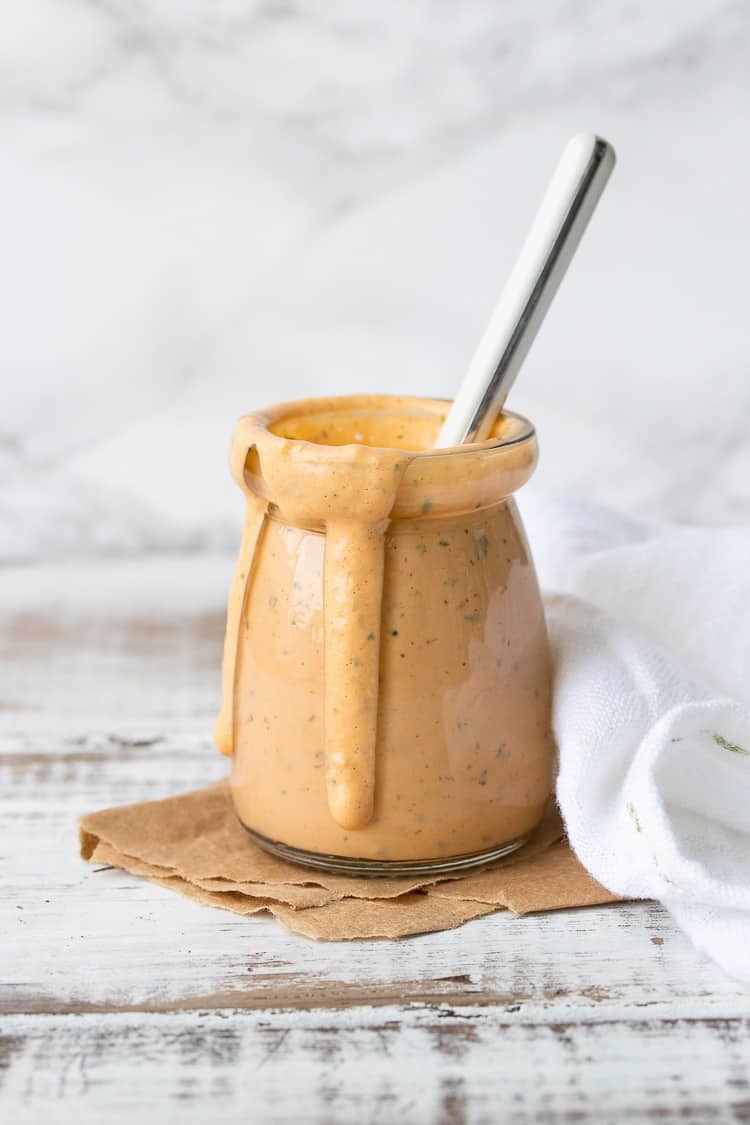 How to store veggie burgers
This lentil veggie burger recipe is a perfect one to make in bulk and store for future use. I make two to three batches to freeze and use on those crazy nights. Which is basically almost every night, so this happens often.
Usually the first day I make these, I make enough for two nights. I cook the batch we will be eating that night, and save the uncooked burgers in an airtight container separated by pieces of parchment paper to cook within a few days.
Then I make another batch or two to freeze. I shape them, then wrap in parchment (and separate each layer with parchment too). Then I wrap that in foil and store in a ziploc freezer bag or airtight glass container.
I like to write the date I froze them on too. When I am ready to eat them, we defrost to room temperature then cook as directed. If they fall apart at all, all you need to do is reshape a bit.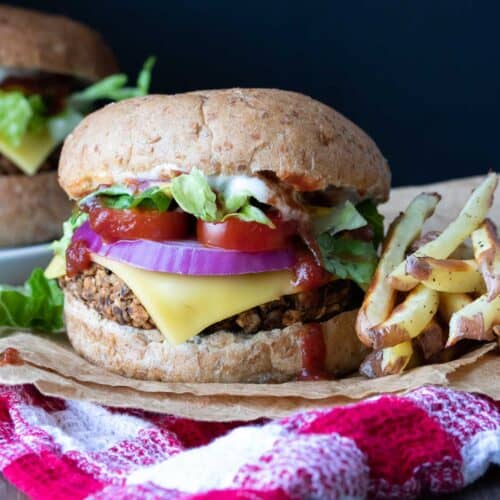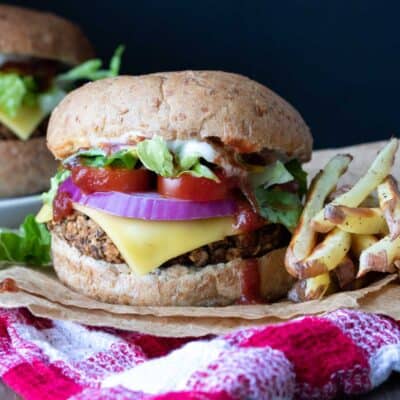 Easy Lentil Veggie Burger Recipe
An easy lentil veggie burger recipe that uses up any veggies you have hanging around. It's flavorful, has a great texture and can even be made gluten-free!
Ingredients
To serve:
burger buns

, gluten free if needed

lettuce

pickles

red onion

tomato

ketchup

mustard

mayo

, egg free to keep vegan

cheese

, dairy free to keep vegan
Instructions
Add all ingredients into a food processor and pulse until you get a crumbly mixture . Make sure it is still chunky and not a mushy paste. 

You can also do this with your hands if your veggies are chopped into small pieces and you don't mind a chunkier texture.

Allow mixture to set 5-10 minutes so the oats soak in some of the liquid (you can also do this after you shape into patties). This will help with the texture of the burgers, the more you allow the oats to soak, they less mushy texture you will get. I use this time to clean up.


Shape into 6 patties, then cook in a pan on the stove top over medium heat for 6-8 minutes on each side (depending on stove). Make sure to keep the pan covered to help the burger cook throughout and achieve the best texture possible. This helps prevent a mushy burger. Check every few minutes to prevent burning, they should be slightly browned when ready.

Allow the burgers to cool a bit to further help set them into a non mushy consistency.

Serve on buns with any toppings you love!
Notes
For nut free, sub more oats for the almond flour
Most veggies will work great, my usuals are zucchini/squash, spinach, cauliflower, mushrooms and onion.
Allowing the mixture to sit for a bit before cooking helps the oats soak up the liquid and this prevents a mushy burger.
Cooking the burger covered lets it cook throughout which helps with consistency as well.
Finally allowing the burger to cool a bit will also help the texture.
Nutrition facts are for the burger patty only.
Recipe by Veggies Don't Bite, visit our site for more great plant-based recipes.
Nutrition
Calories:
210
kcal
Carbohydrates:
30
g
Protein:
11
g
Fat:
7
g
Saturated Fat:
1
g
Sodium:
364
mg
Potassium:
394
mg
Fiber:
9
g
Sugar:
1
g
Vitamin A:
1869
IU
Vitamin C:
4
mg
Calcium:
45
mg
Iron:
3
mg
Nutrition and metric information should be considered an estimate.
Never miss a recipe!
Sign up here and get a FREE quick and easy meal guide!