Try this easy lentil veggie burger recipe for a healthy and delicious meatless meal. Packed with protein and simple ingredients, it's perfect for busy weeknights. Enjoy a tasty burger alternative!
These vegan lentil burgers are not only packed with protein, but also include a variety of delicious veggies to give them an extra boost of flavor and nutrition.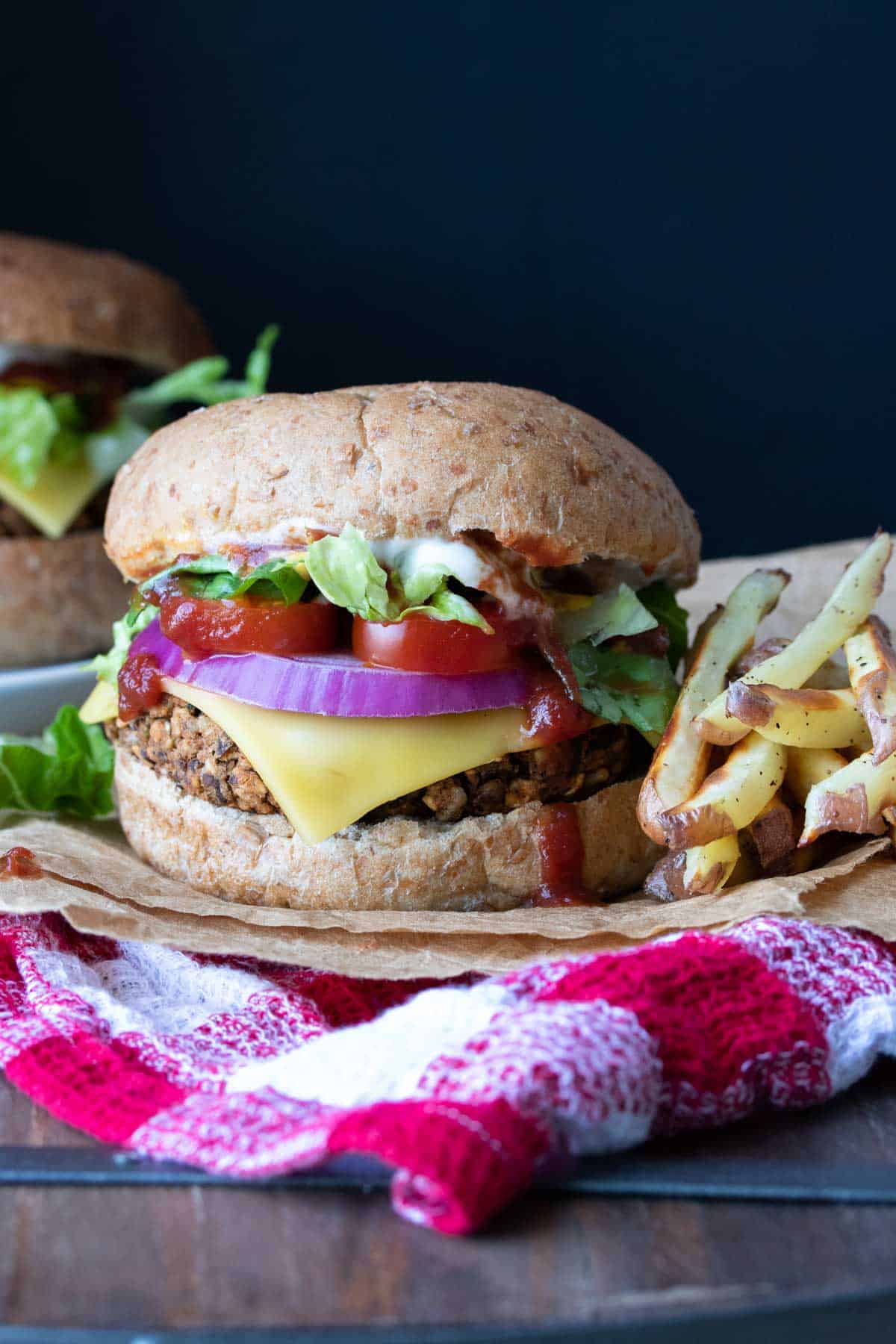 This recipe was originally published on 11/25/13
Thanks to the combination of lentils and veggies, this veggie burger recipe has a perfect texture that is both hearty and satisfying. Whether you're vegan or simply looking to incorporate more meatless options into your diet, they are sure to become a new favorite!
Ingredients
I love the versatility of lentils and how much they give health wise. Lentils are not only a great source of protein, but they also offer a variety of health benefits such as improving digestion, reducing inflammation, and supporting heart health.
This is why I make this veggie burger recipe with lentils as part of the base. The best veggie burger recipes use a variety of simple ingredients to give loads of flavor while balancing the perfect texture. While this recipe is easy to customize, here are the basic ingredients you'll need:
Lentils (cooked from dry is best texture wise)
Black beans
Veggies
Sunflower seeds
Seasonings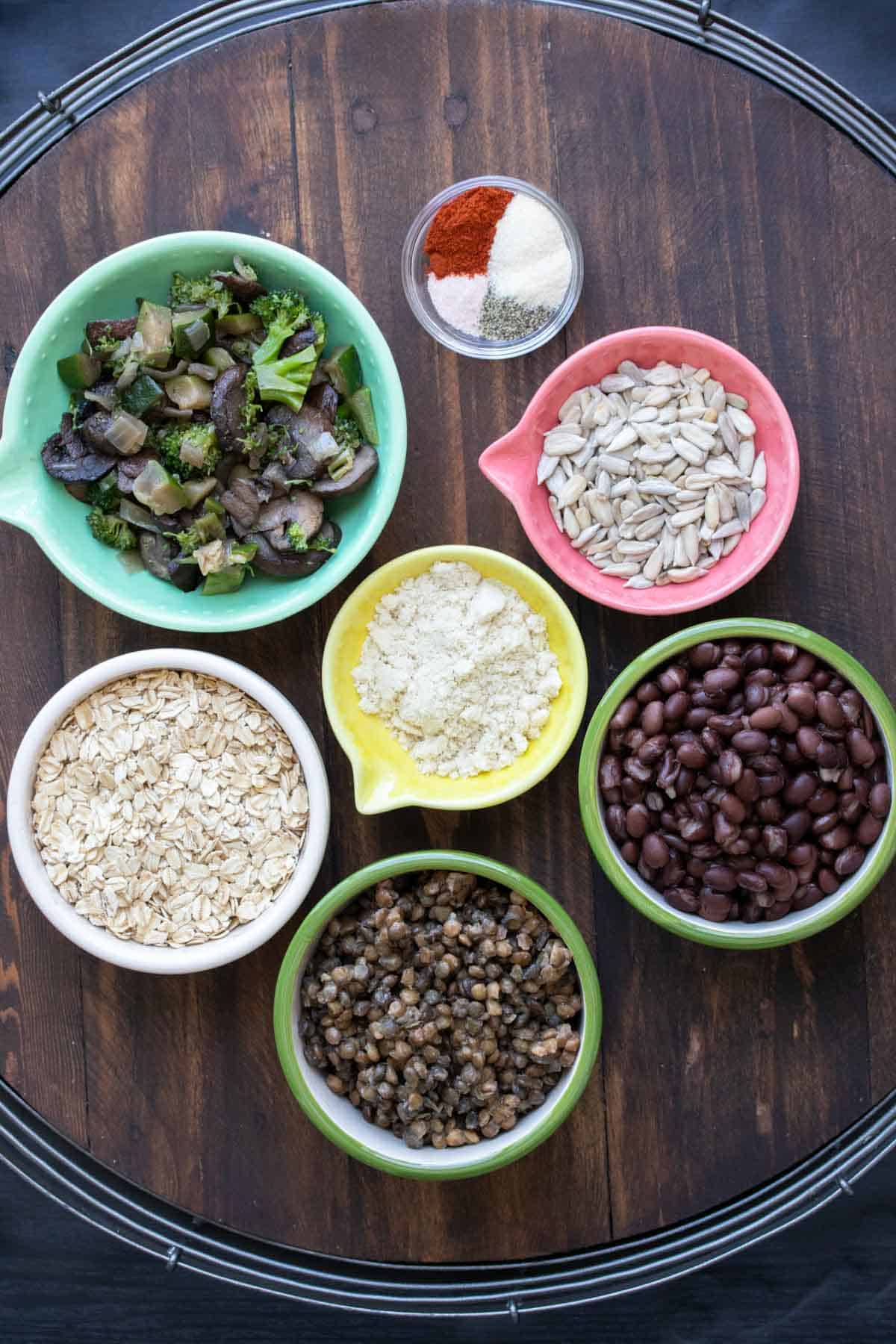 How to Make a Veggie Burger
The best thing about these vegan lentil burgers is how easy the come together! Here are the few steps to make this vegan burger patty recipe:
Pulse all ingredients in a food processor.
Shape into 6 patties and cook.
Assemble with all your favorite toppings.
Serve and enjoy!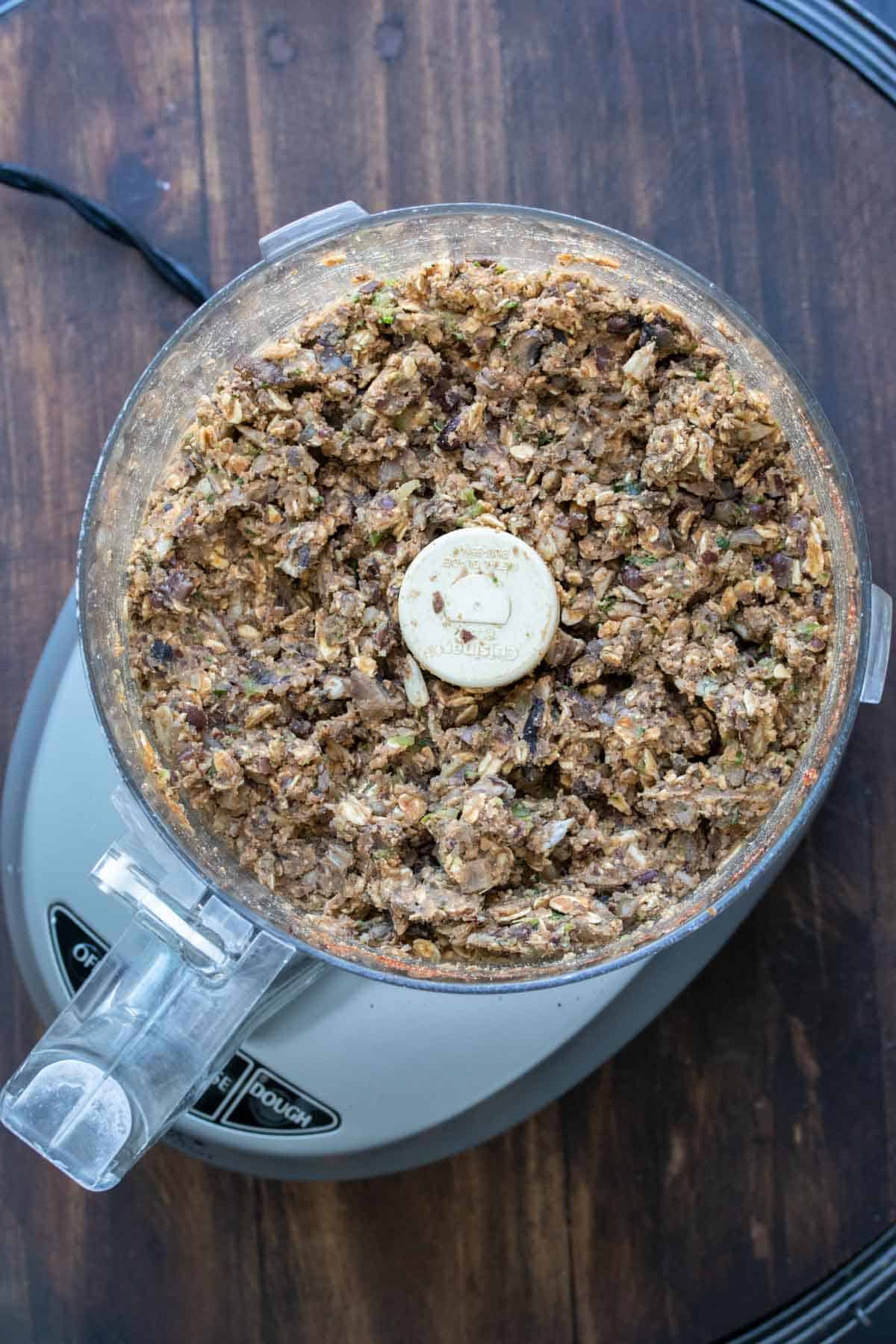 Veggie Burger Toppings
For a classic burger feel, we dress these lentil patties up with the following:
Burger buns - make sure to get gluten-free if you need
Lettuce
Pickles
Red onion
Tomato
Ketchup
Mustard
Dairy free cheese
If you know me at all, you'll know that I am sauce obsessed. Like, I probably need an intervention but don't want an intervention kind of obsessed. So I have just a few, ok a boatload, of sauces on this site. Here are a few that I would pick to drown these burgers in:
More Serving Suggestions
You don't have to keep veggie burgers to the traditional bun. Think 'outside the bun' to change them up so you don't get bored! Here are some more veggie burger ideas:
Lettuce "buns"- I like to criss cross sturdy romaine leaves to make buns when I'm not feeling like too much bread
Crumbled over salad
Stuffed in a wrap
In a lettuce cup/taco
Pretzel buns
Cut into strips and dip into sauces
Crumbled into pasta
What to Serve With Vegan Burgers
Once you get the lentil veggie burgers all dressed up, pair them with any of these tasty plant-based side dishes:
Vegetable Suggestions
I love that this recipe for veggie burgers uses up leftovers. There is nothing worse to me than throwing away rotten veggies! While almost any veggie will work great, here are the ones I usually use along with recipes that could have leftovers or you could make extra to use for these:
Storage Suggestions
This lentil veggie burgers recipe is a perfect one to make in bulk and store for future use. I make two to three batches to freeze and use on those crazy nights. Which is basically almost every night, so this happens often.
Uncooked lentil patties can be stored separated by parchment paper in an airtight container in the refrigerator for up to 3 days.
Wrap uncooked patties in parchment paper and surround with foil and seal in a plastic bag. Freeze for up to 3 months.
Defrost to room temperature before cooking frozen patties.
If the patties start to fall apart at all simply reshape them.
Common Questions
What is the best veggie burger?
The thing to keep in mind when making a veggie burger is the texture. You don't want them too mushy, so you need a good balance of moisture and dryness. The best veggie burgers sneak in some veggies, add good protein into the meal, are easy to make, can be frozen, and are sturdy enough so they don't fall apart.
How do you make veggie burgers that don't fall apart?
When a veggie burger falls apart it means that there is not enough structure. It is either overly wet or overly dry. The balance is what you need to achieve in order to get a steady burger.

Ingredients that add moisture to a veggie burger, like beans, veggies and liquid of any kind, need to be balanced out by ingredients that absorb that liquid, like breadcrumbs, cornmeal and flour.

That is the first thing I do when creating a veggie burger. Once I have that down, I add all my seasonings and spices. Keep in mind that some flavor will be found in liquid form so make sure to add those when balancing out the moisture content.
What can be used in place of eggs as a binder?
Making sure you have a binder also keeps your veggie burgers in tact. Eggs are definitely not needed. Here are some of my favorite veggie burger binders: beans, potato, breadcrumbs, oats, flour, or flax egg or chia egg (the combination of ground flaxseed/chia seeds and water).
What's in a veggie burger?
You can really make a veggie burger in so many ways. But there are some basics that I usually turn to: beans, potato, cooked veggies, breadcrumbs, oats, almond flour, seeds for texture, or rice. This recipe for lentil patties uses lentils, black beans, and veggies as a base along with other simple ingredients.
More Plant Based Burger Recipes
Skipping meat doesn't mean you need to skip out on burgers! Enjoy a wide variety of patties and flavors with these plant-based recipes: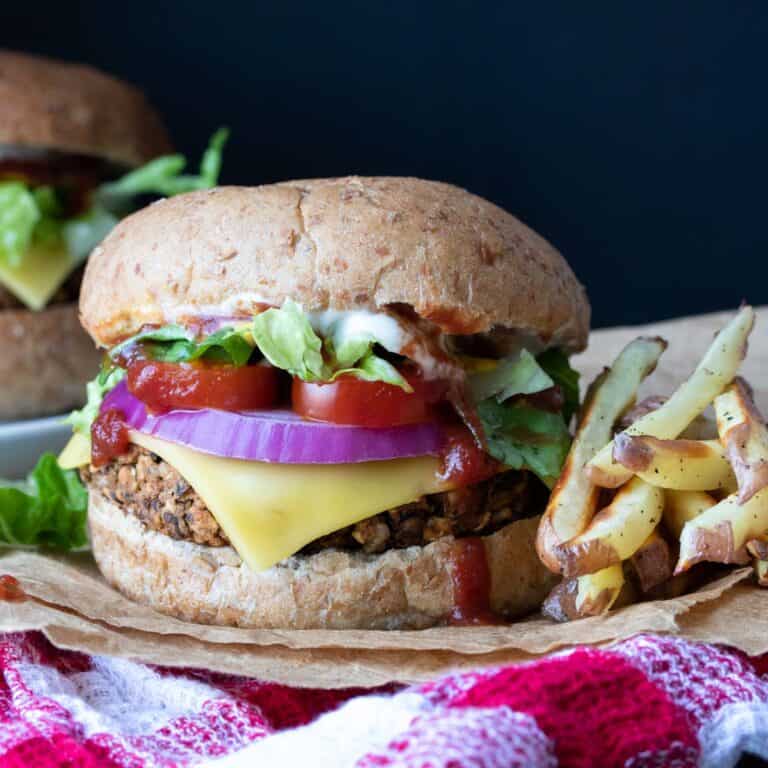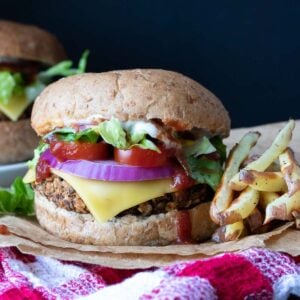 Easy Lentil Veggie Burger Recipe
Try this easy lentil veggie burger recipe for a healthy and delicious meatless meal. Packed with protein and simple ingredients, it's perfect for busy weeknights. Enjoy a tasty burger alternative!
Ingredients
To serve:
burger buns , gluten free if needed
lettuce
pickles
red onion
tomato
ketchup
mustard
mayo , egg free to keep vegan
cheese , dairy free to keep vegan
Instructions
Add all ingredients into a food processor and pulse until you get a crumbly mixture . Make sure it is still chunky and not a mushy paste. You can also do this with your hands if your veggies are chopped into small pieces and you don't mind a chunkier texture.

Allow mixture to set 5-10 minutes so the oats soak in some of the liquid (you can also do this after you shape into patties). This will help with the texture of the burgers, the more you allow the oats to soak, they less mushy texture you will get. I use this time to clean up.


Shape into 6 patties.

Cook in a pan on the stove top over medium heat for 6-8 minutes on each side (depending on stove). Make sure to keep the pan covered to help the burger cook throughout and achieve the best texture possible. This helps prevent a mushy burger. Check every few minutes to prevent burning, they should be slightly browned when ready.

Allow the burgers to cool a bit to further help set them into a non mushy consistency.

Serve on buns with any toppings you love!
Notes
For nut free, sub more oats for the almond flour.
Most veggies will work great, my usuals are zucchini/squash, spinach, cauliflower, mushrooms and onion.
Allowing the mixture to sit for a bit before cooking helps the oats soak up the liquid and this prevents a mushy burger.
Cooking the burger covered lets it cook throughout and also helps with consistency.
Allowing the burger to cool a bit will also help the texture.
Nutrition facts are for the burger patty only.
Recipe by Veggies Don't Bite, visit our site for more great plant-based recipes.
Nutrition
Calories: 210kcalCarbohydrates: 30gProtein: 11gFat: 7gSaturated Fat: 1gSodium: 364mgPotassium: 394mgFiber: 9gSugar: 1gVitamin A: 1869IUVitamin C: 4mgCalcium: 45mgIron: 3mg
Nutrition and metric information should be considered an estimate.
Never miss a recipe!
Sign up here and get a FREE quick and easy meal guide!