Taking tradition to the next level with these vegan Greek stuffed tomatoes and peppers. These Yemista are a healthy satisfying meal that screams the flavors of Greece!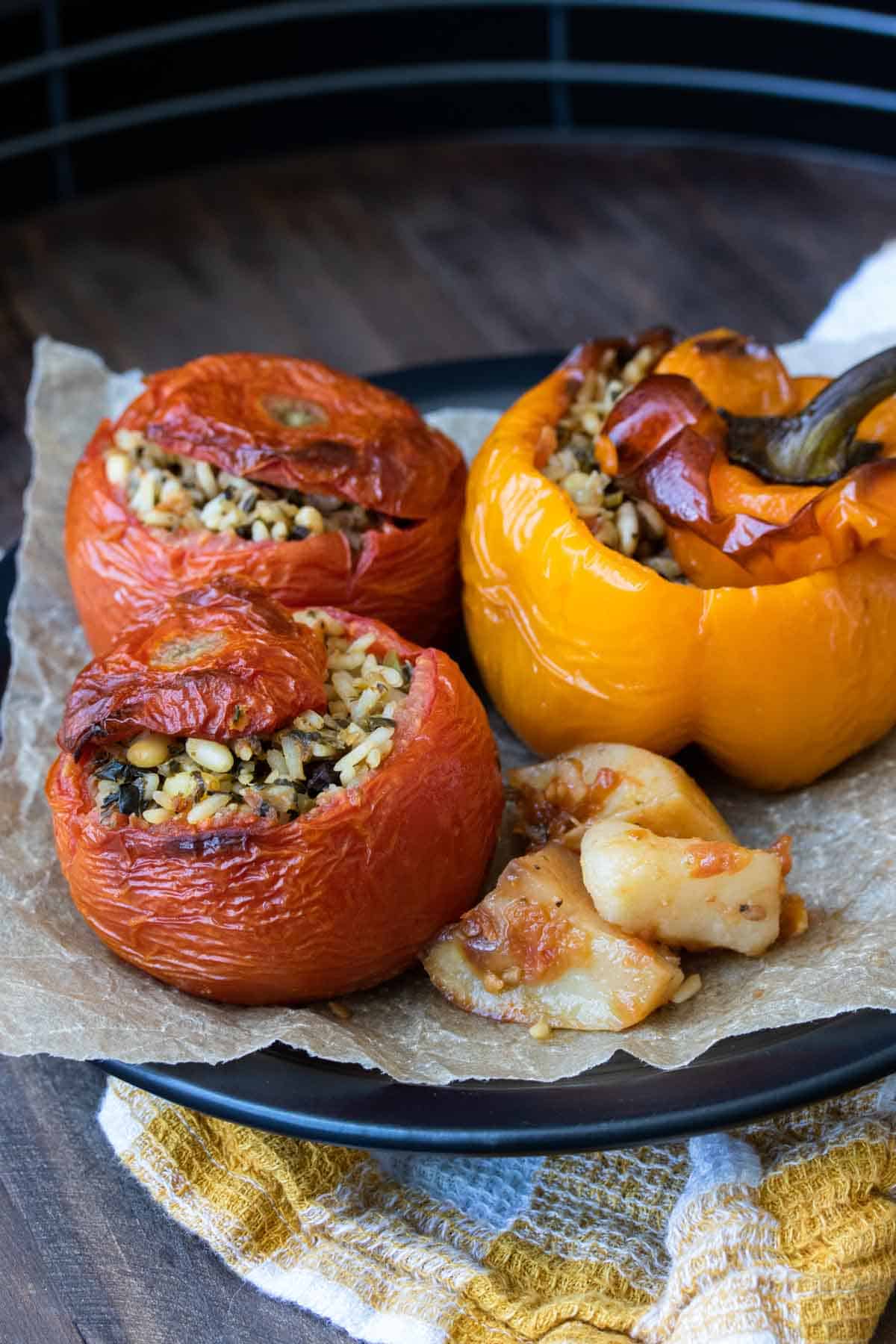 If you know me at all, you know I simply just can't follow a recipe without putting my own spin on it. Nothing has changed as I get ready to share this amazing Greek recipe from yiayia's (my mom) kitchen.
When she agreed to help me turn some beautiful garden tomatoes and peppers into one of the most traditional Greek recipes there is, she knew it wouldn't end up how she originally made it. LOL I learned from the best!
The original Yemista, or stuffed tomatoes and peppers
Traditionally, Yemista can be filled with meat or rice. When filled with rice, they are known to be something you eat around lent. In the Greek religion you abstain from eating meat during lent, so some traditional recipes have two versions. Well, since I don't eat meat at all, it was natural that I would put my spin on the rice filled version. And that I did!
My mom is hands down the best cook out there. Her Greek meals far surpass those I have had elsewhere, so anytime I post a Greek recipe, it is always based off of her original. My spin on these vegan stuffed peppers and tomatoes, is the added kale.
Because it's always good to pack greens in when you can. Kale is a hearty leaf so it bakes really well without melting much. You can also use chard as a second choice, however spinach isn't the best as it is delicate and will melt.
I kept her addition of pine nuts (you can also use blanched almonds if pine nuts are out of your price range), but also added some currants for an extra layer of flavor. Feel free to leave them out if you aren't a fan, or you can also sub in raisins.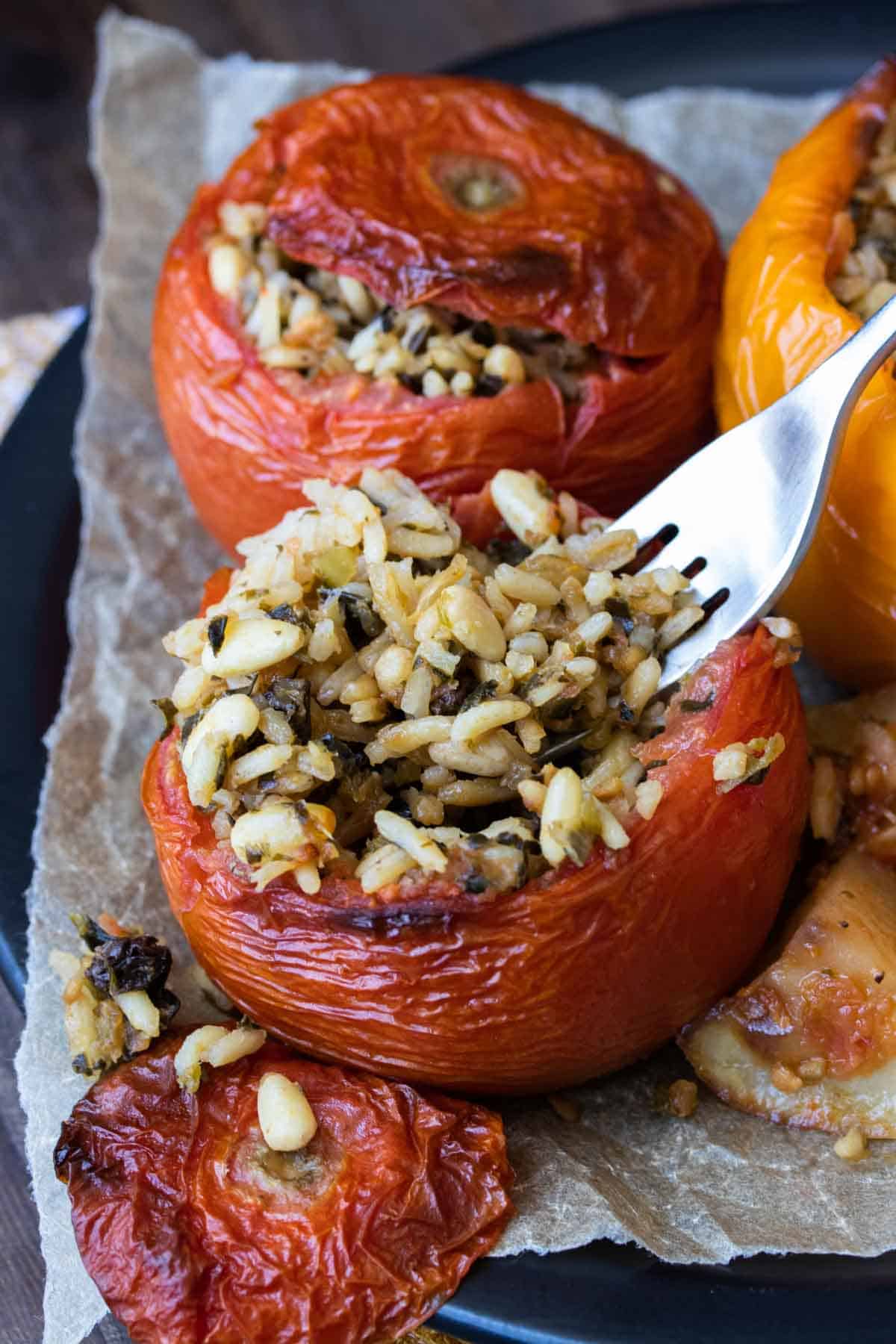 Tricks and tips to making the perfect stuffed peppers and tomatoes
Although this recipe is really quite simple, it can get tricky when getting everything baked just right. I am not a fan of mushy rice, we like al dente all the way. Make sure to follow each step carefully so you end up with perfectly cooked Greek yemista!
When you remove the insides of the tomatoes, make sure not to scrape too much out or they will collapse when baking from being too thin. You also need to get enough out so you can fill it. I know, it's a mind F. My tip is to use a grapefruit spoon if you have one, it's a spoon with a serrated tip and it really helps scrape out the tomato pulp.
I like to chop the tomato pulp with a food processor. It gives you a small even chunkiness and releases the right amount of juices. You can also chop the kale and herbs in with it for the perfect texture.
When precooking the rice, you want the end result to be cooked half way. This is the right amount so that it doesn't underbake in the oven. If you don't precook the rice enough, then you have to bake the stuffed peppers and tomatoes really long which yields overly soft tomatoes and peppers. You want them to keep their structure a bit, not be overly mushy. If you pre cook the rice too much, you get mush. Yuck.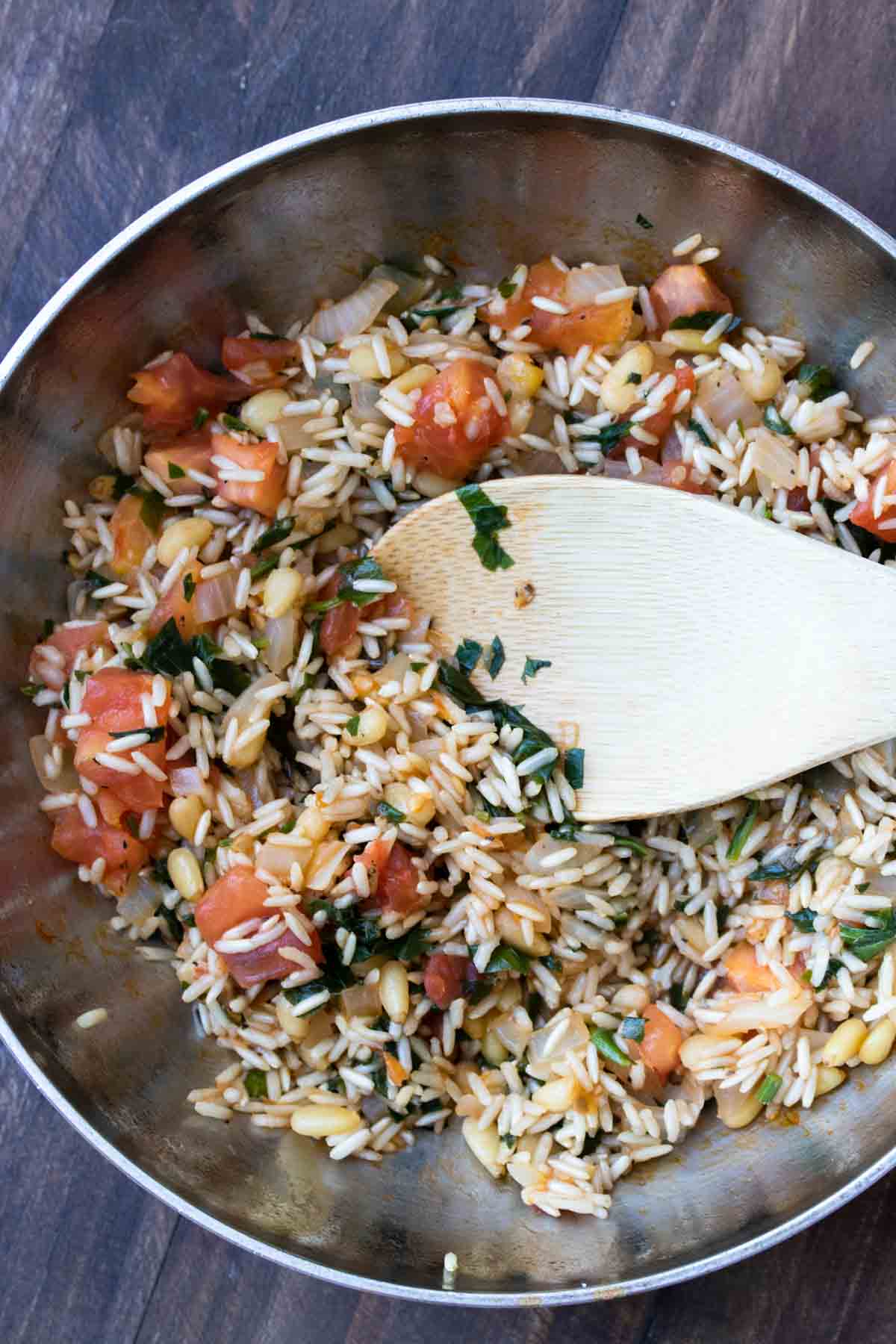 Speaking of rice, the recipe is written using a long grain rice like jasmine. If you use long grain brown rice, you will need to add more water when precooking and keep adding until you taste the rice and it is perfectly cooked half way. Long grain rice is sturdier and gives a more al dente texture. Short grain rice is chewier and not the best choice here unless that's what you want.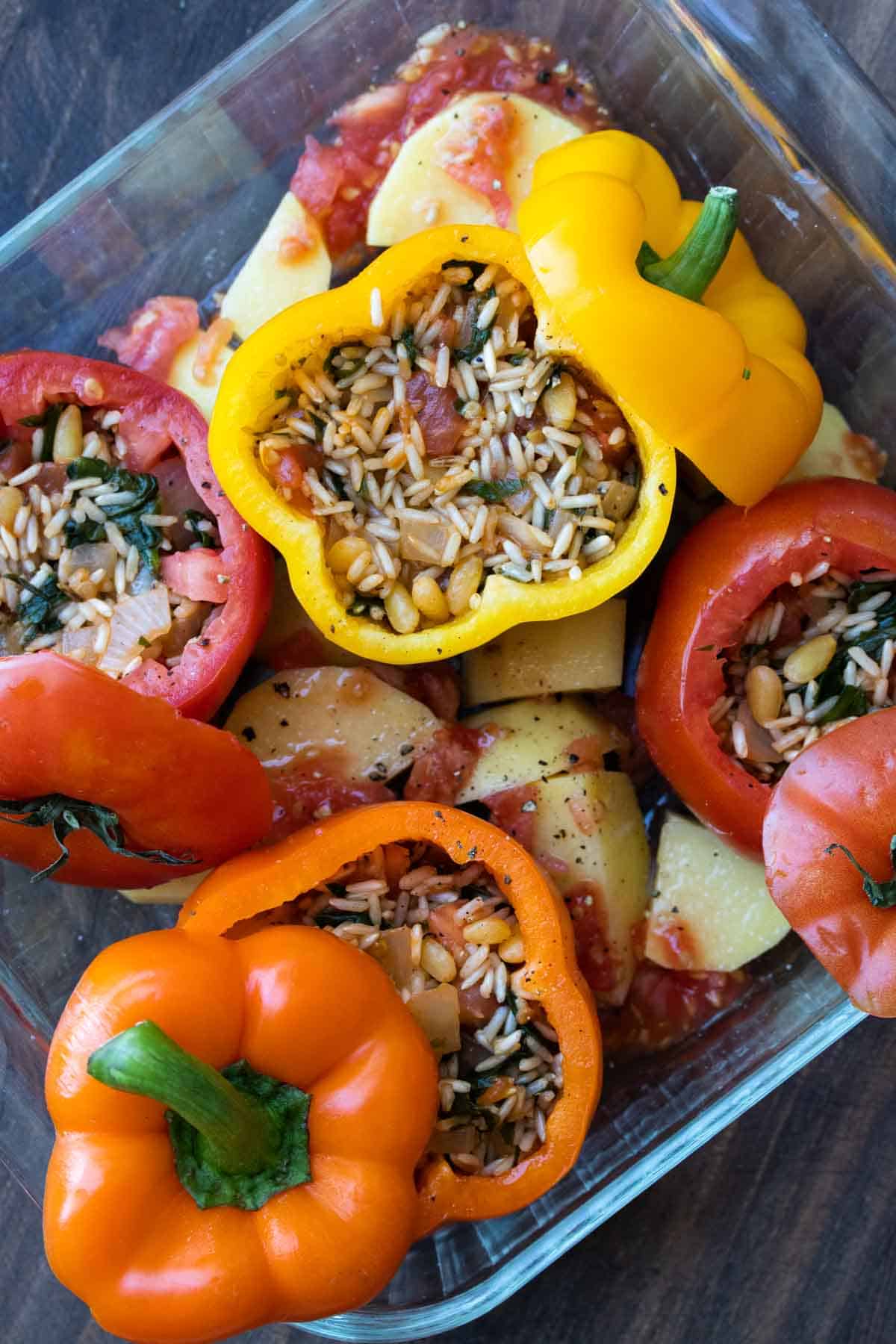 Ok, now you are armed with the secrets. Time to make these vegan stuffed tomatoes and peppers happen. Get yo self in the kitchen!
If you're looking for some other awesome Greek recipes gone vegan, check these out: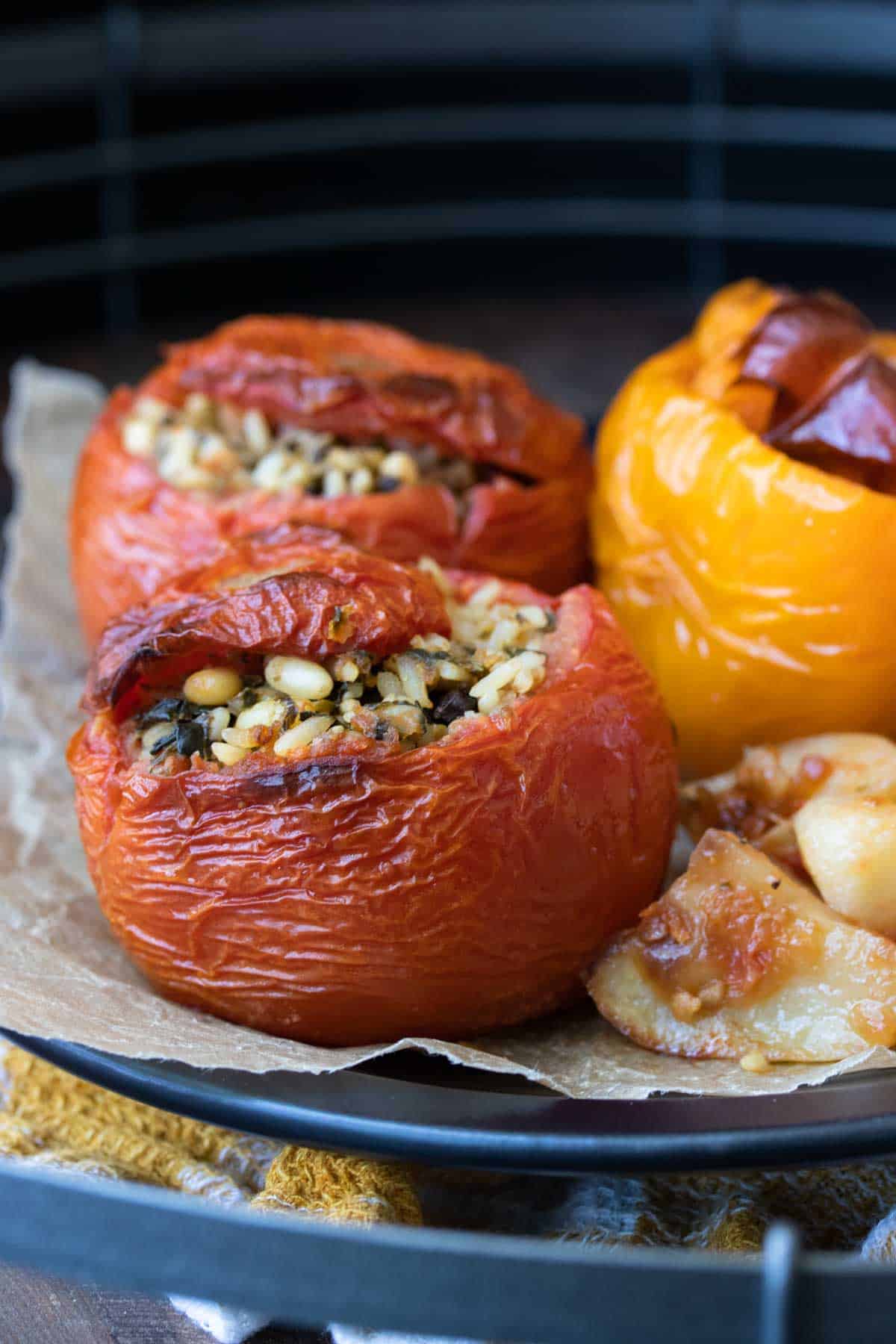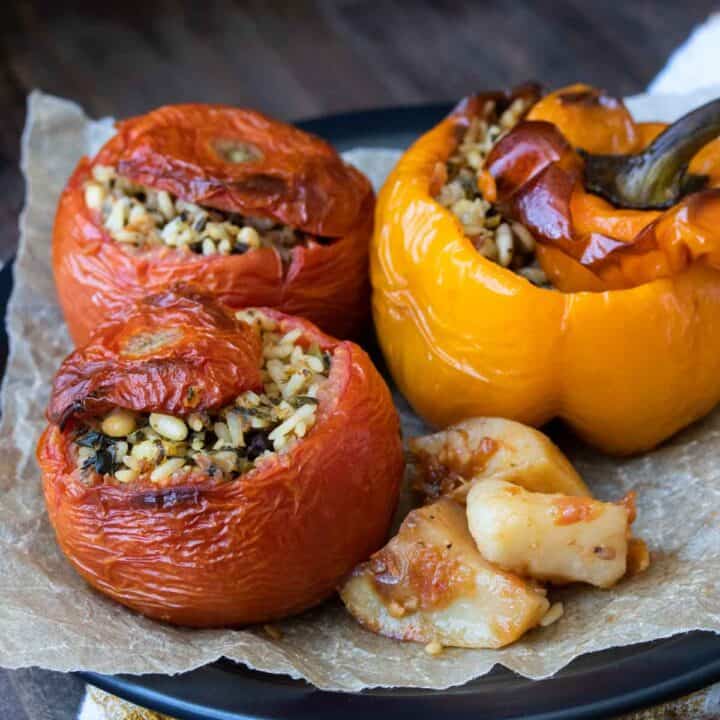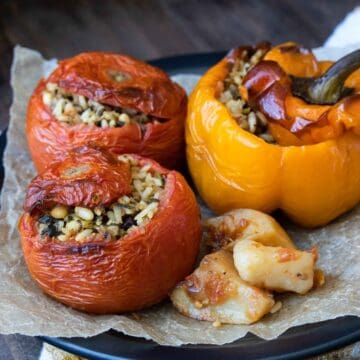 Vegan Yemista Greek Stuffed Tomatoes and Peppers
Taking tradition to the next level with these vegan Greek stuffed tomatoes and peppers. These Yemista are a healthy satisfying meal that screams the flavors of Greece!
Ingredients
4 large ripe tomatoes
4 large red, yellow, green, or orange peppers
¾ cup long grain rice (Jasmine yields the best texture but long grain brown rice can also be used, see note)
1 large sweet onion , finely chopped
4-6 leaves kale (can use chard too, see note)
½ cup parsley , chopped
3 tablespoons mint , optional
½ cup pine nuts (or chopped blanched almonds)
½ cup currants , optional
½ cup low sodium veggie broth or water (use broth for more flavor)
2 large potatoes , peeled and cut into two inches pieces
¼ teaspoon sea salt , plus a few pinches (may need to adjust if using broth)
⅛ teaspoon ground black pepper , plus a few pinches
¼ cup olive oil or use ½ cup broth or water to keep oil free
Instructions
Preheat the oven to 350 F (175 C).

Cut the tops off of the tomatoes and peppers and remove the insides. Save all of the tops to cover them later, but discard the inside of the peppers and keep the inside of the tomatoes. Sprinkle the cavity of the tomatoes and peppers with a pinch of salt and pepper.

Chop the tomato pulp well, I like to use a food processor but you can use a knife if you prefer. Take out half and set aside for later, then add the kale, parsley and mint (if using) into the processor or onto your cutting board. Chop again until everything is mixed well.

In a pot, pour ¼ cup broth/water or 2 tablespoons of the olive oil if using oil and sauté the chopped onions on medium heat. You may need to add more broth/water if not using oil.

When the onions look transparent, add the rice, mix with the onion, add ⅓ cup broth/water (add ⅔ cup if using long grain brown rice), cover and simmer over low heat until the water is absorbed, about 5-7 minutes. This may take longer with brown rice.

Add the chopped tomato pulp that has been mixed with the kale, parsley, and mint. Add pine nuts, currants (if using), ¼ teaspoon salt and ⅛ teaspoon pepper. Let it simmer until most of the liquids have evaporated, about 3 minutes. Taste and make sure the rice is half cooked, add more broth/water if needed and cook longer if it is not half cooked.

In the meantime, peel the potatoes, cut them into 2 inch pieces, and sprinkle them with a pinch of salt and pepper.

Arrange the tomatoes and peppers in a 9 x 13 baking dish. Stuff them with the half cooked rice mixture until they are ¾ of the way full. Cover them with the saved tops and brush the top with olive oil if using oil.

Arrange the potatoes between them. Sprinkle the remaining chopped tomato pulp over the potatoes. Drizzle with the leftover olive oil if using.

Make sure there is enough liquid to cover the bottom of the pan, add the leftover broth/water if needed.

Bake for 45-60 minutes, checking periodically to see if more liquid is needed, you don't want the bottoms to burn. If you need to add broth/water, make sure you heat it first. Taste as you go to check the rice, if the rice is cooked then pull them out of the oven. If using brown rice you may need to cook it longer.
Notes
If using long grain brown rice, you will need to pre-cook it longer with more broth or water (about double). Keep cooking and adding liquid until you achieve a half cooked texture.
Kale is the best leafy green to use as it is the sturdiest. Chard could also be used as a second choice but beware of spinach as it will melt into the rice.
Sub chopped blanched almonds if you don't have or want to use pine nuts.
You can use water instead of broth but broth will give more flavor, adjust your amount of salt if you use broth.
Recipe by Veggies Don't Bite, visit our site for more great plant-based recipes.
Nutrition
Calories: 458kcalCarbohydrates: 76gProtein: 13gFat: 13gSaturated Fat: 1gPolyunsaturated Fat: 0gMonounsaturated Fat: 0gTrans Fat: 0gCholesterol: 0mgSodium: 183mgPotassium: 1704mgFiber: 10gSugar: 22gVitamin A: 11250IUVitamin C: 263.4mgCalcium: 190mgIron: 7.9mg
Nutrition and metric information should be considered an estimate.
Never miss a recipe!
Sign up here and get a FREE quick and easy meal guide!