If you're looking for a fun tasty way to up those veggies, this vegan summer rolls recipe is the one! Customizable and with a droolworthy dipping sauce.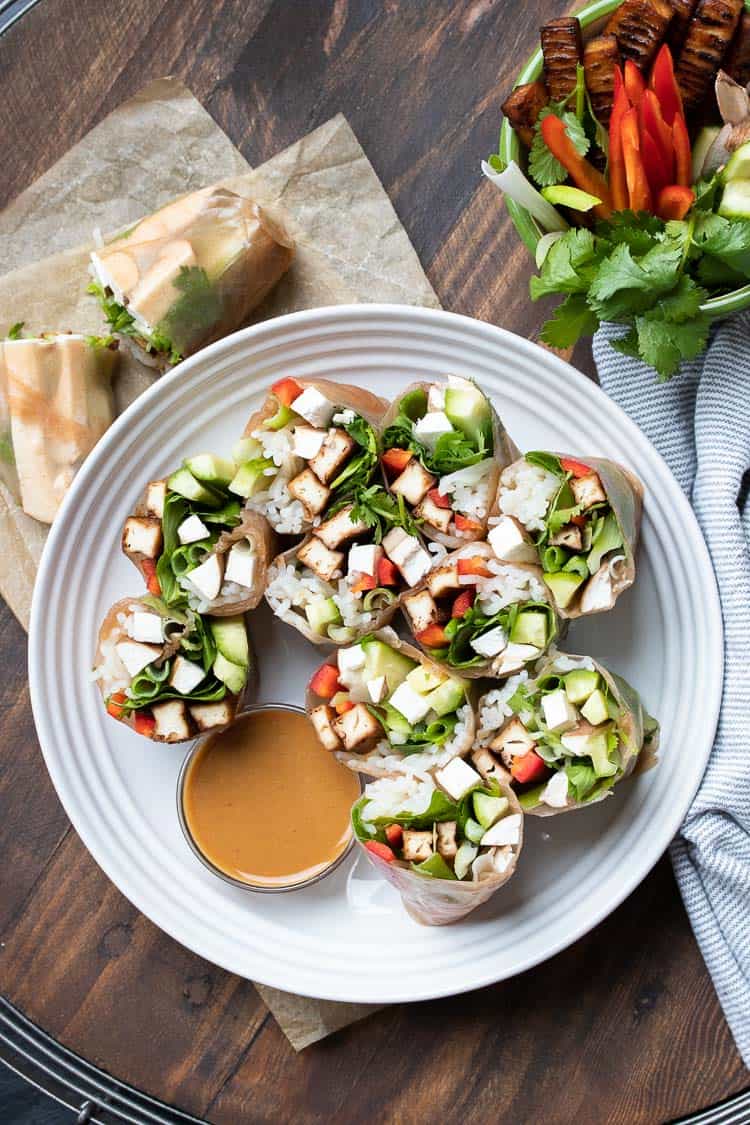 This recipe was originally published on 7/24/14
Kids plus veggies equals the necessity of being creative because one day they love them and the next they scream like you're pulling off their nails. So any time I can find new ways to get them into their bellies, I call that a win.
Healthy Vegan Summer Rolls
We love anything that you can dip. Sauce is the star of most of our meals (I'm not called the sauce queen for nothing, I mean have you even tried my spicy cilantro cream sauce?!), so when I can get some veggies into a new dipping vehicle I grab that idea and run.
Summer rolls are the perfect way to get kids involved with their food. You set up a make your own bar, let them pick what they want, help them roll it up and watch them get all that goodness into their bellies!
What are summer rolls made of?
The greatest thing about this summer rolls recipe is that they are super customizable. You can literally add almost anything inside! And when you give the kids the power to choose what they want, they are more invested and more likely to eat it happily.
Here are some of our favorite fillings:
mushrooms
cucumbers
green onions
tofu- especially when baked
noodles
bell peppers
cilantro
carrots
cabbage
radishes
rice
avocado

Can you make summer rolls ahead of time?
Rice paper is the casing that holds summer rolls together. It comes dry, and once you get it wet you can easily wrap them up much like a burrito.
Making summer rolls ahead of time and having them ready for whenever you are ready to eat them is a great way to prep ahead, however you need to be careful how long you let them sit.
Reason being, the rice paper can get dry and hard. While you can still eat them, they won't be as good texture wise. They key is that you need to keep them moist.
Here are some ideas on keeping summer rolls tasting fresh:
Cover them with a damp dish towel to hold the moisture.
Wrap them individually with plastic wrap and store in an airtight container.
Rub each one with a tiny bit of sesame oil then wrap in plastic.
Wrap each one in a lettuce leaf then store in an airtight container.
What is the difference between summer and spring rolls?
Summer rolls are a Vietnamese dish using rice paper and served cold. They are typically filled with fresh ingredients and use a variety of veggies.
Spring rolls are associated with many different Asian cultures and are served hot. They are usually fried and often use a wheat based wrap.
Both are very customizable and delicious!
Making Vegan Summer Rolls
The first thing you need to decide is what you want inside. You also need some quality rice paper. The trickiest part of making a summer roll is getting the right amount of wetness on your rice paper. Too much will make it tough to work with.
Assemble your ingredients so that they are ready to grab quickly.
Dip the rice paper into a bowl of water, or run it under the faucet, for just about 5 seconds or so,  immediately put down and add ingredients in the center.
Fold one side over the ingredients.
Fold the sides in.
Tightly roll up like a burrito.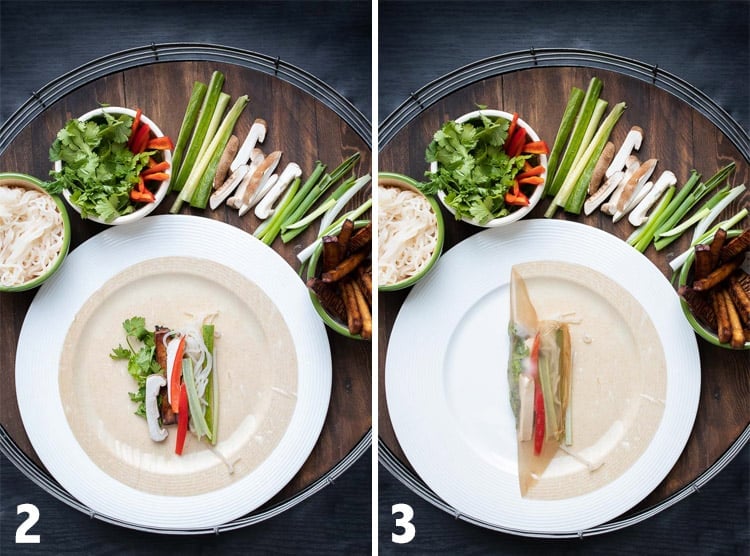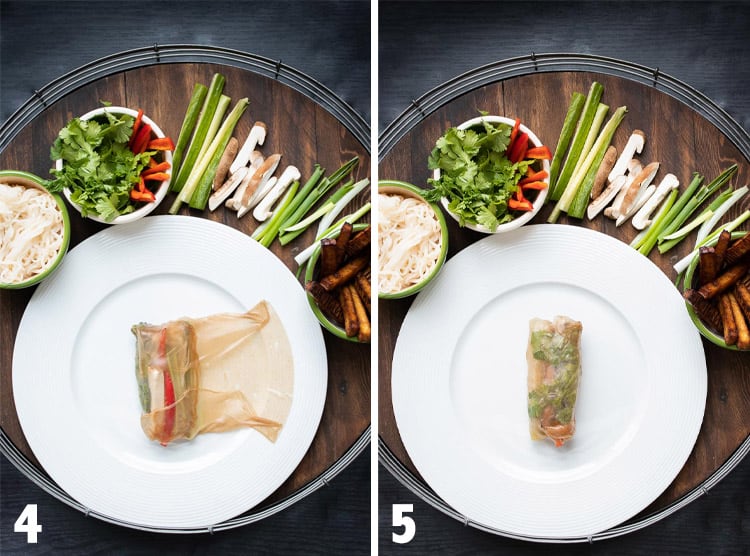 I love to serve them with a delish dipping sauce, my favorite is peanut based but there are many options! These are a great appetizer but also perfect for a light lunch.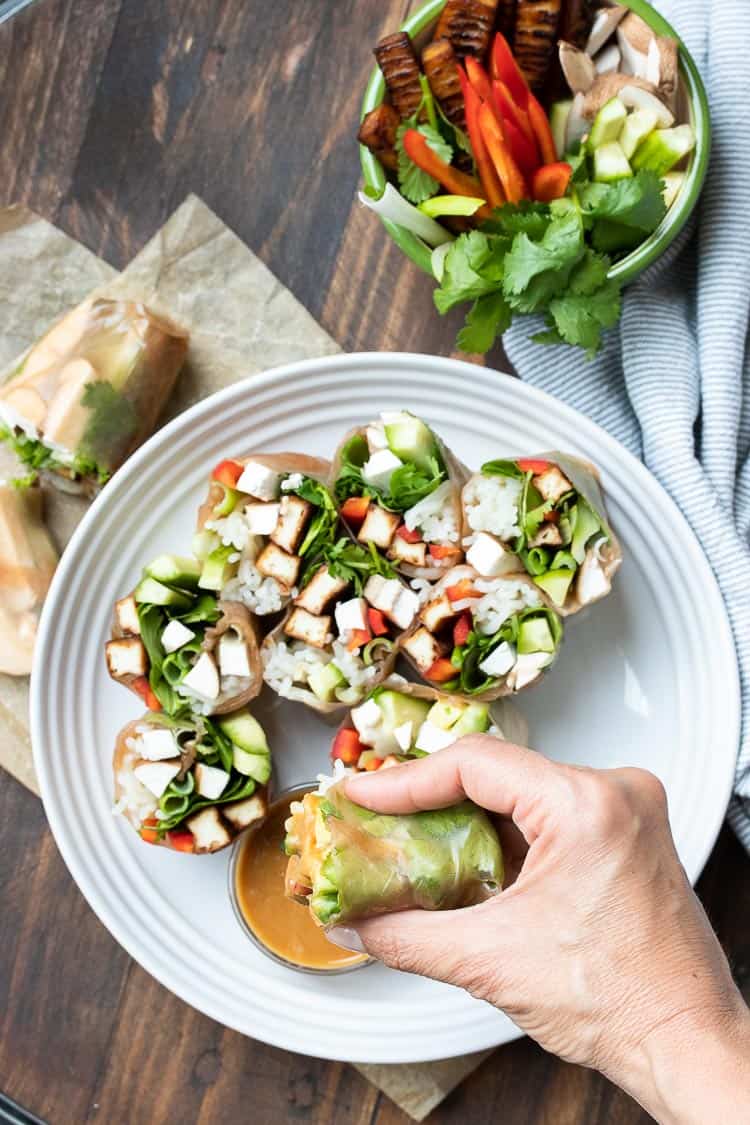 More Healthy Lunch Recipes You Might Like: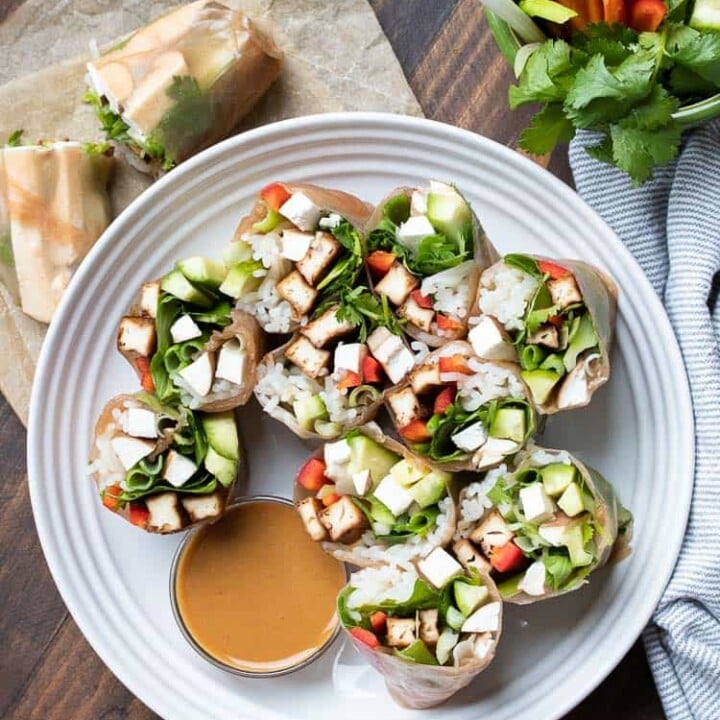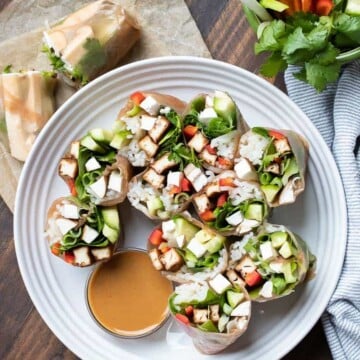 Vegetable Summer Rolls
If you're looking for a fun tasty way to up those veggies, this vegan summer rolls recipe is the one! Customizable and with a droolworthy dipping sauce.
Ingredients
20 sheets rice paper
2 green onions , sliced
6 shitake mushrooms , sliced
1 cucumber , sliced
½ red pepper , sliced
½ cup cilantro , stems and leaves in tact
2 cups rice noodles , or you can use other Asian style noodles like kelp or shiratake noodles
1 package firm tofu , use as is or bake (see notes)
Optional sauces for dip:
Instructions
Soak a piece of rice paper in warm water for 5 seconds, then place on flat surface.

Put a few pieces of each ingredient in center of rice paper. Don't overfill.

Fold one side inward over the fillings.

Fold the two adjoining sides inward over the folded side.

Roll tightly like a burrito. See post for step by step pictures. Rice paper tends to stick easily so don't worry about it being perfect while you fold, as you roll it will stick and come out ok.

Dip in sauces and enjoy!
Notes
You can add or sub any veggies you like in your rolls. See post for ideas.
The tofu is optional, omit for soy free version.
You can use the tofu as is or bake it (see the crispy tofu recipe from this post and simple bake in strips instead of cubes).
Nutrition info is for summer roll only, it does not include sauces.
Recipe by Veggies Don't Bite, visit our site for more great plant-based recipes.
Nutrition
Calories: 158kcalCarbohydrates: 31gProtein: 4gFat: 1gSaturated Fat: 0gCholesterol: 1mgSodium: 151mgPotassium: 67mgFiber: 1gSugar: 0gVitamin A: 145IUVitamin C: 4.6mgCalcium: 41mgIron: 1.1mg
Nutrition and metric information should be considered an estimate.
Never miss a recipe!
Sign up here and get a FREE quick and easy meal guide!