Looking to reduce waste and use leftover veggies in the fridge? This vegetable teriyaki stir fry is the perfect solution. Easy to make and huge on flavor!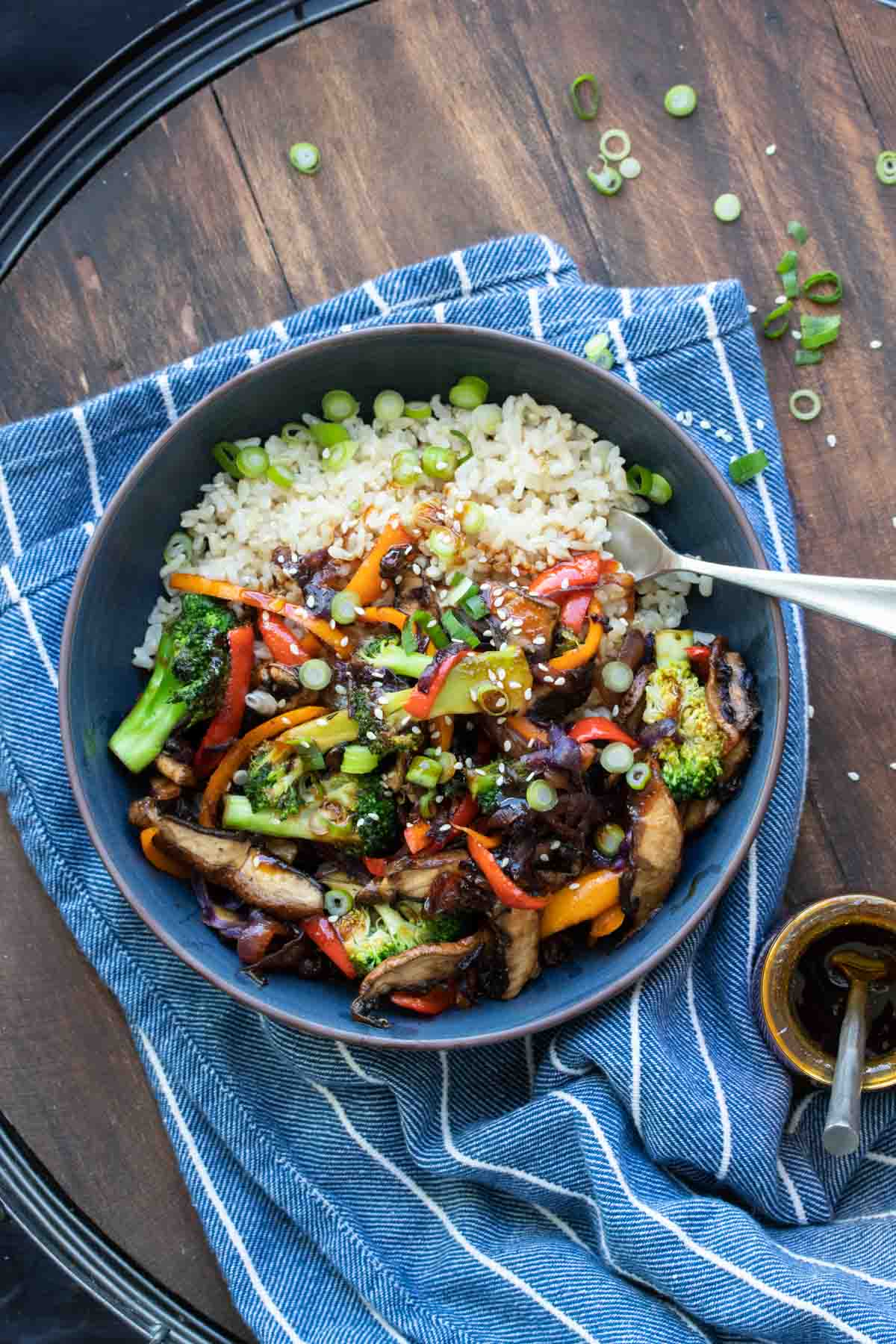 I love good stir fry, just something about smothering veggies and rice in a sticky sweet teriyaki sauce that speaks to my soul. Plus side, they're kid-friendly and easy to throw together for a simple weeknight dinner.
Vegetable Teriyaki Stir Fry
You know those nights you want something simple for dinner and don't feel like spending hours in the kitchen? Or maybe you've got a ton of veggies in your fridge about to go bad? This is perfect for those moments!
Cook them up, cover them in some good homemade teriyaki sauce, and put over rice or noodles. Stir fry is easily customizable to the veggies your family prefers and will help get those whine free dinners!
What veggies go in a stir fry?
The best part of stir fry is how customizable it is to your tastes. You really can use anything! I like to let each child pick a veggie they like to add, that way I always know they will eat some of it. I suggest cutting the veggies into bigger pieces if you have picky eaters, that way that can eat the ones they like easier.
Here are some of our favorite veggies to use in our stir fry:
Onions
Peppers
Broccoli
Carrots
Snap peas
Edamame
Cauliflower
Mushrooms
Zucchini
Green beans
Is vegetable stir fry healthy?
Absolutely! It is filled with veggies, and all the great nutrients that come with them. When you stir fry vegetables, they get nice and crispy but don't lose any of their nutrients like they do when boiled.
Teriyaki sauce can have a high sodium level, but if you make your own (my recipe for teriyaki sauce is great!) you can control that!
What vegetables do you stir fry first?
Vegetables that take a little longer to cook can go in first, onions and harder vegetables like carrots or broccoli. Anything that cooks quicker should go in last. However, if you don't mind the different textures, we actually enjoy the variety, you can still get a great meal throwing them all in at once!
How do you make a good stir fry?
Take your time! Make sure the pan you're using is nice and hot, add your veggies according to their cook time and make sure you don't overcrowd your pan. If you are cooking for a lot of people, you can stir fry in batches to reduce the crowding.
Protein options
Looking to add some protein while still keeping everything vegan? There are plenty of great options out there. Here are a few ideas:
Tofu
Tempeh
Chickpeas or other beans
Substituting quinoa for rice
Cashews or other nuts
Seeds like sesame
Veggie sausage or meaty crumbles
Prep tips
Prepping ahead for stir fry is easy and a great way to speed up the meal process. I like to chop and slice everything the day before so when it's time to cook I am ready to go! I also like to have my rice, quinoa or noodles ready to go.
How to store and reheat
If you don't eat all of your stir fry in one sitting, simply store it in an air tight container in the fridge. Storing the rice and veggies separately will help the reheat process.
When you are ready to reheat the story fry, you can reheat the veggies in a pan. You can also heat the rice (or other grain) in a pan before or after, or simply heat up the rice in the microwave.
How To Make Vegetable Teriyaki Stir Fry
Stir fry is a simple and delicious recipe to make. It's actually a great beginner recipe for those new to cooking as well!
Cook the veggies in a pan. You can do this in phases depending on the veggies you are using and how fast they cook.
Add the teriyaki sauce and mix in.
Serve over rice, quinoa, noodles or any other way you prefer!
Tips for using frozen vegetables
You can definitely use frozen veggies for this stir fry! Simple put into the pan, just like you would fresh vegetables. Saute until heated through and continue with the recipe.
You may have some extra water released from the ice particles, just continue to saute until it evaporates. Using a higher heat may help this.
Serving suggestions
We love this stir fry in so many ways! It's really versatile so make it your own, but here are some suggestions:
Rice
Quinoa
Noodles
Over a baked potato
Zucchini noodles
Spaghetti squash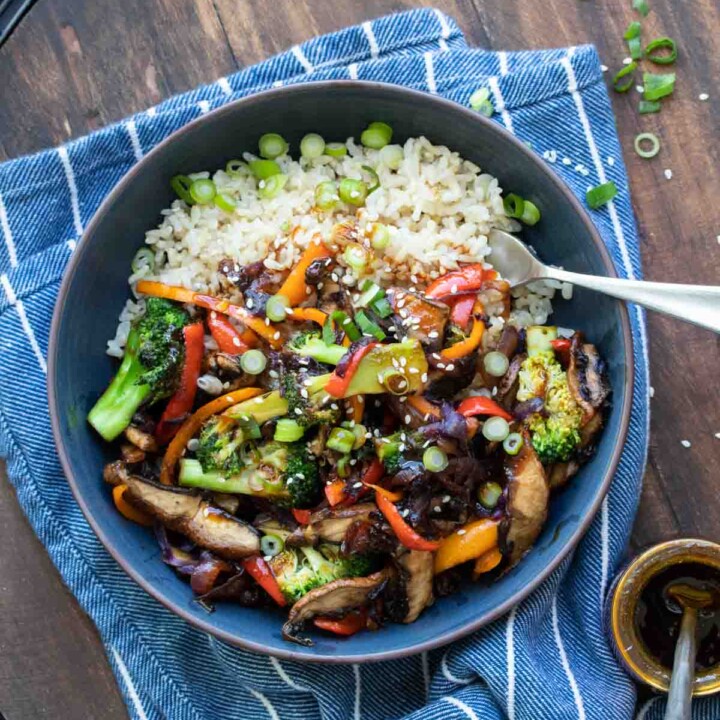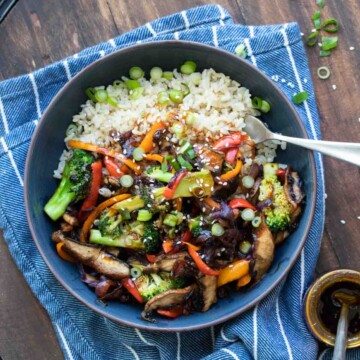 Vegetable Teriyaki Stir Fry
Looking to reduce waste and use leftover veggies in the fridge? This vegetable teriyaki stir fry is the perfect solution. Easy to make and huge on flavor!
Ingredients
6 cups chopped vegetables of choice (see note)
1 cup vegan teriyaki sauce , or use store bought (see note)
4 cups cooked rice , or quinoa, noodles etc. (whatever you prefer)
Instructions
Cook the veggies in a pan over medium heat until the just begin to soften, or until soft depending on your preference. You can cook them all at once if you don't mind the different textures of each, or cook onions first, then harder veggies like carrots and broccoli. Finally adding those that cook quickly, like zucchini and greens, last.

Add in the 1 cup teriyaki sauce and stir until mixed well.

Serve over rice, quinoa or anything else you prefer.
Notes
You can use any veggies you want, fresh or frozen, just make sure the total amounts to about the same.
My homemade teriyaki sauce makes about 2 cups. Use half for the stir fry and save the other half for drizzling over or for another recipe.
Recipe by Veggies Don't Bite, visit our site for more great plant-based recipes.
Nutrition
Calories: 342kcalCarbohydrates: 74gProtein: 9gFat: 2gSaturated Fat: 1gSodium: 573mgPotassium: 550mgFiber: 5gSugar: 18gVitamin A: 850IUVitamin C: 122mgCalcium: 107mgIron: 2mg
Nutrition and metric information should be considered an estimate.
Never miss a recipe!
Sign up here and get a FREE quick and easy meal guide!