This easy vegan miso soup has noodles and is loaded with vegetables. It's made in under 30 minutes and uses simple ingredients!
This miso vegetable soup is a perfect healthy meal for your entire family. It's easily customizable and a great way to use up veggies that are about to go bad!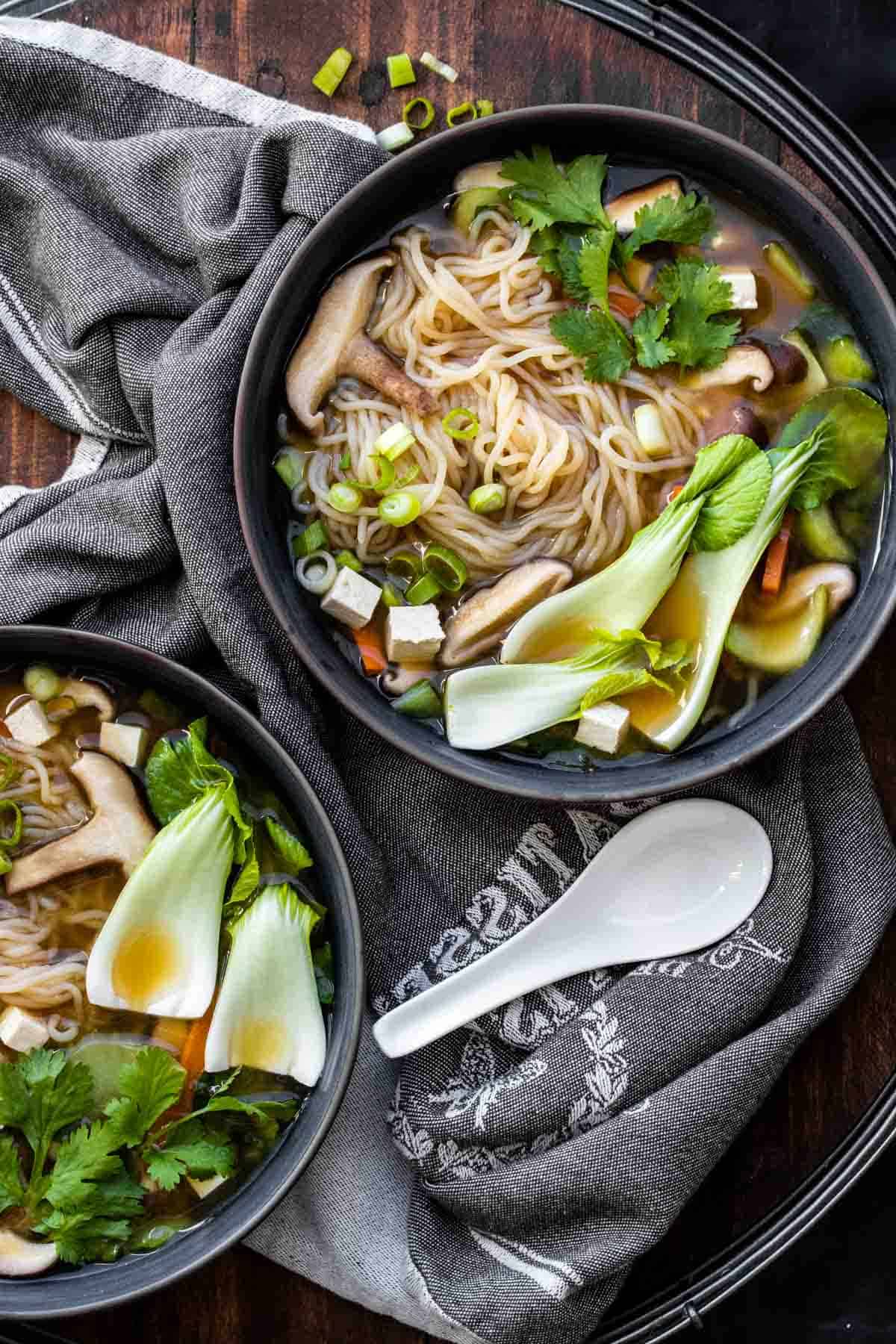 This recipe was originally published on 3/13/14
Who doesn't need a vegan dinner recipe done in under 30 minutes?! Much like my vegan coconut curry soup, this vegan miso soup is the perfect healthy meal choice for busy families!
Ingredients
The best soups are those you can basically throw in what you like or have on hand. Much like my vegan minestrone and veggie and bean soup, with this vegan miso soup you can clean out your fridge and make an amazing meal all at once! Start the soup with miso paste and add all kinds of goodies!
Here is what you need for this miso soup with noodles:
Garlic
Mushrooms
Carrots
Baby bok choy
Green onions
Spinach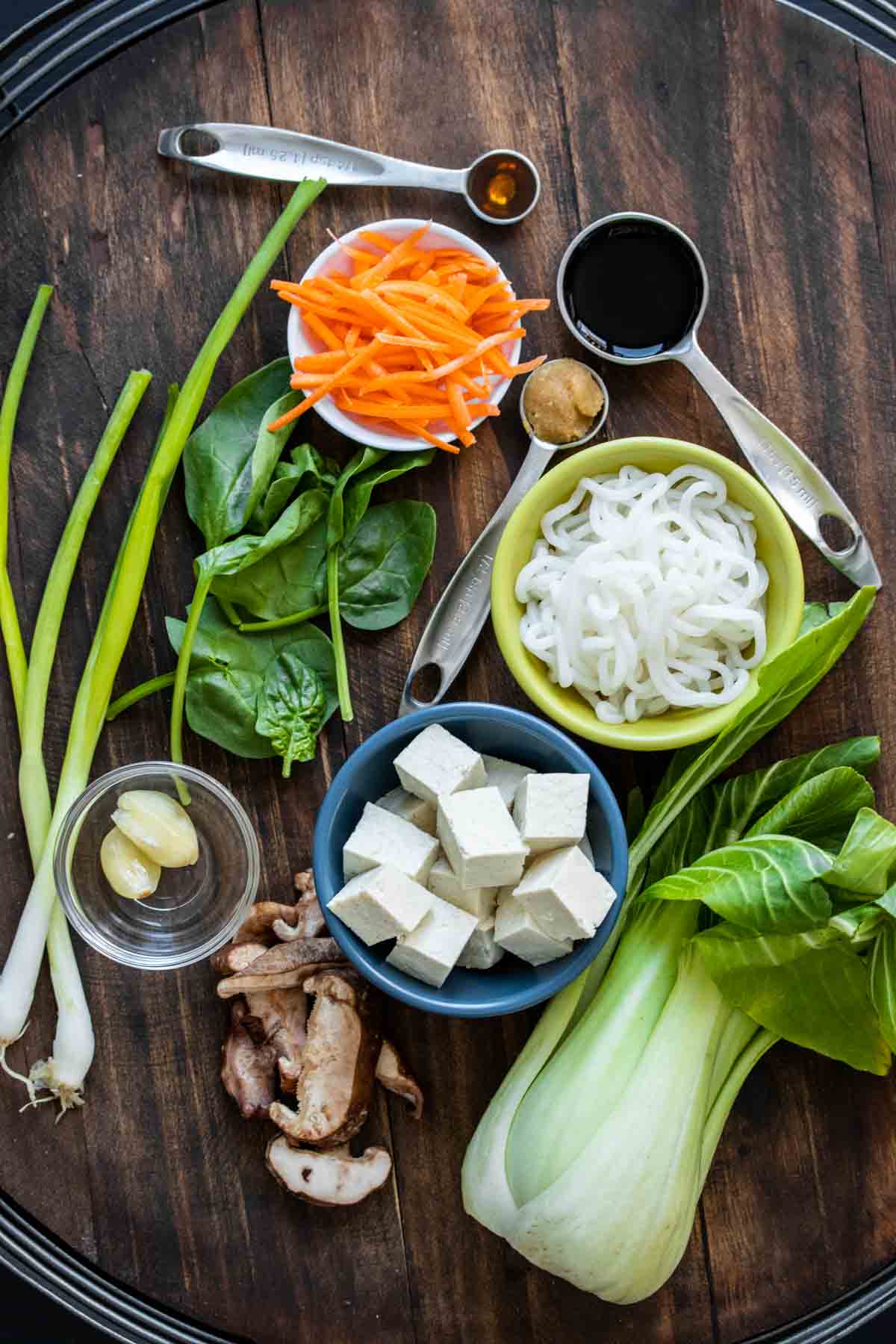 How to Make Miso Soup from Miso Paste
Making soup with miso paste is simple to do with just a few steps! In fact, this healthy miso soup with noodles is super easy to throw together in under 30 minutes!
Dissolve the miso paste with water.
Sauté the garlic and veggies with the soy sauce/tamari.
Add the rest of the ingredients.
Serve!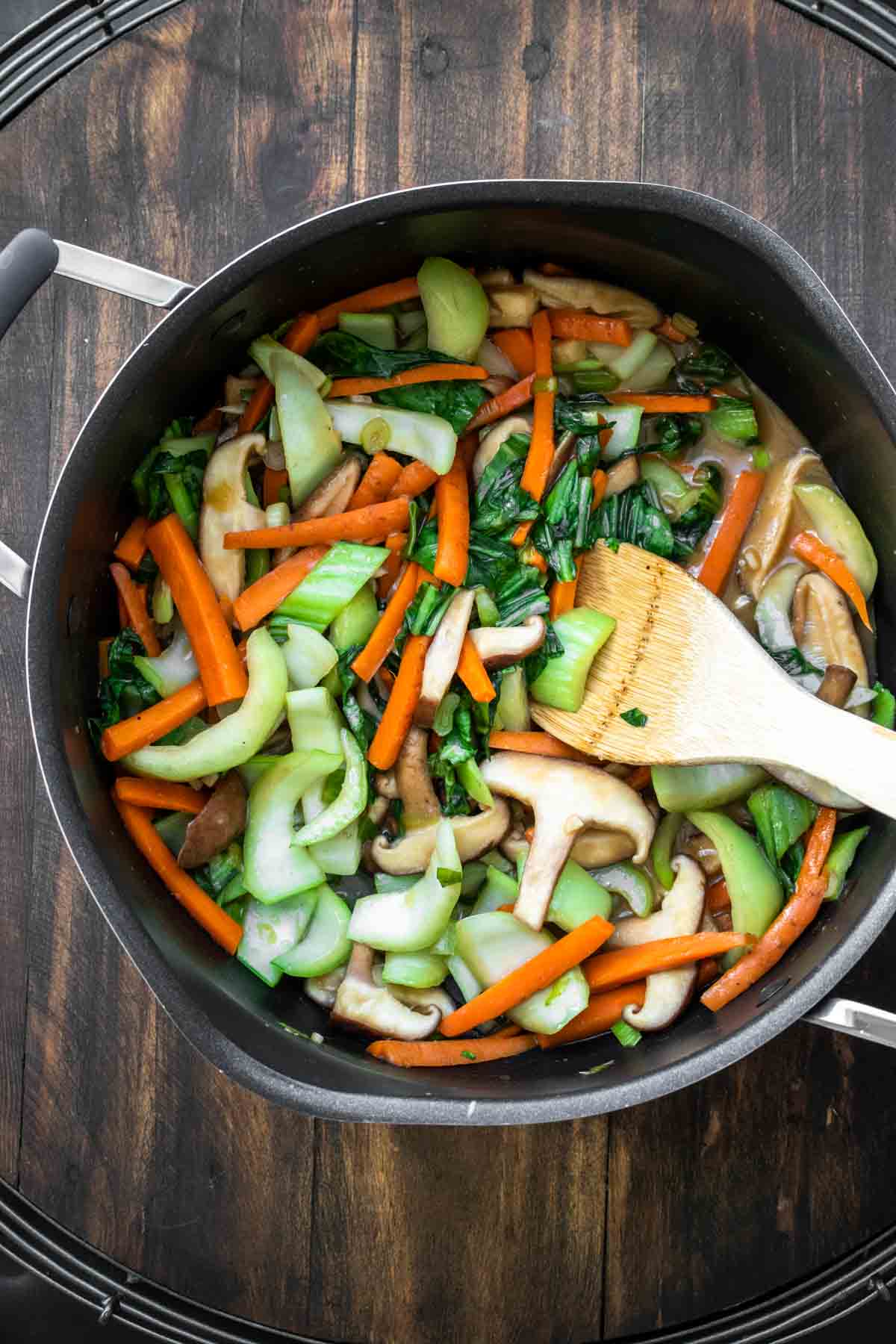 What to Put in Miso Soup
Once you know how to make miso broth you can start to customize the other ingredients! We like our miso soup with noodles and tons of vegetables! They are great additions to make this soup an all around wholesome meal.
Here are some of our favorites to add to miso based soup:
Mushrooms
Chinese peas
Bok choy
Spinach
Green onions
Carrots
Tofu
Udon noodles
Brown rice noodles
Glass noodles
Bean sprouts
Water chestnuts
Edamame
What to Serve with Miso Soup
Here are some ideas to serve alongside this vegan miso soup with noodles if you want to make a multi recipe meal:
Preparation Tips
When making vegan miso soup with noodles you can use shiratake, udon, soba, ramen, mung bean, or rice noodles.
Customize this soup with the miso paste of your choosing. In our opinion the best miso paste for soup is chickpea miso (which is soy-free), but you can use any type you prefer!
Unsure of where to find miso paste?

You'll definitely find it at your local Asian supermarket, but it is also available at chain grocery stores and natural food stores.
Check the refrigerated section in the produce department by the tofu and tempeh. It may also be in the international aisle.
And, you can also always find miso paste online in a pinch!

Avoid soy by using coconut aminos instead of soy sauce, just note it will have a sweeter end result.
Don't overcook the soup! The flavor of the miso will not be as good, and the veggies, noodles, and tofu will break down too much.
Make this soup oil-free by leaving out the oil and using water for sautéing instead.
Storage Tips
vegan miso soup
Seal in an airtight container and keep vegan miso soup in the refrigerator for up to 2-3 days.

To retain the best textures, store the tofu and noodles separately from the broth.

Freeze for up to 3 months.

If you want to freeze it, pour the soup in an airtight container and put a layer of plastic wrap over the top so it touches the top. This helps prevent freezer burn.
It is best to freeze it without the noodles and add them fresh when reheating.
When ready to eat, let it defrost on the counter.

Reheat slowly over low heat in a pot on the stove.

You can also microwave it.
Common Questions
Is miso soup vegan?
It can be, but it isn't always! When it comes to miso soup the things you should look out for are seafood and egg. Many versions of miso soup use dashi (which can contain fish) to create the broth. Some even use chicken or fish stock for the broth.
Kombu dashi is made from seaweed and can be used to make a vegan miso soup. You can also simply mix miso paste with water, seasonings, and loads of other ingredients like this healthy miso soup recipe with vegetables!
Is miso vegan?
Yes, miso itself is vegan. The Japanese condiment is made with soybeans, salt, koji, and occasionally other ingredients to create a flavorful fermented paste. By making miso noodle soup from miso paste you can ensure the recipe is entirely vegan!
Is miso soup vegetarian?
Similar to above, sometimes yes. Make sure you're enjoying vegetarian miso soup by asking if there are any ingredients you'd like to avoid.
How healthy is miso soup?
Miso soup is a great addition to a healthy diet. It can be filled with a variety of veggies which is an important part of a wholesome meal. Miso is also fermented and very soothing to your belly and provides your digestive system with good bacteria.
What does miso taste like?
Miso features an umami flavor. It is salty and savory, a bit tangy, and some kinds of miso are slightly sweet.
What is miso soup made of?
Miso soup can have a variety of ingredients, but there are only a few basics that you find in every recipe. Water and miso are the base. The type of miso can vary, but when mixed with water it makes a delicious soothing broth.
Usually you also see tofu and seaweed, maybe some soy sauce as well.
This recipe is for vegetable miso noodle soup, since we love lots of veggies and noodles!
More Vegan Healthy Soup Recipes
After slurping up every last drop of this vegan miso soup with noodles, fill your bowl with the best flavors created from plant based whole foods!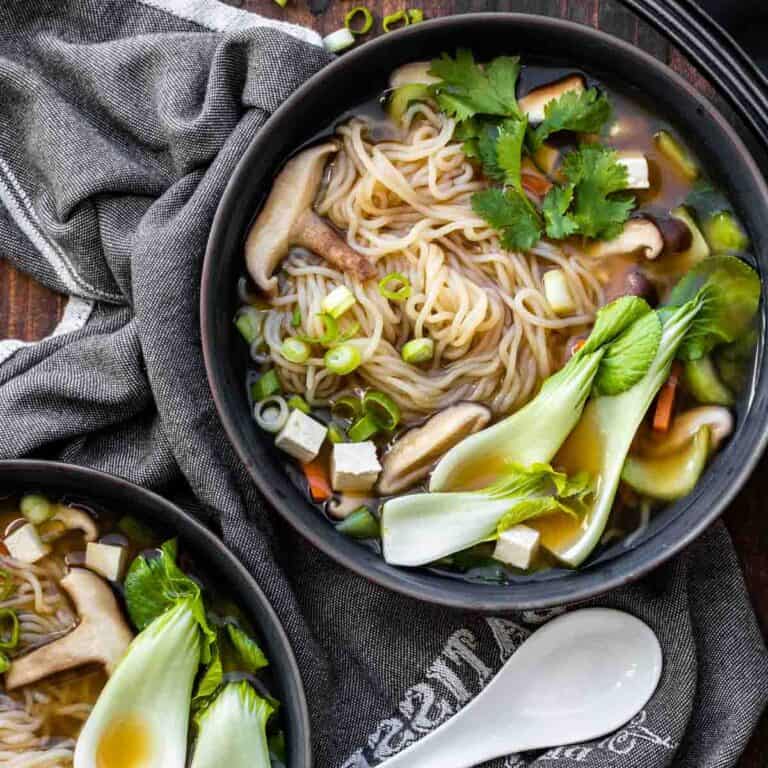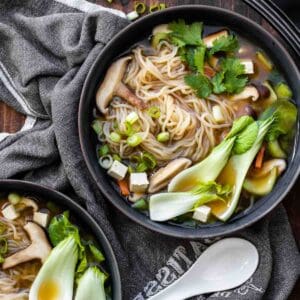 Vegan Miso Soup with Noodles & Vegetables
This easy vegan miso soup has noodles and is loaded with vegetables. It's made in under 30 minutes and uses simple ingredients!
Ingredients
6 cups water
8 teaspoons miso paste , I uses chickpea miso
1 teaspoon sesame oil optional, can use water
1 teaspoon chopped garlic
4 tablespoons soy sauce or tamari , I used low sodium (can also use coconut aminos, see note)
5 ounces mushrooms , sliced (any kind or a mix, I used shiitake)
8 ounces carrots , sliced (about 3 large)
10 ounces baby bok choy , chopped (about 2 heads)
1 ounce green onions , sliced (about 2)
16 ounces your favorite precooked noodles , I used pasta zero shiratake noodles (about 8 ounces of dry uncooked noodles)
½ cup diced extra firm tofu , optional
8 ounces spinach , optional
Instructions
Mix ½ cup of the water (make sure it is warm) with the miso paste until the miso is dissolved. Set aside.

Saute garlic in sesame oil or water in a soup pot over medium heat until soft, about 2-3 minutes.

Add the soy sauce/tamari, mushrooms, carrots, bok choy, and onions into the pot. Cook until the veggies are softened, about 5 minutes.

Add the rest of the water and tofu (if using). Bring to a boil, about 5 minutes.

Add in the water miso mix, noodles and spinach (if using). Cook until spinach is wilted, about 2 minutes.

Serve hot!
Notes
You can sauté the garlic in a little bit of water if you are avoiding oil.
I used chickpea miso for this soup, it's a good option for a soy free version. Miso paste can be found at any health food store and some regular grocery stores.
If you use coconut aminos instead of soy sauce it will have a sweeter end result.
If noodles aren't already cooked, make sure to cook them according to package directions
Recipe by Veggies Don't Bite, visit our site for more great plant-based recipes.
Nutrition
Calories: 98kcalCarbohydrates: 12gProtein: 8gFat: 2gSaturated Fat: 1gSodium: 795mgPotassium: 462mgFiber: 3gSugar: 4gVitamin A: 12009IUVitamin C: 36mgCalcium: 146mgIron: 2mg
Nutrition and metric information should be considered an estimate.
Never miss a recipe!
Sign up here and get a FREE quick and easy meal guide!