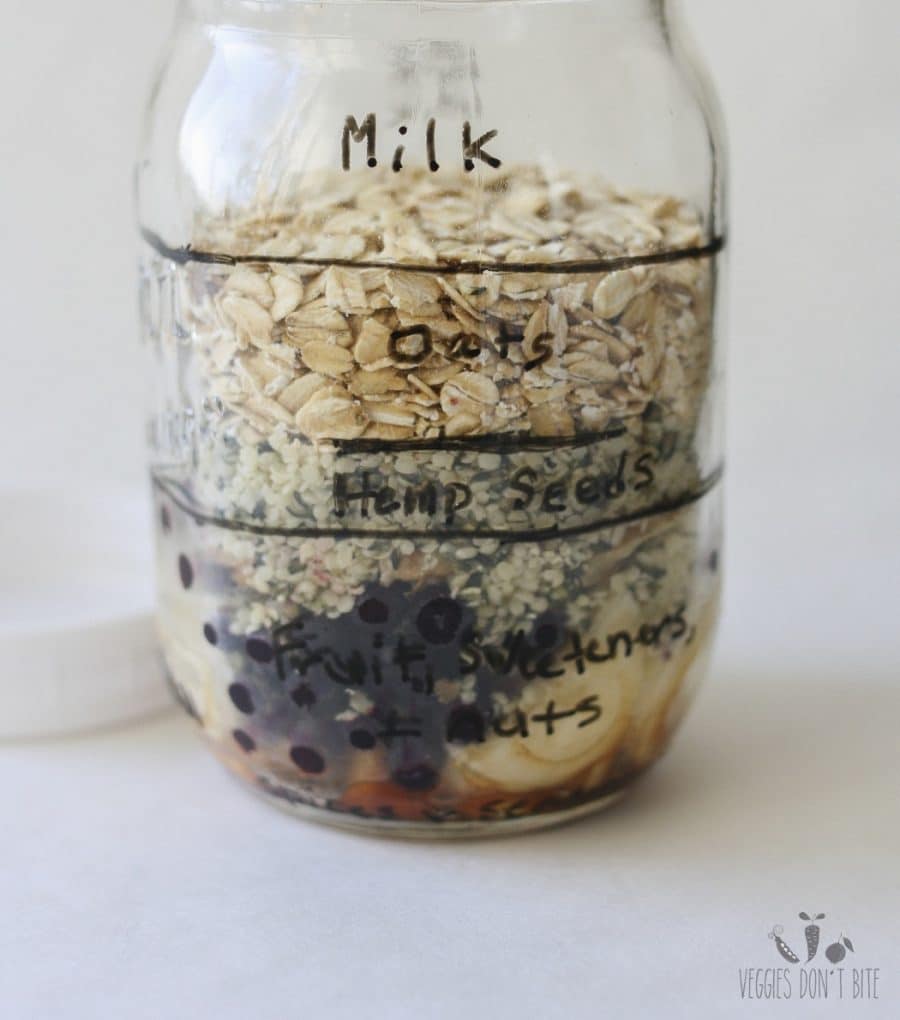 I am so excited to finally be able to share this new product of mine with all of you! I have been working on this since I started my blog. It has been a long process and one in which I have learned a lot. So what is it that I have created you ask?
The Veggies Don't Bite Overnight Oats Jar
*patent pending*
It's a quick, easy and convenient way to prep overnight oats without having to wash any other supplies! I have created a jar with pre-measured lines and sections, into which you add several types of ingredients. It moves away from the traditional "follow a recipe" mode of cooking and more into the "create as you go" mode. Each section can be filled with ingredients of your choice for that specific part, there is no need to measure how much of each, just continue to fill until you reach the designated line. Mix and match flavors and ingredients to get a different meal each time!
To use by creating as you go:
Fill each section in the order indicated with the appropriate ingredients not focusing on measurement but just adding a little of each thing if there are multiple ingredients that belong in that section. One side can be used with any creation, and the other is specific to Veggies Don't Bite creations, using a mix of hemp seeds and oats as the base.
To use by following a specific recipe:
Find the ingredient and the section into which it belongs. Measure and add each ingredient in the order indicated on the jar. Keep in mind that specific recipes may use different amounts of ingredients than measured by this jar.
Here is the very first prototype I made and used to test with my family:
When I first developed some of my own recipes for overnight oats for the blog, I found myself thinking, "Why can't I just quickly add stuff into a jar without having to measure and clean up all these extra measuring tools?" I immediately went to my computer and searched for such a tool. Well, none existed. I found loads of recipes, but no jar with pre-measured lines. I loved the idea of overnight oats, especially on those days when my husband is traveling and I'm on my own to get my two little munchkins fed and ready for school. Having breakfast in a jar ready to go was a lifesaver! However, I did find myself a little lazy the night before and often times getting out my measuring cups and spoons was too much. I began just throwing things together and creating different flavors for us. So the idea hit me, I should start tracking what I'm doing and make my own jar! We used my prototype jars at home over and over, tested and trialed until I came up with the perfect ratios of base to add-ins. I kept notes on all the different combos of oats I made that I didn't have the energy to measure out, write a recipe for, and photograph for the blog, and these ideas will come with the jar when purchased. I then began the long process of filing for a design patent and getting these jars printed so that I could share this easy to prep breakfast with all of you!
The best thing about this jar is that there are no other tools to wash. You just decide what flavor you feel like, follow the steps to fill each section, mix and put in the fridge ready for the next day! For those of you that follow a recipe to the last detail, it may be a little bit out of your comfort zone. However, you really can't go wrong! What's better than ready-to-go healthy breakfast in the morning?! Plus, each person can have their own jar and create their own flavor. I started having my boys help prep these the night before and it's been great. They love it!
Here's what it looks like in a step by step process: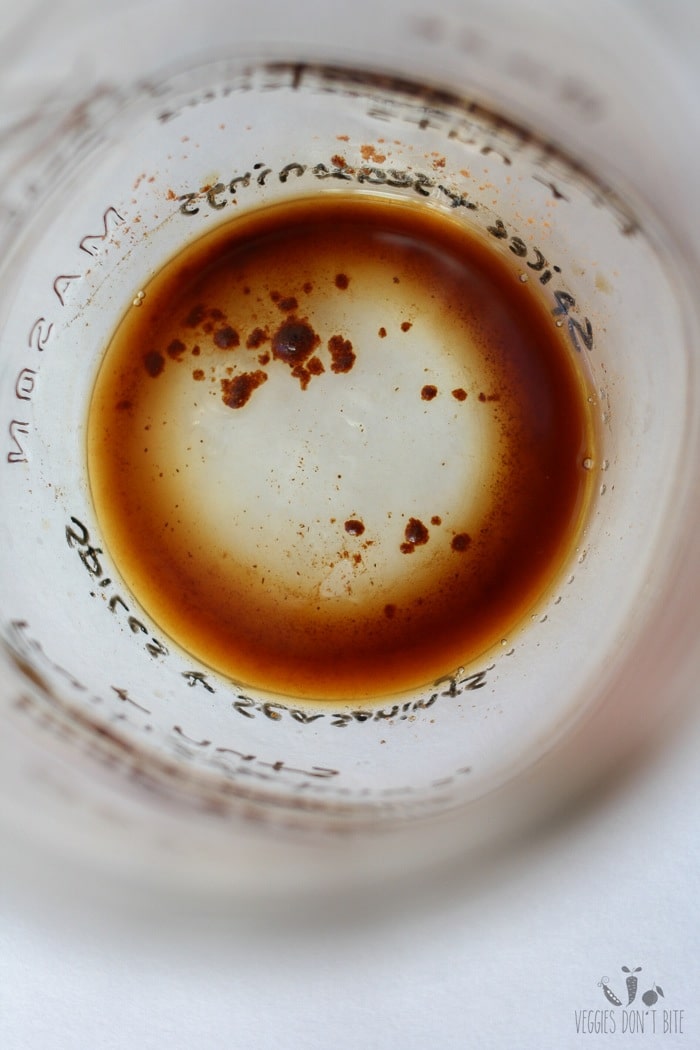 1. Spices & Seasonings: make a thin layer covering the bottom of the jar, starting with dry ingredients and adding wet second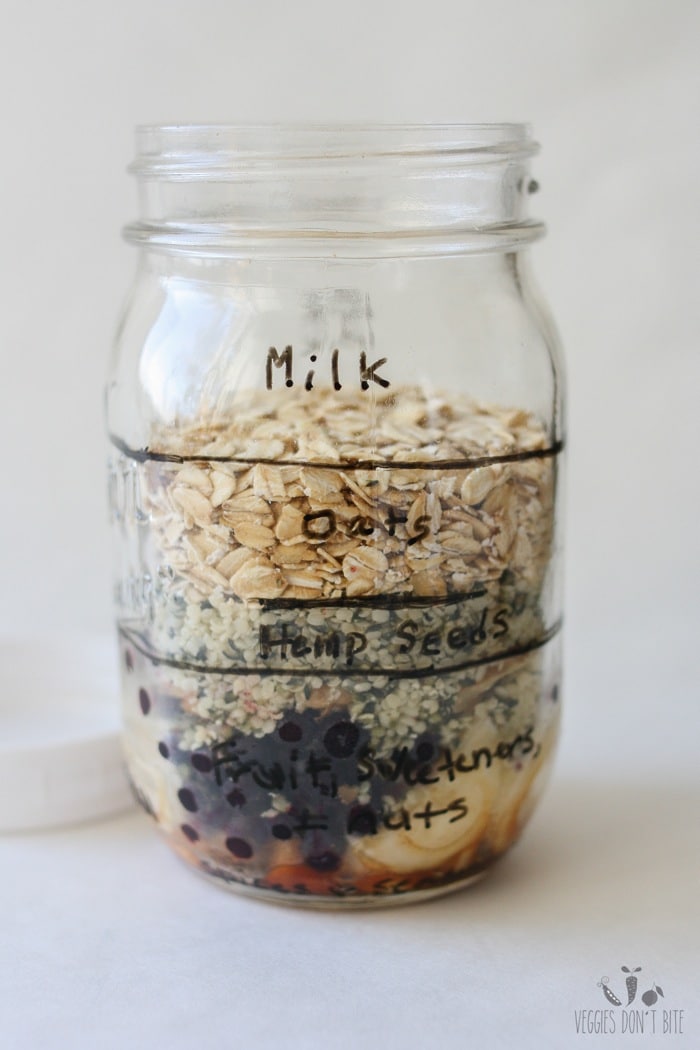 2. Fruit, Sweeteners & Nuts: fill to the first line
3. Base (here I am using the side for Veggies Don't Bite Creations): fill each base ingredient to the corresponding lines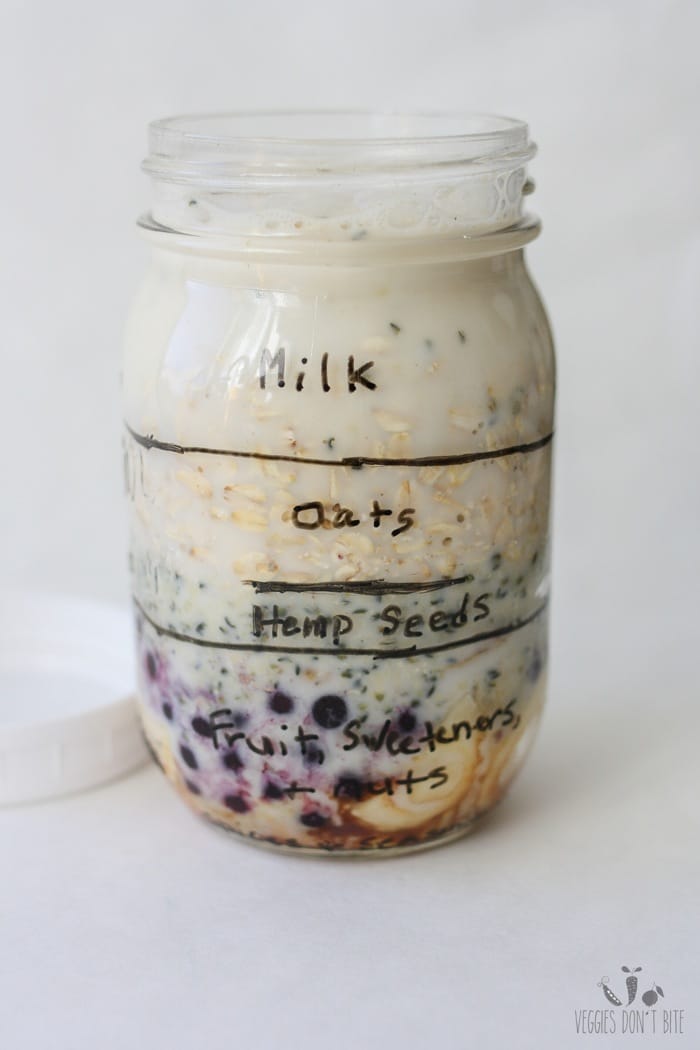 4. Milk: fill jar with milk of choice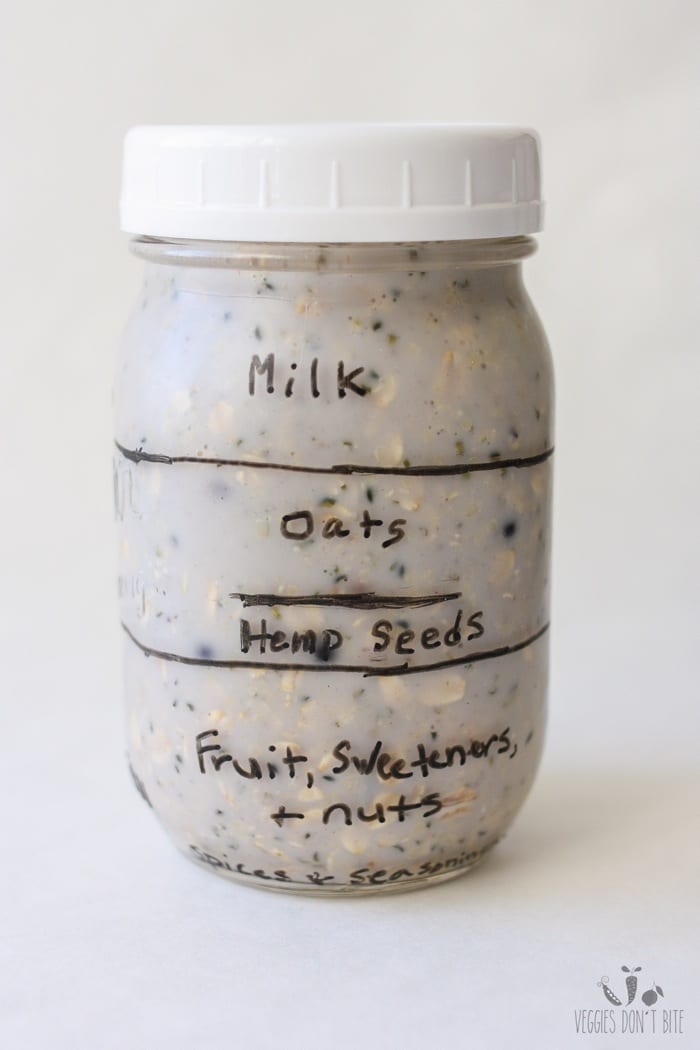 5. Cover, shake jar, & store in the fridge for the next day!
As exciting as this process has been, there has also been a lot of frustration. The final version is a high quality professionally printed jar, with the same design shown in my protocol version, and I can't wait to get them. However, I was really hoping to have these printed and ready to ship out to customers last month in order to get them out for Christmas, but despite my hard work and best efforts I won't get them in hand until December 19 at the earliest, but maybe not until December 22. Jars will be selling for a special promotional price of $9.99 plus applicable sales tax and shipping charge.
Here are a few shots from manufacturing of the jars!
I'm so excited to make this creation a reality! I hope you all find them as useful and awesome as we have!
UPDATED 1/5/2015:
See the official store front page to purchase your very own Overnight Oats Jar!
In health and happy eating!