Overall wellness has a huge impact when living with cancer. For my guest today, it has helped her live well beyond the years she was given.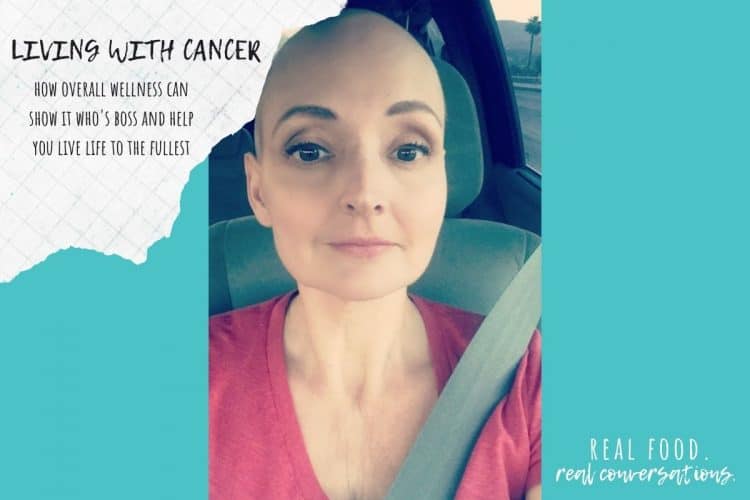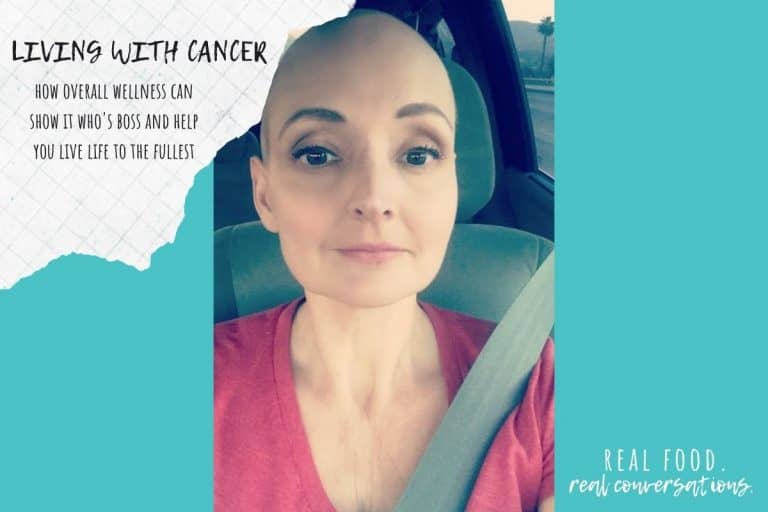 Wellness is not just the absence of disease, but a whole mind, body and spirit approach to the well being of a person. My guest today, Melanie Kabo, embodies the definition of true wellness.
Podcast: Play in new window | Download | Embed

Subscribe now! Apple Podcasts | Google Podcasts | iHeartRadio | Stitcher | TuneIn | Deezer | RSS | More
Cancer Diagnosis
In 2011 Melanie had a seizure in the early morning. The initial diagnoses gave her 14 months to live, since they thought she either had breast cancer that metastasized to her brain or a glioblastoma.
After further investigation, they found out it was another type of brain cancer, which gave her 3-8 years to live with a 34% chance to make it to 5 years. She is in year 9!
Life with Cancer
After her initial diagnosis, Melanie and her husband decided to change their outlook on life and live it to the fullest.
They started with what they put in their body. After watching quite a few documentaries, they began their diet change with juicing. That led them to discover the macrobiotic diet.
After giving it a shot, Melanie realized it was a lot of work. It also includes food rules they couldn't live with. She loves avocados and those are on the no list, it includes a lot of soy and with her family history of breast cancer it didn't feel right, and it had a lot of fermented food which isn't her family's favorite.
From there they went to a mostly pescatarian diet and then moved on to mostly eating plants. She added some raw vegan from time to time as well. But overall, she focuses on how she feels and balanced with what works for her family to make sure her mental and emotional wellness is taken care of.
Diet and Cancer
When Melanie decided to change her diet, her doctors gave her the stamp of approval. In her brain cancer groups, many people follow a keto diet. But her doctor told her that if her goal was to live a long time, then the keto diet isn't the best choice as her cholesterol would go up.
After five surgeries, Melanie still feels amazing. In fact, doctors say that according to her general lab work, she is one of the healthiest people they have ever seen!
She has realized how much food can help heal, and strives to make wholesome food choices as part of her overall wellness plan.
She says that things have healed quicker, she doesn't have headaches, or feel sick anymore. And has an overall feeling of being healthy. You'd never know she is battling brain cancer inside!
Living Life to the Fullest
Living life is Melanie's theme. Her family has ongoing bucket list items that they check off as they live life. Some are done as a family, and some are for her alone.
After her fourth surgery, she celebrated being done with chemo by prepping for and running a half marathon. After she was done with that, her son challenged her to run a full marathon. She took that challenge and then some, and as of today has ran two full marathons and ten half marathons!
One bucket list item they still want to do is travel Europe. Hopefully it will become a reality soon!
Melanie has accepted that her cancer will never go away, she needs to learn to live with it and she truly embodies the essence of success.
Her goal is to dance in her grandchildren's weddings and I fully believe she will be there....
Living with cancer is not easy, but with a positive outlook and care to support overall wellness it can be a success. We should all learn from Melanie and start thinking of health as an interconnected system between the wellness of our body, mind and spirit!