Mindfulness is more than just a passing moment. It's a practice that takes time to see results. With work, it can do wonders for your life!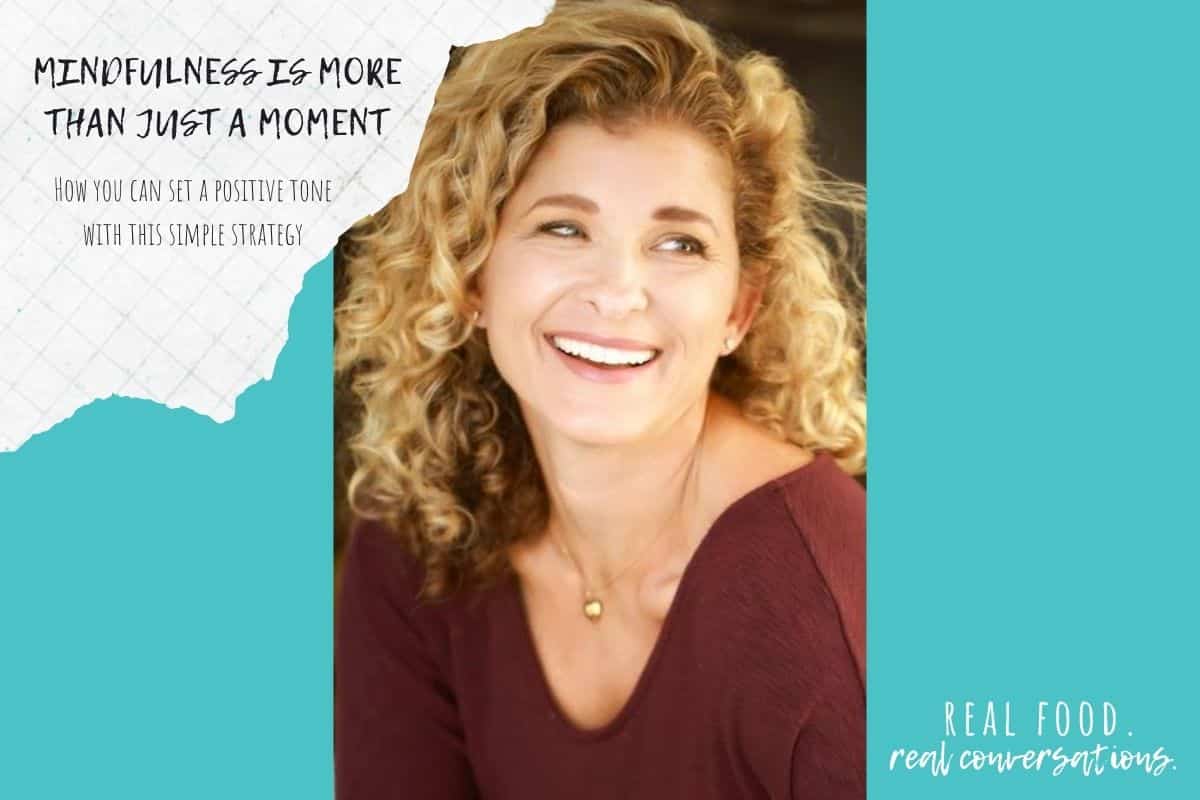 My guest today chats with us about the process of setting up a mindfulness practice, the positive effect it can have in our life, and how it can be woven into our everyday being.
Podcast: Play in new window | Download | Embed

Subscribe now! Apple Podcasts | Google Podcasts | iHeartRadio | Stitcher | TuneIn | Deezer | RSS | More
Lisa Druxman is a mom on a mission. She is the founder of FIT4MOM, the country's largest fitness program for moms, a noted speaker, author, podcaster and powerhouse of energy.
A self proclaimed idea monkey and #momboss, Lisa is passionate about helping women get out of overwhelm and in to a life of health and happiness. She shares her life hacks and experiences to help you live a more passionate and purposeful life.
A respected speaker and author, Druxman earned her Master's degree at San Diego State University in psychology with an emphasis in exercise adherence and weight control.
She created the weight management program, L.E.A.N. Mommy® (Learn Eating Awareness and Nutrition) which is also the name of her book, by Hachette Books. Her most recent book, The Empowered Mama is the "how to" guide to empower moms to live their best lives.
A well-published author, Druxman has written on business for Entrepreneur and on motherhood for magazines such as Fit Pregnancy, Shape and more.
Recognizing her entrepreneurship, Druxman has also been nominated for and received numerous honors from organizations such as the National Association of Women Business Owners for her unique and successful business.
Lisa has appeared on NBC's Today Show, CNN, Access Hollywood, Hollywood Live Today and Home & Family to name a few. Druxman has been featured in print publications including Entrepreneur, Woman's Day, Good Housekeeping, Self, Fit Pregnancy, American Baby, and more.
Druxman lives and relishes the FIT4MOM mission statement every day, "Helping moms make strides in fitness, motherhood and life." She resides in San Diego with her husband, son and daughter.
You can find her on www.fit4mom.com, www.lisadruxman.com,
https://fit4mom.com/on-demand, and Facebook.
Make sure to sign up for the 7 Day Free Trial for FIT4MOM On Demand
What is Mindfulness?
The simple answer to describe mindfulness, is just the state of being. It's learning how to practice being a human and to just be in the moment. Whatever it is you are doing, being present and focusing on that one thing.
Lisa had us do a great activity, for one minute simply pay attention to your thoughts. Whatever comes into your mind. That right there is mindfulness.
Practicing Mindfulness
When you first start, setting a time and regular routine to practice mindfulness will help it become part of your normal routine.
But eventually, being mindful will just happen. It will happen in every day tasks, activities, and just life.
Learning to be mindful and present when doing the simplest things, like chores or tasks you need to get done, will help you bring mindfulness into your everyday being.
Lisa started with a task she hated to do, emptying the dishwasher. She began focusing on what she was doing, putting away plates, cups, forks, etc. And what she saw was that being present in the moment helped with her mental well being overall.
She believes that you can turn these every day mundane things into an opportunity to be in the moment. ROE stands for return on energy. Let these chores and tasks be a time to focus on being in the moment or a time to learn and use it to listen to a podcast.
As you get better at your practice, you will be able to bring it into your every day life.
Meditation and Mindfulness
Meditation is part of mindfulness. When you meditate, you are practicing being in the moment. It's not about clearing your mind of all thoughts as much as it's about allowing those thoughts to pass by.
Meditation has been shown to decrease stress, increase focus, help your immune system, and all for free. Starting a meditation practice is not hard to do. You can start small and add more as you get better.
Practicing meditation is a way to start practicing being mindful. As you get better at being in the moment during your meditation time, it will spill out into your every day life.
You will being to notice how much easier it is to be in the moment in every day activities.
Mindfulness and Mental Health
So many people in this world struggle with mental health. From anxiety, depression and even things like ADHD.
Both Lisa and I have seen great success with bringing a mindfulness practice into our lives. She has ADHD and I have anxiety. Being able to practice being in the moment, living our day with mindfulness, has helped us with focus, stress and learning to be a human in the moment.
Mindfulness and kids
Exposing our kids to mindful living is such a gift. Both of us started this practice as adults, and while it has been amazing and life changing, we can only imagine how great it would be to have this practice as a kid.
The issue is that kids don't necessarily do what parents tell them to. So the best thing we can do is model for them. Kids will do what they see you do.
So by setting a good example, we can not only help ourselves, but have an impact on the next generation.
Tips to Start a Mindfulness Practice
Here are some of Lisa's tips to get started with a mindfulness practice:
Commit to 10 minutes a day.
Pick when you will do it.
Pick an app that has a challenge or something to guide you and commit to sticking to it.
Remember that it takes time. You may not feel it right away but eventually it notice it effects much faster.
Try being present with the little tasks you do each day.
Jerry Seinfield is known for his method of creating jokes, it's all about not breaking the chain. He would write jokes every day and then put a red x on his calendar. This kept him going and gave him momentum.
When I started my mindfulness practice, it took me months before I saw it's effects. If I gave up early, I'd never feel the end result. But now, I can feel the immediate effects of taking time to be in the moment.
Using an app is a great way to get started. Here are a list of some that we love:
Calm
Insight Timer
Headspace
Meditation
It's also great to just sit in quiet or listen to plain music or chanting.
Don't forget to sign up for the 7 Day Free Trial for FIT4MOM On Demand.