Switch up your hummus routine with this protein filled yellow split pea dip. It's called "Fava" in Greek, and the perfect way to get your healthy snack on!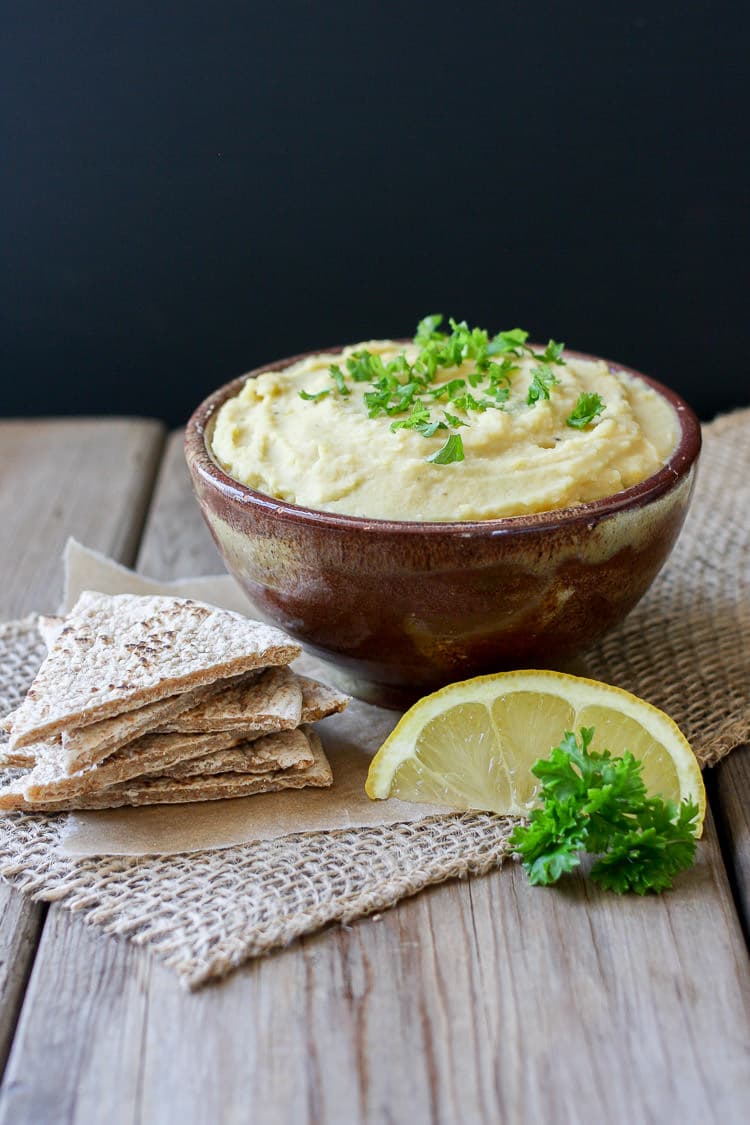 I'm back with another recipe from my Greek mom's kitchen! This one I love because it mixes things up when we get bored of traditional hummus. Food for me simply cannot get boring.
It's what drives me, keeps me going in life. Figuratively and for real! So I'm always looking for ways to keep it exciting, so this dip is a must post. Most of you think green when split peas come to mind. But this is made of YELLOW SPLIT PEAS! It's easy to throw together and so good. We dip just about anything in it and also use it in a wrap or sandwich. Huge plus is that it's really healthy, low fat, full of protein and my kids love it!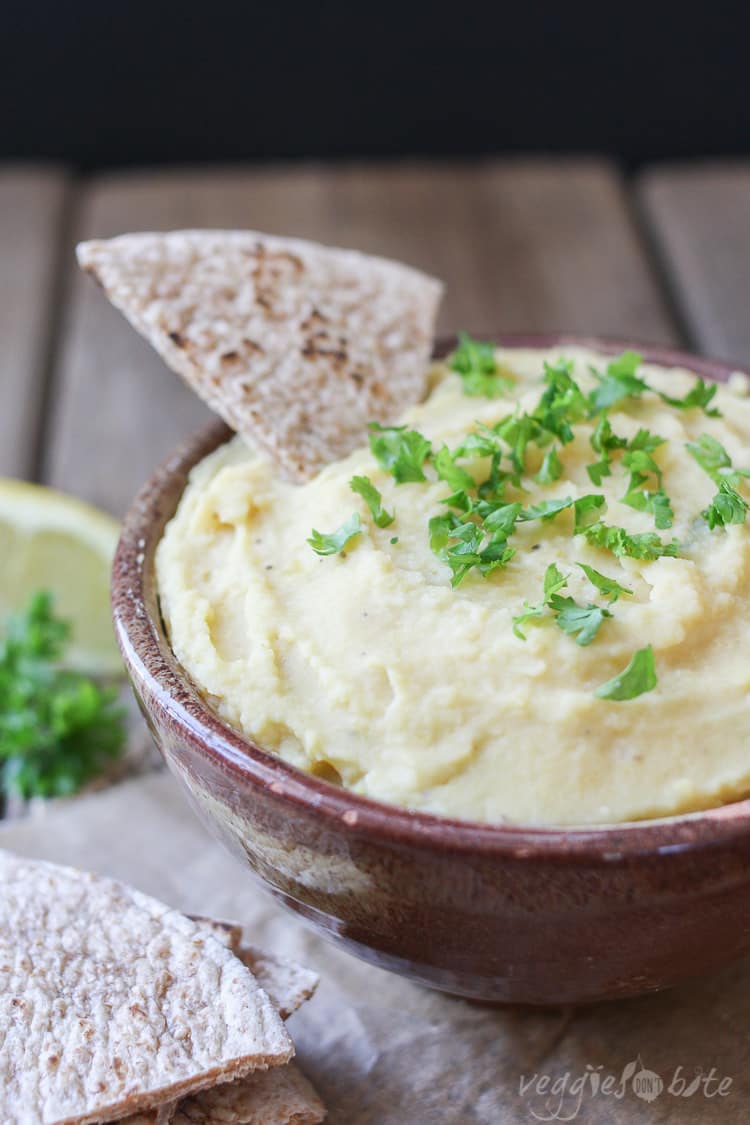 Yellow Split Pea Dip Vs Hummus
Fava, the Greek yellow split pea dip, is a little lighter than hummus. Plus because it's not made out of beans, a little easier to digest for some. So if you can't handle beans, are allergic, or simply just don't like them, THIS is for you!
You can make it as salty, peppery, or lemony as you want. I personally go low on the pepper and high on the lemon. I love a little tang on my tastebuds! It's a fabulous appetizer for a dinner party and really kid friendly. My kids like to dip just about anything! I sometimes see them sneaking their little fingers in.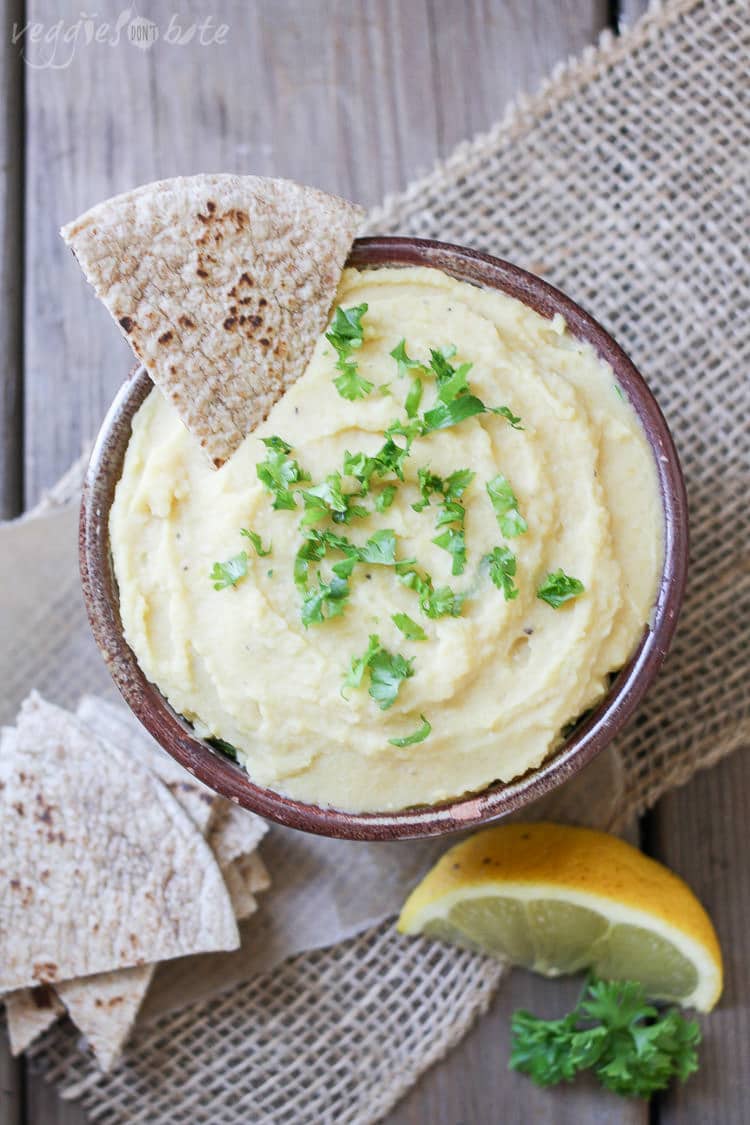 So who's in with the yellow split pea dip?! It's the perfect all around snack for everyone. No nuts, no beans, no oil, no grains, nothing but peas and a ton of deliciousness!! Easy to make, healthy and protein rich.
More Tasty Dips You Might Like;
Winner winner split peas for dinner! Make sure to let me know if you make it. Comment here or find me on Instagram, tag me at veggiesdontbite AND #veggiesdontbite so I don't miss it! I'm on Facebook too. And if you love what you see and aren't subscribed to my blog, then head to my subscribe box and enter your email. That way you'll never miss a post or any other fun things I send your way! Thanks for being here and happy eating!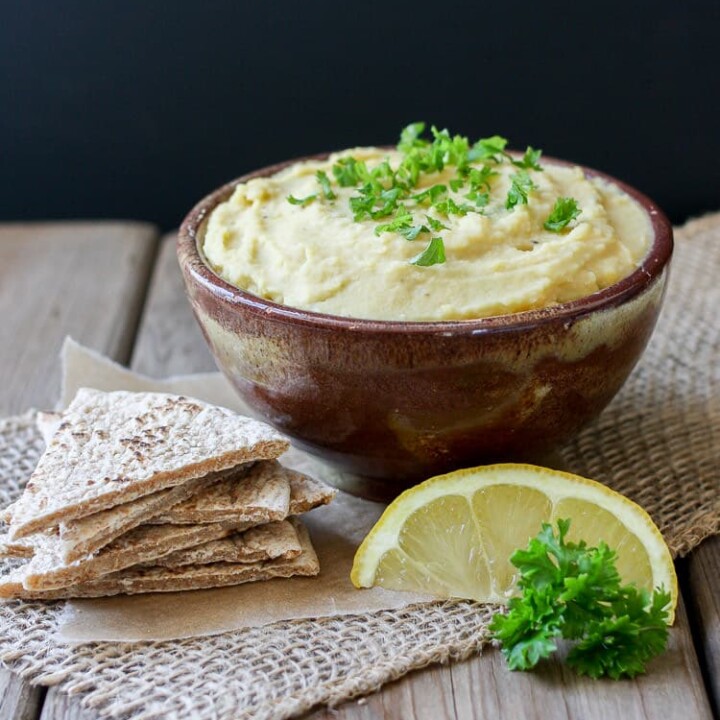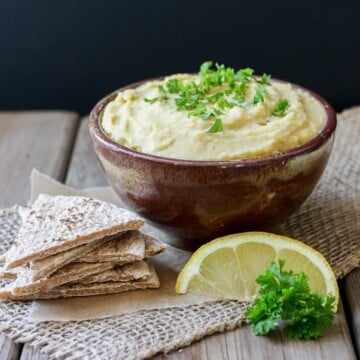 Yellow Split Pea Dip (Greek Fava)
Switch up your hummus routine with this protein filled yellow split pea dip. It's called "Fava" in Greek, and the perfect way to get your healthy snacking on!
Ingredients
1 cup yellow split peas
1 medium sweet onion about 3 inches, chopped
1 cups veggie broth plus ¼ cup for sautéing , low sodium if needed
1 ¼ cups water
1-2 teaspoons Himalayan pink salt see note
pinch of ground black pepper see note
2 – 4 tablespoons fresh lemon juice see note
3 tablespoons chopped parsley
Instructions
Wash and strain the split peas. Peel and chop the onion.

In a pot, pour the ¼ cup veggie broth and sauté the onion until soft. Add split peas and stir for a couple of minutes. Add the 1 cup broth, water, and salt and pepper to taste.

Bring to a boil and simmer over very low heat until split peas are totally soft, about 30 minutes. Check periodically to see if more water is needed.

Remove from stove and use an immersion blender to smooth it out. You can also allow to cool and pour into a food processor or blender. Add lemon juice, stir to incorporate and top with parsley to serve. Use as a dip or on a sandwich! Or just eat with a spoon!
Notes
You can also use water in place of the 1 ¼ cups veggie broth but the broth gives it additional flavor. How much salt depends on your broth type. Start with 1 teaspoon and taste to see if you need more.
Same goes with the pepper and lemon, if you love pepper and/or lemon add more. Greatly adaptable for the taste you like!
Baby/toddler food idea: serve as is. Great baby or toddler food.
Recipe by Veggies Don't Bite, visit our site for more great plant-based recipes.
Nutrition
Calories: 405kcalCarbohydrates: 75gProtein: 25gFat: 1gSaturated Fat: 0gPolyunsaturated Fat: 0gMonounsaturated Fat: 0gTrans Fat: 0gCholesterol: 0mgSodium: 500mgPotassium: 1227mgFiber: 26gSugar: 17gVitamin A: 650IUVitamin C: 29.3mgCalcium: 96mgIron: 5.2mg
Nutrition and metric information should be considered an estimate.
Never miss a recipe!
Sign up here and get a FREE quick and easy meal guide!