Print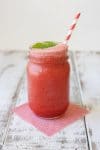 Watermelon Mint Cooler
Cold. Frothy. Refreshing. This frozen watermelon mint cooler hits the spot on those hot summer days!
Place all ingredients, except the extra mint leaves you are using for garnish, into a blender and mix. Start slow until you reach desired consistency. Garnish with extra mint leaves if desired.
The watermelon is best frozen to get that frothy consistency but fresh watermelon will also work. The coconut water is optional, without it the cooler will be thicker, but it gives an added layer of taste.
Nutrition Facts
Watermelon Mint Cooler
Amount Per Serving
Calories 106
% Daily Value*
Total Fat 0g 0%
Cholesterol 0mg 0%
Sodium 67mg 3%
Potassium 490mg 14%
Total Carbohydrates 25g 8%
Protein 2g 4%
* Percent Daily Values are based on a 2000 calorie diet.