Print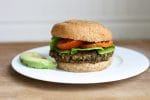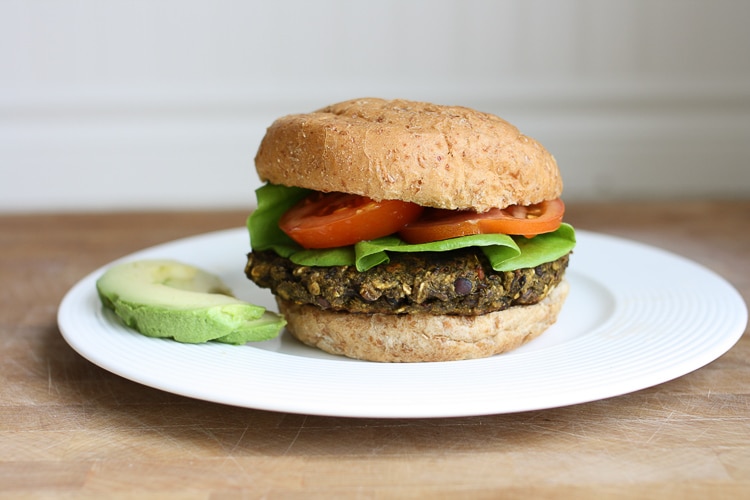 The Stuffed Veggie Bean Burger
No more meat patties needed. These burgers will fill that void as soon as you take your first bite. Full of protein and packed with veggies, both a healthy and satisfying meal!
Servings
15
4 inch burgers
Burgers:
2

flax eggs

2 tablespoons ground flaxseed plus 6 tablespoons water

2

cans black beans

2

cups

precooked lentils

¼

cup

sunflower seeds

2

cups

combination of pre-cooked butternut squash

mushrooms, sweet onion, and swiss chard (or any other veggies you choose)

2

cups

gluten free oats

plus up to 1 cup more to thicken if needed

¼

cup

quinoa flour

½

cup

almond meal

Himalayan sea salt

ground black pepper, and smoked paprika to taste
Stuffing:
One sweet onion

thinly sliced

1

jar of roasted peppers

red, yellow, or combo or roast your own (about 2-3)

1

cup

sliced mushrooms

your favorite cooking oil for sautéing

or low sodium veggie broth if avoiding oil
Mix 2 tablespoons ground flaxseed with 6 tablespoons warm water in a small bowl and set aside for 10 minutes to make flax eggs.

Rinse beans and mash with a potato masher or your hands and add them to a large bowl. Puree veggies in a food processor, then add sunflower seeds, blend again and add mix to the bowl.

Next add the flax eggs, gluten free oats, quinoa flour, and almond meal and mix well. Add seasonings and taste. Add more seasonings if needed, it will depend on if you seasoned your veggies when you cooked them, it should taste flavorful.

Once you get the taste you like, allow mixture to set a while so oats soak in some liquid (you can also do this after you shape into patties). This will help with the texture of the burgers, the more you allow the oats to soak, they less mushy texture you will get.

In the meantime, wash and slice your stuffing veggies. Saute onion and mushrooms in medium pan with oil or veggie broth until cooked throughout and all water is released. Remove from heat and add peppers. Taste and add salt and pepper if needed, will depend on how your jarred peppers were seasoned.

Shape burger mixture into 4 inch patties and make a hole in the middle. Add some stuffing to the hole, then cover it back up. Cook in medium pan on stove top over medium heat for 6-8 minutes on each side (depending on stove).

Make sure to keep pan covered to help the burger cook throughout and achieve the best texture possible. This helps prevent a mushy burger. Check every few minutes to prevent burning, should be slightly browned when ready.

Allow the burgers to cool a bit to further help set them into a non mushy consistency, then serve on lettuce for a lower carb meal or on sprouted wheat or gluten free buns. Add toppings of choice. You can also serve with oven fries
I add extra oats until my burger "dough" is on the drier side but still shapable. This helps with the consistency of the burger once it is cooked so that it is not mushy.
Also, allowing the dough to sit for a while before cooking helps the oats soak up the liquid and this further prevents a mushy burger.
Cooking the burger covered with a top on the pan lets it cook throughout which helps with consistency as well.
Finally allowing the burger to cool a bit will help make it sturdy enough to eat as a real burger.
You can always forgo the stuffing and make the standard burger. This version is a little bit different than my Original Vegan Veggie and Bean Burger, but both are great! If you want to add oven fries as a side see the original burger recipe link for the recipe.
Nutrition Facts
The Stuffed Veggie Bean Burger
Amount Per Serving
Calories 143
Calories from Fat 36
% Daily Value*
Fat 4g6%
Cholesterol 0mg0%
Sodium 73mg3%
Potassium 300mg9%
Carbohydrates 20g7%
Protein 6g12%
Vitamin A 2010IU40%
Vitamin C 7.9mg10%
Calcium 41mg4%
Iron 2.2mg12%
* Percent Daily Values are based on a 2000 calorie diet.