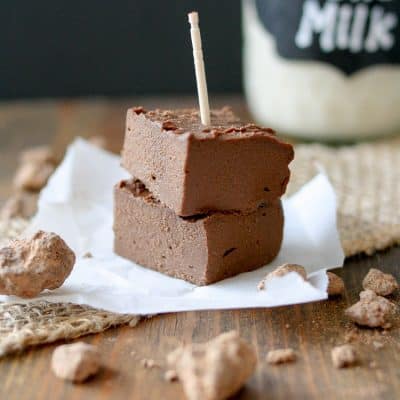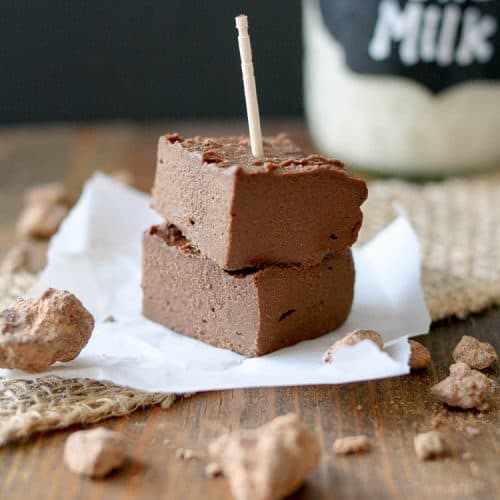 Print
Sriracha Tahini Fudge
Smooth deep dark chocolate taste with a spicy finish. This light and airy tahini fudge is for true fudge lovers only.
Servings
10
servings (9x9 pan)
Add the rest of the ingredients to the blender or processor. Blend until smooth. It should be the consistency of peanut butter, thick and sticky.

Line a square baking pan with parchment paper and scoop fudge into it. Smooth out with a spatula and place in the refrigerator for at least 3 hours to allow it to harden. Best results are seen over night.

Once it has firmed up, remove the parchment with the fudge from the pan, it should lift out easily. Cut into small squares and serve. The fudge may soften a bit out of the refrigerator but should stay firm for some time.
If you don't have cacao paste, you can also use an unsweetened baking bar. Break it up into small pieces to measure.
You can also use a very dark chocolate bar but know that it will sweeten the fudge a bit so you will need to reduce the amount of dates or be okay with a sweeter result.
To make this nut free, use a non nut based milk. Add as much Sriracha as you want heat. 1 teaspoon will make it mild, 2 medium and 3 spicy. You can also cut it out altogether.
Also, if you want this 100% free of refined sugar, check the ingredients on the sriracha you buy.
The original brand is made with a small amount of sugar, but I have seen some with cane juice in health food stores for people that absolutely can't have refined sugar. However I promise the sugar police won't hunt you down if you simply choose not to worry about it.
Calories:
238
kcal
|
Carbohydrates:
31
g
|
Protein:
4
g
|
Fat:
12
g
|
Saturated Fat:
4
g
|
Cholesterol:
0
mg
|
Sodium:
23
mg
|
Potassium:
305
mg
|
Fiber:
4
g
|
Sugar:
24
g
|
Vitamin A:
60
IU
|
Vitamin C:
0.8
mg
|
Calcium:
40
mg
|
Iron:
0.8
mg