Smooth deep dark chocolate taste with a spicy finish. This light and airy tahini fudge is for true fudge lovers only and you won't believe how easy it is to make!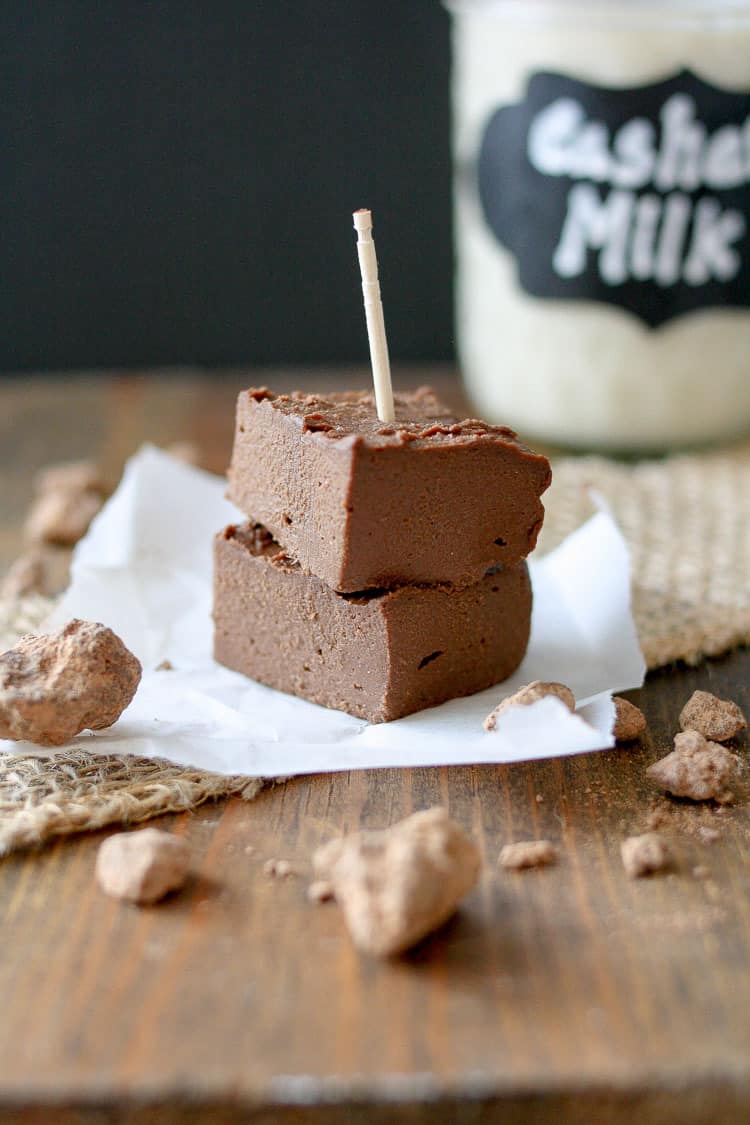 Spicy. Hot sauce. Peppers. These are all trigger words for me. Triggers for my mouth to start salivating. You see, hot sauce and I have a relationship like no other. I feel naked without my layer of spice. In my world, there is nothing that can't have spice. And this includes chocolate. Deep dark fudgy chocolate. So when Silk got in touch about creating something with their new cashew milk, I new what I had to do. I don't always put spice in my chocolate, but when I do, I use sriracha...and I put it in tahini fudge.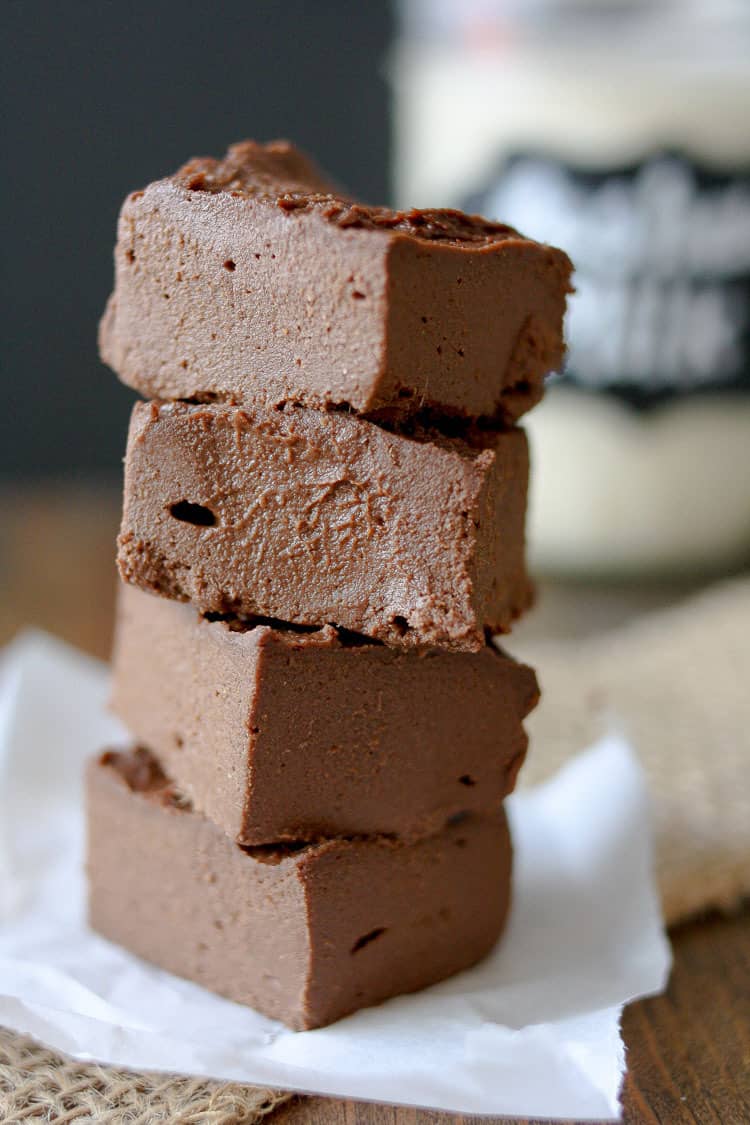 If the thought of hot sauce in chocolate makes you want to gag a little, then you either a) need to think beyond tacos or b) let the rest of us have your share. This easy to make dessert is a hot sauce lovers dream. I'm not usually one to dive head first into a blender, but it may have happened here. Oh who am I kidding?! I'll dive head first into pretty much anything filled with chocolate! The spice doesn't come out until the finish. It's almost like it's playing a game of cat and mouse...you don't quite catch it until the very end. I made this multiple times, with different levels of spice, and they were all amazing. My kids even liked this tahini fudge, but don't use them as the norm, they were pretty much drowned in hot sauce while in the womb.
This vanilla cashew milk by Silk is the perfect addition to this tahini fudge. It has that creamy vanilla taste, so no need to add any more vanilla (less ingredients, yay!). I first tried this cashew milk at a natural food expo, and I immediately fell in love with it. It's so smooth and creamy, it tastes so much like regular dairy milk. It worked perfectly in this fudge!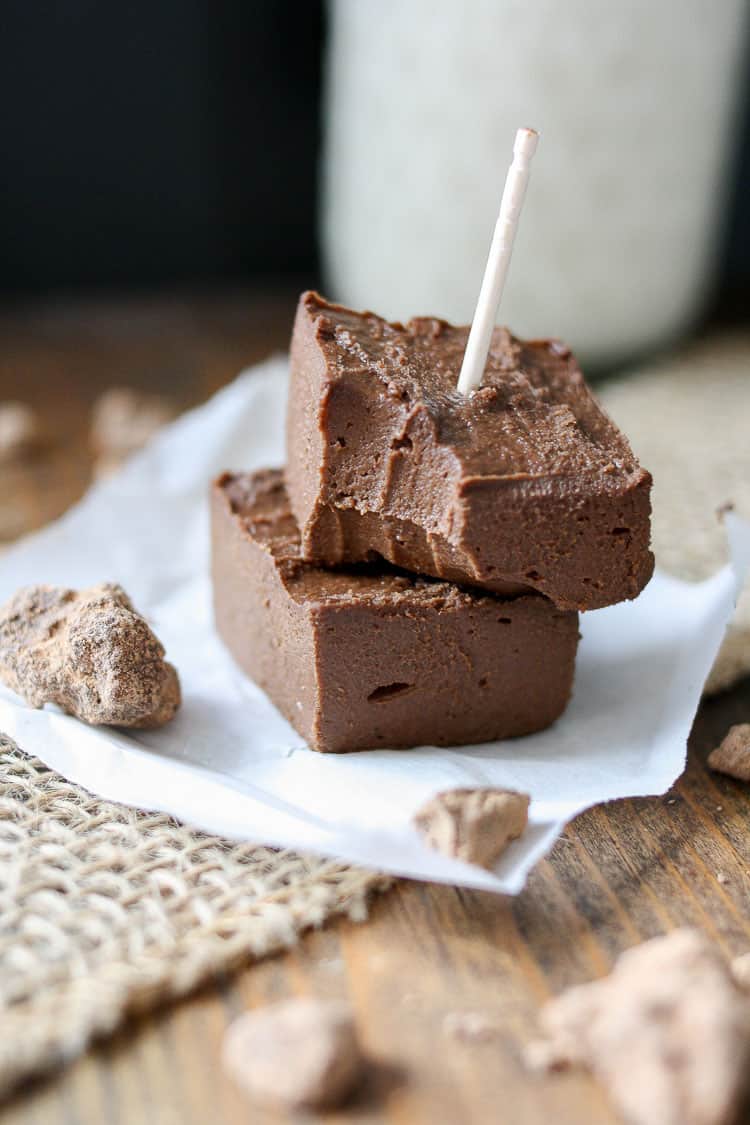 Now I know you  just tried to lick your screen, but I'm sure that didn't give you the satisfaction you were looking for. So just go ahead and make the actual recipe. Head on over to your nearest grocery store and pick up some of this amazing Silk Cashew Milk! You can even go online and grab yourself a coupon. I promise it's so fast and easy to make this, you'll probably take less time making it than eating the whole pan of this tahini fudge itself! What, you don't eat entire pans of dessert? 😉
Don't forget to let me know how fast it took you to devour it all. You can leave a comment here, find me on Facebook or tag me on Instagram at both @veggiesdontbite #veggiesdontbite so I don't miss it! Instagram has been a bit of a scrooge lately and trying to decide what they want to show you, and I've been missing some of your tags. So don't forget to tag me in your main comment, I'd hate for you all to think I ignore you (unless I'm eating this fudge, and then I'm ignoring everything)! But most of the time, I respond to each and every comment I see!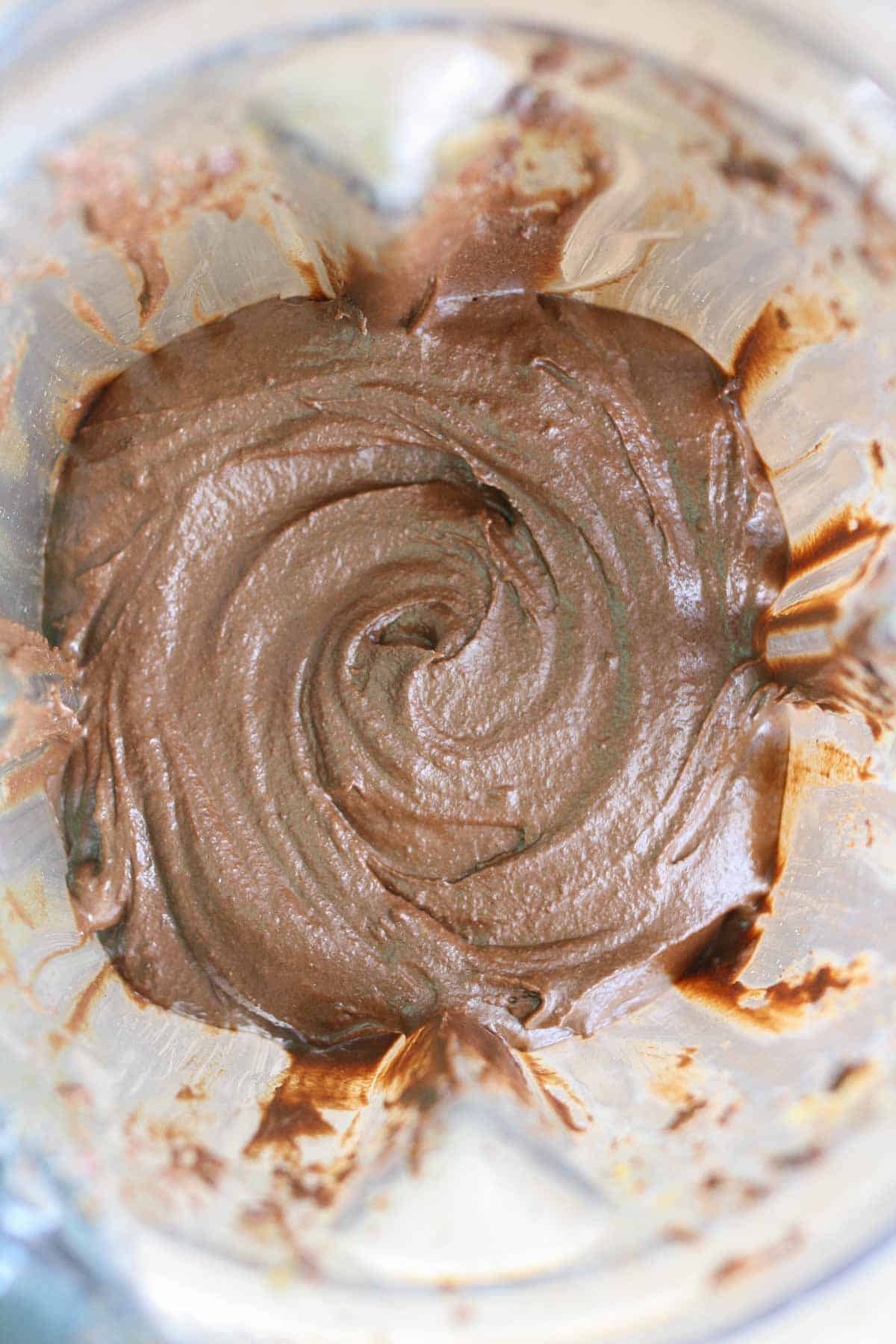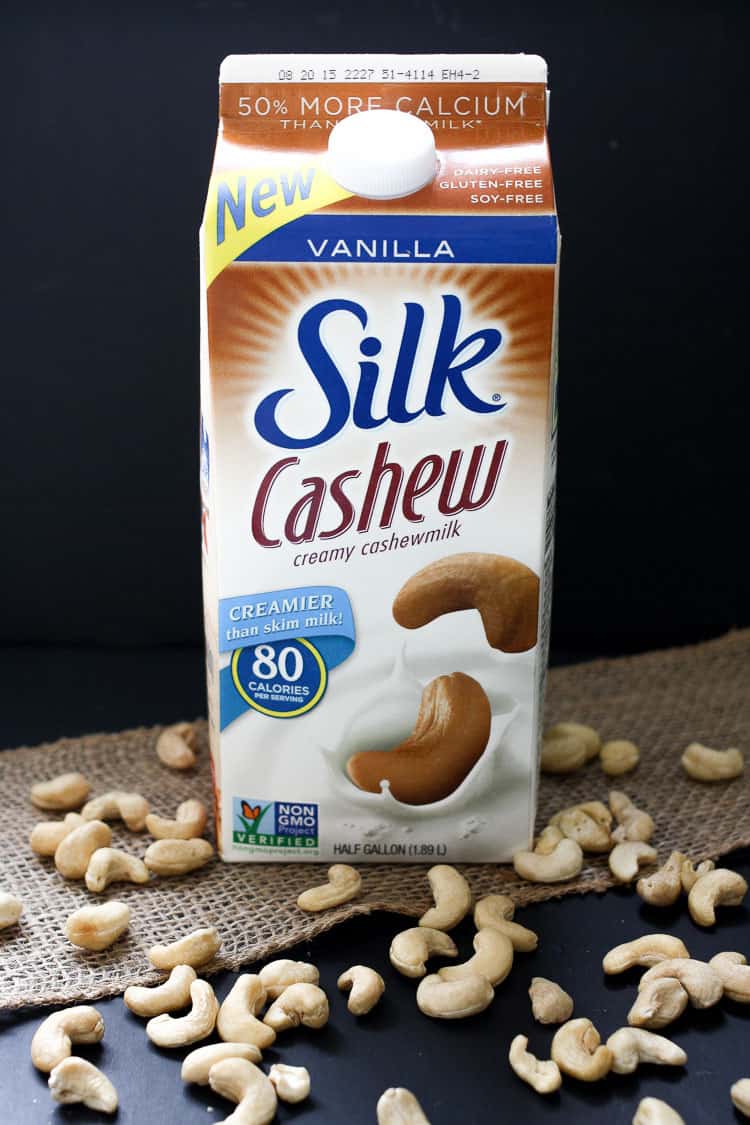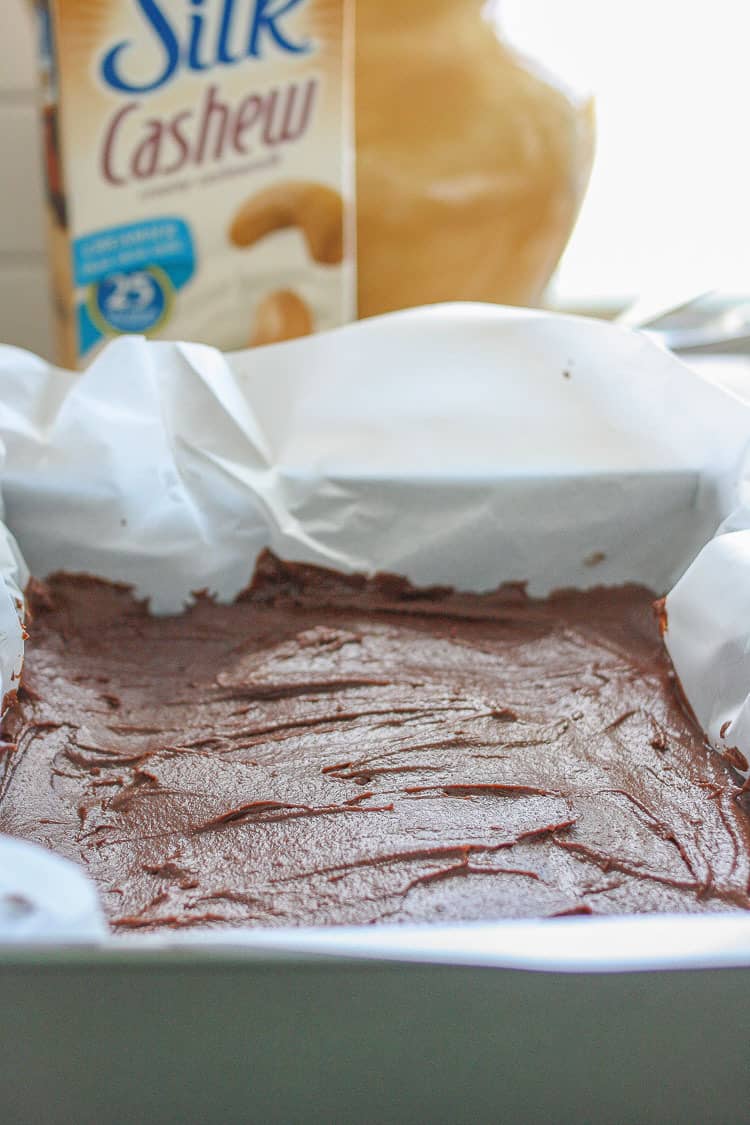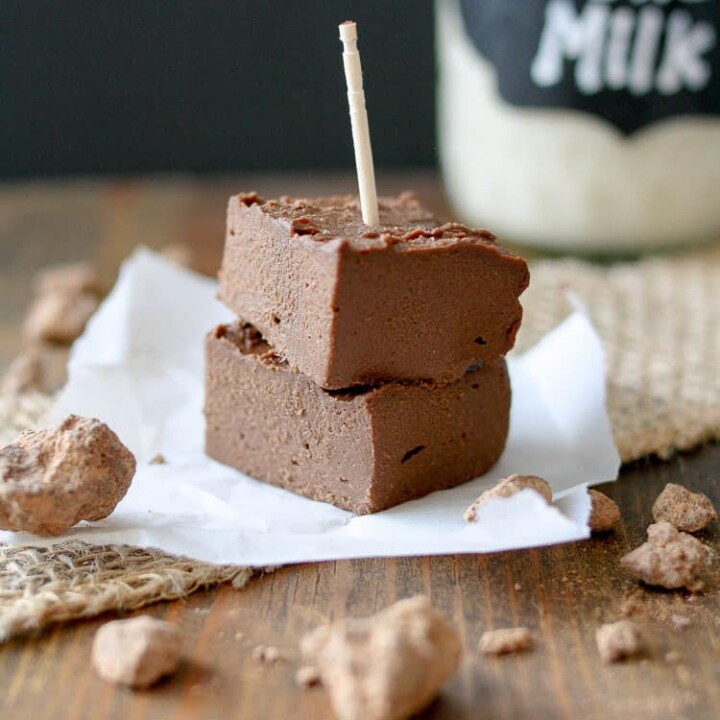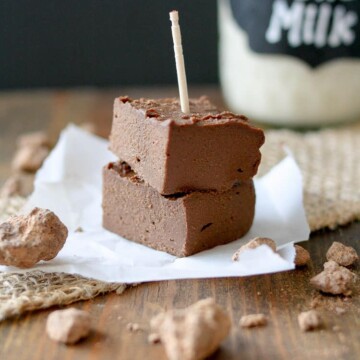 Sriracha Tahini Fudge
Smooth deep dark chocolate taste with a spicy finish. This light and airy tahini fudge is for true fudge lovers only.
Ingredients
1 cup melted raw cacao paste *see note
½ cup Silk Vanilla Cashew Milk
½ cup tahini
15 Medjool dates
1-3 teaspoons Siracha depending on desired spice level *see note
Instructions
Add the rest of the ingredients to the blender or processor. Blend until smooth. It should be the consistency of peanut butter, thick and sticky.

Line a square baking pan with parchment paper and scoop fudge into it. Smooth out with a spatula and place in the refrigerator for at least 3 hours to allow it to harden. Best results are seen over night.

Once it has firmed up, remove the parchment with the fudge from the pan, it should lift out easily. Cut into small squares and serve. The fudge may soften a bit out of the refrigerator but should stay firm for some time.
Notes
If you don't have cacao paste, you can also use an unsweetened baking bar. Break it up into small pieces to measure.
You can also use a very dark chocolate bar but know that it will sweeten the fudge a bit so you will need to reduce the amount of dates or be okay with a sweeter result.
To make this nut free, use a non nut based milk. Add as much Sriracha as you want heat. 1 teaspoon will make it mild, 2 medium and 3 spicy. You can also cut it out altogether.
Also, if you want this 100% free of refined sugar, check the ingredients on the sriracha you buy.
The original brand is made with a small amount of sugar, but I have seen some with cane juice in health food stores for people that absolutely can't have refined sugar. However I promise the sugar police won't hunt you down if you simply choose not to worry about it.
Recipe by Veggies Don't Bite, visit our site for more great plant-based recipes.
Nutrition
Calories: 238kcalCarbohydrates: 31gProtein: 4gFat: 12gSaturated Fat: 4gCholesterol: 0mgSodium: 23mgPotassium: 305mgFiber: 4gSugar: 24gVitamin A: 60IUVitamin C: 0.8mgCalcium: 40mgIron: 0.8mg
Nutrition and metric information should be considered an estimate.
Never miss a recipe!
Sign up here and get a FREE quick and easy meal guide!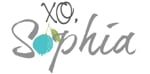 This conversation is sponsored by Silk. The opinions and text are all mine.