Baked BBQ cauliflower bites paired with tangy avocado slaw and cilantro lime quinoa for the perfect flavorful dinner for the whole family. Ready in 30 minutes!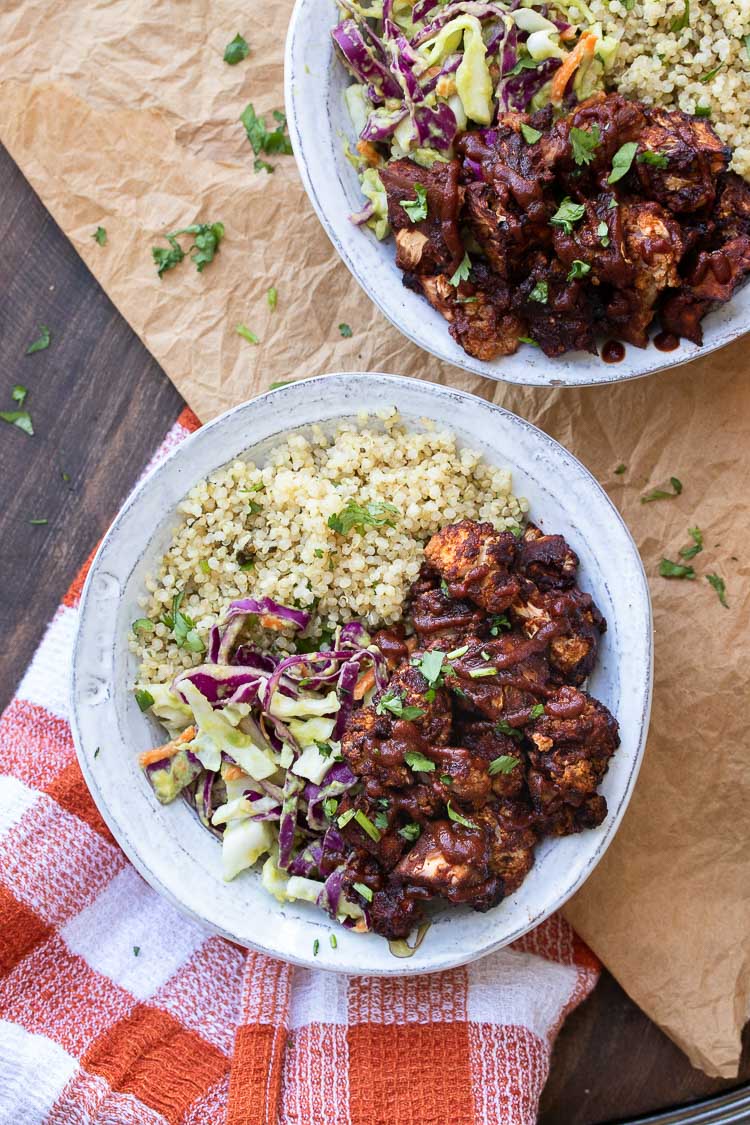 This recipe was originally published on 9/2/18
Is it just me or is life just getting crazier? I guess that's par for the course when you have multiple kids, run a business, and try to live life all at the same time. Since I try hard to live life to the fullest, one thing that's on my simplify list is meals.
I am putting easy dinners more and more in the queue. If it's not done in under an hour, then it doesn't happen often these days. Which is why I came up with this quick and easy power bowl.
Baked BBQ Cauliflower Bites
There is nothing quite like a quick and easy dinner, that does not require a lot of thinking, but that does satisfy your hunger like a fancy meal. This recipe is just that, but oh so much more:
easily done in about 30 minutes
has loads of flavor without a lot of fuss
only 8 ingredients, including salt
everyone can build their own bowl
easy clean up
covers all the basics: protein, veggies, carbs, healthy fat
The great thing about this is that you can always customize it to fit what you like. If you prefer lettuce over cabbage, go for it. Maybe you want rice and no quinoa? You can even add other veggies to the mix!
Each part can easily be swapped to make this an easy dinner that adapts to your personal tastes.
Is homemade BBQ sauce better than store bought?
I like to make my own BBQ sauce because my sauce happens to taste amazing. And it literally only takes a few minutes to mix up. But there are other great reasons to make your own.
Store bought BBQ sauce tends to have added sugar. In my recipe, I use maple syrup and molasses to get that hint of sweet. A healthier option for sure.
The stuff you buy at the store also is filled with preservatives so it lasts longer. While it's nice to have something you can use for a while, my sauce does freeze very well so you can easily store it for future use.
Another great thing about making your own homemade BBQ sauce is that you can adjust to ingredients to get the perfect flavor you love. BBQ sauce tends to be personal in preference of flavor, and it's easy to add a little more tang or sweet when making it yourself.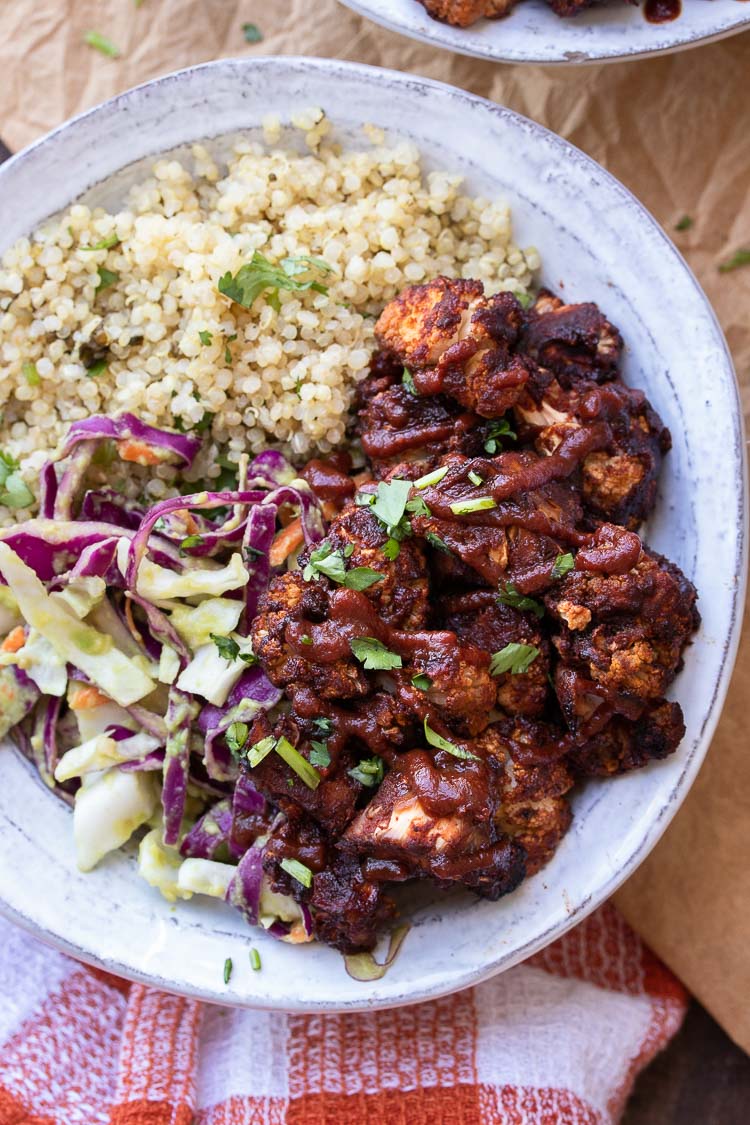 How do you make this meal in 30 minutes?
They key to quick meals is ordering what you do so that you are maximizing your time. This is truly done in 30 minutes if you follow the directions and are prepared. Here are some tips so that all goes smoothly:
Start cooking the quinoa first.
As soon as you put the quinoa on the stove, get the cauliflower in the oven.
While both of those are cooking, make the slaw then clean up.
By the time you are done with that, all will just about be ready!
Can you prep BBQ cauliflower bites ahead of time?
This is a huge plus about this dinner, prepping ahead so it's even easier. Here are my tips for setting yourself up for meal prep success:
Make the BBQ sauce the day before, you can even make it a few days before since it keeps great for about a week.
Cook your quinoa (or rice) and store in the fridge.
Cut the cauliflower into pieces. You could also toss with the BBQ sauce and allow it to marinate for a few days if you want.
Chop the cabbage if you aren't buying prechopped.
On the day you want to make this, all you need to do is bake the cauliflower and toss the cabbage slaw! Boom. Easy.
Making BBQ Cauliflower Bites
This is one of those meals that you can keep going back to over and over.  Here are the easy steps to get this on your table stat!
Cook the quinoa.2. Coat the cauliflower.3. Bake.
4. Make the slaw.5. Once everything is done, all you need to do is put it together!
Just a warning, this may cause major future cravings. We couldn't get enough and had this weekly for a few months. Which is totally fine because it's quick and easy!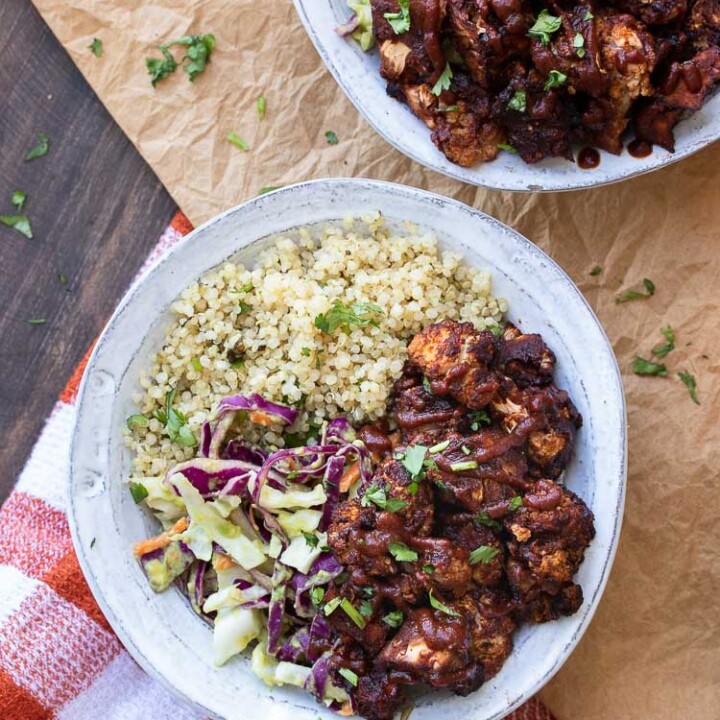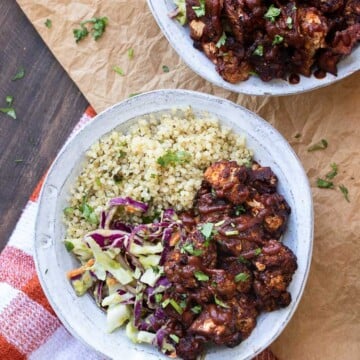 Easy BBQ Cauliflower Bites Bowl with Tangy Avocado Slaw
30 minutes to a fully cooked dinner that is satisfying enough to satisfy the whole family. These BBQ cauliflower bites are paired with tangy avocado slaw and cilantro lime quinoa for the perfect flavor bomb explosion you can't get enough of!
Ingredients
BBQ Cauliflower Bites:
1 head cauliflower , chopped into bite sized pieces (gives about 4 cups)
1 cup BBQ sauce (homemade one linked here, or use store bought to make it super easy)
Tangy Avocado Slaw:
¾ - 1 cup avocado , about 1 average sized avocado
4 cups shredded cabbage , can use a mix of red and green or a prepackaged mix too
1 tablespoon lime juice
½ teaspoon sea salt
Cilantro Lime Quinoa:
¾ cup water , could also use broth if you prefer (see note)
½ cup uncooked quinoa (see note)
¼ cup chopped cilantro , divided (can use more if you love cilantro)
¼ teaspoon sea salt
1 tablespoon lime juice
Instructions
Preheat oven to 450 F/ 230 C

If you're making quinoa, mix the quinoa, water, 2 tablespoons of the chopped cilantro and salt in a small pot.

Place on stove top on high heat and bring to a boil (about 5-7 minutes).

Once boiling, cover, turn down the heat and cook an additional 12-15 minutes until the water is absorbed.

Once done remove from heat and let sit until you're done with everything else. If using ready rice, follow the instructions in the notes.

Meanwhile, mix the chopped cauliflower with the BBQ sauce in a bowl.

Spread on a parchment lined cookie sheet.

Bake for 20-25 minutes, until brown and sticky. Bake less if you like your cauliflower al dente, and more if you like it more cooked.

While it is baking, mix all slaw ingredients together to make tangy avocado slaw.

Don't forget to watch the quinoa as the cauliflower is baking as well.

When the cauliflower is done, fluff the quinoa with a fork, and add the other 2 tablespoons of cilantro and the lime juice. Mix well.

Separate everything into 4 bowls, drizzle with extra BBQ sauce if you prefer and devour!
Notes
I love my homemade BBQ sauce and make it the day (or two) before I make this so it can settle in the fridge, but use a store bought favorite to make this meal even easier. My homemade version makes 2 cups so either half it or make it all and keep extra to drizzle over the top.
I love using a prepackaged cabbage mix with red and green cabbage, and even some shredded carrots. But you can use any combo you like or even just one type of cabbage.
This cilantro lime quinoa is very easy to make and it cooks as you prepare the rest. It helps add some protein which is why I love it here. But you can also make this extremely simple by using frozen cooked brown rice (I love the one from Trader Joe's). Then heat 2 cups up with half of the cilantro and salt like the recipe says. Once done, add the rest of the cilantro and the lime juice and mix well.
I like my quinoa more on the al dente side so if you want it softer or more moist, then add more water/broth.
Tips to prep ahead: Make BBQ sauce and quinoa or rice.
Baby/kid food idea: Cut cauliflower into small bites and make sure to cook well. Slice cabbage extra thin and massage with hands when mixing slaw to soften. Serve each separately as finger like foods if preferred.
Recipe by Veggies Don't Bite, visit our site for more great plant-based recipes.
Nutrition
Calories: 316kcalCarbohydrates: 57gProtein: 8gFat: 7gSaturated Fat: 0gPolyunsaturated Fat: 0gMonounsaturated Fat: 0gTrans Fat: 0gCholesterol: 0mgSodium: 451mgPotassium: 730mgFiber: 7gSugar: 5gVitamin A: 190IUVitamin C: 101.1mgCalcium: 64mgIron: 1.1mg
Nutrition and metric information should be considered an estimate.
Never miss a recipe!
Sign up here and get a FREE quick and easy meal guide!