Vegan breakfast burritos make a perfect breakfast. They can easily be customized and prepped ahead for a quick morning meal!
When you are able to prep breakfast the night before, it makes the mornings go so much smoother. Starting the day with a meal filled with protein and veggies gives you the energy to tackle all that's ahead!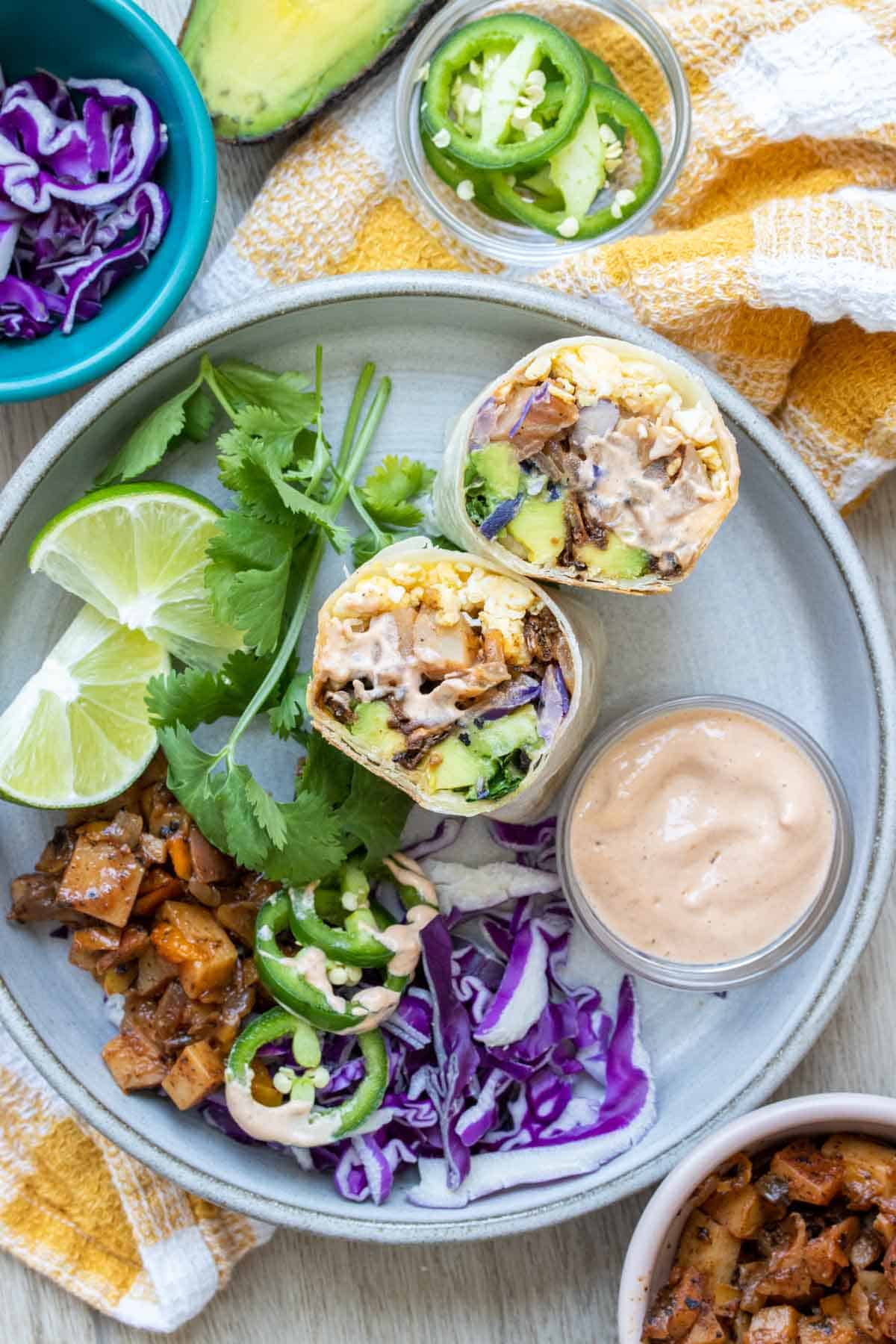 This post was originally published on June 2, 2016.
I am generally a green smoothie during the week, big savory breakfast on the weekend type of girl. But these burritos have won me over, especially when I make them in bulk and freeze for easy grab and go!
Ingredients
There are just so many perks to veggie breakfast burritos. Most importantly, they're insanely delicious. Plus, the possibilities for variety are endless, which makes them easy to customize to suit everyone's individual preferences.
And, they're easy to prep ahead, you can even make up a big batch of breakfast burritos to put in the freezer!
Simple breakfast burritos with potatoes are great, or load them up with all kinds of fillings. Here are some of our favorite ingredients:
Vegan Egg type of choice (crumbled tofu, vegan egg, scrambled chickpea or regular eggs if not vegan)
Breakfast potatoes
Burrito sized tortillas
Shredded cabbage
Avocado
Red onion
Jalapeño
And as Willie said in Next Friday "put some hot sauce on my burrito baby!"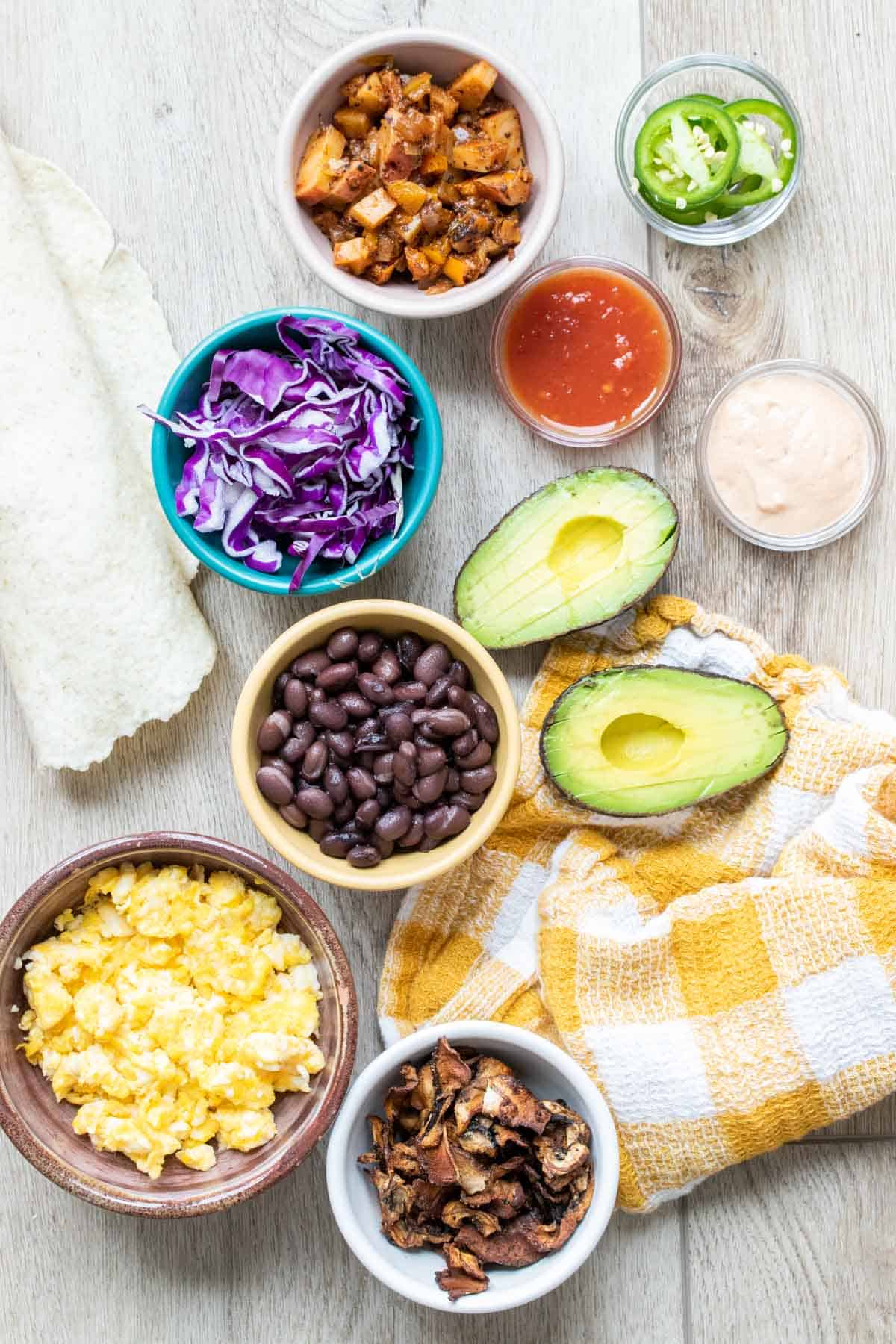 How to Make a Vegan Breakfast Burrito
Making breakfast burritos is fun and easy! You can even set up all the fillings and have a make you own burrito bar!
Top a tortilla with fillings.
Fold in the sides and roll.
Grill if you want a crispy edge.
Enjoy!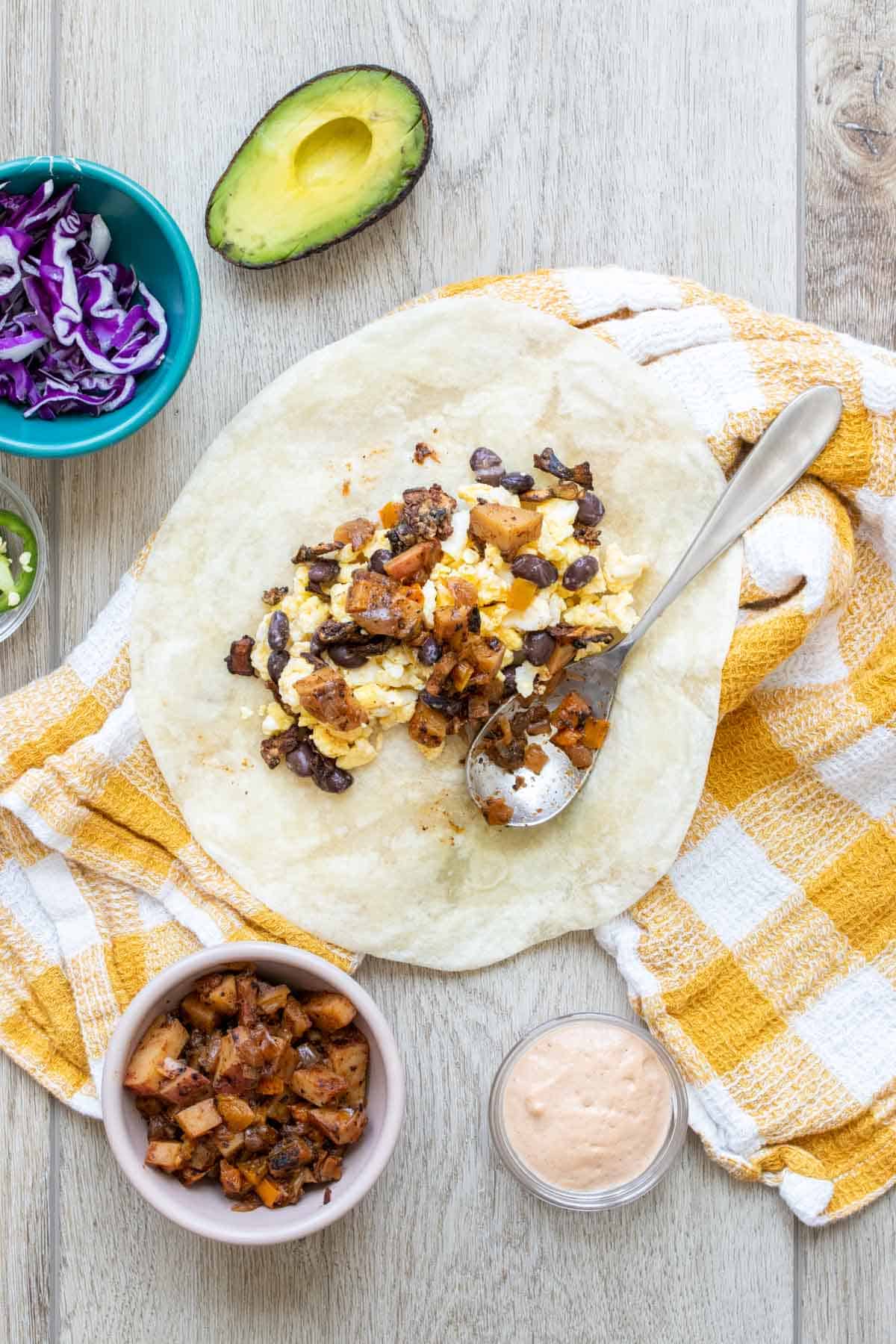 Make Ahead and Storage Tips
Double or triple this vegan breakfast burrito recipe for extras to save for later! Grab and go meals are the best, especially on busy mornings.
Prep all the of the filling components in advance.

Store each filling in an airtight container in the fridge.

Morning of you can warm and assemble super quick.

Or, completely make and assemble the burritos ahead of time and refrigerate for up to 3-5 days.
When you meal prep breakfast burritos you'll want to leave out the avocado and other high moisture fillings, it won't keep well.
How to Freeze Breakfast Burritos
Make the burritos and let them cool.
Wrap with parchment paper.
Then wrap with tin foil.
Seal them in an airtight plastic sealable freezer bag or wrap with plastic wrap.
How to Reheat Leftover Burritos
First unwrap the refrigerated or frozen burrito.
Wrap it in a damp paper towel and heat in the microwave for 1-2 minutes or until heated through.
To reheat the burritos in the oven wrap it in foil.

Bake refrigerated burritos at 350°F.
Refrigerated burritos will take about 20 minutes.
Frozen burritos will need 30 or more minutes to heat through.
Common Questions
What is a vegan breakfast burrito?
A vegan breakfast burrito is made with a tortilla filled with plant based food. Good filling options include tofu or a vegan egg substitute, Portobello bacon, potatoes, salsa, guacamole, peppers, and onions.
What is the best breakfast for a vegan?
There are so many options! Breakfast burritos are great because you can have them prepared in the freezer. Smoothies are another great option, as well as oatmeal, or homemade granola bars.
Can you freeze a burrito?
Yes! Just let them cool, wrap them up, and freeze! See more information on this above.
Can you make burritos ahead of time?
You can in a few different ways. First, you can prep the fillings so all you have to do is heat and assemble. Or, make them completely and freeze for later!
One More Breakfast Burrito Recipe
Another great combo comes from this cookbook by Minimalist Baker. They sent me one to review and it definitely stood out, so I gave it a try and it was delish! The book overall is fabulous and I highly recommend it.
Ingredients
Rice:
¾ cup white rice, rinsed and drained
1 ½ cups water
¼ tsp sea salt
½ lime juiced (1 tablespoon or 15ml)
¼ cup fresh cilantro, chopped
Hash browns:
4 small red potatoes*
½ red onion 55g
1 - 2 tbsp vegan butter (or 15-30ml olive oil)
¼ tsp each sea salt and black pepper
Beans:
1 cup cooked black beans (if unsalted, add ¼ teaspoon salt)
¼ tsp each ground cumin garlic powder, and chili powder
Avocado slaw:
¼ ripe avocado
1 lime juiced (2 tablespoon or 30ml)
1 cup purple cabbage, green cabbage, or radish, thinly sliced
1 jalapeno, seeds removed, thinly sliced
Pinch each of sea salt and black pepper
For serving:
2 large vegan flour tortillas white or wheat, to your preference (I used gluten free)
½ ripe avocado sliced
¼ cup salsa
Hot sauce optional
Instructions
Start by adding the rice, water, and salt to a saucepan and bringing it to a boil. Once boiling, reduce the heat to low, cover, and simmer for 15-20 minutes or until all of the water is absorbed and the rice is fluffy. Remove from the heat and set aside.
As the rice is cooking, heat a large metal or cast-iron skillet over medium heat. Wash and chop potatoes into bite-size pieces.* Slice the onion into ¼-inch rings.
Once the skillet is hot, add the vegan butter. Swirl to coat. Add the potatoes to one half of the pan and the onions to the remaining half. Season with the salt and pepper, cover, and let cook for 4-5 minutes on one side. Then flip/toss to brown on the other side for 4-5 minutes, or until golden brown. Remove from the heat and set aside.
Add the beans to a small saucepan over medium heat and season with the cumin, garlic power, and chili powder. When bubbly, reduce the heat to low to keep warm.
To make the slaw, mash together the avocado and lime juice, then add the cabbage and jalapeno and toss to combine. Season with a pinch of salt and set aside.
To the cooked rice, add the lime juice and cilantro. Toss with a fork to combine.
To soften the tortillas, wrap in a damp towel and warm in the microwave for 30 seconds, (or in a 350 degree F oven (176 degrees C) for 1-2 minutes.
Add the fillings in any order, followed by sliced avocado and salsa (or hot sauce, if desired). Roll up, slice in half, and enjoy. Serve any extra potatoes, black beans, or rice on the side.
Notes
*This recipe yields leftover potatoes, rice, and black beans, all of which are calculated into the nutrition information (page 282 of book). Specific nutrition information will vary depending how generously you fill your burrito.
Reprinted from Minimalist Baker's Everyday Cooking by arrangement with Avery Books, a member of Penguin Group (USA) LLC, A Penguin Random House Company. Copyright © 2016, Dana Shultz
More Vegan Breakfast Recipes
As much as we'd love to, we simply can't have vegan breakfast burritos every single day. Here are some other plant based recipes to get you through the week: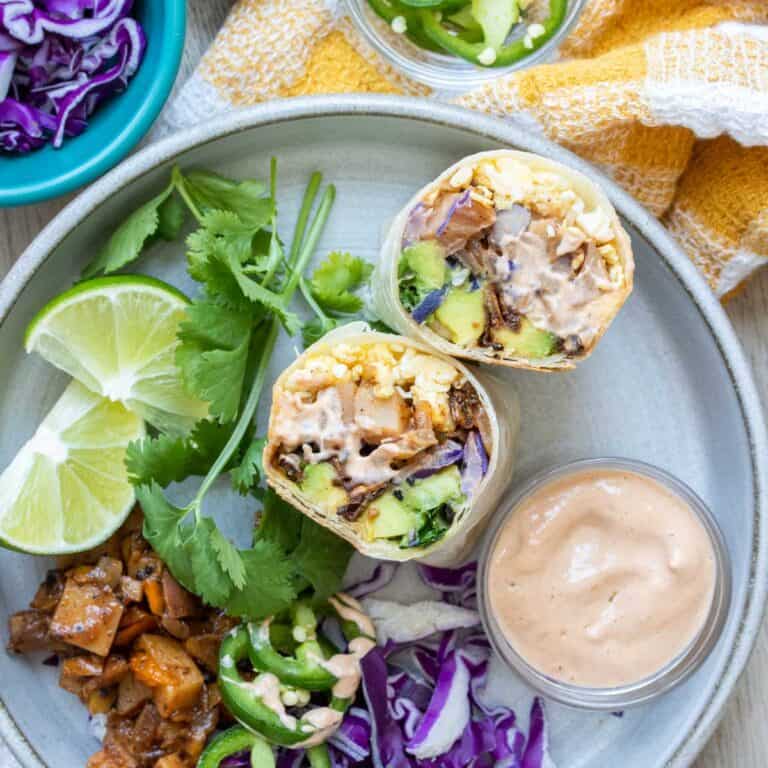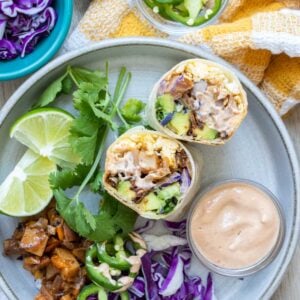 The Best Vegan Breakfast Burrito
Vegan breakfast burritos make a perfect breakfast. They can easily be customized and prepped ahead for a quick morning meal!
Ingredients
1 cup crumbled tofu or vegan egg , see note (or use regular egg if you don't need it vegan)
1 cup portobello bacon recipe , chopped into smaller pieces (or use other bacon recipe you prefer)
sea salt , to taste (if needed)
1 cup breakfast potatoes
1 cup black beans , homemade or store bought
4 burrito sized tortillas , gluten-free if needed
To Serve (optional):
Instructions
Cook the crumbled tofu or vegan egg over medium heat. When almost done, add the bacon and mix in. Put into a bowl and set aside.

If you want the cabbage wilted a little, add to the pan and saute with broth or oil until just wilted. You can also use it cold, but this is a good option too.

Warm the tortillas by wrapping them in a damp paper towel and heating in the microwave for 30-45 seconds. Keep heating in 15 second increments to get them soft and pliable.

Fill with ingredients of choice, we used ¼ cup of the egg mixture, potatoes and beans. Then topped with all the fixings.

Fold in the sides, then bring the bottom over the top of the ingredients and tuck around them tight as you roll the burrito closed.

Place seam side down on a heated pan over medium low and grill for about 3-5 minutes until the edge is sealed. This helps make eating the burrito easier so it doesn't fall apart, and also gives some great texture.

Enjoy!
Notes
If making my portobello bacon recipe make the whole thing. 
You can half the breakfast potato recipe or make it all and serve some as a side.
You can adapt these to be whatever you prefer with the toppings and main ingredients.
Nutrition facts are for the base ingredients only. They use the tofu as a base.
Tips to prep ahead:
Make fillings and store in fridge to use whenever.
Baby/toddler food idea:
Serve as a bowl for babies (cut up potatoes into small pieces) and toddlers. Or for toddlers make into small thin long burritos.
Recipe by Veggies Don't Bite, visit our site for more great plant-based recipes.
Nutrition
Calories: 291kcalCarbohydrates: 46gProtein: 15gFat: 7gSaturated Fat: 1gPolyunsaturated Fat: 2gMonounsaturated Fat: 1gSodium: 824mgPotassium: 346mgFiber: 9gSugar: 9gVitamin A: 4IUVitamin C: 2mgCalcium: 184mgIron: 4mg
Nutrition and metric information should be considered an estimate.
Never miss a recipe!
Sign up here and get a FREE quick and easy meal guide!