Asparagus flatbread smothered in flavorful white bean puree to show spring you are ready to rock! Healthy and so flavorful with all the added fun toppings!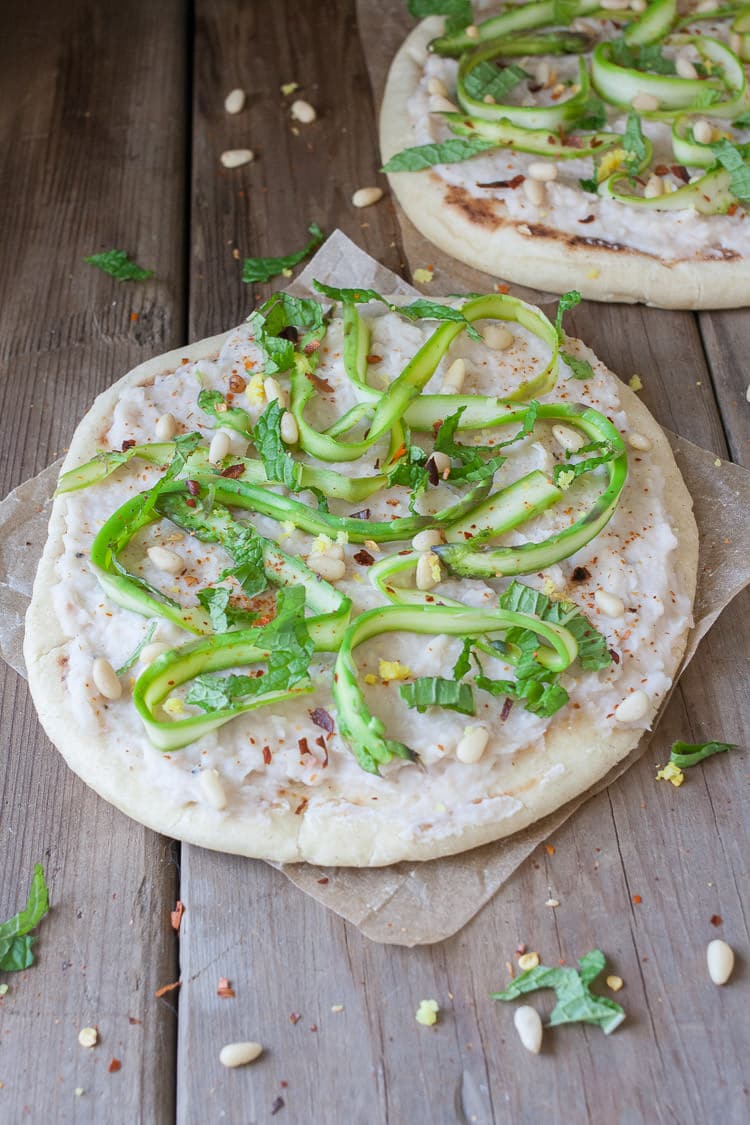 This Asparagus Flatbread Screams Spring!
Anyone else as excited about spring?! This asparagus flatbread SO screams spring to me. It has the light and tangy white bean puree as a base, then toppings like fresh mint, pine nuts and red pepper flakes to add that extra oomph. I ate it for days!
And my one year old devoured the white bean puree like it was going out of style. And it is super easy to make. Fresh and filling, it's the perfect lunch or dinner! This amazing asparagus flatbread recipe comes from the incredible new cookbook by Love and Lemons author Jeanine Donofrio.
And as a super awesome extra bonus, you get to enter to win your own copy! How much do you love me?
This is probably one of the most beautiful cookbooks I've seen. I love the style of it, it goes perfectly with my kitchen with all it's yellow accents! It's so stylish and cute, I just want to use it as decor...and that's just the outside.
When you open the book, the awesomeness just continues. It's just so happy and bright. I get excited just looking at it! The book itself is vegetarian, but it has loads of vegan options and each recipe tells you how to make it vegan (and gluten free) if possible, if it isn't already.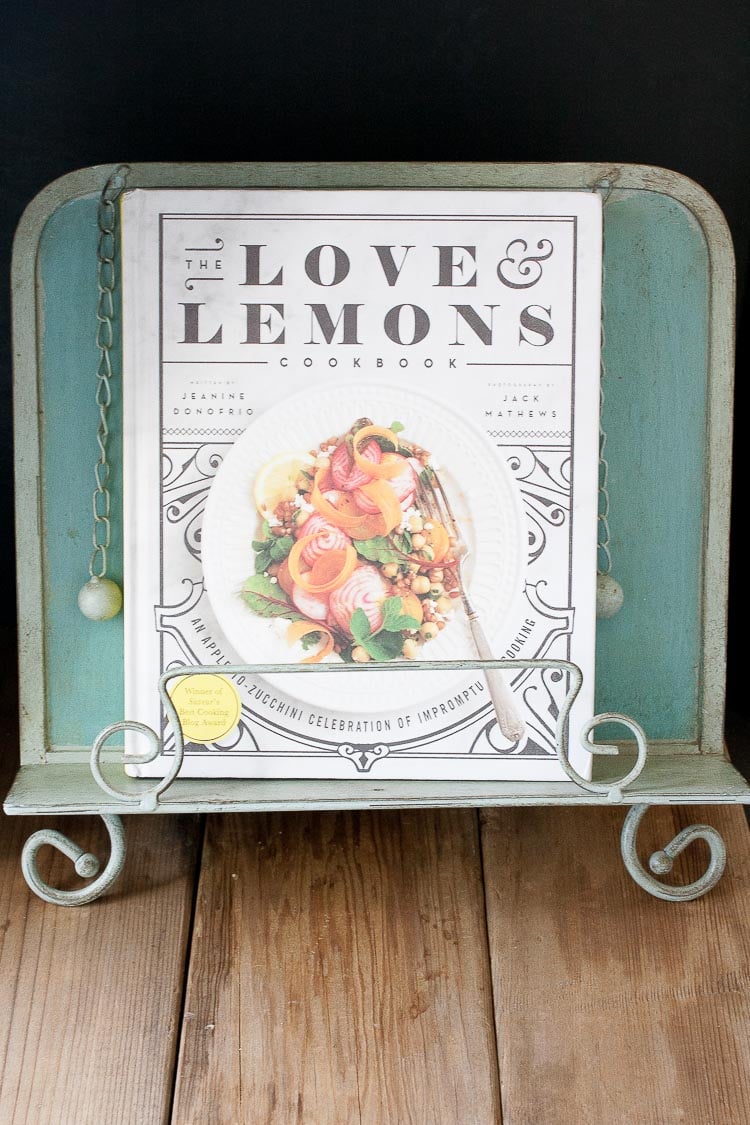 Organization makes me happy
My favorite part is how she organizes it. Organization makes me happy. It calms me. And this book is a Type A's dream. The chapters are broken up by ingredient. I mean, GENIUS right?! Oh hey, I have this sad little eggplant about to go bad. BOOM. Chapter 14. It's fabulous!
I went straight to the asparagus chapter when this book arrived and there is when I knew asparagus flatbread was a must make. I also love that she has a section on how to cook with what you have. I hate waste and this is just perfect for those veggies you don't know what to do with!
She also has a section on what to make if you have a bunch of vegetables in your fridge, and to get those of you who aren't naturals in the kitchen started, she has lists of things you should have at all times. Jeanine and I would be good friends if we lived near each other!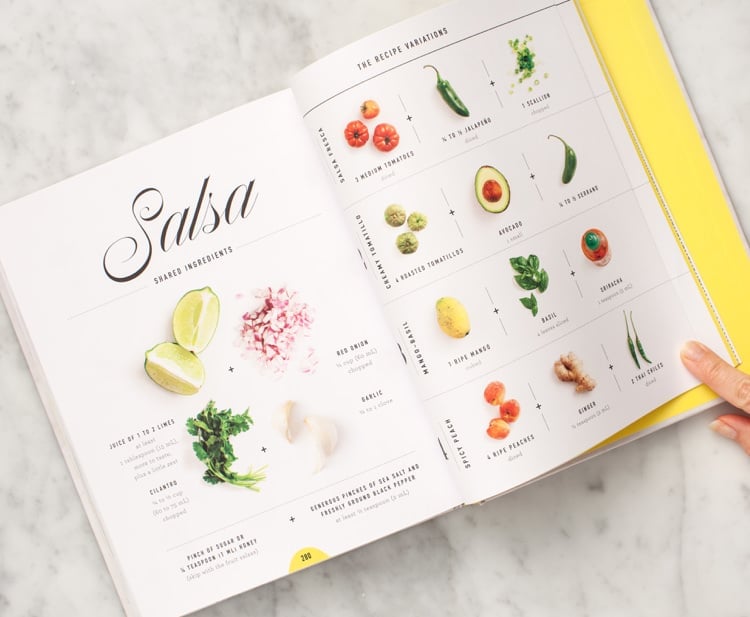 Each chapter also tells you the season that the ingredient is from. Again, GENIUS. And she includes tips and tricks throughout the book. Are you excited yet?! If not, this may put you over the edge.
At the end of the book, she has a few sections with some of my favorite things and multiple ways to make them. When I saw this section, I pretty much wanted to kiss her. She has charts on pesto, hummus, guacamole, smoothies and SALSA!! All things Salsa!!
So let's just get to it. I am so excited that I can actually share the recipe for this amazing asparagus flatbread with you.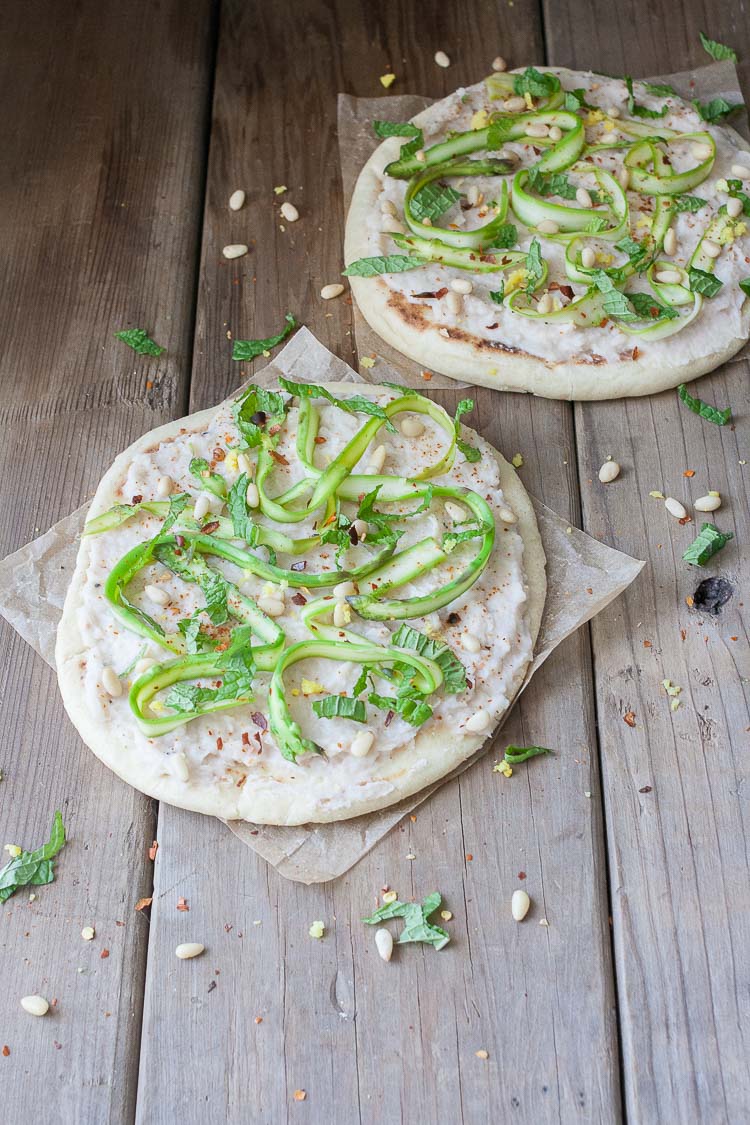 I'd love to hear from you so don't forget to leave me a comment here, find me on Instagram (tag me at veggiesdontbite AND #veggiesdontbite so I don't miss it) or on Facebook! You guys are my absolute fave and every comment brightens my day!!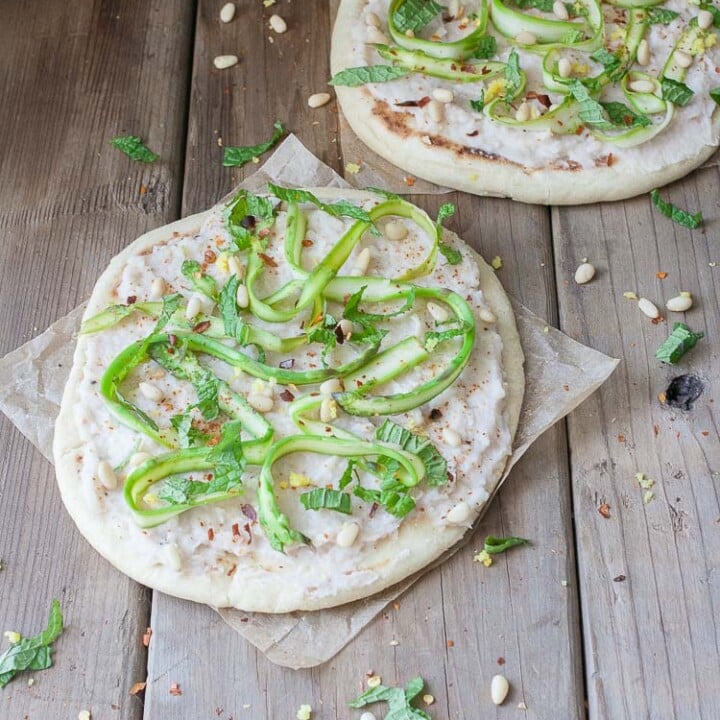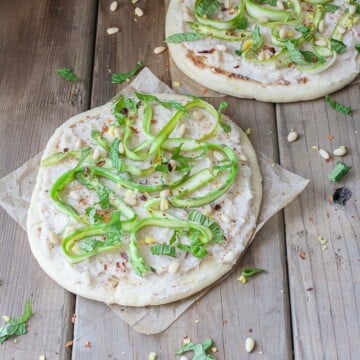 Flatbread with White Bean Puree and Asparagus Ribbons
An asparagus flatbread smothered in flavorful white bean puree to show spring you are ready to rock! Healthy, easy and so flavorful with all the added fun toppings!
Ingredients
4 pieces pita bread or naan
Extra-virgin olive oil for drizzling
1 bunch of asparagus tough ends removed
½ teaspoon 2 mL fresh lemon juice
Small bunch of fresh mint
¼ cup pine nuts, toasted (page 285)
¼ teaspoon 1 mL lemon zest
Pinch of red pepper flakes
WHITE BEAN PUREE
11/2 cups cooked cannellini beans, drained and rinsed (page 285)
2 tablespoons 30mL extra-virgin olive oil
3 tablespoons 45mL fresh lemon juice
Instructions
Make the white bean puree: In a food processor, combine the cannellini beans, olive oil, lemon juice, garlic, and a few generous pinches of salt and pepper. Season to taste. Chill until ready to use.

Use a peeler to shave the asparagus into ribbons. Toss them in a bowl with a drizzle of olive oil, the lemon juice, and pinches of salt and pepper.

Spread the white bean puree onto the flatbreads and top each with a few asparagus ribbons, the cheese, mint, pine nuts, lemon zest, and red pepper flakes. Season to taste with salt and pepper.
Notes
On a side note, I also made this recipe sans oil. It was easy to do, subbed veggie broth in for the called for oil in the white bean puree.
Vegan: Skip the cheese.
Reprinted from The Love & Lemons Cookbook by arrangement with Avery Books, a member of Penguin Group (USA) LLC, A Penguin Random House Company. Copyright © 2016, Jeanine Donofrio
Recipe by Veggies Don't Bite, visit our site for more great plant-based recipes.
Nutrition
Calories: 302kcalCarbohydrates: 33gProtein: 7gFat: 15gSaturated Fat: 2gCholesterol: 8mgSodium: 405mgPotassium: 129mgFiber: 1gSugar: 1gVitamin A: 70IUVitamin C: 5mgCalcium: 94mgIron: 1.4mg
Nutrition and metric information should be considered an estimate.
Never miss a recipe!
Sign up here and get a FREE quick and easy meal guide!