Start your day with this healthy strawberry banana spinach smoothie. The added low fat vegan protein helps keep you full and energized all morning long!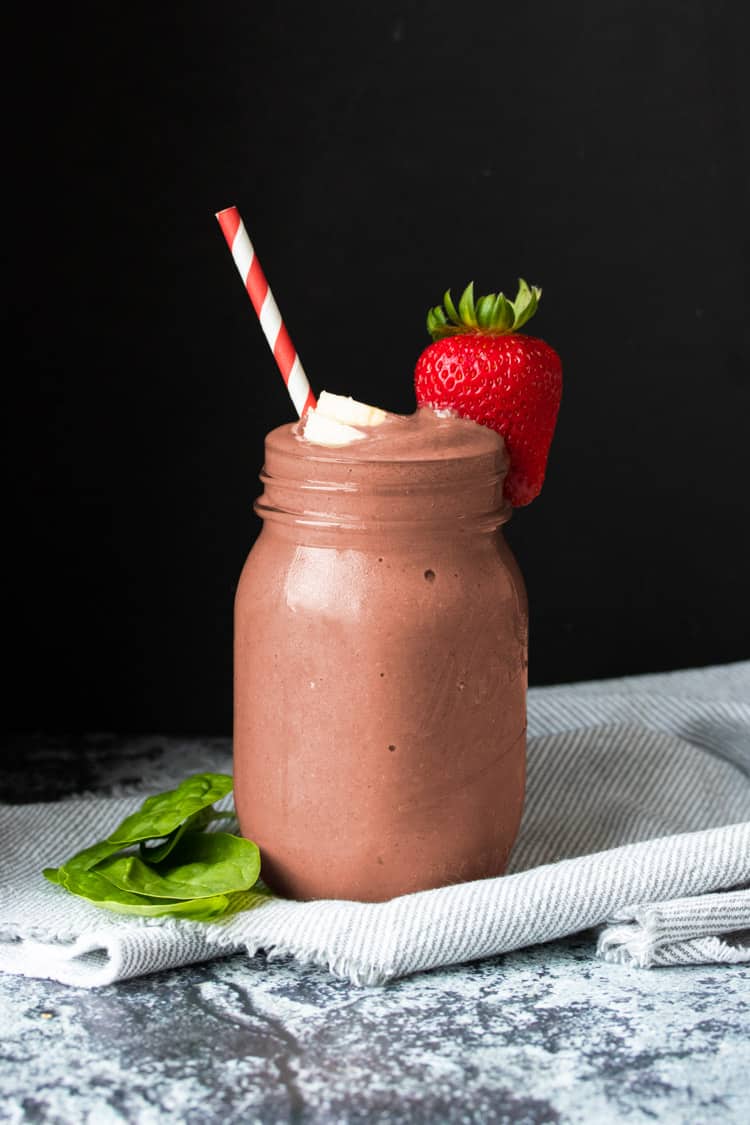 This is a sponsored conversation written by me on behalf of NOW Foods. The opinions and text are all mine.
This recipe was originally published on 4/28/16
Breakfast is always the hardest meal for me to deal with. Mostly because I need to start my day with something easy to throw together, not too heavy and protein rich to keep me going.
Smoothies are generally a good way for me to not only pack in greens, but also protein. Plus they are light enough not to weigh me down but filling enough to keep me going.
Pea Protein Smoothie
I am so picky with my protein powder. I want something vegan, low fat, whole food based, low carb and most of the time unflavored. I know, so high maintenance.
The good news is that I have finally found something I like. Pea protein and I am beyond excited about it! This vegan strawberry banana spinach smoothie is the perfect way to start my day and keep me full.
If you don't like pea protein, you can use whatever you like. But if you're looking for the same things I am, then give this a try! However you may need to try a few different brands of pea protein powder to find one you mesh with. Some have an aftertaste.
The one I love to use is this pea protein from NOW Foods. There is literally one ingredient, peas. Pure non-gmo peas. And once I saw that, I was sold. Hook. Line. Sinker. The best is that it is low fat and low carb, not a common find in the whole food protein vegan world.
Peas are also highly bioavailable and earth friendly, they have no major allergens and this protein keeps me full! As soon as I tried it, I was on a mission to make pea protein smoothies like it was nobody's business.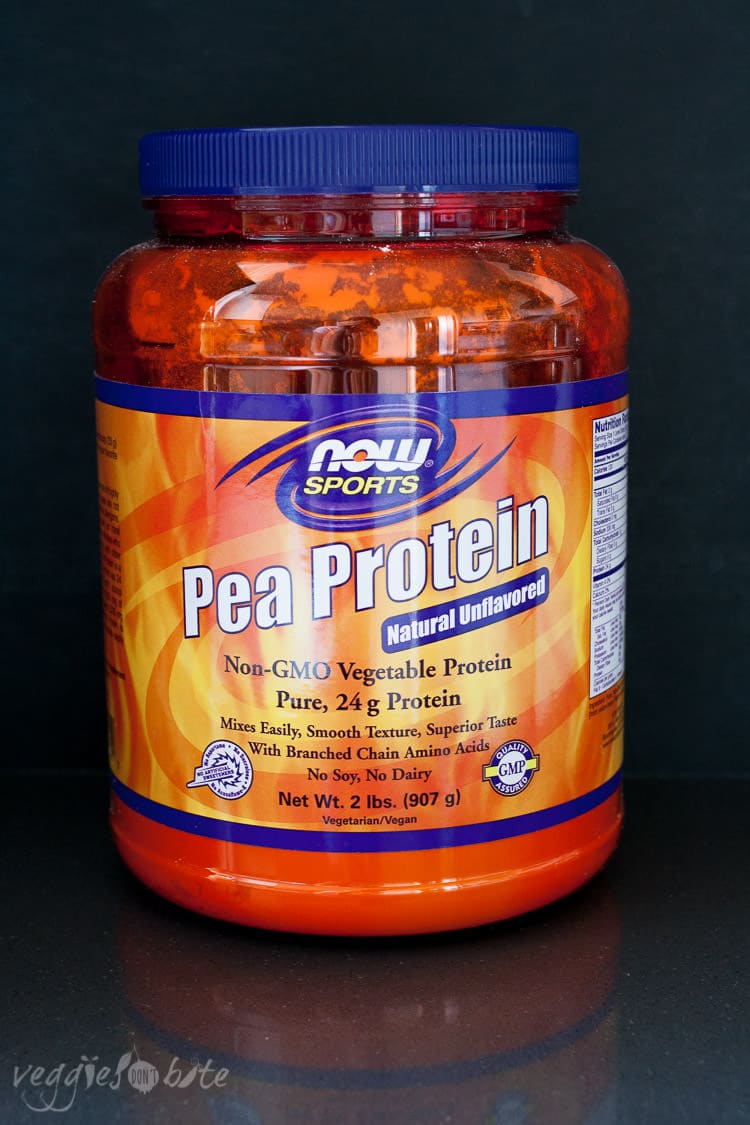 Can you add spinach to any smoothie?
I love adding spinach to my smoothies. It isn't easy to taste, so you can pack it in. And it's full of nutrients. Beginning my day full of greens gets me off to the perfect start!
Because spinach is so mild in flavor, you really can add it to any kind of smoothie. I add it to fruit based ones like this strawberry banana spinach smoothie, and to chocolate based ones like this Salted Caramel Cashew Cacao Chunk Smoothie.
What are the benefits of spinach smoothies?
Spinach has so many benefits! It has loads of nutrients but is low in calories. Some of the most beneficial things spinach provides are:
protein
vitamin A
vitamin C
fiber
folic acid
Can you use frozen spinach for smoothies?
I personally don't use the bags of prefrozen spinach because the flavor seems to be too strong for me. It almost tastes as if it has been cooked, then frozen. You can use it if you have a brand you like flavor wise, but fresh spinach is better in my opinion.
That being said, I do have a trick I use to prep my smoothies for the week so that I can make then quick and easy each morning.
How do you make a smoothie for a week?
Being prepared for healthy eating the the number one thing you can do for success. So to prep myself for a good breakfast, I make smoothie bags.
For this strawberry banana spinach smoothie, I prep bags (or you can use jars) with the strawberries, banana and spinach. Then I put them in the freezer. When I am ready to make it, I pull one out and add the other ingredients and blend!
This helps me so I don't grab for something not as healthy. Since I know I put the effort to prep for the week, I won't let myself get lazy.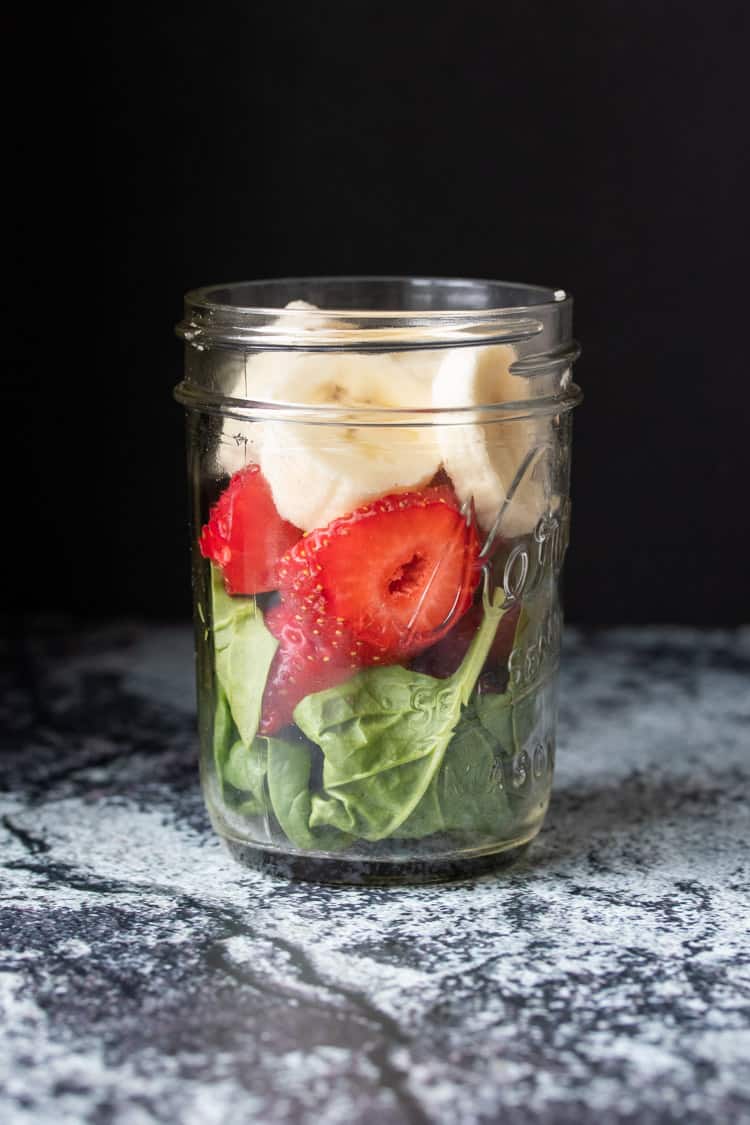 How To Make a Healthy Strawberry Banana Spinach Smoothie
Two simple instructions. This I can handle! Here is the step by step hold your hand kinda way to get a protein packed simple breakfast into your belly!
Dump ingredients in.
Blend.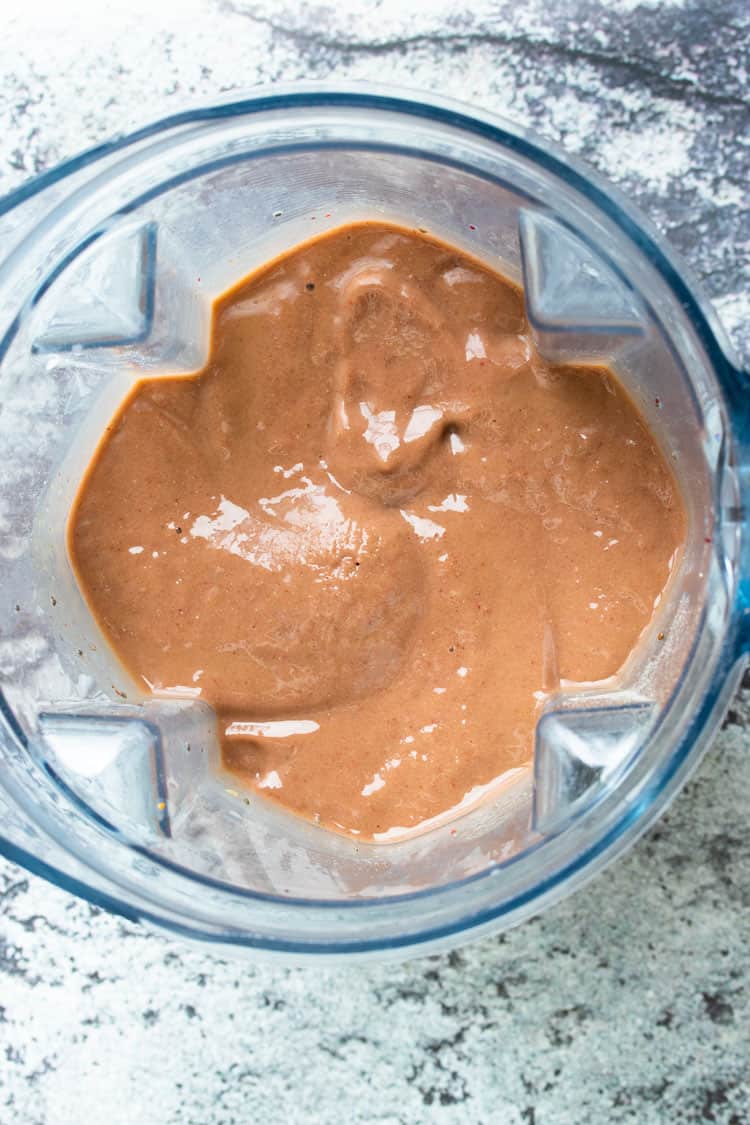 Other Tasty Smoothies You Might Like: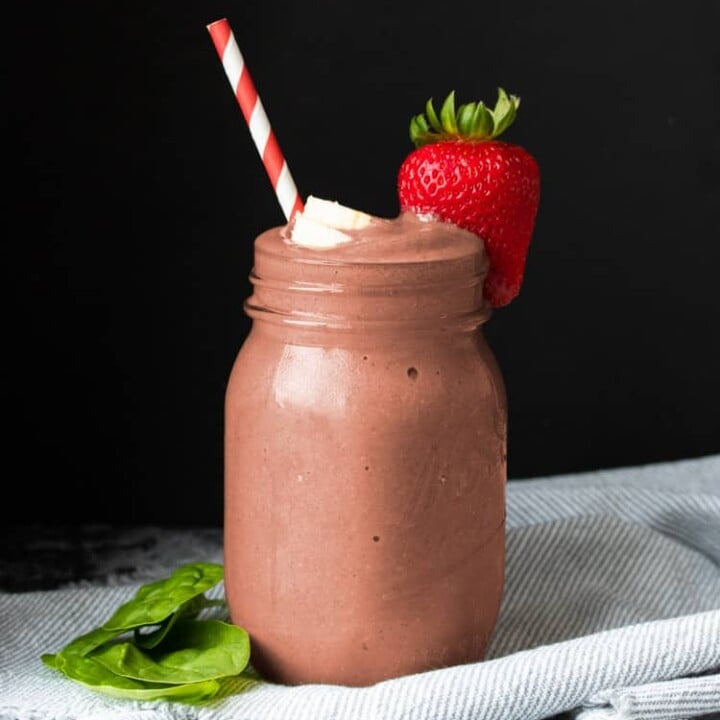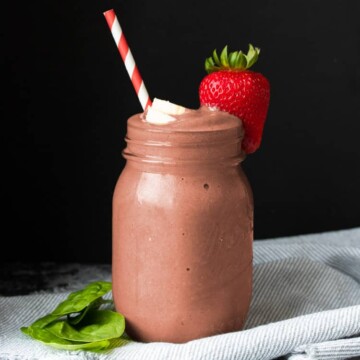 Strawberry Banana Spinach Protein Smoothie
Start your day with this healthy strawberry banana spinach smoothie. The added low fat vegan protein helps keep you full and energized all morning long!
Ingredients
Strawberry Banana Spinach Smoothie:
1 ½ cups non dairy milk of choice
1 cup spinach
1 cup frozen banana
1 cup frozen strawberries
1-2 tablespoons unflavored Pea Protein , I use NOW Foods brand
2 teaspoons chia seeds
pinch sea salt
1 Medjool date , optional (if needed for extra sweetness)
Instructions
Add all ingredients into a blender and blend until smooth.
Notes
This makes 3 cups total, each serving is 1 ½ cups.
The chia seeds help thicken the smoothie and add extra nutrition.
Tips to prep ahead:
Prep the strawberries, bananas and spinach in bags or jars and freeze
Recipe by Veggies Don't Bite, visit our site for more great plant-based recipes.
Nutrition
Calories: 205kcalCarbohydrates: 35gProtein: 10gFat: 4gSaturated Fat: 1gSodium: 218mgPotassium: 546mgFiber: 6gSugar: 21gVitamin A: 1455IUVitamin C: 53mgCalcium: 59mgIron: 1.3mg
Nutrition and metric information should be considered an estimate.
Never miss a recipe!
Sign up here and get a FREE quick and easy meal guide!