This easy to make slow cooker tomato sauce is filled with hidden veggies and flavorful herbs. Throw it in the slow cooker and come back when it's done!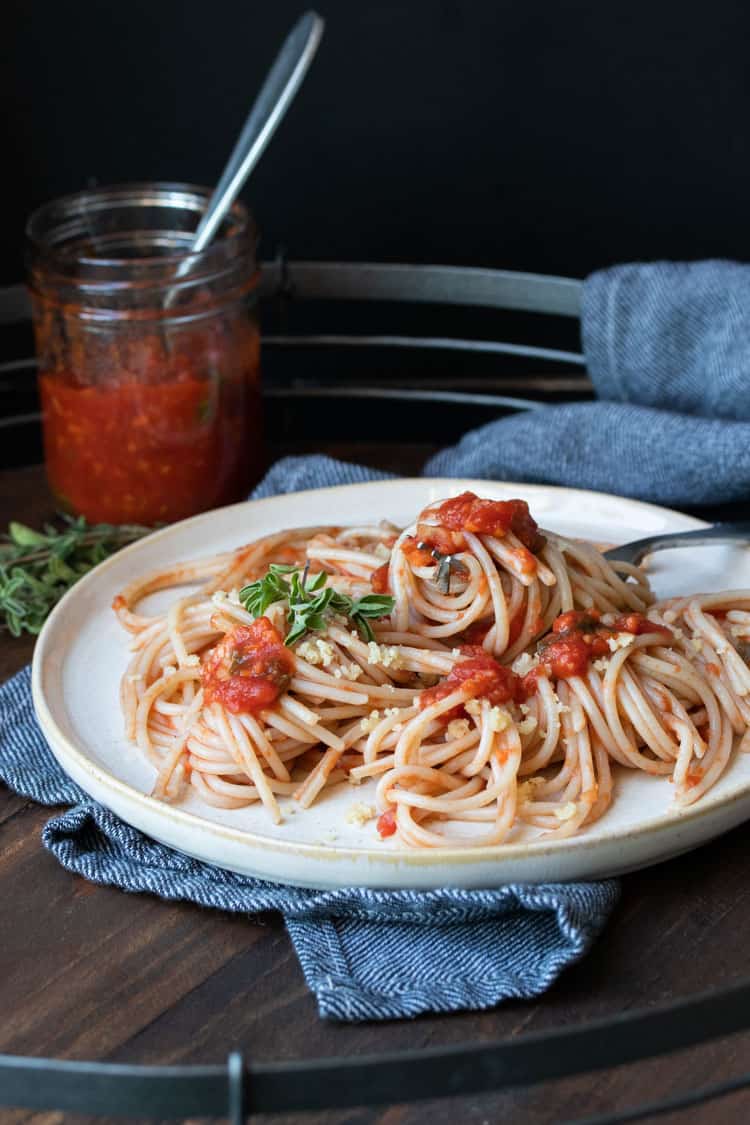 This post was originally published on
There's nothing like homemade tomato sauce to really spice up any Italian dish. Pasta is a fan favorite in our house, and this crock pot tomato sauce is so easy to put together. Everything is prepared in one pot! Throw it all in the slow cooker and you're done until it's time to eat.
Slow Cooker Tomato Sauce
My husband has the final say on all things Italian in our house and he gives this two thumbs up. This definitely means this is a staple in our dinner rotations. Bonus, the 4 year old actually took a bite of pasta with this sauce on it!
What is the difference between tomato sauce and marinara sauce?
People often use these terms interchangeably but if you look deeper, there is a difference. Tomato sauce can literally mean the smooth tomato based sauce you buy in a can to use in other recipes. However, it can also mean an actual tomato based recipe sauce.
Some sources say that a tomato sauce is an Italian sauce that can be made with a variety of ingredients, from meat to cheeses to veggies. In contrast, marinara is a simple tomato based Italian sauce made with a few key ingredients like olive oil, tomatoes, garlic and herbs.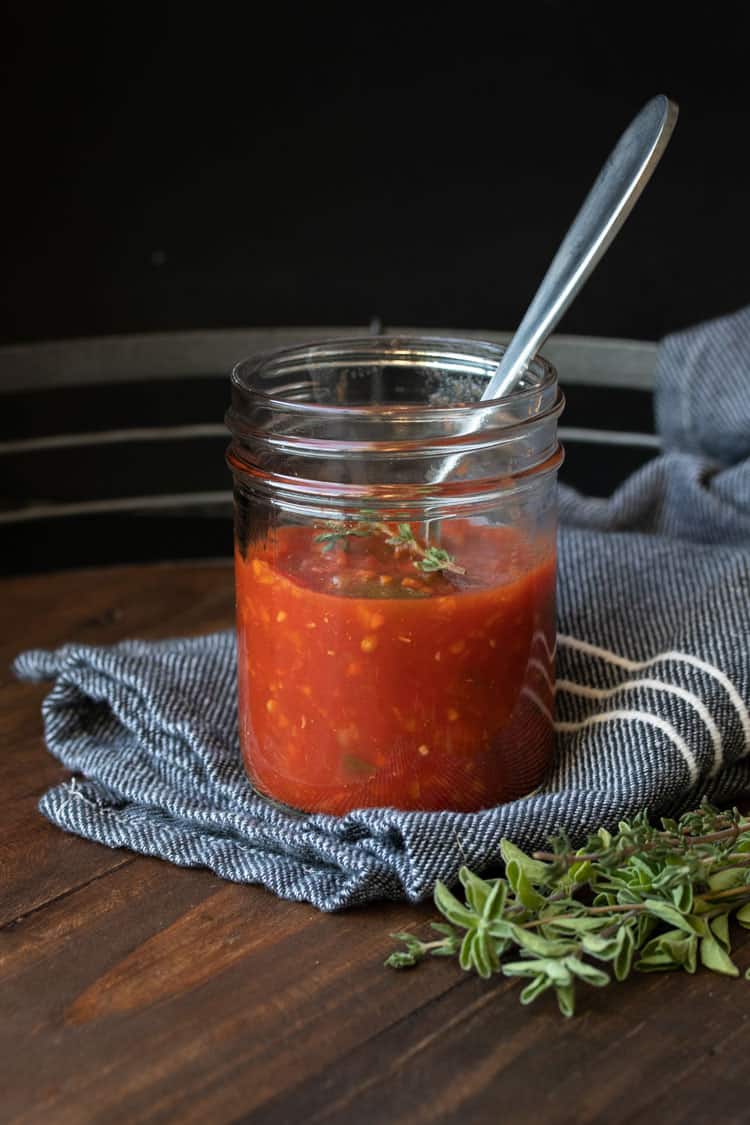 What is tomato sauce called in Italy?
It really depends on the ingredients and what exactly it is. Generally, a simple tomato sauce is marinara. However in Italy you will find a plain tomato sauce also called salsa di pomodoro.
Some Italians refer to sauce as gravy or ragu, but that is often when it has meat in it.
How do you freeze tomato sauce?
I like to make a big batch of this sauce, then separate it into smaller containers for freezing. This makes it super simple to reheat for meals later!
I also like to put a layer of plastic over the top of the sauce to prevent freezer burn. This helps it stay fresher longer in the freezer!
Is tomato sauce the same as pasta sauce?
Tomato sauce means a sauce that is made with tomatoes and pasta sauce is literally any sauce you put on pasta. Pasta sauce can be made of tomatoes but it also came be made of many other things like pesto, meat based, veggies based, etc.
Can you cook pasta in tomato sauce?
Yes! You certainly can cook pasta in tomato sauce. One thing to consider is how think your tomato sauce is. If it's too thick, there will not be enough liquid for the pasta to cook, so you may need to add some water.
Also, if you are using gluten free pasta, be careful of the texture. Some gluten free pastas need to be rinsed so they may not be the best choice if you are cooking in tomato sauce.
How To Make Slow Cooker Tomato Sauce
Put all ingredients into a slow cooker.
Do all the things until the sauce is done.
Serve over pasta or other food of your choice!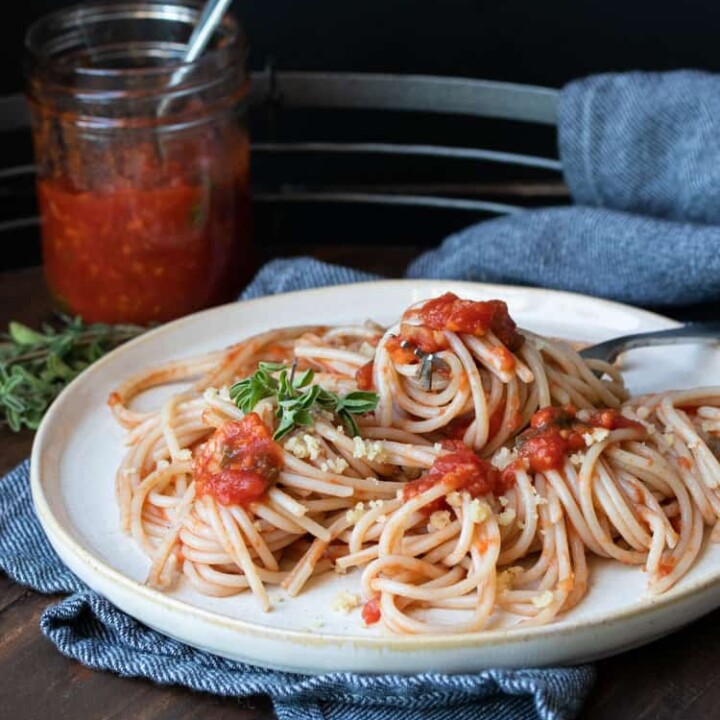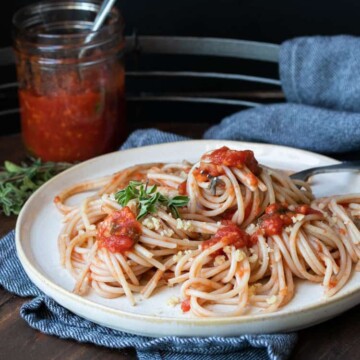 Slow Cooker Tomato Sauce
This easy to make slow cooker tomato sauce is filled with hidden veggies and flavorful herbs. Throw it in the slow cooker and come back when it's done!
Ingredients
1 cup carrots , finely chopped
1 cup celery , finely chopped
2 teaspoons chopped garlic (about 5-6 cloves)
2 ounces fresh basil , sliced
.5 ounces fresh thyme (whole stems)
.5 ounces fresh oregano (whole stems)
1 teaspoon crushed red pepper , optional for a hint of spice
56 ounces crushed tomatoes , no salt added
1 teaspoon sea salt
Instructions
Put all ingredients in a slow cooker. I like to put the thyme and oregano in whole with branches and all to simmer while the sauce cooks. You can also take the leaves off if you prefer.

Cook on high for 2-3 hours. Check sauce every few hours, if sauce is too watery, take the lid off and continue cooking to allow some of the liquid to evaporate. The longer you cook it, the richer the flavor. This sauce is ready to eat starting at hour 1 but the flavor gets better with time.

When done, use a slotted spoon to take out the thyme and oregano stems.

Serve over your favorite pasta, with my vegan meatballs, or as a dip!
Notes
This makes about 7-8 cups, depending on how long you end up cooking it and how much liquid evaporates. For nutrition fact purposes, I am going off of 8 cups. Serving size is ½ cup.
If you don't want to cook this all day in a crockpot you can also put it on the stove in a pot for about 30 minutes.
You can use dried herbs if you do not have fresh however you will use much less as dried are more potent. Start at 1 tablespoon and taste.
Recipe by Veggies Don't Bite, visit our site for more great plant-based recipes.
Nutrition
Calories: 41kcalCarbohydrates: 9gProtein: 2gFat: 1gSaturated Fat: 1gSodium: 143mgPotassium: 362mgFiber: 3gSugar: 5gVitamin A: 1859IUVitamin C: 12mgCalcium: 64mgIron: 2mg
Nutrition and metric information should be considered an estimate.
Never miss a recipe!
Sign up here and get a FREE quick and easy meal guide!