This traditional Greek baked lima bean recipe with added veggies is a one stop meal. Gigantes Plaki is loaded with protein, perfect for all ages and so flavorful!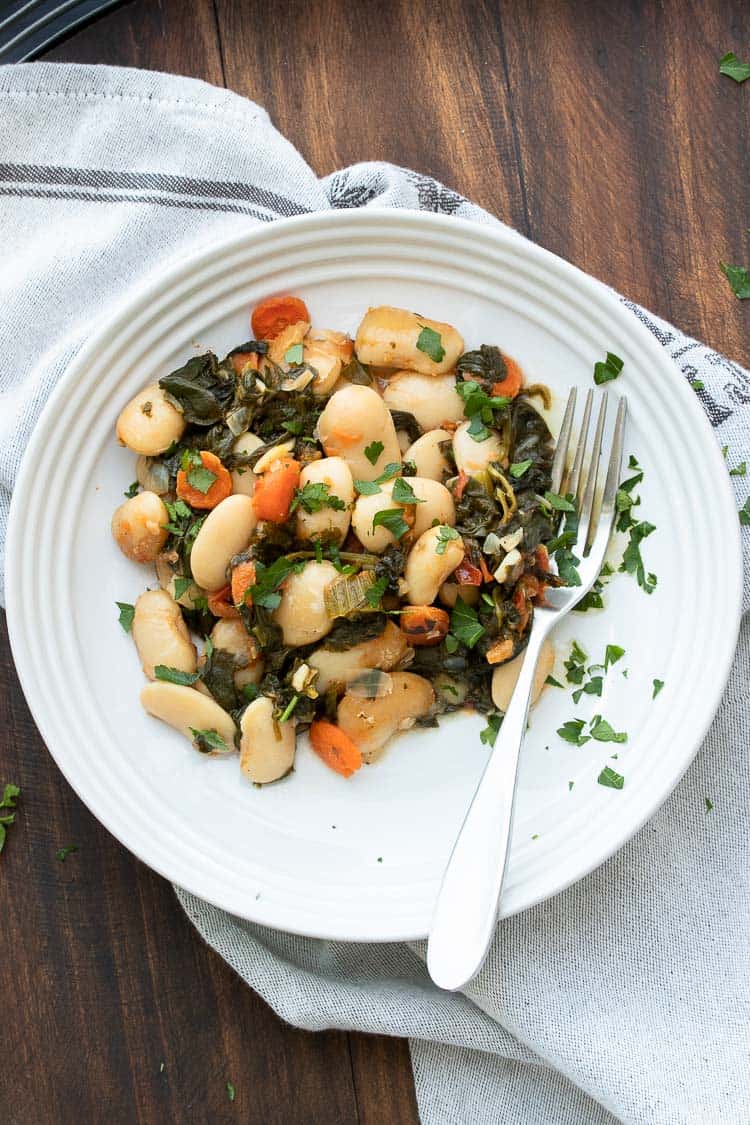 This recipe was originally published on 11/5/15
I'm back with amazing Greek recipes from Yiayia's kitchen. Per usual, she put her own spin on the traditional version, because she's my mom and nothing is ever good enough as is (so we all know where I get it from).
Lima Beans (Gigantes Beans) Our BFF
This lima bean recipe is a kid favorite, and by favorite I mean 2 ½ kids shovel it in when she brings it over. The ½ is my 3 year old because they are NEVER consistent. He once screamed because I gave him a cookie. No joke.
Are lima beans good for you?
Lima beans are an excellent source of protein and fiber. They also are a great source of iron.
The high fiber content prevents your blood sugar from rising too fast, so it's great for people that need to watch that. High fiber also helps with lowering cholesterol, so it's a perfect food for those watching their levels.
The protein in lima beans help make this an all in one meal. Because of the added veggies, you basically have it all. Pair it with some whole grain bread, and it's just about perfect.
Lima beans also have iron, which is needed for those of us who don't eat meat. In order for the body to absorb plant based iron in max amounts, you need to consume a source of vitamin c along with it. Which is why this recipe is perfect because the tomatoes are vitamin C rich.
A few other healthy bean recipes you may like are:
Are lima beans and butter beans the same?
Lima and butter beans are basically the same bean, Phaseolus lunatus if you want to get nerdy like that. The difference comes in geography. One part of the world named it after the creamy dairy product and the other called them limas.
Gigantes, the greek form, are literally translated as giant beans. They are a lima bean variety but in giant form!
Do I have to soak lima beans before cooking?
Like other dried beans, it isn't mandatory to soak them before cooking. But there are two really good reasons to do so:
First, soaking your beans helps them cook much faster. And for someone with three kids and not enough time in the day, faster is better. Unless one of you know of a time making tree? Then I'm all in for slow.
The second reason is making the dried beans easier to digest. This old broad has a belly that decided it doesn't want to cooperate when it comes to all things bean and grain lately. So if it makes it easier on my stomach then give it to me.
To learn more about soaking beans and the different methods, you can also look at my Instant Pot Kale and White Bean Soup recipe
How to make baked lima beans and veggies
The dried bean preparation is the hardest part of this recipe. The main thing to remember here is to soak your beans. You also cook them a bit the next  day so that when you bake them they don't take super long.
If you don't do this, your veggies will be over baked and there is nothing worse than melted mushy veggies. I honestly get the heebie jeebies just typing those words.
Soak and cook the beans.
Saute the ingredients.
Transfer to a baking dish and bake.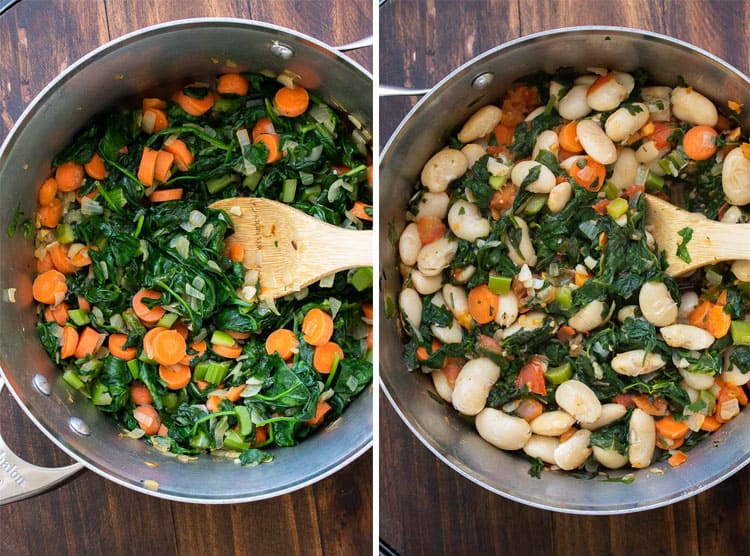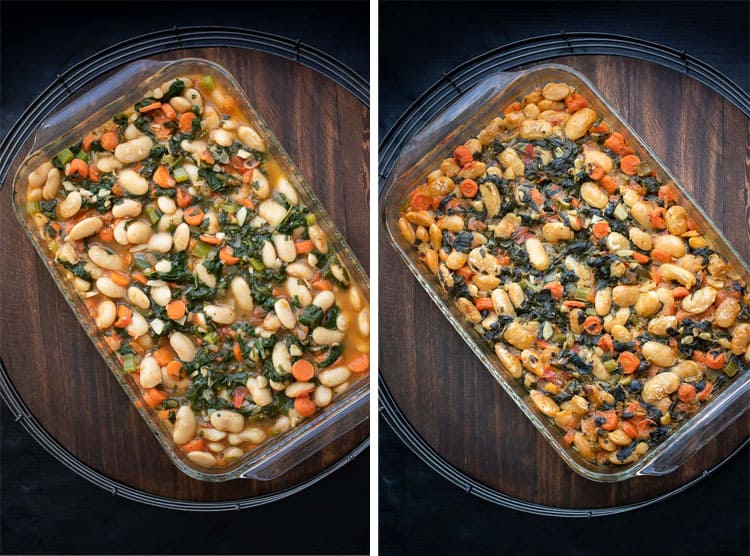 You can eat them as a main dish, nothing else necessary, or you can serve them along side another dish. Either way, this lima bean recipe is the perfect boost of healthy ingredients!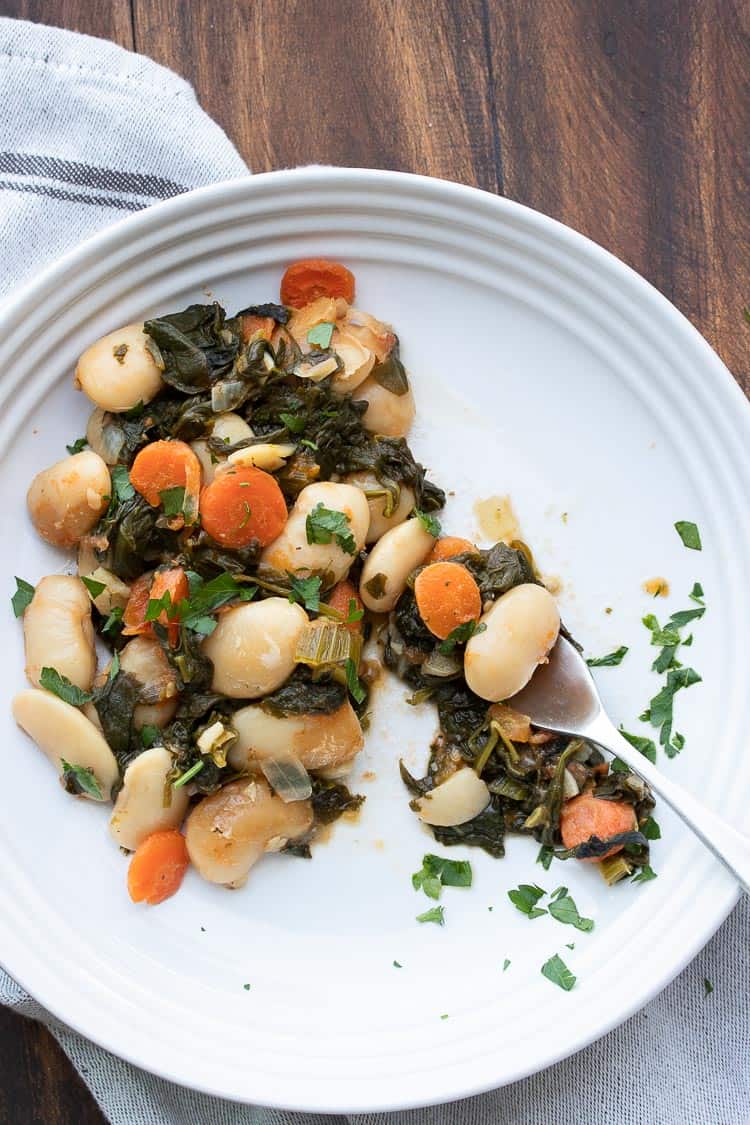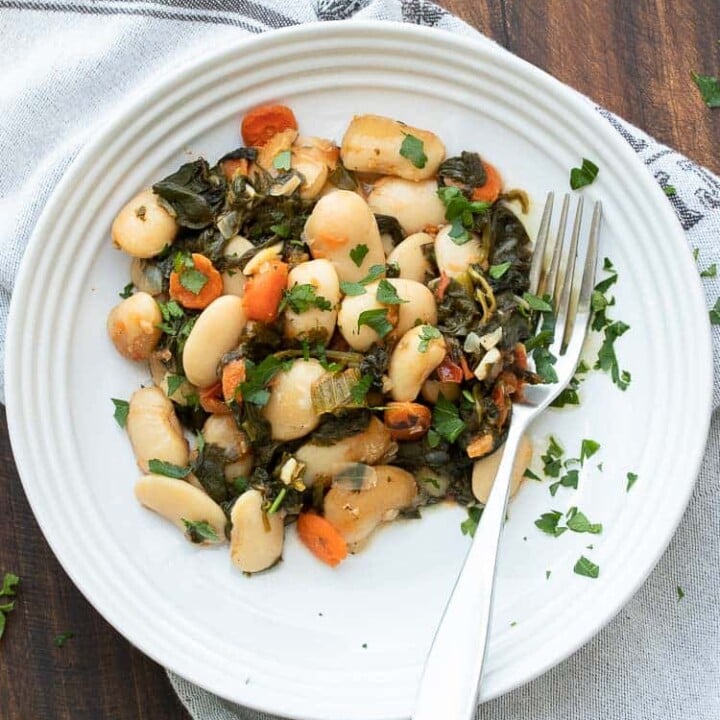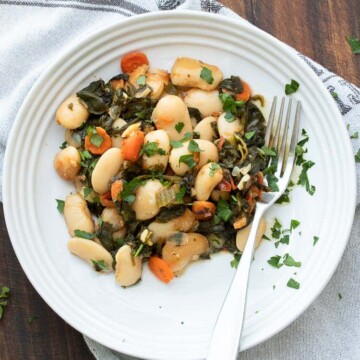 Baked Lima Bean Recipe (Gigantes Plaki)
This traditional Greek baked lima bean recipe with added veggies is a one stop meal. Gigantes plaki is loaded with protein, perfect for all ages and so flavorful!
Instructions
Wash and soak the beans in a pot overnight.

The next day, drain the beans and add enough fresh water to cover them. Cook over low heat until half tender, about 30 minutes, drain, and save the broth.

Preheat oven to 350°F/180°C


In a large pot sauté the onions in veggie broth or olive oil for 2-3 minutes until they begins to get translucent.

Add the garlic, carrots, celery, spinach and/or Swiss chard and sauté for a couple more minutes.

Add beans and mix well.

Add tomatoes, salt and pepper and sauté for another minute. Then add parsley and mix well.

Add enough reserved broth from the beans to barely cover them. If you don't have enough reserved broth, then use water for the rest (you can also use extra veggie broth).

Cook over medium heat for 15 minutes stirring, occasionally. Add more broth if needed. You don't want it to get too dry.

Transfer to a 9 x 12 glass baking dish, cover with tin foil and bake for 30 minutes, or until beans are tender and liquid has evaporated.

Uncover and bake for an additional 10 minutes.

Serve hot!
Notes
If you can't find lima beans, you can also use corona beans.
You can also use canned/boxed/jarred tomatoes instead of fresh if you prefer. The taste will change a bit, but it will still work.
Some tips if your beans are not softening:

It could be that the beans are old, the older they are the harder it is to get them to soften so make sure to use within a year. If they have wrinkled skin they are too old. 
Hard or well water makes it harder for your beans to cook to soft.
You can try adding about ¼ teaspoon of baking soda to your water to help soften them. Or add about 1 tablespoon to the soaking water and rinse them well after they soak.
Tips to prep ahead:
Wash and soak the beans, chop veggies and parsley.
Baby/toddler food idea:.
Great baby and toddler food. For babies puree as needed for age. Add liquid of choice to thin out if needed.
Recipe by Veggies Don't Bite, visit our site for more great plant-based recipes.
Nutrition
Calories: 101kcalCarbohydrates: 19gProtein: 6gFat: 0gSaturated Fat: 0gPolyunsaturated Fat: 0gMonounsaturated Fat: 0gTrans Fat: 0gCholesterol: 0mgSodium: 267mgPotassium: 834mgFiber: 6gSugar: 6gVitamin A: 8695IUVitamin C: 32.1mgCalcium: 94mgIron: 3.2mg
Nutrition and metric information should be considered an estimate.
Never miss a recipe!
Sign up here and get a FREE quick and easy meal guide!