If your pasta is bored and needs a little pesto change then this vegan asparagus pesto is the perfect fresh and flavorful topping to take things up a notch! Bursting with flavor and so easy to make.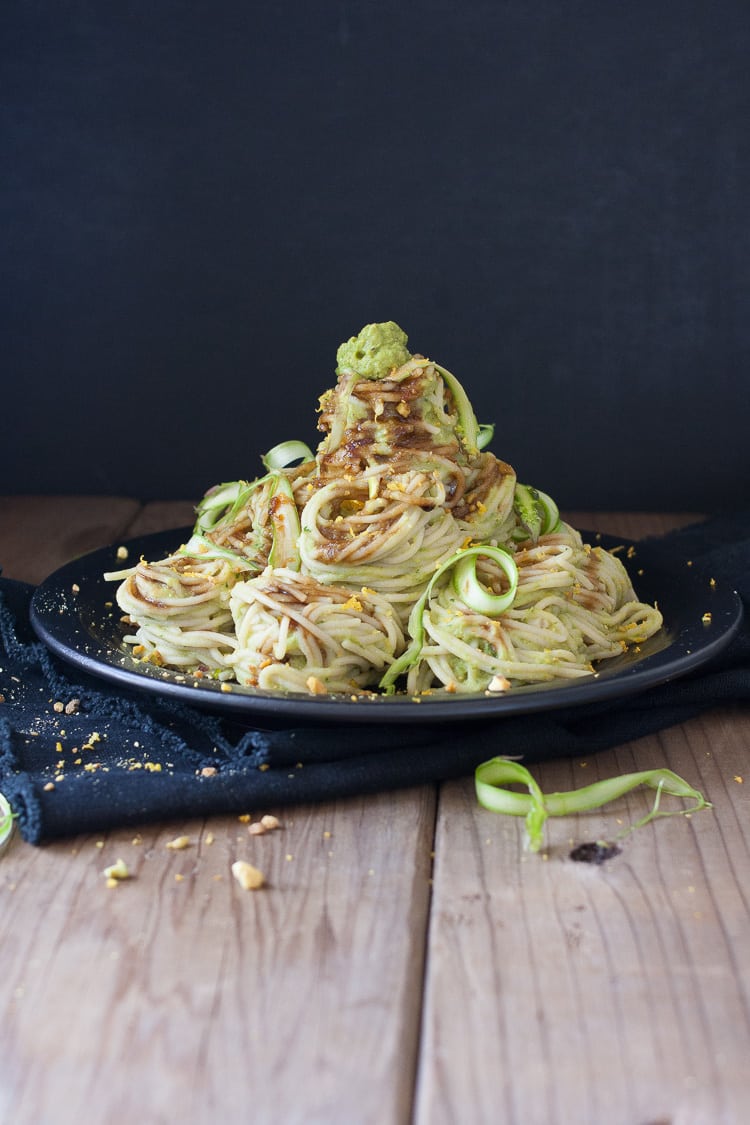 Who's ready for some spring?! I AM!!! I know some of you reading this are still wearing cozy sweaters and dealing with bad weather, and I hope you don't hate me, but here is Southern California warm weather is happening more than it's not and I see a glimpse of summer on the horizon.
I get a little pep in my step at this time of year, and the creativity reaches an all time high. Currently, I am obsessed with asparagus. It's such a fresh, easy to use and delicious spring veggie!
You can go as simple as roasting it (try my recipe for Maple Roasted Brussels Sprouts and sub asparagus instead) or even throw it in some pasta. But this asparagus pesto is my new favorite way to use it! It's super easy and a great way to get in those veggies.
Drizzle with maple balsamic reduction for the ultimate flavor!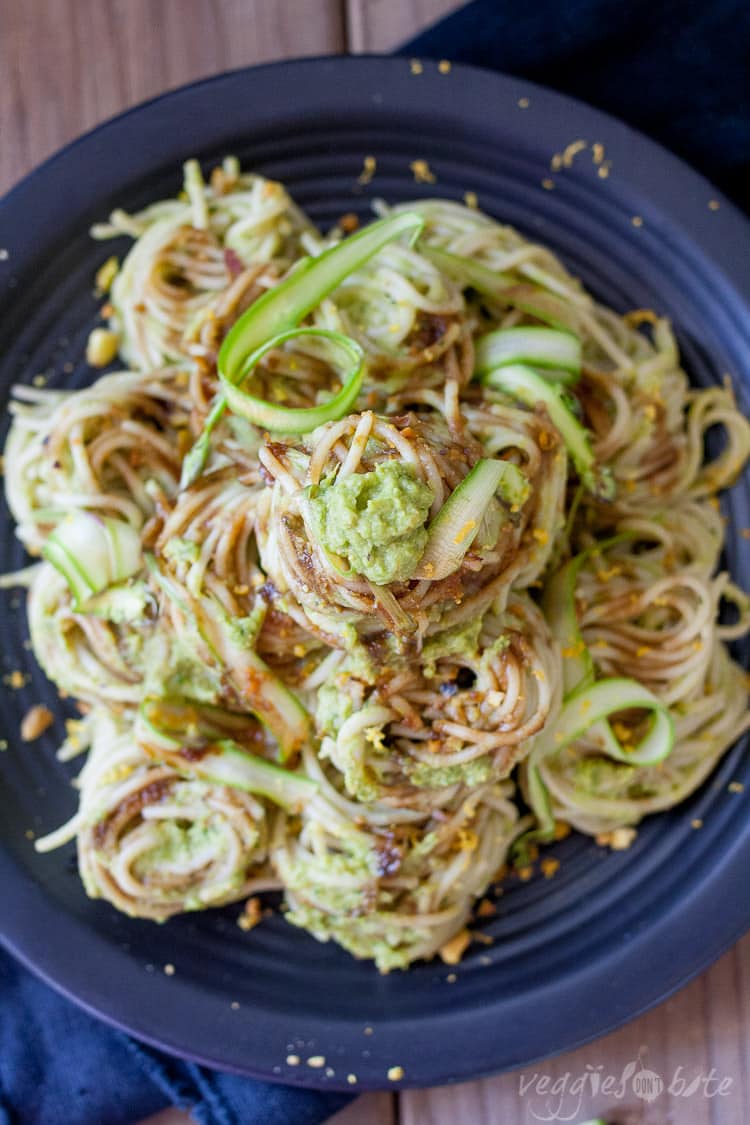 Asparagus Pesto Just Screams Spring
Spring to me not only means amazing fresh recipes like this asparagus pesto, but it means time to clean up my act a bit to prepare for tank tops, bathing suits and beach days.
Spending long lazy days at the beach with my boys is my absolute favorite activity. April marks the beginning of this change in season, and gives us that itch to not only clean up our diets but our bodies and life in general.
You'll always see piles start this time of year of all we are giving away, from toys to clothes, books, kitchen supplies. The list is endless. Purging makes me feel SO good!
I get my boys involved and have them pick toys they don't use as much anymore to give to kids less fortunate. They actually love it and it melts my heart to see them fill up their bags and proclaim that some kids will be so happy to get toys. Cleaning yourself and life from the inside out is the perfect way to kickstart this season!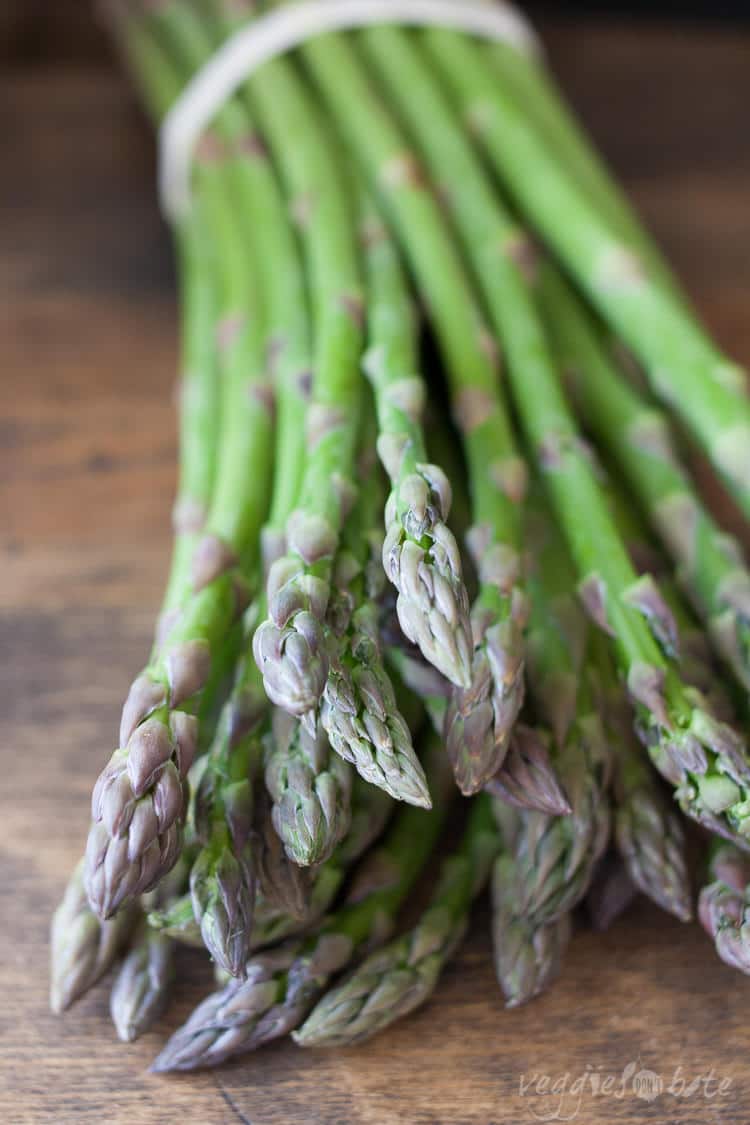 Taking Care Of Your Body Inside And Out
Taking care of the outside of your body is just as important as the inside. Some of you may remember a few weeks back when I shared on my Instagram page a skin care line called OSEA Malibu.
They contacted me a few months ago about giving their products a try. I was skeptical because I don't ever change my skin routine. I had stuff I liked and any time I ever changed to try something new my skin was not happy.
I'm pretty sensitive to change and have very tricky skin. Not only am I dealing with aging (I turn 39 in a few months) but I still deal with hormonal breakouts (SO not fair to deal with both!) and discolorations.
My skin also regenerates fast (weird story on how I found that out) and so I had to use an exfoliation scrub multiple times per week to keep my skin smooth. Something inside me though was telling me to give them a try.
Finding Skin Care You Love
I was in a weird hormonal shift anyway with being 11 months post partum, so I said what the heck and went for it. Well, it's been 1 month since I started using their products. And holy moly do I LOVE them! I'm talking, I have finally met my spirit animal in skincare.
My skin is in love and has met it's soulmate. Not only are these products vegan, but they are all natural and use ingredients from the earth. Read all about them! And here's the thing, I am NOT getting paid to write this post.
The only thing I got were the products that they sent me to try, but this is a company I love so much and have had such a good experience with, that I wanted to include them in this post.
They fit perfectly in my spring cleanup routine and my skin has never been happier to be so clean, so fresh and treated chemical free!! It's smoother, softer, has better tone and looks so great! And I just love their philosophy.
Plus, they never asked me to do anything like this and were so appreciative when I told them I was going to. My kind of brand!! If you're looking for some new skincare, this my friends is it. Did I mention that almost all of their products come in glass containers?! SWOON!!
Stay tuned, because I'm working on a giveaway too! Until then, focus on getting started with something easy, fresh and healthy food like my asparagus pesto!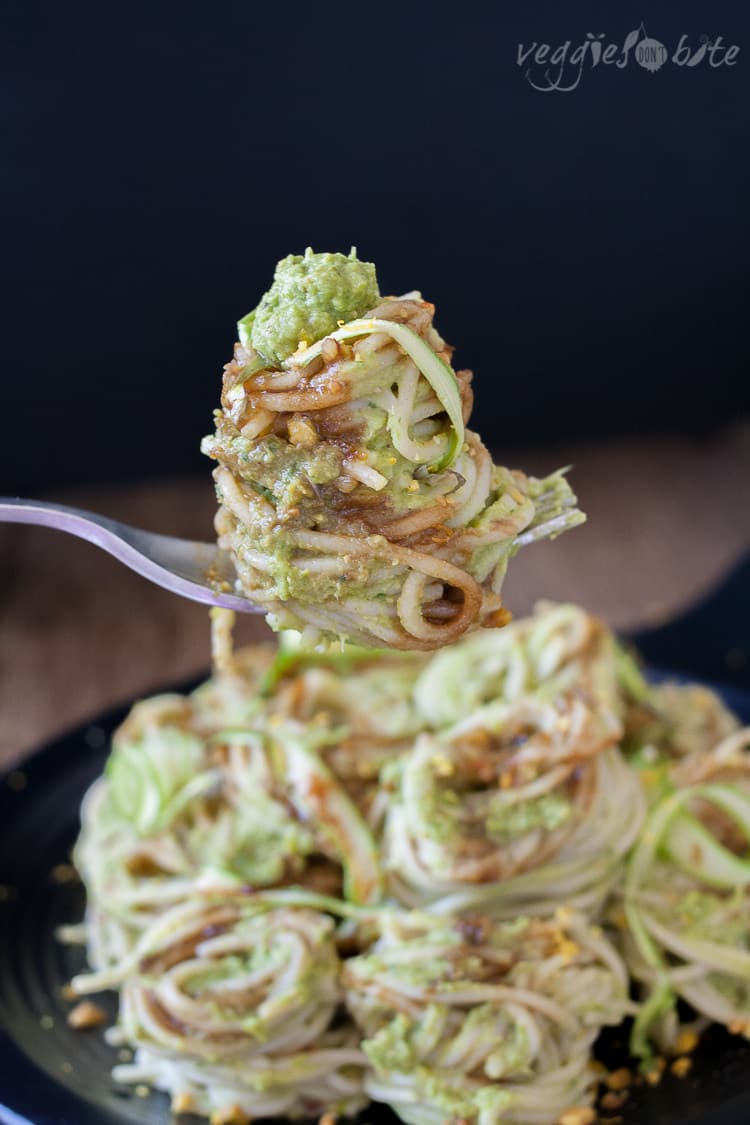 So lets all celebrate ourselves from the inside out together! Tell me what your favorite way to cleanse the system is!
Is it purging things in your house? Getting back on track with your diet? Or maybe it's getting back on track with taking care of your skin?
Whatever the way, get to it. Spring is here and it's not waiting! Grab a blender, a bunch of asparagus and make yourself this vegan asparagus pesto! I'd love to hear from you so don't forget to leave me a comment here, find me on Instagram (tag me at veggiesdontbite AND #veggiesdontbite so I don't miss it) or on Facebook!
And if you love what you see and aren't subscribed to my blog, then head to my subscribe box and enter your email. That way you'll never miss a post or any other fun things I send your way! I will be starting a series of subscriber only recipes, so you definitely don't want to miss those!
More Pasta Recipes You Might Like;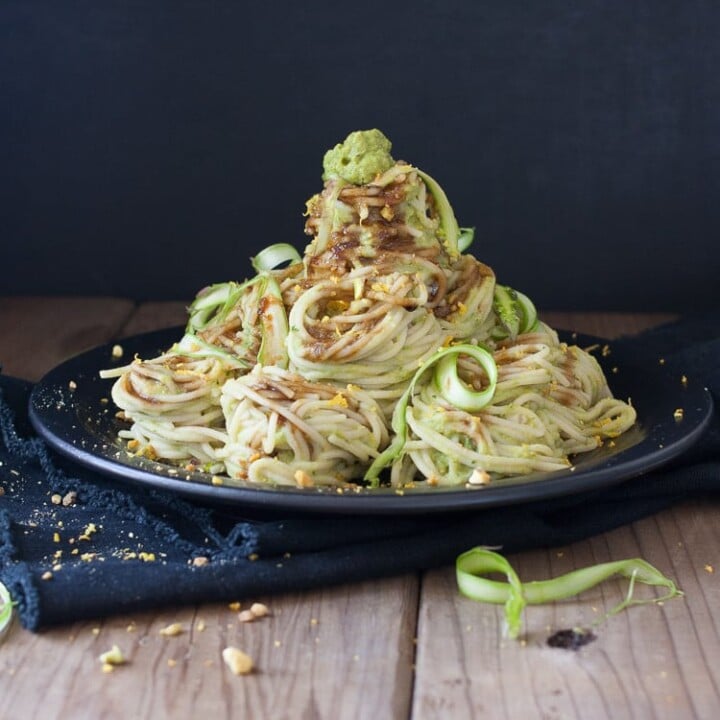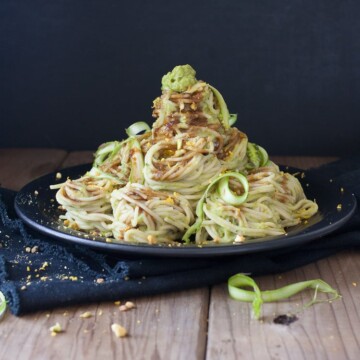 Asparagus Pesto with Pistachios and Balsamic Reduction Drizzle (Vegan)
Your pasta is bored and needs a little pesto change! This vegan asparagus pesto is the perfect fresh and flavorful topping to take things up a notch!
Instructions
Wash and trim asparagus. Cut into 2-3 inch pieces. Bring a pot of water to a rolling boil and cook asparagus for about 2-3 minutes, depending on how cooked you want it.

I like mine al dente. Start checking at 2 minutes. Once it's reached your preferred level of doneness, strain and rinse in cold water to stop it from cooking longer.

Put the asparagus along with all other ingredients, except for the pasta, into a food processor or blender. Pulse until everything is finely chopped or pureed, depending on how you want it. I like it a tad chunky.

Cook pasta according to package directions, reserving some pasta water if you want to thin out the pesto.

While the pasta is cooking make balsamic reduction by adding everything to a small pot. Bring to a boil, then reduce to a low simmer and cook for about 9 minutes stirring every few minutes. Remove from heat and pour into a glass container.

Once pasta is done, drain and put it back into the pot. Add in the desired amount of pesto. Mix well.

You can add some reserved pasta water to thin out if you prefer. Serve on plates with a drizzle of the balsamic reduction and sprinkle of crushed pistachios and lemon zest.
Notes
You can use roasted or raw pistachios, although raw shelled are harder to find.
If you don't have veggie broth, you can sub in water but the broth adds a touch of flavor.
The balsamic reduction is optional for an added layer of flavor to this dish, I highly recommend it as it only takes a few minutes to make.
Tips to prep ahead: Make pesto and balsamic reduction.
Baby/kid food idea: Make sure pesto is fully blended without any chunks. Cook pasta until well done and serve for older baby. For younger baby you can blend pasta in with the pesto.
Recipe by Veggies Don't Bite, visit our site for more great plant-based recipes.
Nutrition
Calories: 752kcalCarbohydrates: 184gProtein: 4gFat: 7gSaturated Fat: 0gPolyunsaturated Fat: 0gMonounsaturated Fat: 0gTrans Fat: 0gCholesterol: 0mgSodium: 1490mgPotassium: 331mgFiber: 2gSugar: 85gVitamin A: 1365IUVitamin C: 24.7mgCalcium: 71mgIron: 2.2mg
Nutrition and metric information should be considered an estimate.
Never miss a recipe!
Sign up here and get a FREE quick and easy meal guide!