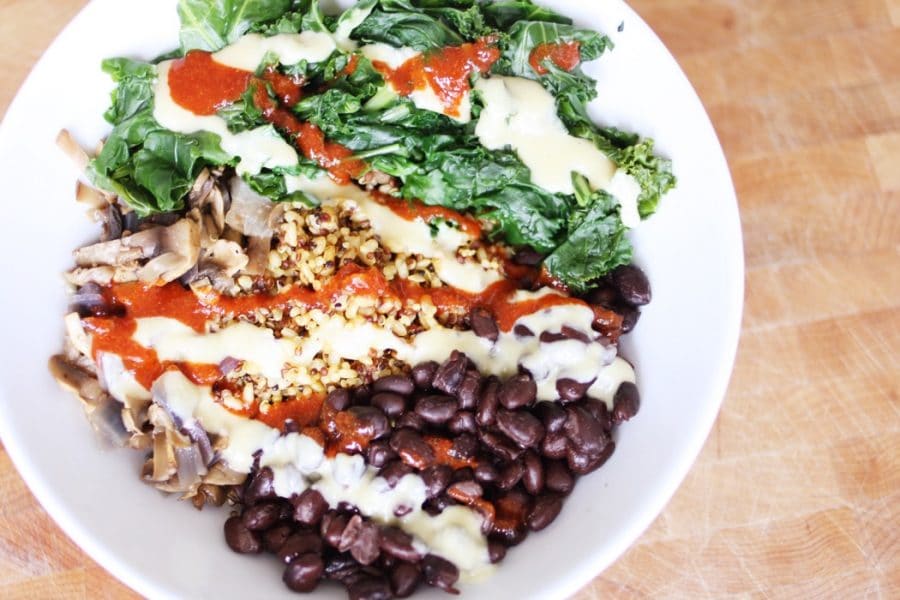 A few weeks back, we took advantage of the amazing weather and spent a family day in the beautiful town of La Jolla, Ca. We don't live very far from this gorgeous beach community, but don't visit nearly as often as we should. Our lunch stop on this adventure was a cafe that my husband often frequented for lunch during the work week...The Lean and Green Cafe. It was my first time here and lets just say it was love at first bite! Their menu is packed with fresh organic amazing ingredients and it all looks delicious! I had a really hard time deciding what to try first, but I definitely hit the jackpot with my choice, this incredible protein bowl. It was so good in fact, that I decided to recreate it for the blog because there was no way I could wait until next time we went back to eat it again! They call it the "Super Bowl," but I added a few ingredients and veganized it, so I decided to call my version the "Sweet and Spicy Power Protein Bowl." And the name definitely fits the taste! Enjoy this little bowl packed with protein and goodness and if you are ever in La Jolla, make sure you visit this great cafe!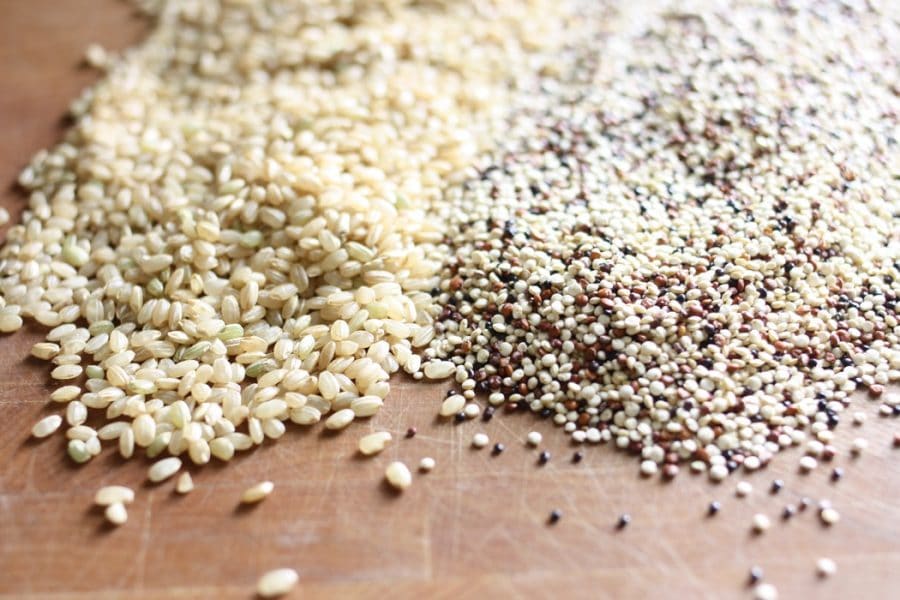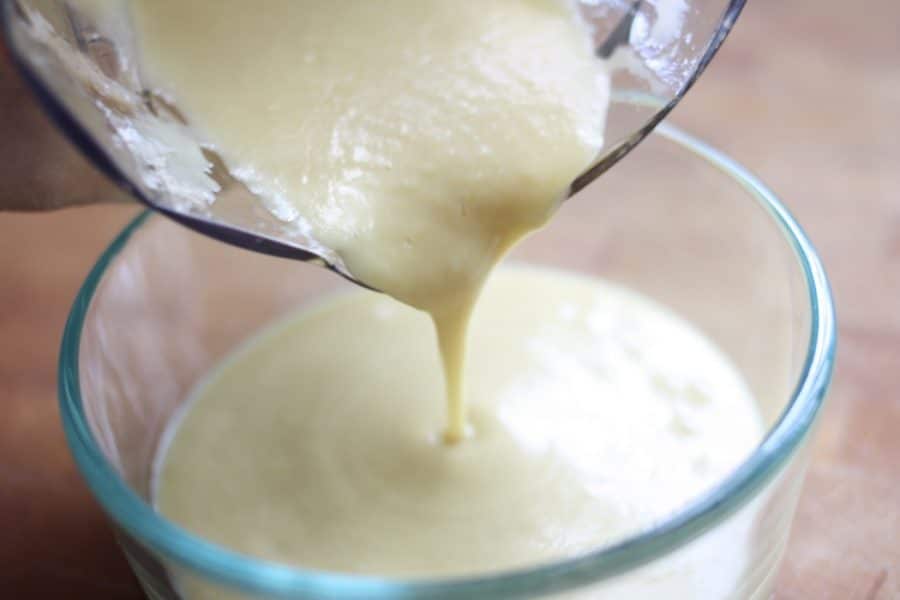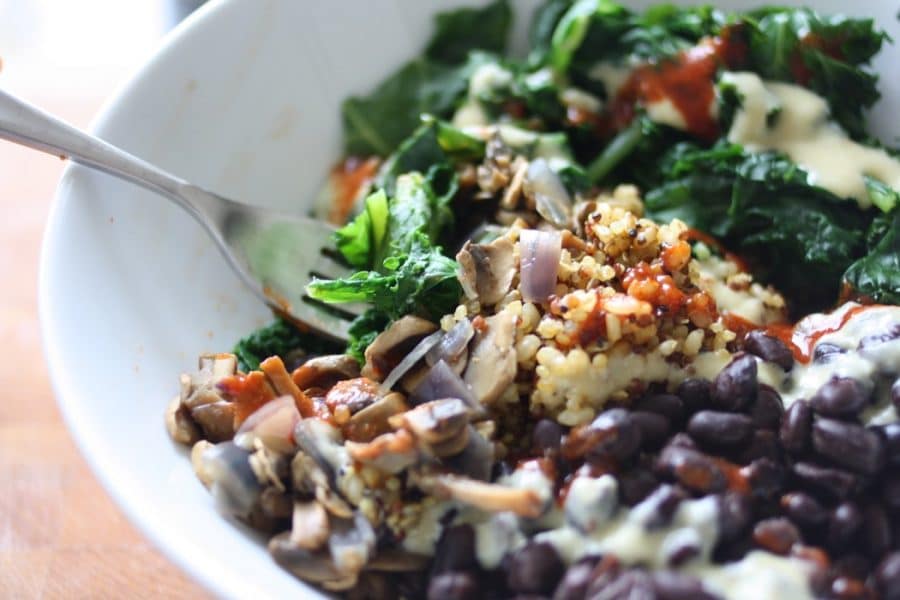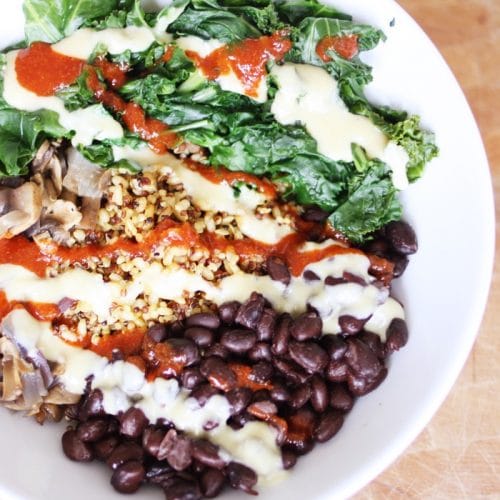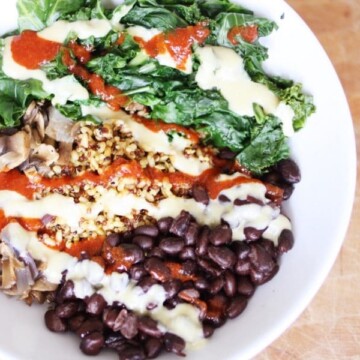 Sweet and Spicy Power Bowl
Notes
A protein bowl packed with nutrient rich plant-based ingredients and filled with flavor!
Ingredients:
2 cups quinoa
1 cup brown rice (optional or you can do an extra cup of quinoa)
3 cups veggie broth to cook quinoa/rice (can sub water)
2 cans black beans
1 bunch kale, chopped
2 cups sliced mushrooms
½ of a red onion, chopped
Veggie broth for sautéing (or your favorite oil if using oil)
drizzle of Miso Sauce (see below)
drizzle of your favorite hot sauce (optional)
Miso Sauce
4 tablespoons chickpea miso (or can use a white miso for a soy version)
1 tablespoon sesame oil (for oil free version, omit or add sesame seeds for taste)
2 tablespoons rice vinegar
½ teaspoon fresh  chopped garlic
½ cup water
note: Miso is a paste found at most health food stores and some larger grocery stores that have a variety of ethnic ingredients. You may have extra miso sauce depending on how much you put on top, but it makes a great salad dressing and dip for things like veggies or these summer rolls.
Instructions:
Rinse and cook the quinoa/rice in a rice cooker or on stovetop using the veggie broth (or water).
Wash and clean beans and veggies. Cut veggies.
Sauté mushrooms and red onion in oil, or broth, in a pan over medium heat for a few minutes until just cooked but not too soft, do not over cook. Steam kale for 1-2 minutes until you begin to see the bright green color, remove from heat. Again, do not overcook.
Prepare miso sauce by putting everything in a food processor, blender or high speed blender and blend well.
Assemble ingredients in a bowl and drizzle miso sauce and your favorite hot sauce over the top.
Recipe by Veggies Don't Bite, visit our site for more great plant-based recipes.
Nutrition and metric information should be considered an estimate.
Never miss a recipe!
Sign up here and get a FREE quick and easy meal guide!
Nutrition info (for 1 serving if you divide the entire recipe by 4):
calories- 699
fat- 10.1
carbs- 120.5
protein- 30.2