This Korean quinoa bowl with chickpeas, carrots and potatoes is a vegan twist on a Korean dish that will leave you wanting more. Full of protein and flavor, this is one you won't want to miss!
After a few weeks of creating and eating many Thanksgiving inspired dishes, I'm happy to post about a different type of meal. Super easy, really tasty and made in a crockpot so the house smells amazing!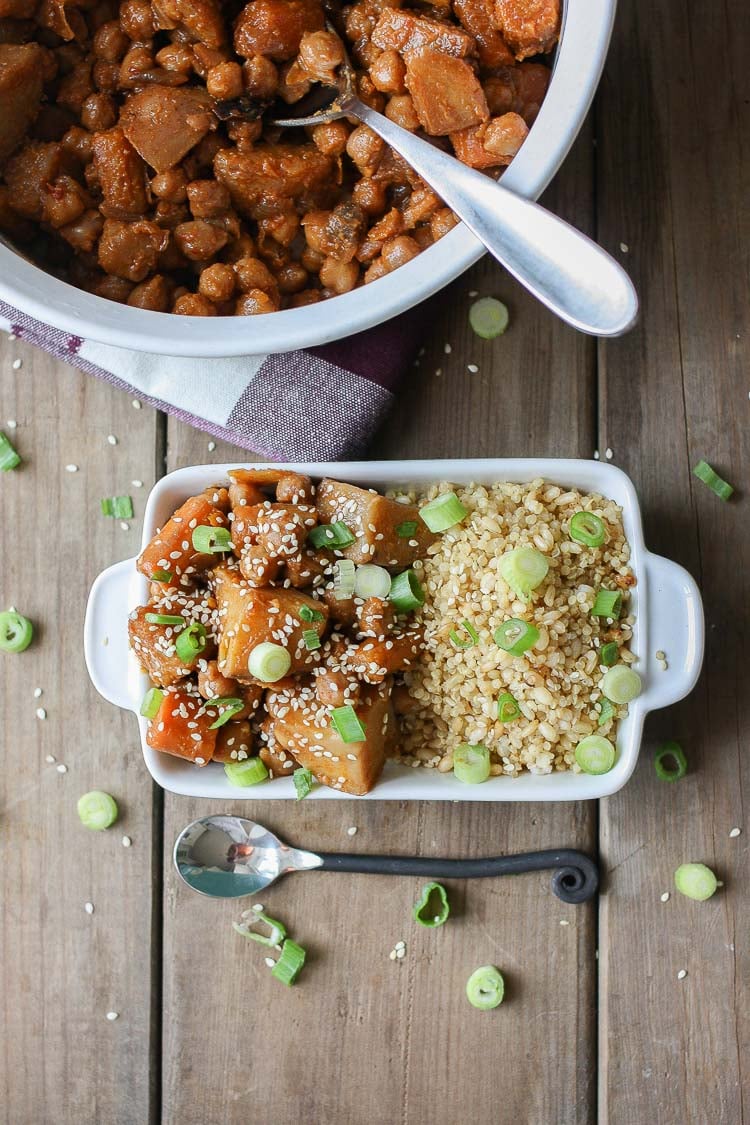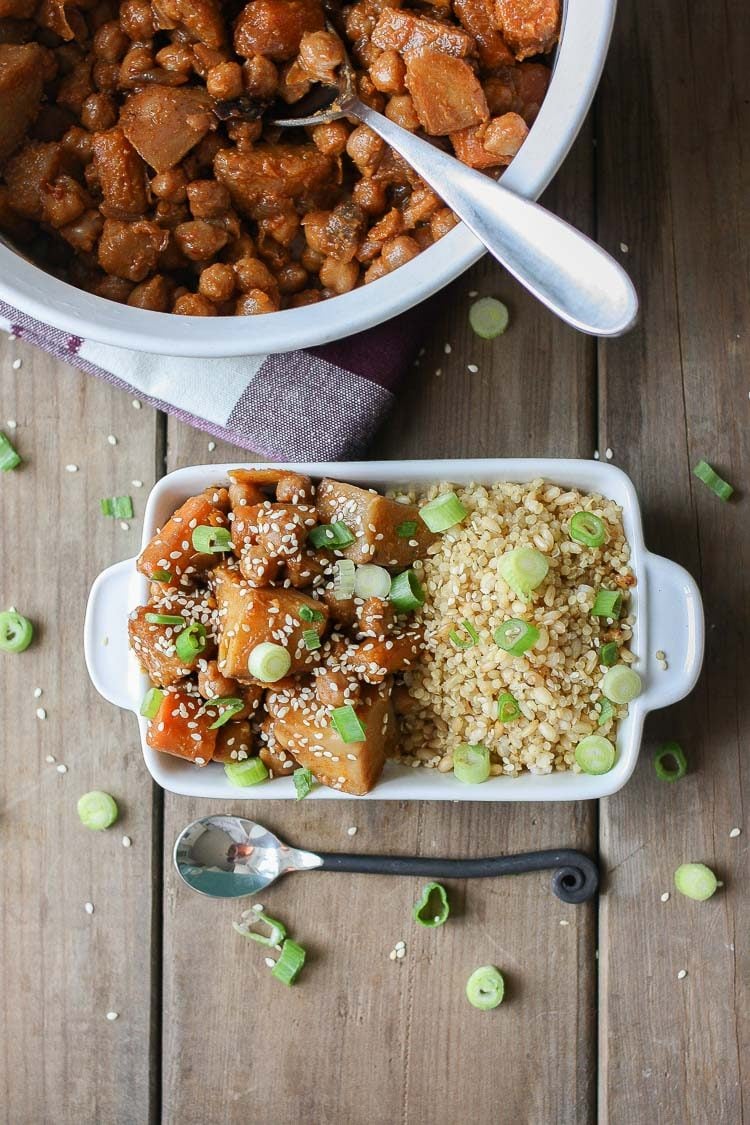 I got inspired to recreate this one after seeing it on the amazing blog MJ and Hungryman. If you haven't seen her blog, you need to. It's awesome! She isn't vegan, but has some great recipes that are and many that can be veganized. Plus, she's just a super cool person and anyone that's super cool is someone to follow in my book!
The original recipe that MJ made had chicken in it, but the sauce and general idea just sounded so good, that I had to find a way to recreate it for the vegan crowd. I love chickpeas, and just knew they would be great in this dish, so that's what I went with.
When looking at her recipe, I didn't have any of the Korean spices she used (the chili flakes and paste) and also wanted others to be able to make this if their kitchen was stocked like mine, so I did some research on what each thing was and made my own versions with what I had.
The Sauce Is Incredible!
It turned out SO good! I literally wanted to drink it like soup. But I refrained long enough to get it into my crockpot and let it do it's magic. I also didn't make my version very spicy.
I love spice more than anything, but I really wanted my kids to eat it since it's packed with protein and some delicious veggies. My husband is a bit of a wuss when it comes to spice as well, so I held back. Although not spicy, the sauce is very flavorful and awesome! You can definitely double the sauce recipe and save some to pour on top of the meal as extra!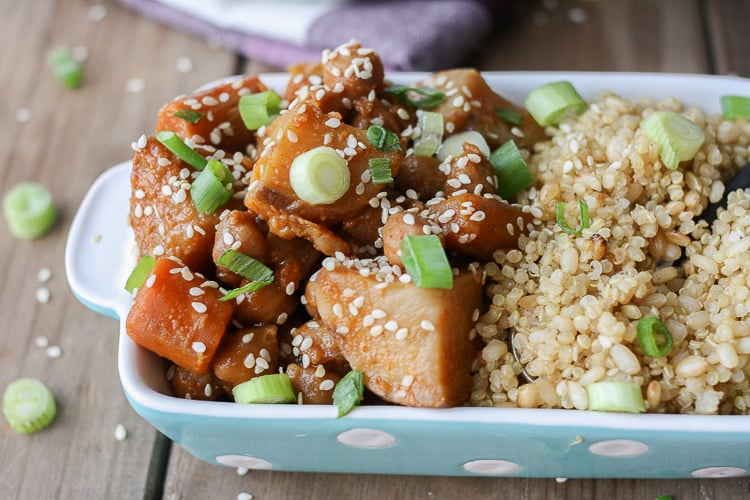 This Korean Quinoa Bowl Is Healthy, Easy And Delicious!
I served this with a side of quinoa instead of rice, we just prefer the quinoa plus I thought it was an extra fun twist. I also prepped everything the night before so all I had to do in the morning was throw it all into my crockpot.
Super easy! This is a great change from all this holiday eating. Clear the palate before we bring on Christmas and all the deliciousness it has to offer! Hope you enjoy it as much as we did. But if you happen to be Korean and think I butchered it with all my changes, I apologize in advance!
I always love comments on the blog if you make it, so make sure to let me know! You can also tag me on Instagram  at veggiesdontbite #veggiesdontbite so I don't miss it!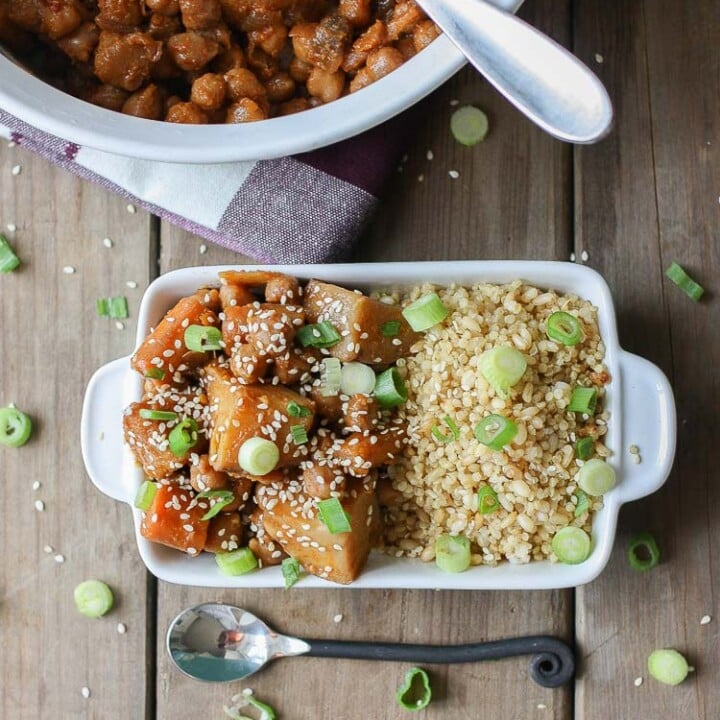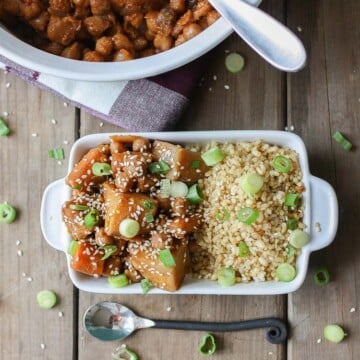 Korean Chickpeas, Carrots & Potatoes Over Quinoa
A vegan twist on a Korean dish that will leave you wanting more. Full of protein and flavor, this is one you won't want to miss!
Ingredients
1 cup dried chickpeas , soaked overnight in warm water and 1 teaspoon baking soda
3 red potatoes
6 large carrots
1 sweet onion
3 cups cooked quinoa 
Instructions
Place chickpeas in a bowl and cover with a mixture of warm water and 1 teaspoon baking soda, making sure there is plenty of water in the bowl to allow the beans to expand. The baking soda helps them cook well and evenly in the crockpot. Soak overnight.

The next day, rinse chickpeas well and add to a crockpot.

Wash and cut the potatoes, carrots and onion into large bite sized pieces. I left the skins on the potatoes. Place potatoes and onion into the crockpot, saving the carrots aside.

Make the sauce by combining everything in a small bowl. Pour over veggies and beans and combine until evenly coated. Cook on high for 5-6 hours, depending on how you like the consistency of your beans and potatoes.

About 2 hours in add carrots, I like my carrots all dente so if you don't mind them soft you can add them at the beginning with everything else. Once done, serve over cooked quinoa and garnish with sliced green onions and sesame seeds if preferred.
Notes
UPDATE: A reader made this in the pressure cooker for just over 3 minutes.
If you want this saucy, double the sauce portion.
I used dried chickpeas because I loved the flavor and texture of cooking them myself in the crockpot, but you can also used canned and add them at the very end. Use about 3 cups cooked chickpeas.
The sesame oil is there for taste so toasting sesame seeds to bring out the flavor and grinding them in a food processor could also work.
Tips to prep ahead:
Make the sauce the night before. Also wash and chop all the veggies. You can cook the quinoa as well or put it in a rice cooker an hour before eating
Recipe adapted to be vegan from MJ and Hungryman
Recipe by Veggies Don't Bite, visit our site for more great plant-based recipes.
Nutrition
Calories: 455kcalCarbohydrates: 80gProtein: 16gFat: 9gSaturated Fat: 1gSodium: 1078mgPotassium: 1311mgFiber: 14gSugar: 19gVitamin A: 11666IUVitamin C: 18mgCalcium: 116mgIron: 5mg
Nutrition and metric information should be considered an estimate.
Never miss a recipe!
Sign up here and get a FREE quick and easy meal guide!