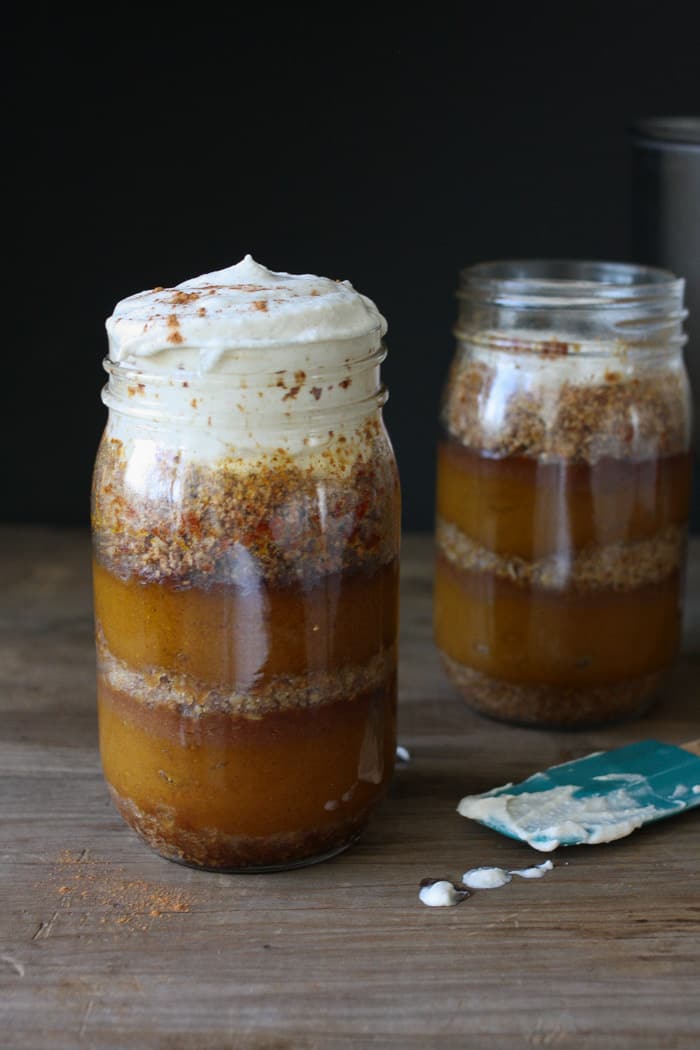 I don't even know where to begin with this recipe. What started as my desire to make a much better healthier version of a pumpkin dessert that was my "go-to" dish over the holidays before we changed our way of eating, turned into this layered deliciousness that I could not stop shoving into my mouth. This recipe is probably one of my top favorite desserts I've created. Not only because it tastes so darn good, but because it went through such a transformation to get to where it ended. Almost like a recipe makeover! The very first attempt was literally a copycat of my original unhealthy recipe, but subbing for healthier ingredients. The result was a HUGE flop. I mean, my kids who eat everything wouldn't even eat it! Into the trash it went, and that's something I rarely do. So I tried again, adding a few extras here and there, and version number two was good but I felt like something was missing. I was going for the wow factor, a way to end my Thanksgiving posts with a bang! Lucky for me, I had my monthly Bunco night with some of my awesome girlfriends. Our host served us apple crumble in mason jars. Well, if you know me, you know I love love mason jars and use them a lot. So it hit me! Remake my dessert in a mason jar. Super cute presentation, which to my visual self is very important, and puts a spin on it. I was so excited to get back into the kitchen. Little did I know that my brain would take over and turn this simple creation into something much more!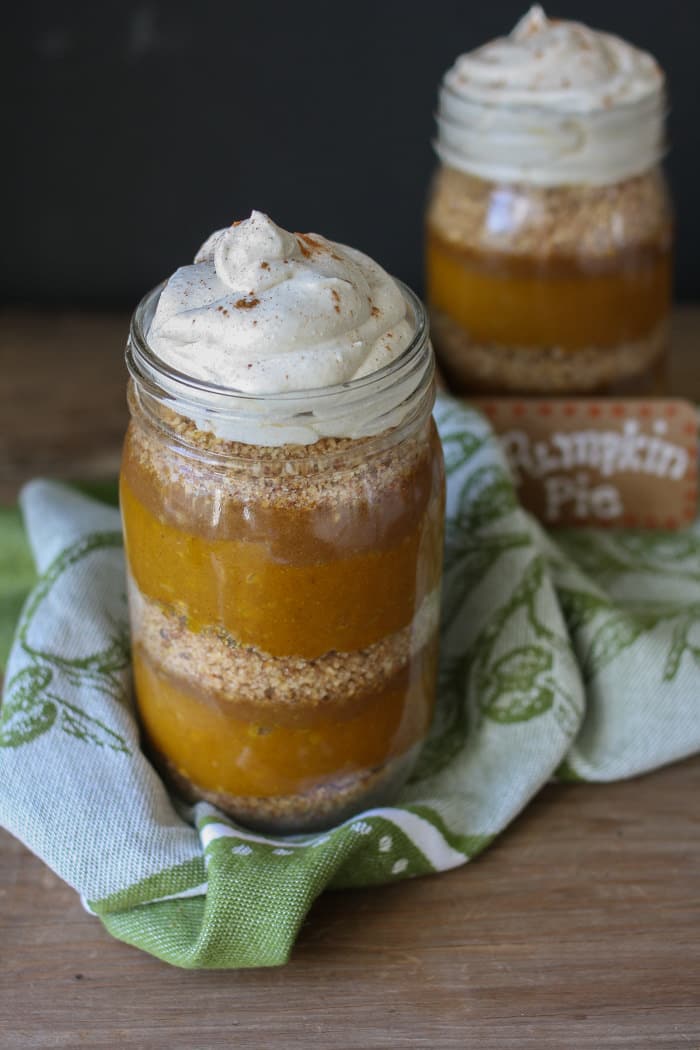 My original recipe had only two parts, the pumpkin filing and the crumbly topping. If I was going to put this into mason jars, I felt that I needed something more. Enter caramel. I've been craving a deep smooth caramel lately and paired with pumpkin it sounded divine! My usual go to caramel ingredient is dates. I have a great date paste recipe that I use to sweeten most of my desserts, but since I was using this as a separate layer, I wanted an extra oomph. After some trial and error, I found myself looking right at my tub of nutritional yeast. WHAT?! You may think I'm crazy, but I actually don't really love nutritional yeast in the most common ways people use it, namely vegan cheese sauces. I like to sprinkle it on here and there but don't love the taste as a main ingredient. My favorite way I use it in fact is in my recent Cinnamon Apple Pumpkin Pie French Toast. So I thought, if it brings an awesome flavor to that, why not to this? I. WAS. RIGHT. It almost adds a buttery rich flavor that pairs so good with what I was going for! I liked it so much in fact, that I also added it to the dry topping. Paired with the pecans, it was heaven! And all three of these layers blended together to make one mouth watering concoction.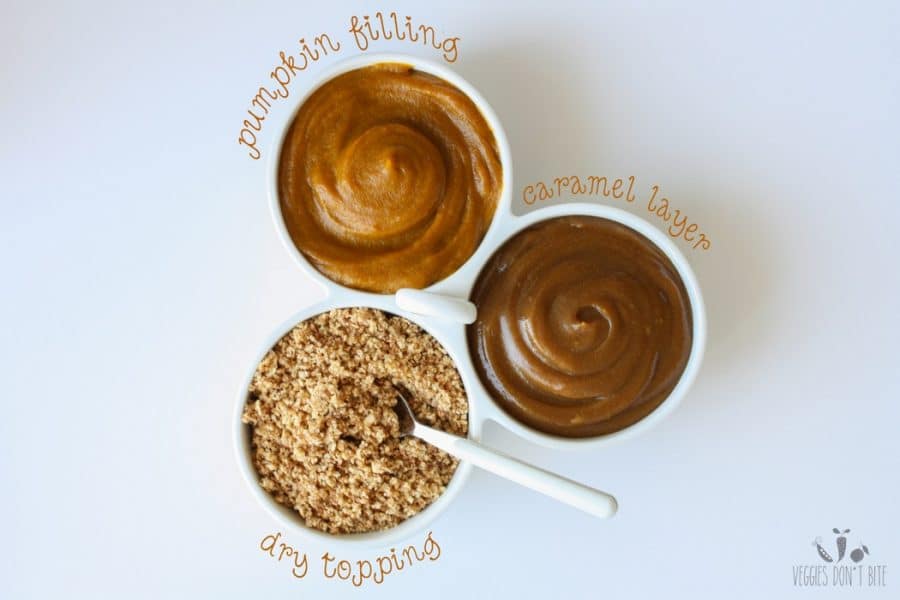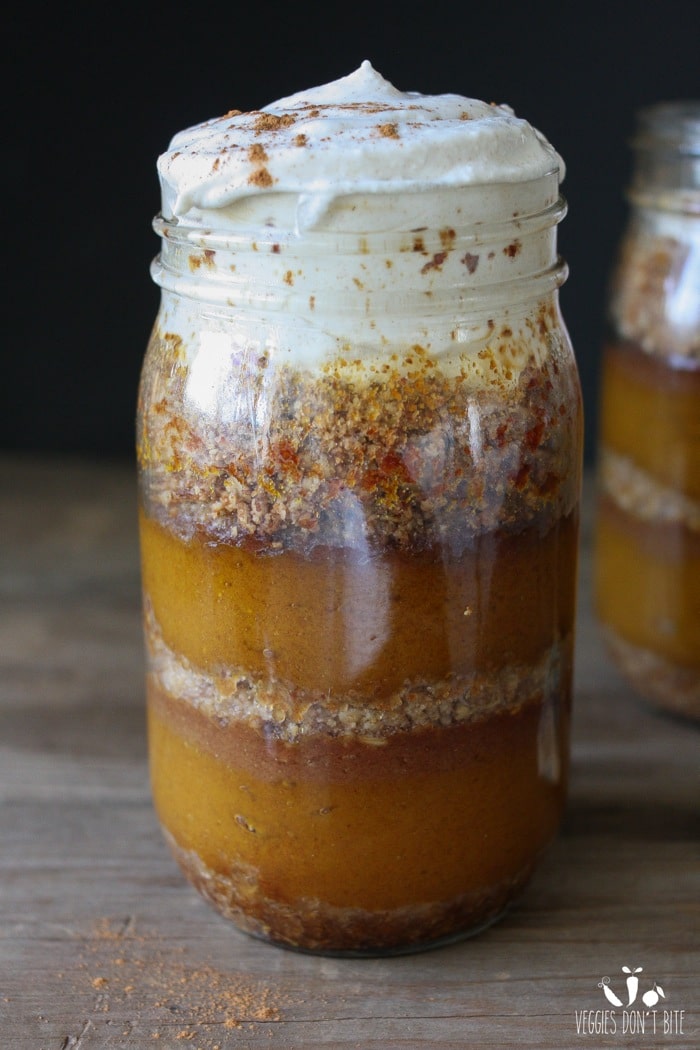 But I wasn't done there...when a pregnant food blogger decides to go big, she goes big or goes home. Bring on the whipped topping! Because I wanted to keep this simple, and so far I thought the "throw into a blender and blend" direction of each layer was pretty darn simple, I decided to use some of the caramel layer to sweeten the coconut whip. Good move. Truth be told, I actually forgot to chill the can of coconut milk, so I stuck it in the freezer. Truth be told again, I forgot it in there. For real. I took a break to throw in some laundry, which led to a shower and then I got distracted with the millions of other things I was doing and before I knew it I had a hard can of coconut. So I opened it and stuck it in the sunny window with hopes it would defrost by the time I needed it. When that time came, It was kind of softer, soft enough to dig it out in chunks, but still had frozen parts. Well, sometimes the greatest failures lead to the best lessons. REALLY cold coconut cream makes REALLY good whipped topping! I put it all in my stand mixer with the caramel and just let it whip for a loooong time. When I came back to check on it, I fully expected a sad looking whip. What I got instead was the fluffiest, creamiest, most delicious whip I have ever made! So now you know, make sure your coconut milk is extra cold. Maybe not frozen, but really really cold!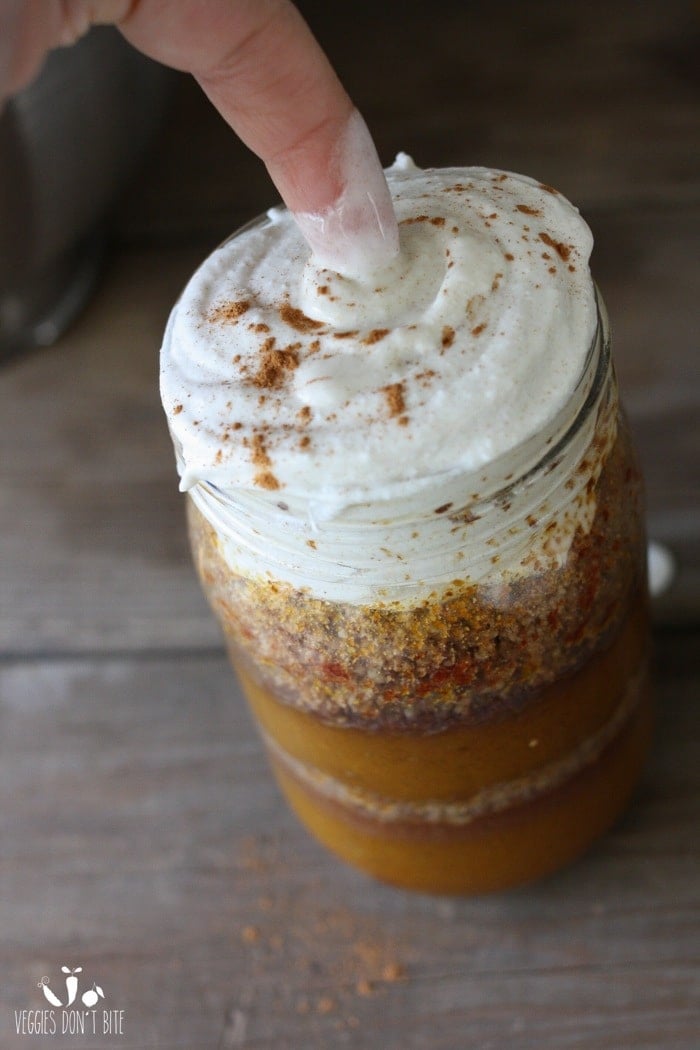 The best thing that resulted from all this experimentation was that I realized this dessert is good eaten raw or baked! Yes, I may have been tasting it as I created it. I'm pregnant, it's what I do. But lucky for all of you, I realized that it actually was really good! I made a few jars and left them raw, then baked a few. Everyone that tried it agreed! Super good either way! So, if you are feeling lazy, or just don't have the time to bake it, then this is a winner for you! And to add the extra layer of keeping it easy, you can skip the jars all together and just layer in a pan. I cover all the bases!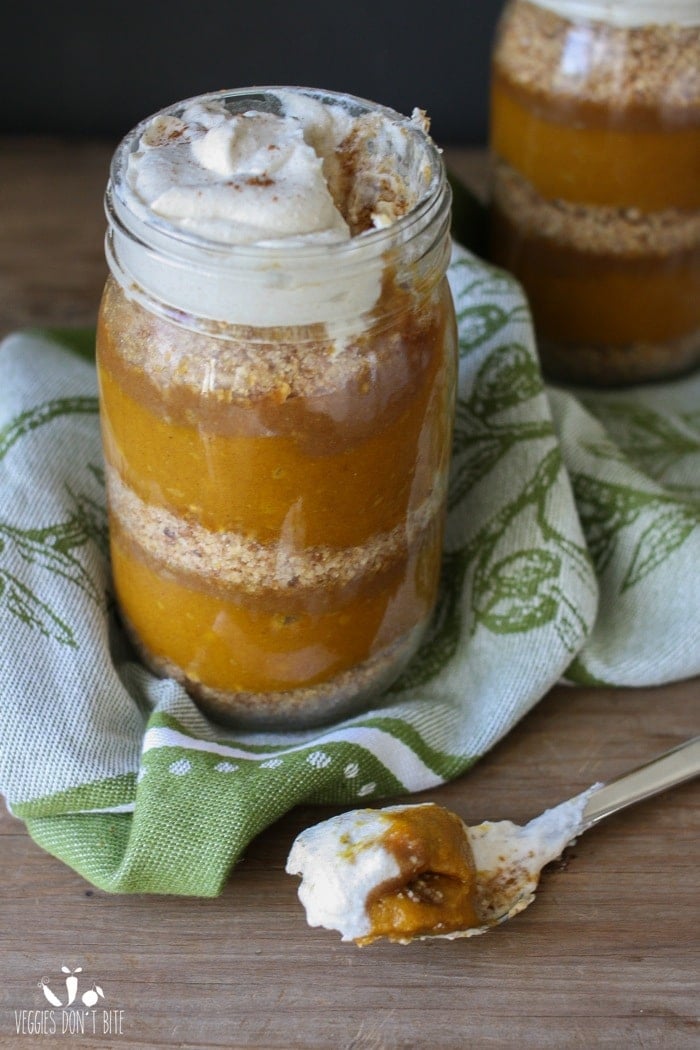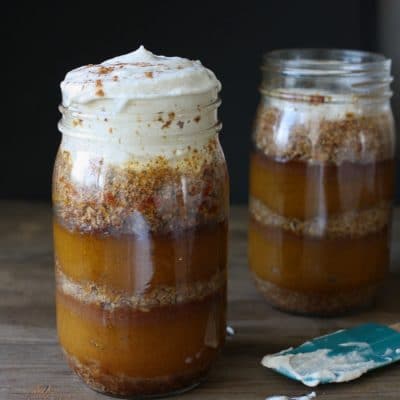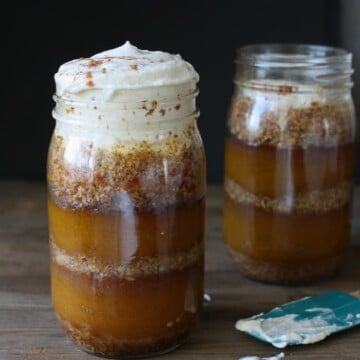 Raw or Baked Layered Pumpkin Caramel Pie in a Mason Jar
Rich, deep flavors of decadent fall come together to create this much healthier replacement for your next holiday dessert. You will never look at standard pumpkin pie the same!
Ingredients
Instructions
Preheat oven to 350 F (175 C) (if eating baked).

Put all dry topping ingredients, except coconut butter, into a food processor and pulse until chopped. Add coconut butter and pulse to combine. Set aside.

Put all pumpkin filling ingredients into food processor, blender or high speed blender and blend until smooth and creamy. Set aside.

Put all caramel layer ingredients into food processor, blender or high speed blender and blend until smooth. Set aside.

Remove can of coconut milk from refrigerator or freezer. Open and gently take off the top creamy layer leaving the watery liquid behind (you can save it for another use or throw away). Put the cream and caramel into a bowl and beat with stand or hand mixer until thick, light and whipped. I used my stand mixer and beat it for at least 5-7 minutes. If your cream is very cold, the outcome will be best.
Layer each jar as follows (these measurements are for the 16 ounce pint jars. Cut in half if using 8 ounce jelly jars. If using a square pan multiply each amount by 4 and layer in this order):
¼ to ⅓ cup dry topping (depending on how much topping you like)

⅓ cup pumpkin filling

2 tablespoons caramel layer

¼ to ⅓ cup dry topping (depending on how much topping you like)

⅓ cup pumpkin filling

2 tablespoons caramel layer

¼ to ⅓ cup dry topping (depending on how much topping you like)

¼ of your whipped topping (only if eating raw, if baking put on when you serve it)

If baking, bake jars/pan for 15-20 minutes or until it begins to get golden. Allow to cool and serve with whipped topping on top.
Notes
To make these into smaller servings use eight 8 ounce jelly jars. When layering, cut amount in each step by half. This can also be made in a sqaure pan. The presentation won't be as fun, but the taste will still be amazing!
Each part makes a little bit more than what you need. You can use the rest to make a fifth smaller serving if you want, save to use for something else later, or even just eat it like I did. The caramel and pumpkin layer also freeze well!
For the whipped topping, I got the best consistency when the can was very very cold. It will still work if not as cold, but it won't get as fluffy and light.
The nutritional yeast is essential for that rich buttery taste. Feel free to leave it out but you get a really nice deep flavor with it in.
If you want to make this nut free, use more oats in place of the pecans, this will reduce the "buttery" flavor of your dry topping, but will still be good.
If baking you can still make whipped topping and store it in the fridge to top with when you are ready to serve it.
Tips to prep ahead
Make each layer in advance and store in the refrigerator. Take out the morning you are putting it together to allow them to return to room temperature before assembling.
Recipe by Veggies Don't Bite, visit our site for more great plant-based recipes.
Nutrition
Calories: 346kcalCarbohydrates: 43gProtein: 6gFat: 17gSaturated Fat: 4gSodium: 207mgPotassium: 395mgFiber: 8gSugar: 22gVitamin A: 4145IUVitamin C: 1.8mgCalcium: 45mgIron: 2.6mg
Nutrition and metric information should be considered an estimate.
Never miss a recipe!
Sign up here and get a FREE quick and easy meal guide!