A flavorful lemon hemp seed pesto full of greens, protein and a hint of lemon. Creamy and filling, toss with your favorite pasta or salad for a delicious, healthy and super easy meal!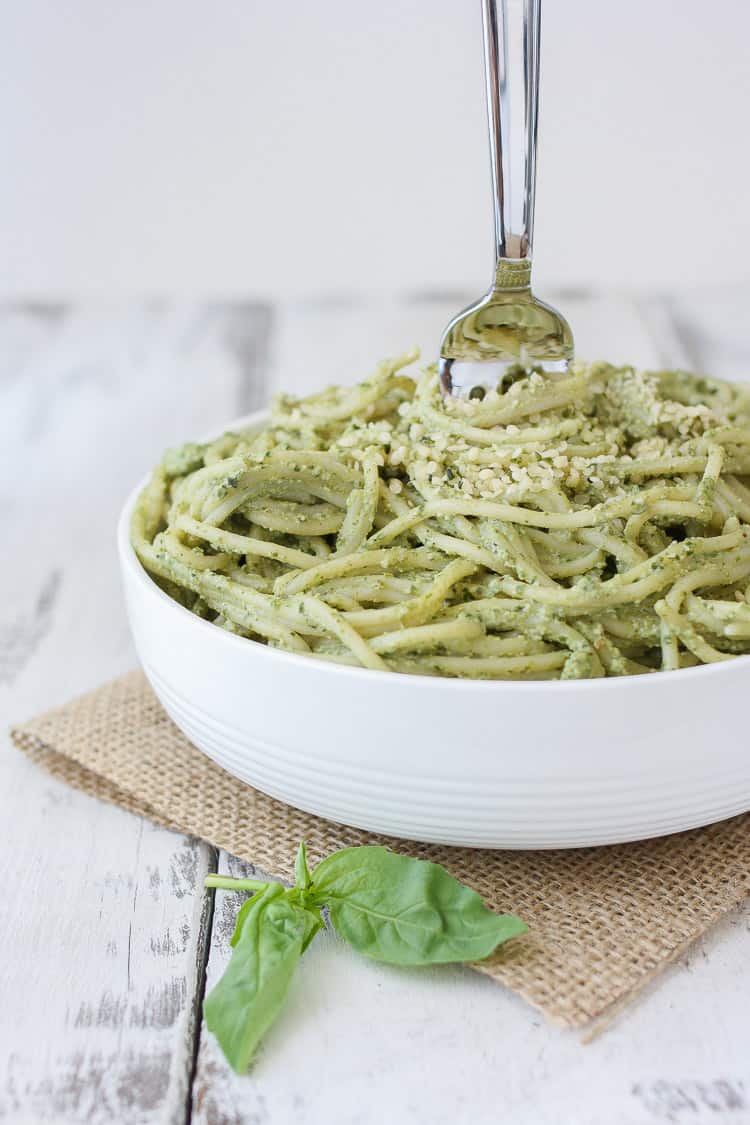 This is a sponsored conversation written by me on behalf of Manitoba Harvest. The opinions and text are all mine.
As if it isn't obvious already, our family loves pasta. Creating pasta sauces and dishes is my happy place, and this one is no exception. Although I have created a few pestos already, in our house, one can never have too many pestos so may as well make another!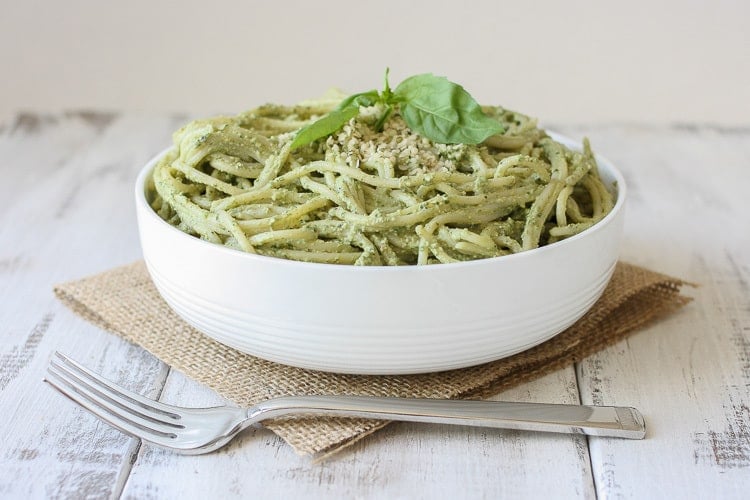 Hemp Hearts hemp seeds by Manitoba Harvest have been our latest obsession. I absolutely love them, as can be seen by my most recent creation Cauliflower Hemp Burgers. They were such a hit in our family, that I wanted to make something else using hemp seeds, so pesto it was! And what perfect timing as this is Hemp History Week!! Hemp seeds are a great source of protein (among other things) and I love using them. Especially when they are mixed with veggies or greens, making them a one sauce kind of meal. What is better than that?! My boys love pesto so much they eat it with their hands straight out of the bowl. It's so incredibly messy, but I try my hardest to put my Type A personality aside and let them go to town. I can't really complain when they are stuffing their face with truckloads of goodness. And if I can time it for when I have plans and am off duty, even better!
Hemp seeds are used in this pesto as the main source of heartiness, leaving it with an almost creamy consistency. I combined them with both spinach and basil for added goodness and threw in a splash of lemon to give it a tart little twist. It worked fabulous and we now have a new favorite pesto! My favorite part is how easy this is to make, my three year old can even do it! Seriously...I prepped it and he put it all in the food processor and mixed until ready! I'm thinking I need a new category on my blog, "So easy your 3 year old can do it!" Lol! We made a giant batch and froze some for another day, perfection.
In honor of my love of hemp seeds and Hemp History Week, I have teamed up with Manitoba Harvest to giveaway a bag of Hemp Hearts hemp seeds! How cool is that?! In order to enter, you need to go to my Facebook Page and click on the blue "Giveaway" box.
From there you will see how to enter. Let me know if you get confused or have any questions! Good luck!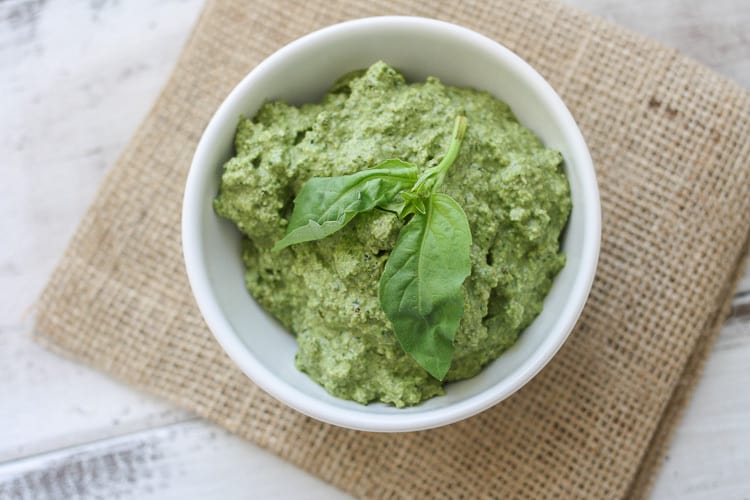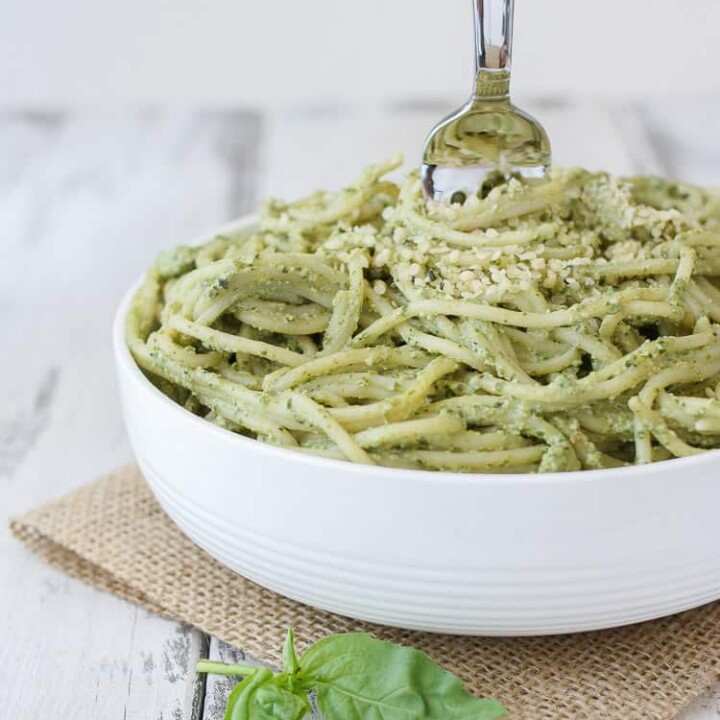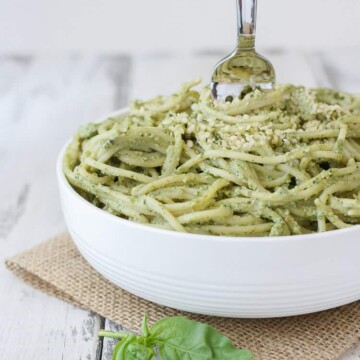 Lemon Hempseed Pesto
A flavorful pesto full of greens, protein and a hint of lemon. Creamy and filling, this is a one sauce meal!
Ingredients
1 cup baby spinach
2 cups fresh basil
1 cup hemp seeds
1 tablespoon crushed garlic
juice of 1 small lemon
Your favorite oil for using in sauces to taste optional
¼ - ½ cup water or veggie broth to bring to desired consistency
Instructions
Place all ingredients in a food processor, blender or high speed blender and blend until well mixed, adding water or veggie broth to bring the pesto to desired consistency. Taste and adjust seasonings to desired taste.
Notes
The lemon gives this pesto a tangy taste, so if you prefer less tang, cut the lemon down.
I like to double or triple the recipe and store in the freezer for quick meals. If using oil, you will need just a splash if using a pure high quality oil because the taste is much more flavorful, so even though you may pay more, less is more when using it and in the end you won't be buying as much.
UPDATE: I made this recipe again with an added layer of flavor. One of my best friends, and godmother to my youngest son, is part of the Round Pond Estate family and we are lucky enough to have tasted many of their amazing products.
One of which is the meyer lemon olive oil. This olive oil goes wonderfully in this recipe! If you ever have a chance to try it out, do! The same goes for all of their phenomenal products: wines, olive oils, vinegars and citrus syrups.
The Round Pond estate is a beautiful property in Napa, California with gorgeous views and gardens. Their wine and olive oil tastings are awesome. I feel blessed to have had many visits there and I always look forward to our next one!
Recipe by Veggies Don't Bite, visit our site for more great plant-based recipes.
Nutrition
Calories: 594kcalCarbohydrates: 9gProtein: 38gFat: 45gSaturated Fat: 3gCholesterol: 0mgSodium: 13mgPotassium: 154mgFiber: 3gSugar: 0gVitamin A: 3190IUVitamin C: 9.8mgCalcium: 204mgIron: 15.1mg
Nutrition and metric information should be considered an estimate.
Never miss a recipe!
Sign up here and get a FREE quick and easy meal guide!