Delicious and easy raw churro cheesecakes made with no refined sugar, gluten free and filled with protein. This is one sweet treat you don't want to pass up!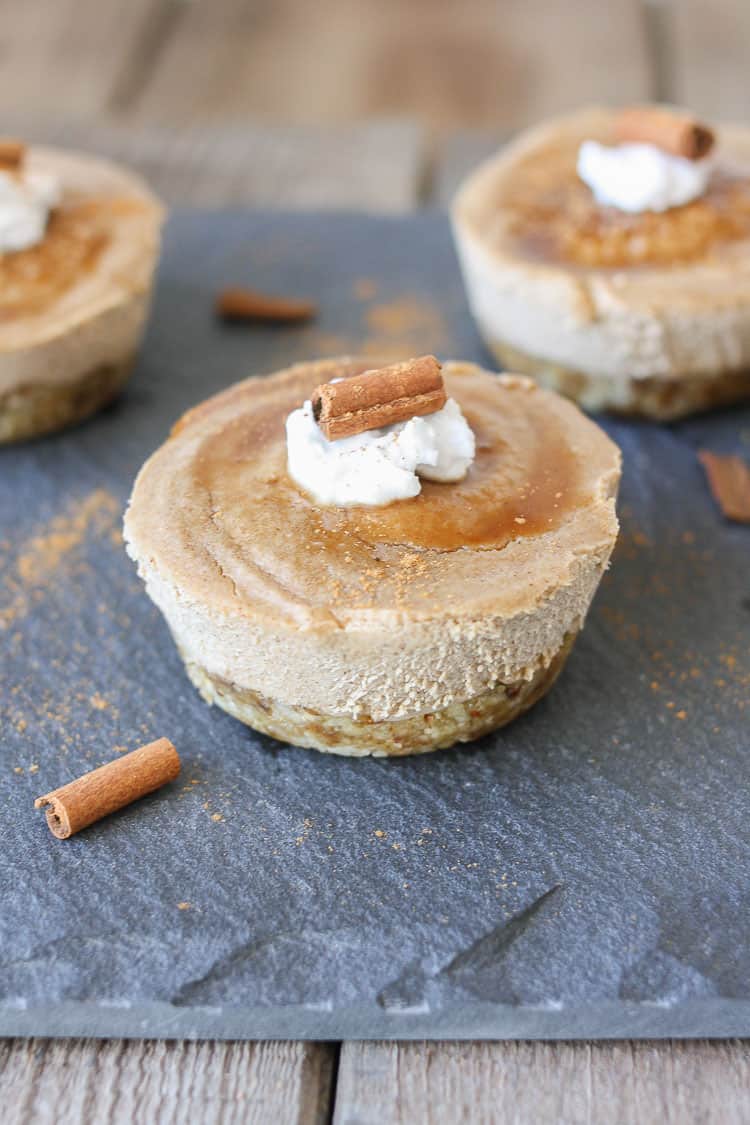 I had this plan to post a 3 course recipe menu for Cinco de Mayo this week, kicking it off with my Spicy "Refried" Lentil Dip, but with the popularity of my "sneak peak" of the dessert I was planning on posting at the end, things changed and dessert somehow took center stage. So here we go, dessert before the main course. I had to listen to all of you and give you what you want! Plus, you can't go wrong with eating dessert first, can you?
I had been planning to dive into the world of raw desserts for quite some time, but nothing really called my name until now. I am hosting a Cinco de Mayo themed get together for my girls Bunco group next week and dessert is always something amazing when others host, so I knew I needed something good. I wanted to make it myself and I wanted it to be vegan. That's when the lightbulb went off that it was time to try my hand at a raw vegan cheesecake. To make it something different, something they had never had before, I needed a good twist, and the idea of a churro flavored cheesecake hit. What says Cinco de Mayo better than churros?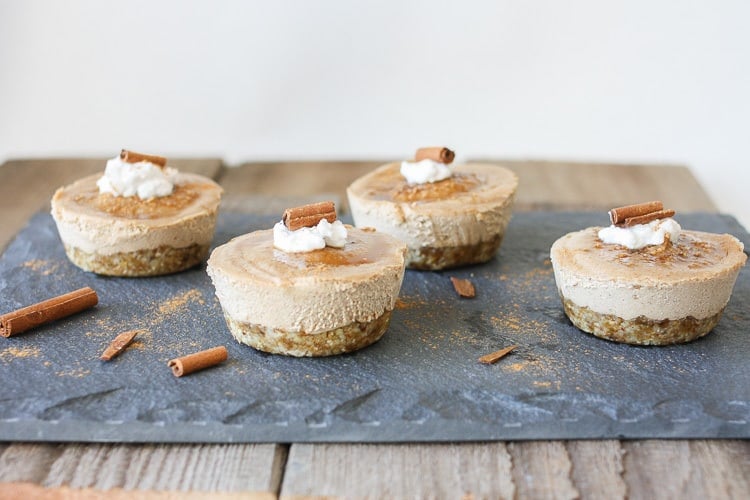 I got to work in the kitchen and began putting together ingredients. To reach the flavor I was looking for I used plenty of cinnamon, my signature date paste, some coconut palm sugar to bring out the signature sugary churro flavor and a touch of molasses for that deep smooth taste. Cashews were my base, as in most raw cheesecakes, and the crust was an amazing combination of dates pulsed with walnuts, macadamia nuts and pecans. The blend of these three nuts went together perfectly. A touch of salt to complement the sweet and I hit the target! My husband literally said nothing the whole time he was taste testing for me. His only words were "This. Is. Perfect." and I didn't take it lightly because his signature reaction is "Yeah, it's good," which drives me nuts because as a chef I want enthusiasm or constructive criticism. So apparently, this recipe struck a cord and Raw Churro Cheesecake Cups became the new family favorite!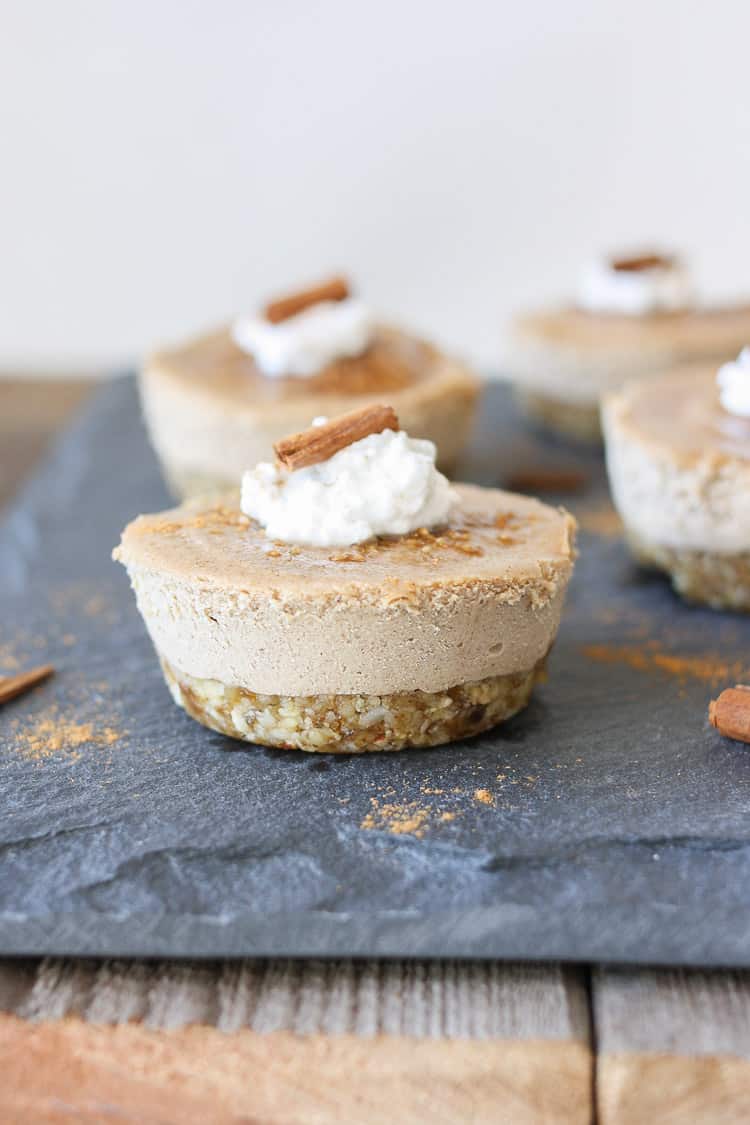 The decor and garnish for these are totally optional, they are delicious with or without it, so to make this a quick and easy recipe skip the extras. But if you're going for show and want to impress with style, then go for it! I hope you enjoy them as much as we do, and keep checking back for all the other raw cheesecake flavors I have on my agenda!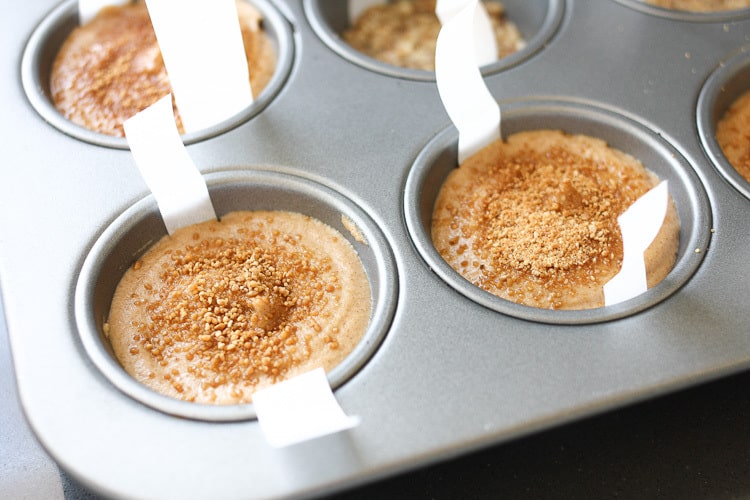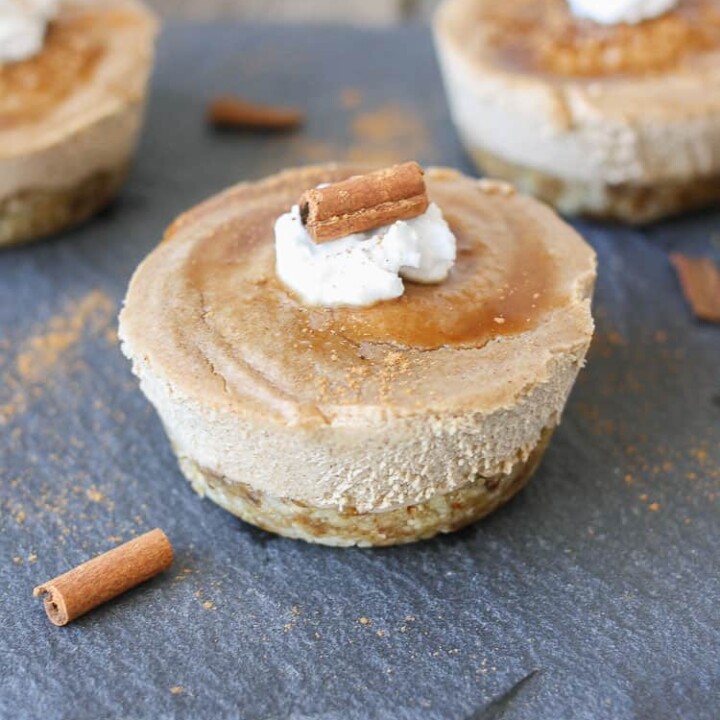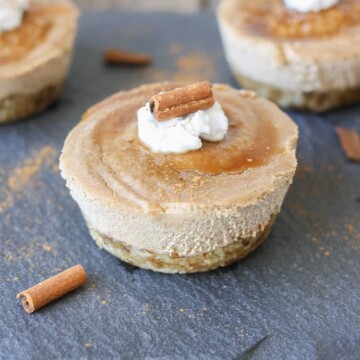 Raw Churro Cheesecake Cups
Churro cheesecake with no refined sugar, gluten free and filled with protein. This is one sweet treat you don't want to pass up!
Ingredients
Vanilla Coconut Whipped Cream Garnish
1 can full fat coconut milk , placed in refrigerator overnight, or you can buy actual coconut cream
the seeds from one vanilla bean
1-2 tablespoons date paste , can also use maple syrup or coconut sugar
Other garnish as décor (optional):
1 cinnamon stick broken into pieces
coconut palm sugar to sprinkle on top
cinnamon to sprinkle on top
Instructions
Soak your cashews overnight making sure to fill bowl with plenty of water as cashews expand quite a bit. If you don't have time, soak at least 2-3 hours. The longer you soak them, the smoother the consistency.

Place all crust ingredients in a food processor, blender or high speed blender and pulse until nuts and dates are chopped well.

Drop 3 spoonfuls of crust mixture in each section of a muffin tin, making sure to place on top of parchment strips if using. Press down until mixture is firm and creates a crust like bottom layer.

Next, put all filling ingredients in a food processor, blender or high speed blender and blend until smooth and creamy. If you are not using a high speed blender, then you will have to blend for a while to get a smooth consistency but eventually you will. When I use my food processor it takes about 5-7 minutes.

Put 3 spoonfuls of filling on top of the crust layer in the muffin tins. You may need to add more, depending on your tins. You want the filling layer to be about ¼ to ½ inch from the top of the tin. Then sprinkle some coconut palm sugar over the top of each cup.

Freeze overnight for best results, or for at least 2 hours. Remove from freezer about 10 minutes before you are ready to serve, but not much longer or they may get too soft.

Meanwhile, to make the optional garnish, take the can of coconut milk out of the refrigerator and open it.

Using a spoon, remove the harder white thick layer from the top, reserving the clear coconut water for a later use if you want. It makes a great addition to smoothies! Using a hand or stand mixer, mix the coconut cream layer with the rest of the ingredients until light and fluffy.

Once they are frozen and ready, pull up each cheesecake cup with the parchment paper tabs and place on a serving platter.

Use a small spoon to top each cheesecake cup with a dollop of coconut cream, sprinkle with a touch of cinnamon and place a piece of cinnamon stick on top. This is all for décor so remember that it is optional. Enjoy!
Notes
Before I start, I cut strips of parchment paper (about ½ inch wide and 4-6 inches long) to put under each cheesecake cup.
This makes tab-like sides that you can pull up easily when removing them and so that the dessert cups don't fall apart. The coconut oil is optional, but the consistency will be a little bit different if you leave it out.
You can also sub another sweetener for the dates and date paste, but again consistency may be different.
I used some coconut palm sugar in the filling instead of all date paste, purely because I wanted to hit that signature churro flavor of sugar mixed with cinnamon, but if you wanted to you could use all date paste.
For the coconut cream garnish, you can also use a sweetener of choice. Date paste is light and fluffy so works well as a sweetener as far as texture goes, whereas something liquid like maple syrup may affect the fluffiness of the coconut cream. But the taste will still be great!
The garnishes are all optional so if you're short on time, leave them out. Or you can even just use store bought whipped cream, still delicious!
Recipe by Veggies Don't Bite, visit our site for more great plant-based recipes.
Nutrition
Calories: 484kcalCarbohydrates: 34gProtein: 7gFat: 38gSaturated Fat: 15gCholesterol: 0mgSodium: 89mgPotassium: 471mgFiber: 4gSugar: 20gVitamin A: 5IUVitamin C: 0.2mgCalcium: 82mgIron: 3.2mg
Nutrition and metric information should be considered an estimate.
Never miss a recipe!
Sign up here and get a FREE quick and easy meal guide!