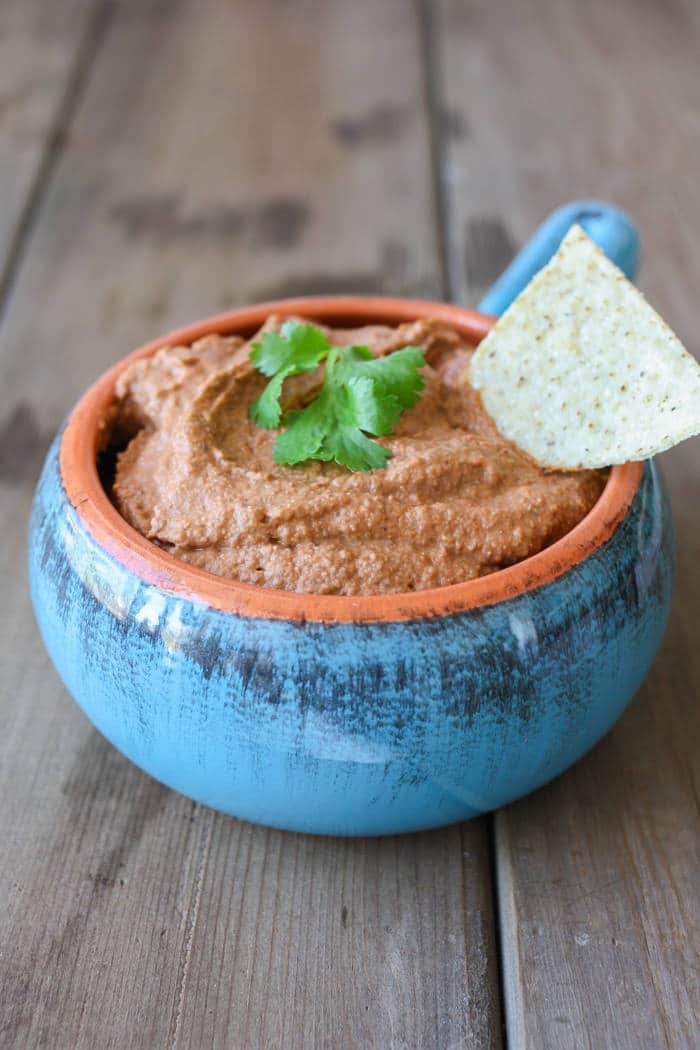 Keeping up with holiday recipes for the blog has been a challenge for me. By the time I realize a holiday is coming, it is too late to come up with, make, photograph and write about anything but a simple quick recipe idea. And even that doesn't happen…so for Cinco de Mayo this year, I decided to be super organized and present a full course menu the week before!  My main course came pretty easy, and the dessert was not far behind. But a first course stumped me. I almost gave up, until this amazing little accident happened. And "refried" lentils were born!
This appetizer was the result of a few leftover parts to another meal. I blended them all together, tasted the results and was more than pleasantly surprised! It was really good! Grabbing a few chips, I continued to eat away and realized that my new appetizer was born. So I grabbed my camera, set up the shot and got a few good pics to post. This is a fairly simple but delicious and original recipe that will grab the attention of all your guests at your next get together. Give it a try!

[recipe title= "Spicy Refried Lentil Dip" servings= "Makes 2 cups"]A healthy take on a traditional bean dip. Full of iron and protein, this tasty dish will keep you dipping for more!
Ingredients:
1 cup precooked lentils
2 tablespoons diced green chiles
4 Cherry Bomb peppers (or other spicy pepper of choice)
note: You can make this less spicy by taking the seeds out of the peppers or using mild peppers. You can also roast your own green chiles but to make it easy use the canned version.
Instructions:
Preheat oven to 400. Roast Cherry Bomb peppers for 15-20 minutes until soft and skin peels off easily. Peel off skins.
Place all ingredients into a food processor, blender, or high speed blender and mix until pureed. If it isn't warm enough, you can warm the dip more on the stove or in the microwave. Serve warm with tortilla chips. [/recipe]