Creamy and bursting with flavor, you won't be able to stop dipping once you start. You'd never guess this healthy vegan bean dip is made from lentils!
This recipe was originally published on 4/30/14
I love a good dip, and I love coming up with unique combinations. So it's no surprise to find me in the kitchen experimenting with out of the box ideas. I bet you've never tried a refried dip made with lentils!
Vegan Bean Dip
There are so many kids of vegan dips. Anything these days can be recreated into a vegan version (or at least I can strive to!), but bean dip alone is usually vegan by default as long as it doesn't have add ins like cheese or meat.
A few vegan dips I have on here are:
What is bean dip made of?
Traditionally, refried beans are made from pinto beans. You also often find them made with black beans. The beans are cooked and mashed with a variety of ingredients to make the smooth pasty like beans we are used to seeing.
I wanted to step out of the box a bit, so instead of using the traditional beans, I went with lentils. Lentils are powerhouses and give us all that beans do plus more! There are many varieties: red, yellow, brown, green and even black!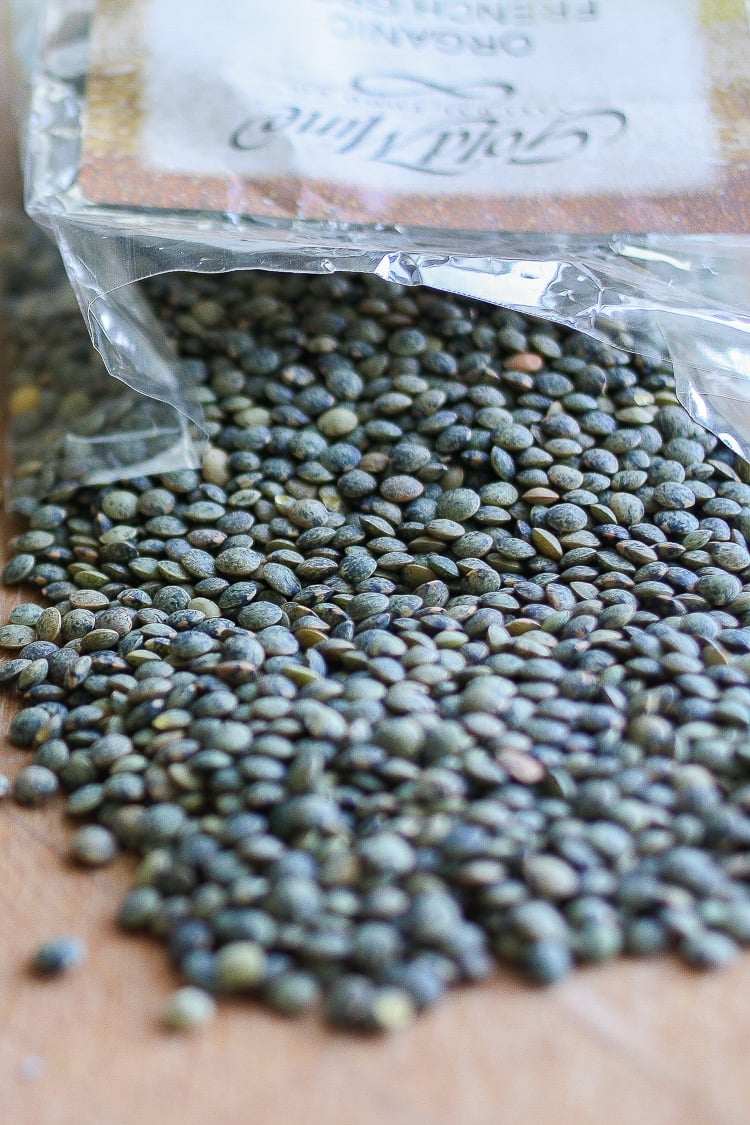 Are lentils healthy for you?
Lentils are amazing.  They are packed with protein, fiber and iron so they make a great meat substitute. They are low in fat so perfect for those watching their fat intake. And also give a big dose of folate and potassium so they are great for heart health.
On top of it all, they are so versatile and can be used for almost any type of dish. Even as a great healthy sub for refried beans!
Are lentils protein or carb?
Eating lentils keeps your fat and calorie intake low, while boosting your protein and fiber. They have a low glycemic index so are great for those looking to keep their blood sugar regulated.
Fiber is a complex carb, so although lentils do have carbs, their make up is more of the complex carb side versus the simple carbs like sugar. So your body doesn't process the carbs from eating lentils like it would that of a candy bar.
Because of their high protein content, they keep you full longer and give you the energy you need to go about your day!
How to make a vegan bean dip from lentils
To get the texture of this dip similar to traditional refried bean dip, I used a food processor to puree the lentils and mash them well. Because lentils are smaller than pinto or black beans, it's harder to mash them in a pot on the stove.
For the flavor, I added a touch of vegan cashew cream to help smooth it out, and then I used green chiles, and seasoning to give it some extra omph!
It's really a few simple steps and you've got vegan bean dip in mere minutes:
Add all the ingredients into a food processor. If your lentils aren't cooked make sure to cook them well, you can do this the day before to make it easy.
Blend until you get the consistency you want!
Serve with chips, or mix into your favorite recipe. Like these healthy crunchy taco cups!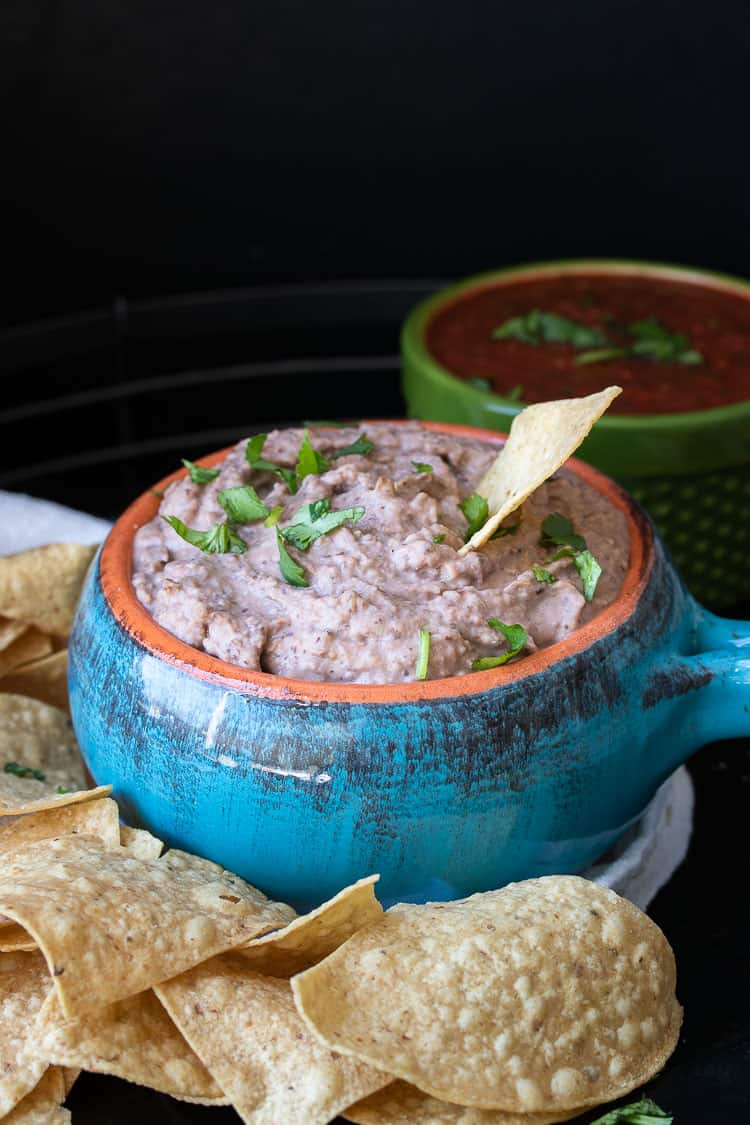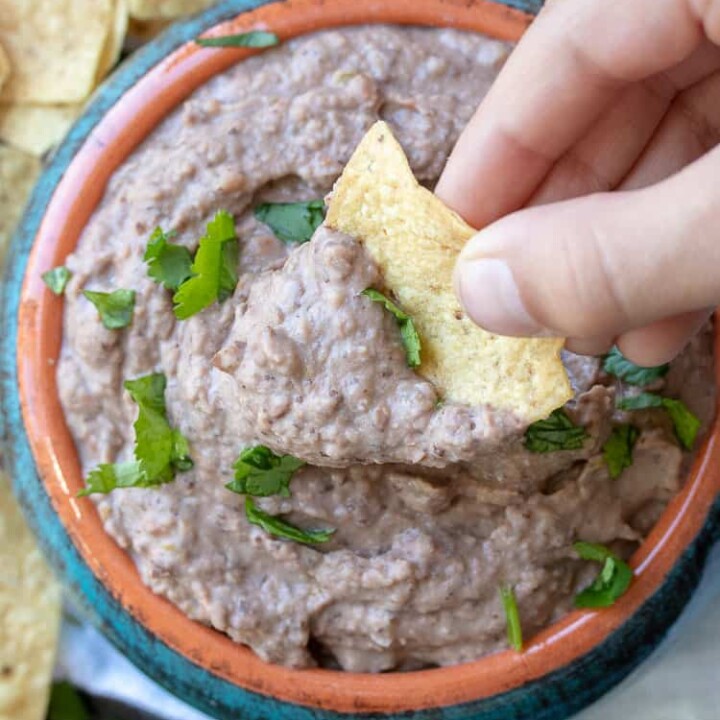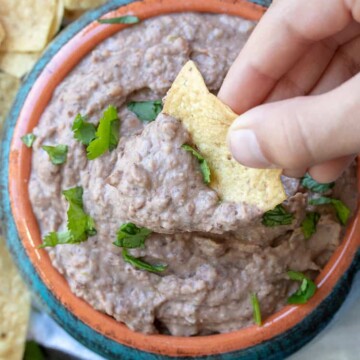 Healthy Vegan Bean Dip
Creamy and bursting with flavor, you won't be able to stop dipping once you start. You'd never guess this healthy vegan bean dip is made from lentils!
Instructions
Place all ingredients into a food processor and blend until pureed.

You can serve warm or cold.

Notes
makes 1 ¾ cups, serving size is ¼ cup
cook time is only if you need to cook your lentils, if you use precooked then there is no cooking
Recipe by Veggies Don't Bite, visit our site for more great plant-based recipes.
Nutrition
Calories: 91kcalCarbohydrates: 8gProtein: 4gFat: 4gSaturated Fat: 0gPolyunsaturated Fat: 0gMonounsaturated Fat: 0gTrans Fat: 0gCholesterol: 0mgSodium: 96mgPotassium: 196mgFiber: 2gSugar: 1gVitamin A: 20IUVitamin C: 2.6mgCalcium: 13mgIron: 1.1mg
Nutrition and metric information should be considered an estimate.
Never miss a recipe!
Sign up here and get a FREE quick and easy meal guide!