These smoky garlic pumpkin seeds are roasted until crunchy and are so flavorful. They are easy to make and the perfect healthy snack!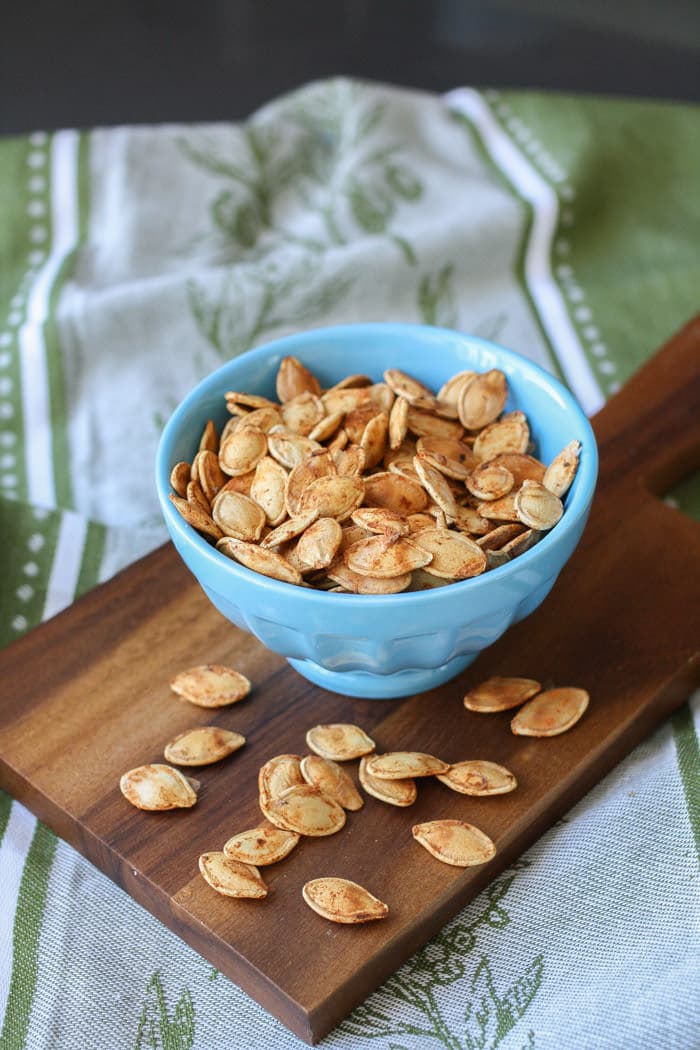 The best thing about carving a pumpkin, is the seeds. Because let's be real, spending hours with three kids trying to recreate the Picasso they envision on a slippery messy pumpkin isn't exactly what I call amazing.
Smoky Garlic Pumpkin Seeds
Store bought pumpkin seeds don't come close to comparing to homemade. Making your own takes more time, but the crunch and flavor you get is well worth the effort!
What are the benefits of eating pumpkin seeds?
Pumpkin seeds have healthy fats and loads of fiber, which are needed by our bodies in order to function. They also are an excellent source of calcium, magnesium, zinc and potassium.
Also, they are a natural source of tryptophan, so if you're having trouble sleeping grab a handful at night!
Are salted pumpkin seeds good for you?
Unless you have a medical reason to avoid salt, these garlic pumpkin seeds are an excellent snack. Just make sure you don't overdue it. If you have to avoid salt however, adding seasoning can still help make the flavor delicious.
The nutrients found in pumpkin seeds can help your heart health so although when they are salted you do get some extra sodium, the healthy benefits are still great.
I also use pink salt in my kitchen, which contains several minerals that table salt doesn't and even though they aren't in significant amounts it can't hurt!

How do you store fresh pumpkin seeds overnight?
If you clean your pumpkin out and are not ready to roast them, you can store them in an airtight container for about a week. Clean them well first, and let them dry or dry them with a towel.
If you roast them and have leftovers, make sure to allow them to cool completely then store them in an airtight container on the counter.
How do you clean pumpkin seeds?
So this is the part we all dread. The gooey, slimy orange pulp. I have a trick that I've used for years so that you won't go into mommy meltdown. All you need to do is
Put the pumpkin seeds and the pulp that won't let go in a big bowl.
Fill the bowl with water.
Using your hands separate the seeds from the pulp in the water, it's much easier.
The pumpkin seeds will begin to float once they are separated and the pulp will sink.
Using a slotted spoon, or your hands, put the seeds in a colander and rinse. It's okay if they are still a bit slimy or you haven't removed all of the pulp, it will bake away when roasting.
Did you know that pumpkin is also used in facials to help exfoliate and make your skin bright and fresh? Look at this as a hand facial. For free!
How to Roast Raw Pumpkin Seeds
These are so easy to make! The worst part is cleaning out those seeds (see my tips above!). But once you do that, it's smooth sailing. Or roasting really.
Clean and dry the pumpkin seeds.
Toss with the other ingredients.
Roast until crispy!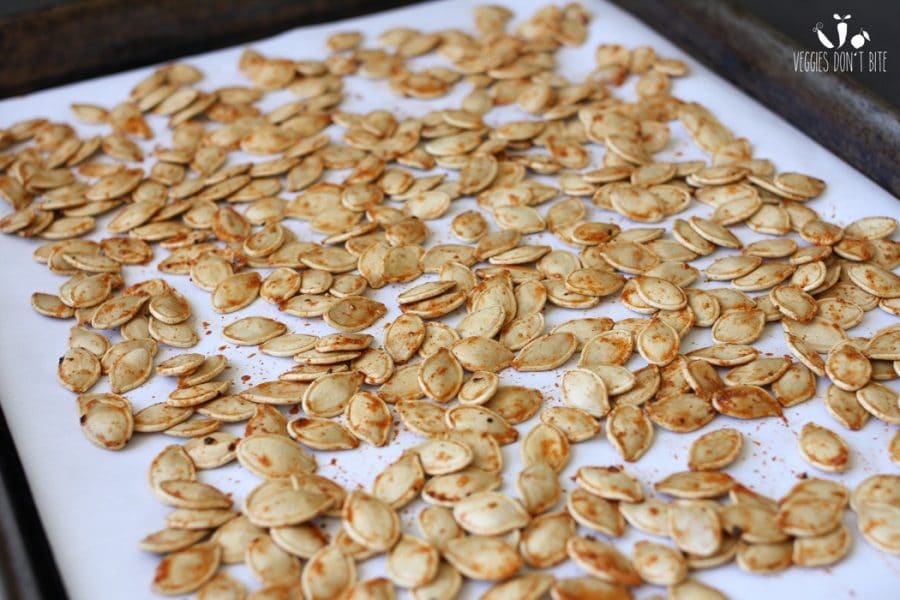 Other roasted pumpkin seeds seasoning ideas
If you're a huge fan of these, and I'd be shocked if you weren't, I have loads of other ideas to keep it exciting! There is no boundary when it comes to making a variety of pumpkin seed flavors. Here are our favorite:
Ranch: parsley, garlic powder, minced onion, onion powder, dill, black pepper, ground mustard
Italian: fennel seed, basil, oregano, thyme, lemon pepper, garlic powder, crushed red pepper
Smoky BBQ: smoked paprika, chili powder, garlic powder, touch of maple or sugar
Taco: cumin, chili powder, garlic powder, crushed red pepper, oregano
Greek: oregano, dill, garlic powder
Lemon: lemon pepper
Spicy: hot sauce, chipotle powder, garlic powder, lemon pepper
Asian: soy sauce or teriyaki, garlic powder, ground ginger
Indian: curry powder, turmeric, garlic powder
Churro: cinnamon, sugar, maple syrup
Flavors of fall: pumpkin spice, sugar, maple syrup
How to use roasted pumpkin seeds
Other than shoving these into your face by the fistful, there are other ways you can use these. We love texture in our food, so adding these to meals gives an extra crunch! Here are some of our favorite ways to use them:
As croutons for a salad
In sandwiches and wraps
Ground as part of a crispy coating
In trail mix
In cookies
As part of a tart or pie crust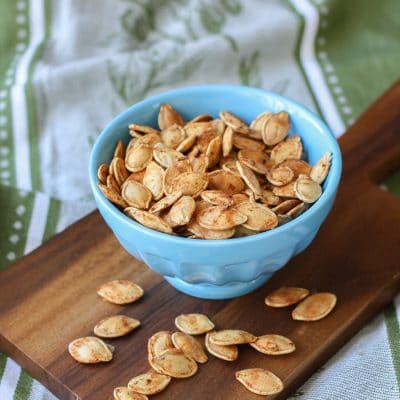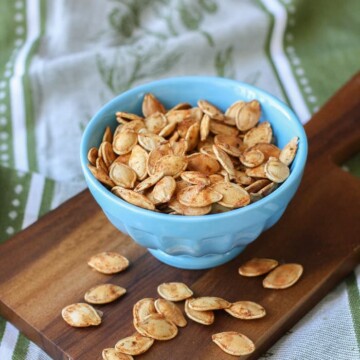 Smoky Garlic Pumpkin Seeds
These smoky garlic pumpkin seeds are roasted until crunchy and are so flavorful. They are easy to make and the perfect healthy snack!
Ingredients
2 cups raw pumpkin seeds , from a pumpkin
1 tablespoon  smoked paprika
1 teaspoon  garlic powder
½ teaspoon  sea salt , add less if you are low sodium
drizzle of your favorite oil for roasting , optional
Instructions
Preheat oven to 325 F/ 165 C

Rinse raw seeds in strainer and allow the water to drip out. If you aren't using oil, you don't want them completely dry, you still need a touch of wetness to hold the seasoning. If you are using oil, then dry them with a towel.

Take pumpkin seeds and put them in a bowl with the rest of the ingredients. Using your hands, massage seasoning into seeds to make sure they are coated well.

Place pumpkin seeds on a parchment lined cookie sheet, making sure to keep them in a single layer so they bake evenly.

Bake for 15 minutes, turn pan around and mix seeds a bit, then bake for an additional 10-15 minutes until seeds are browning and crispy.
Notes
This makes 2 cups seeds, so the serving size is ½ cup.
I started with ½ teaspoon salt and they turned out great, but feel free to add more if you like them saltier.
I made these both with and without oil. Both ways they turned out crispy and delicious!
Recipe by Veggies Don't Bite, visit our site for more great plant-based recipes.
Nutrition
Calories: 193kcalCarbohydrates: 6gProtein: 10gFat: 16gSaturated Fat: 2gPolyunsaturated Fat: 0gMonounsaturated Fat: 0gTrans Fat: 0gCholesterol: 0mgSodium: 265mgPotassium: 357mgFiber: 3gSugar: 0gVitamin A: 1820IUVitamin C: 0.6mgCalcium: 23mgIron: 3.7mg
Nutrition and metric information should be considered an estimate.
Never miss a recipe!
Sign up here and get a FREE quick and easy meal guide!