Hands down the best summer fruit salad recipe I've ever made! The key is in the secret sauce, literally. Customizable with any fruit and super kid friendly!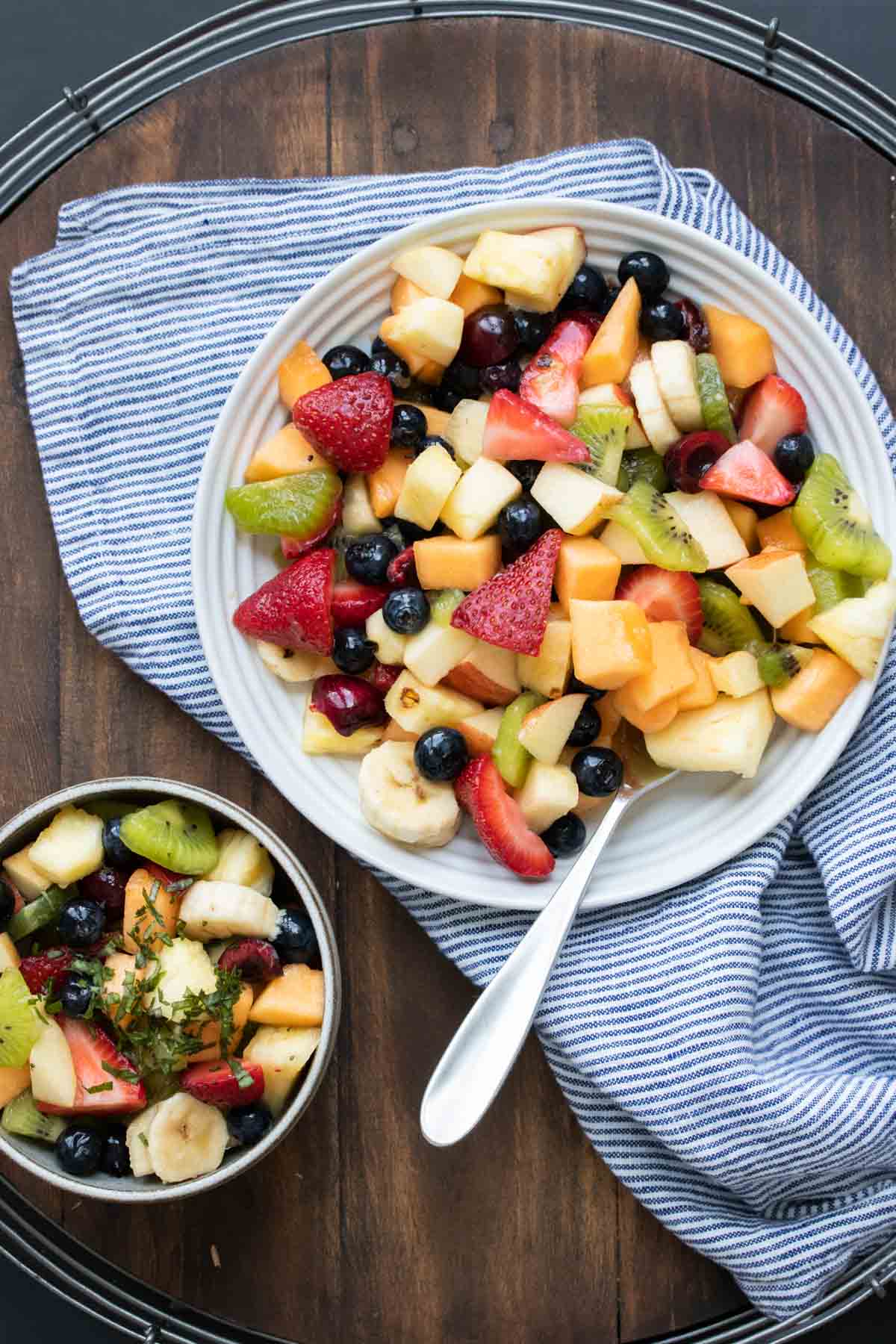 If you think fruit salad can't be made better, you're wrong. This simple trick will take your fruit salad game up multiple notches!
Fruit Salad Basics
While it may seem like a simple recipe, making a fruit salad has some specific tips so that it can be the best fruit salad you serve.
Ingredients
The obvious main ingredient for fruit salad, is fruit! The options are endless when it comes to what you can add. Here are some of our favorites:
Banana
Blueberries
Strawberries
Raspberries
Blackberries
Cherries
Grapes
Kiwi
Melon
Watermelon
Apple
Orange/tangerine
Mango
Pineapple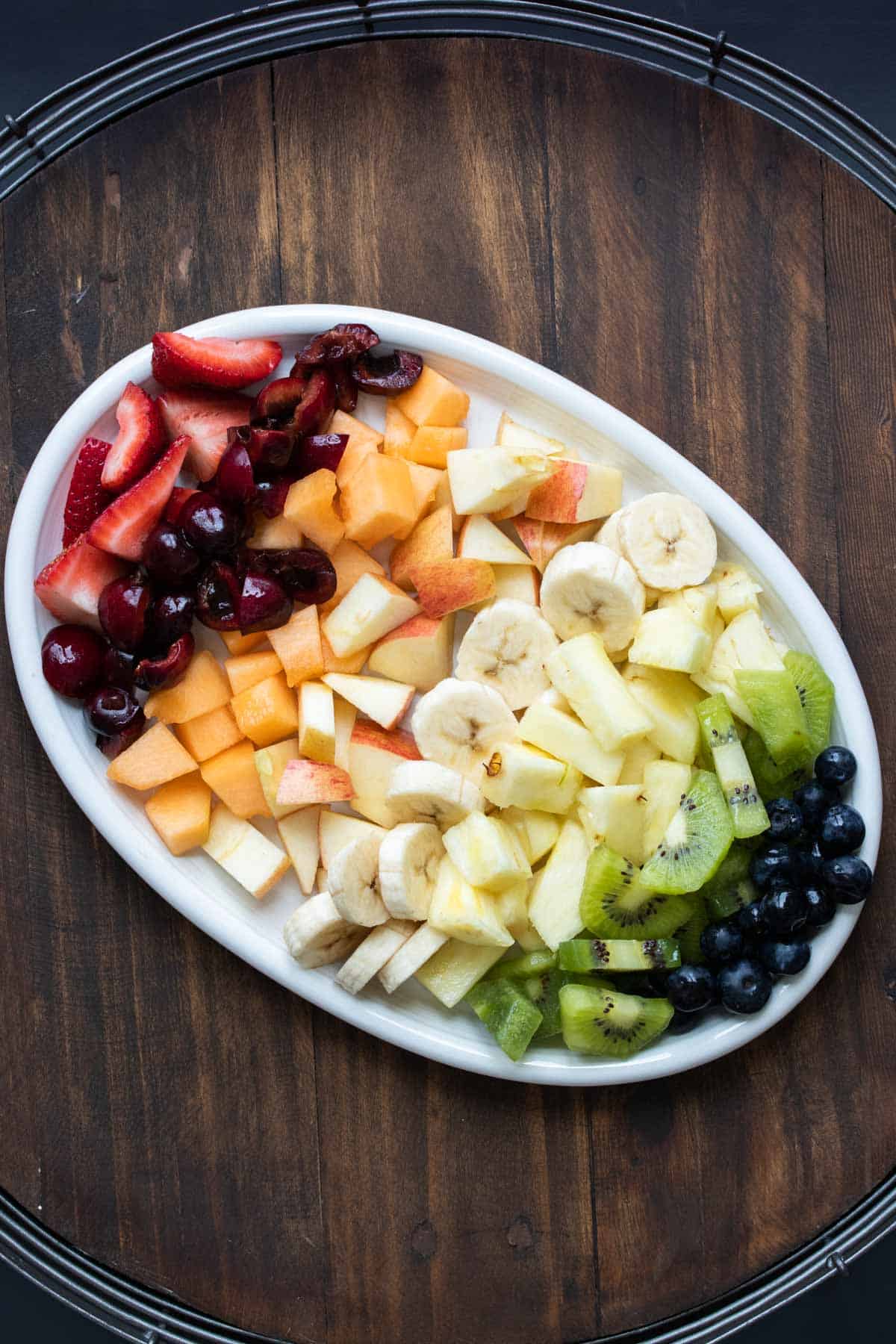 The ways I took this fruit salad from ok to amazing, was by adding a few extras many other don't:
A dressing/sauce
Chopped mint (or basil)
How to Make the Best Fruit Salad
Here are the simple steps you need to put this recipe together:
Cut the fruit.
Make the dressing.
Add to a bowl and mix!
Tips and Tricks
Add both sweet and tart fruits to keep the flavor balanced.
Use in season fruit. This assures it is the freshest and ripest for the best flavor.
Try adding passion fruit syrup to the dressing for a flavor boost!
Make sure to put even amounts of each fruit in so the flavors are evenly mixed.
Watermelon can express a lot of liquid, so be aware that it may overpower the whole salad in flavor.
Mix textures so your end result has a good range.
Clean the fruit. No one wants seeds and skin in their fruit salad!
Cut the pieces evenly. This makes it easier to eat.
Common Questions
How do you keep fruit salad from turning brown?
Browning is simply the oxygen reacting with the cut fruit. There are many ideas out there to keep this from happening, but none have perfect results.

Some say to add lemon juice, others say to dip the fruit in soda water, a honey mixture or salt water. But ultimately, you need to keep the cut fruit from being open in the air which isn't easier to do in fruit salad. Your best bet is to use a sheet of plastic to lay direction on the top of the fruit in the bowl.
Should grapes be cut for fruit salad?
It makes it easier to eat when all pieces are around the same size. So I would cut your grapes depending on the size you cut the other fruit.
What fruits should you not mix together?
Some nutritionists say that you shouldn't mix fruits together that take different times to digest or react differently in the gut. For example, watermelon digests really fast. So if you have a medical issue or are working on specific digestion issues, ask a medical professional when creating your fruit salad.
How do you keep leftovers fresh?
Since some fruit has a tendency to brown, it's best to eat fruit salad fresh. However, if you have leftovers, you can keep it in the fridge for 2-3 days before the texture and flavor start to deteriorate. I like to place a piece of plastic directly on top of the fruit in the bowl, then cover with an air tight lid.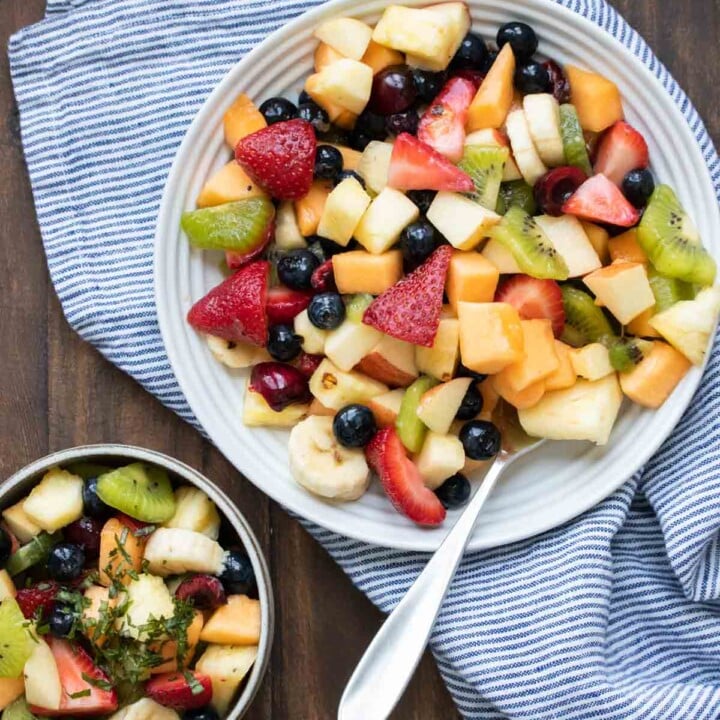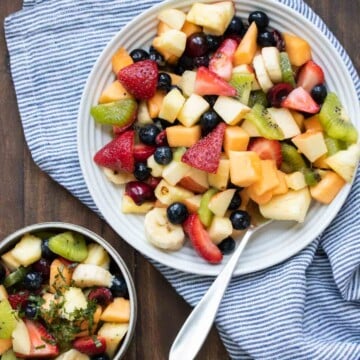 The Best Summer Fruit Salad
Hands down the best summer fruit salad recipe I've ever made! The key is in the secret sauce, literally. Customizable with any fruit and super kid friendly!
Ingredients
¾ cup cut strawberries
¾ cup blueberries
¾ cup cut melon
¾ cup cut pineapple
¾ cup cut apples
¾ cup cut kiwi
¾ cup halved cherries , pitted
1 banana , sliced
Fresh chopped mint , optional garnish (can also use basil)
Dressing
¼ cup fresh orange juice
2 tablespoons lemon juice
2 tablespoons maple syrup
1 tablespoon fresh lime juice
Instructions
Mix all the fruit into a large bowl.

Put all the dressing ingredients into a jar and shake well.

Add the dressing into the fruit and mix to incorporate.

Add fresh mint if desired and serve!
Notes
You can mix and match whatever fruit works for you! Just keep the overall amounts the same.
Recipe by Veggies Don't Bite, visit our site for more great plant-based recipes.
Nutrition
Calories: 130kcalCarbohydrates: 33gProtein: 2gFat: 1gSaturated Fat: 1gSodium: 9mgPotassium: 414mgFiber: 4gSugar: 23gVitamin A: 1313IUVitamin C: 70mgCalcium: 33mgIron: 1mg
Nutrition and metric information should be considered an estimate.
Never miss a recipe!
Sign up here and get a FREE quick and easy meal guide!