Vegan breakfast cookies filled with healthy ingredients and a touch of sweetness. Slightly crisp on the outside and perfectly fluffy in the middle make these the optimum way to start your day! Why wouldn't you want cookies for breakfast?
This post almost didn't happen. What started as a week free to catch up on some blog stuff turned into me sitting in bed for 36 hours with my 6 year old who was having another migraine attack. Luckily his migraine left as suddenly as it came on and since these vegan breakfast cookies are super fast to throw together, I was able to snap a few photos and get them up for you all. And I'm telling you, you want them. They are perfect for the crazy busy pulled in all directions type of person, I'm talking to you moms. You can finally throw a few cookies at your kids and call it a morning.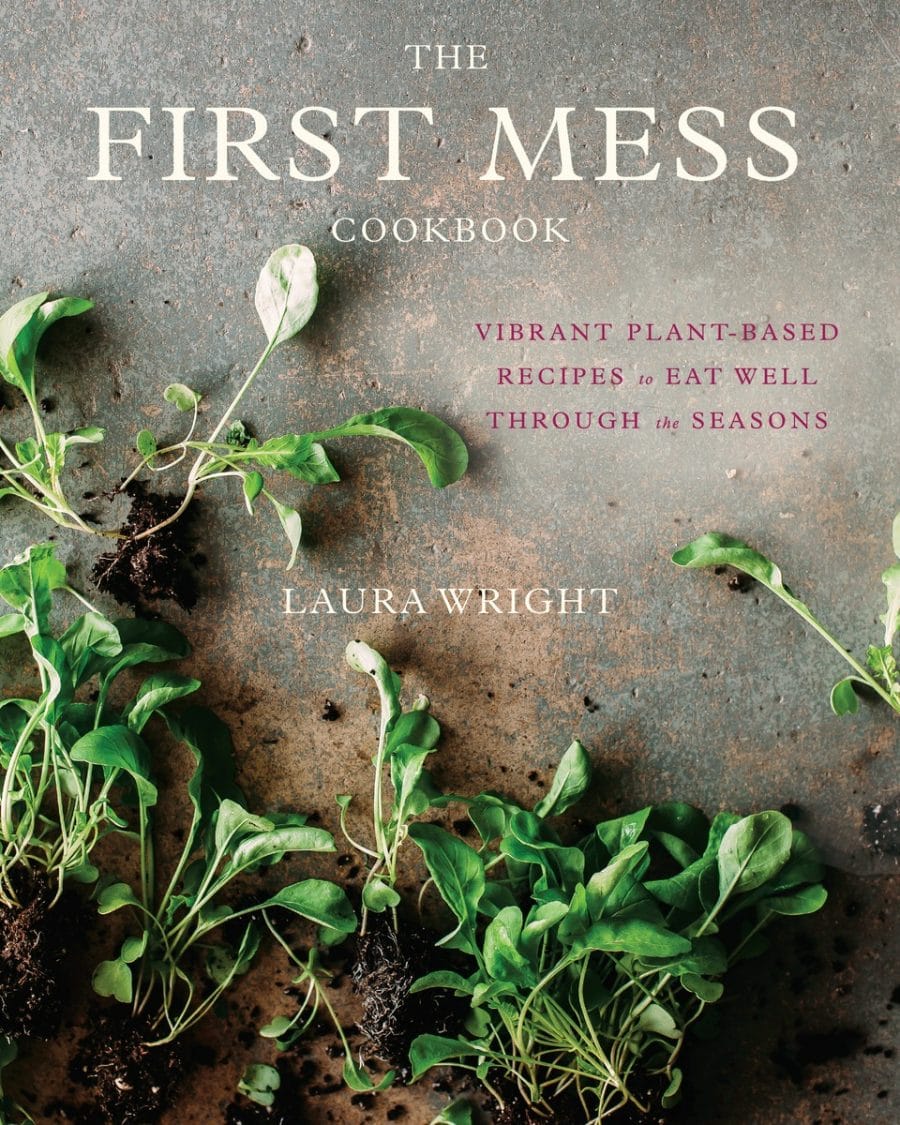 These amazing cookies come to you from  The First Mess Cookbook by Laura Wright. My first thought when I saw this book was: stunning.  The design and photography are so simplistically beautiful, totally my style. I loved flipping through the pages and losing myself in all the photos. The recipes look amazing and I can't wait to delve in and try more. After I eat my way out of these vegan breakfast cookies that is, because I may have been instructed by the monster mafia to double my second batch (so much for mother's day and them baking for me).
These cookies remind me a little bit of my Chunky Monkey Cookies I created way back when I first started this blog. They are banana and oat based, plus nut butter for fat (I omitted the coconut oil because I didn't have any and the nut butter has plenty of fat to keep them moist), and are filled with yummy extras like nuts (I used pecans), dried blueberries and pumpkin seeds. Laura's recipes are all like this, filled with healthy delicious flavors for every season. I love how the book is organized by meal type and how the photos draw you in. Her style is much like mine in that each picture is simple without a lot of extra prop fluff. I love to focus on the food when I shoot and I appreciate that concept when I see it.
Other recipes in The First Mess Cookbook:
Burrito Stuffed Sweet Potatoes
Eggplant "Bolognese" Pasta
Gingered Brussels Sprout and Shiitake Pot Stickers
Weeknight Root Vegetable Dal
 Meyer Lemon Romanesco Glow Salad
Vanilla Corn Cake with Roasted Strawberries
Like what you're seeing? I have a bit of drool all over again. Lucky for you, if you scroll down below the recipe you can enter to win your very own copy of this book (US and Canada only)! Love being able to give you all such great things!
Vegan Breakfast Cookies From The First Mess Cookbook
Most mornings I wake up early enough to sit down and enjoy my breakfast at home while I read the news. On those odd days when I find myself flying out the door, these cookies work nicely. They're just sweet enough to feel like a treat and quite good when dunked into hot coffee. The outer part of the cookie has a nice crispness while the inner cookie is similar to a hearty, whole-grain muffin—specifically the top part of the muffin, which everyone knows is the best part.
Ingredients
1¼

cups

300 mL certified gluten-free rolled oats (not quick-cooking)

1

teaspoon

5 mL ground cinnamon

½

teaspoon

2 mL baking soda

½

teaspoon

2 mL fine sea salt

½

cup

125 mL almond flour

¼

cup

50 mL brown rice flour

½

cup

125 mL mashed ripe banana (about 1 large banana)

½

cup

125 mL smooth almond butter, stirred

3

tablespoons

45 mL pure maple syrup

2

tablespoons

30 mL ground flaxseed

3

tablespoons

45 mL liquid virgin coconut oil

1

teaspoon

5 mL pure vanilla extract

1

cup

250 mL add-ins of your choice (I like a mix of dried blueberries, pumpkin seeds, and chopped walnuts)
Recipe Notes
I omitted the coconut oil and used pecans instead of walnuts.Reprinted from The First Mess Cookbook by arrangement with Avery Books, a member of Penguin Group (USA) LLC, A Penguin Random House Company. Copyright © 2017, Laura Wright