Decision fatigue is real and can stop productivity in it's tracks! Research shows that when you are surrounded with too many choices, you can't make one!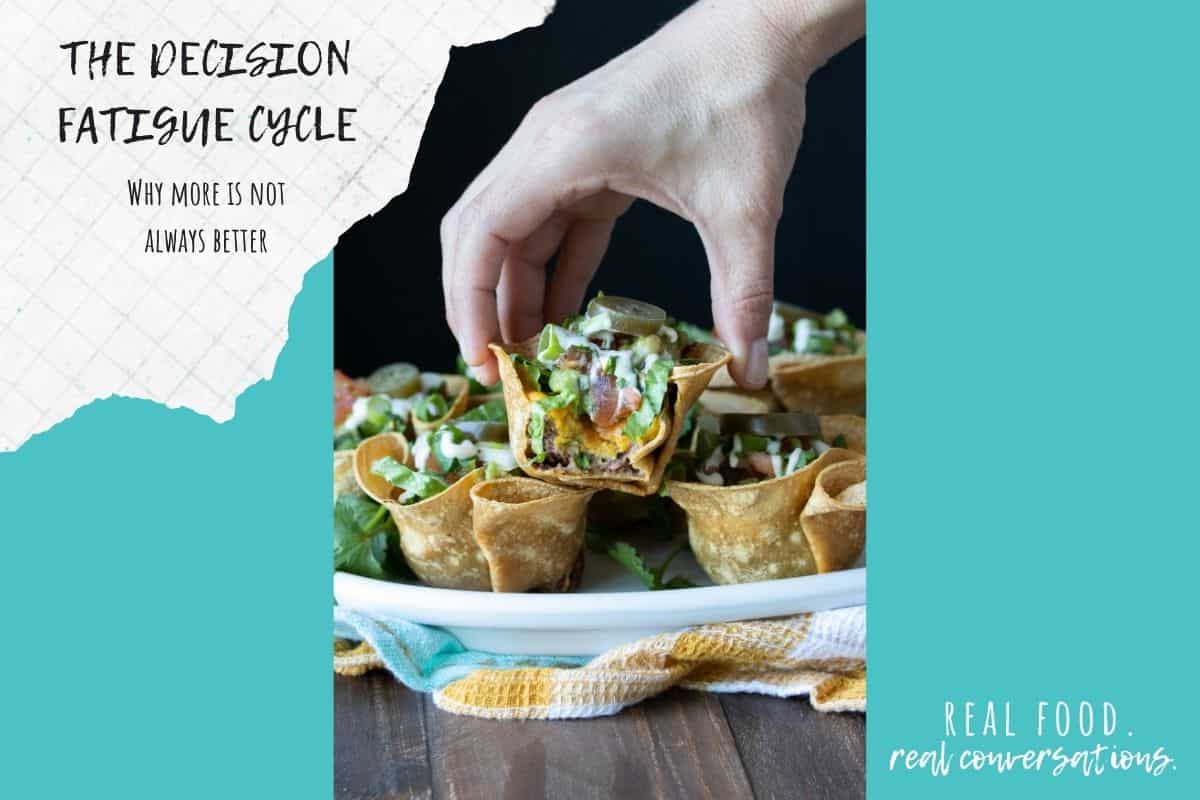 This was me, always has been. When I am faced with too many options I freeze up and can't make a choice!
Podcast: Play in new window | Download | Embed

Subscribe now! Apple Podcasts | Google Podcasts | iHeartRadio | Stitcher | TuneIn | Deezer | RSS | More
Too Many Options
They always tell you it's good to have options, which can be true. However, for many of us having too many can actually be counter productive.
This is a research based phenomenon and 100% real. As the decisions you have to make increases, the quality of the decisions actually decreases .
This is because we get overwhelmed by too many choices. Some of us can navigate it easier than others, but most people can't have too many decisions. It's human nature.
For example, I have the hardest time eating at The Cheesecake Factory. Their menu is like a novel! I end up ordering the same thing every time because looking through the menu makes my head spin.
Meal planning and decisions
So how does this relate to planning meals? Well, there a lot of meals to plan. Which means a lot of decisions. On top of that, in order to decide what to make for all of these meals you need to search.
Searching online for a meal you want to make when you get overwhelmed with decisions is like shoveling snow during a snowstorm.
Basically, we are doomed to fail before we even begin. Which is why so many people just can't sustain meal planning! Me included.
The Exhaustion Result
This is the issue with so many areas of life. Especially one you have kids. The pressure to make the right decision on top of it all is overwhelming! No wonder we are exhausted.
One main issue is our access to the online world. We see snippets of everyone's life and things look so easy. At least on the outside.
So when faced with our own decisions, we think there is something wrong with us when it does not come with the ease we see for others.
But the reality is that we don't see the behind the scenes part. All that we see online is the highlight reel of happy. Even when it is not intended that way.
Take me for example, I try to be as real as I can yet people still focus on the happy parts. While having access to a virtual world is great for many reasons, it creates a false sense that what we see is the whole truth.
How to Stop the Cycle
Is it possible to make choices that are naturally overwhelming easier? If we find the right support, and put in the effort it is!
One main thing to focus on is to stop comparing our real life with the snippets of someone else's life we see online. Just because you see what you think looks easy, doesn't mean it is.
Decision overwhelm is real and it affects most of us.
Another thing we can do is find people that we can lean on for support. This can be a friend, family member or a professional we learn from.
When it comes to professional/expert support, you want to search for someone that others recommend. Make sure you get testimonials from people you know or those you can contact to get feedback.
If it's meal system help you need, then you've come to the right place! My new course, Meal Systems 4 Success was developed to help those that have failed traditional meal planning create a meal system that works.
It helps reduce the decision fatigue that traditional meal planning gives. It teaches you how to create a meal system that is sustainable long term. And simplifies your weekly meals.
It took years to develop and was based on my own failures at meal planning after I realized I was not alone in feeling this way!
For a free preview on what you can learn, make sure you check out the masterclass below!