I love a meal bursting with flavor that's easy to make. These vegan stir fry noodles are filled with vegetables and a family favorite!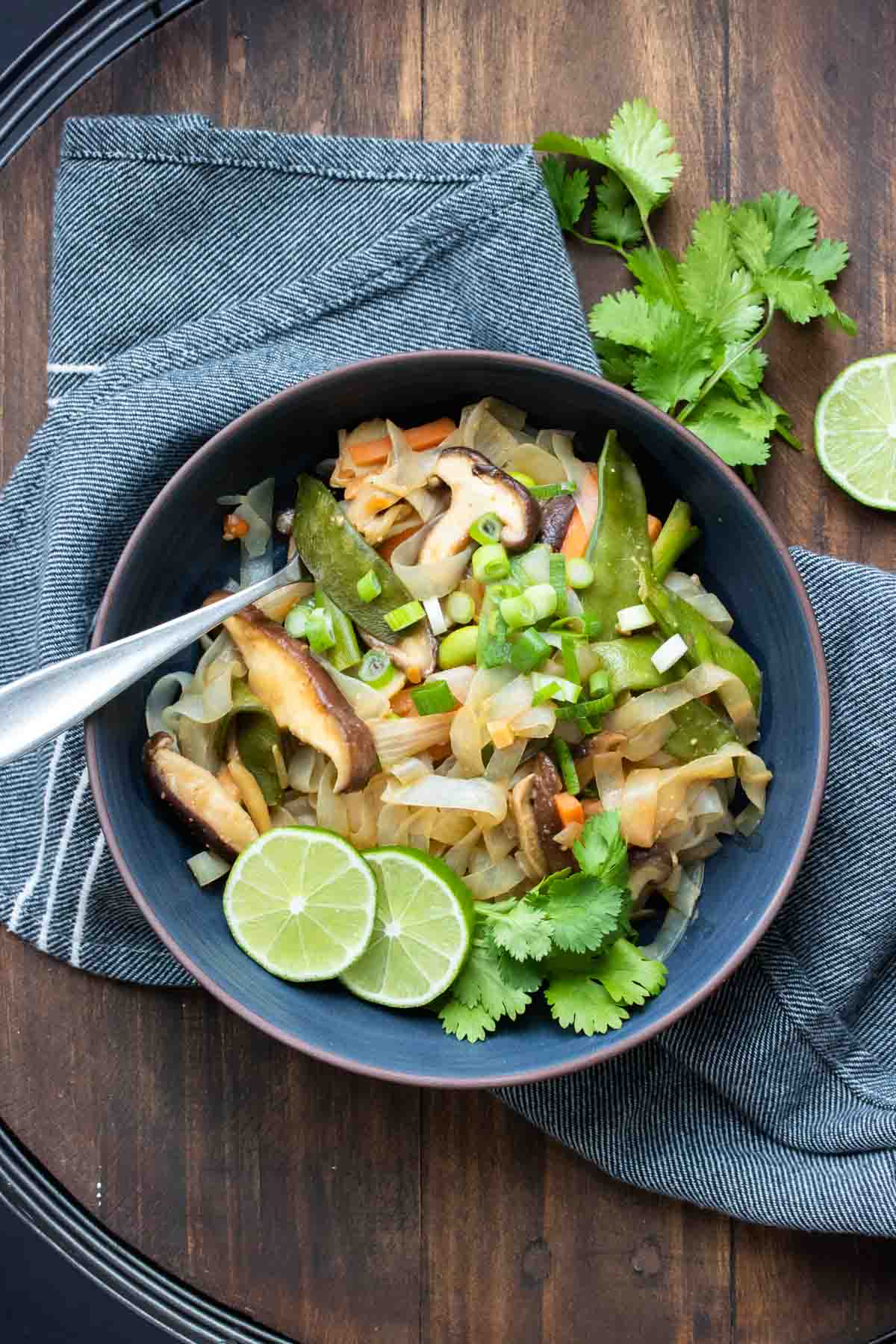 One thing I love to make are the dinners that clean out my fridge. This stir fry is perfect for that! The flavor of the sauce is amazing and goes with just about anything.
Stir Fry Basics
I love a good stir fry. While rice is easy, noodles really kick it up a notch! The texture they get when you take that one extra step and cook them a little in the pan is so good!
The main ingredients are:
Noodles
Veggies
Sauce
Noodles
When it comes to noodles for stir fry, there are so many kinds you can use. It really depends on what you feel like adding. Here are some of the main ones:
Brown rice noodles- these come in a variety of shapes. There is the pad thai variety, the skinny vermicelli like noodles (called maifun) and even traditional brown rice spaghetti.
Soba noodles- these are made from buckwheat and are thicker and heartier.
Ramen noodles- these come in a variety of based from rice to bean.
Udon noodles- these are nice and thick and very dense.
Chow mein and lo mein noodles- often used in Chinese noodle dishes so do well in stir fries.
Shiratake noodles- these are a starch based noodle that are very low in calories. They have a chewy springy texture.
Veggies
When it comes to the veggies you use for stir fries, it can be almost anything. The best thing about this dish is that you can easily clean out your fridge! Here are some of my favorites:
Onions
Peppers
Broccoli
Carrots
Snap peas
Edamame
Cauliflower
Mushrooms
Zucchini
Green beans
Stir fry sauce
The sauce for this stir fry is super flavorful. It's so easy to make as you simply dump everything into a pot and whisk over medium low heat until it thickens. It's rich and can be used for many other things as well!
Make sure to whisk as it cooks so that you get a smooth end result. Don't let it overcook because you will burn it.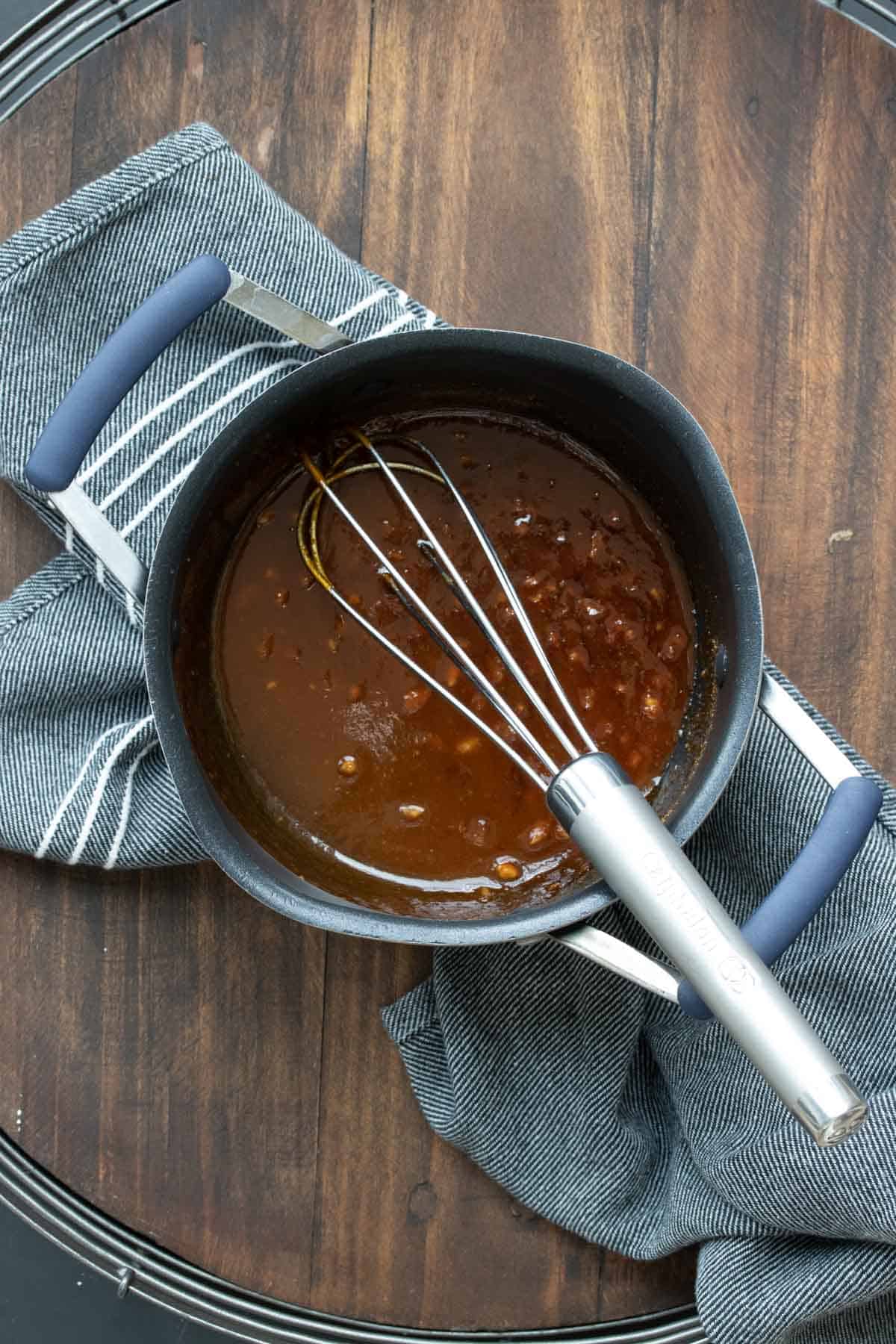 How to Make Stir Fry Noodles
This recipe is really easy to throw together. If prepped the night before, you'll have dinner on the table in no time!
Saute the veggies.
Add sauce.
Add noodles.
Serve!
Prepping
This recipe is really easy to prep ahead of time. All you need to do is slice your veggies so they are ready to go. Then you can also make the stir fry sauce.
Keep everything in the fridge until you are ready to cook. The sauce will thicken when in the fridge, but should thin out again as you cook it. If you want you can add a touch of broth to thin out.
Tips and Tricks
Here are a few things to remember as you cook:
Because veggies cook at different rates, cut the veggies that take longer smaller than those that cook quickly.
You can always adapt the spice level. Just add more hot sauce, or take out if you want no spice.
I use a regular frying pan for this, but you can use a wok if you prefer. You don't want to use a pot since it will keep the moisture in and your end result won't be as browned.
If you want to add some extra protein to the recipe, you can always add in some tofu (like this crispy teriyaki tofu!) or tempeh. Another way to add protein is to use a bean based noodle.
Common Questions
Are stir fry noodles healthy?
These stir fry noodles are filled with veggies! Which makes them full of nutrients. If you add in an extra does of protein, along with the healthy fat from the peanut butter in the sauce, it makes a complete meal.
What should I put in my stir fry?
The best thing about this recipe is that it's so adaptable. Add in anything you think sounds good!
Which noodles are best for stir fry?
All of the noodles I mentioned above are great. You want something hearty that won't fall apart quickly as you stir fry.
What Chinese noodles are vegan?
All you need to do is look at the ingredients. As long as there is no animal products (egg would be the big one to watch here), then they are vegan.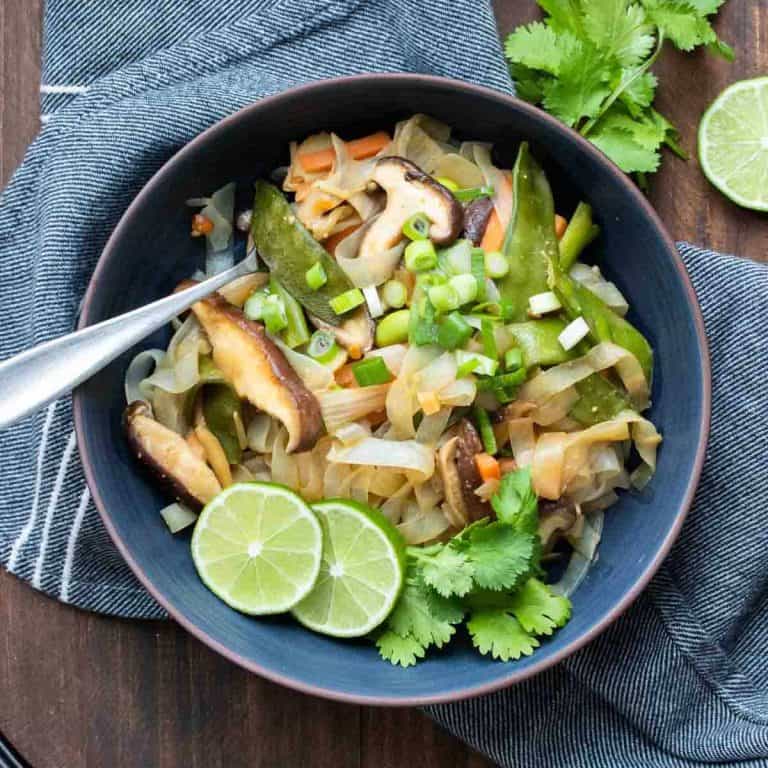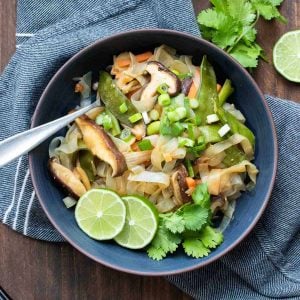 Vegan Stir Fry Noodles
These vegan stir fry noodles are filled with vegetables and a family favorite. Plus they are bursting with flavor and easy to make! #veganasianrecipes #easyveganrecipes
Ingredients
5 cups chopped veggies , like carrots, broccoli, mushrooms, snap peas, etc (see post for more options)
1 cup sliced green onions , sliced into 3 inch long pieces (about 2 onions)
drizzle sesame oil for sautéing veggies , or another favorite oil or veggie broth if not using oil
6 ounces uncooked brown rice or stir fry noodles , or about 14 ounces (400 grams) cooked
Sauce
2 tablespoons lime juice
4 tablespoons rice vinegar , or apple cider vinegar
6 tablespoons Tamari , or soy sauce for non gluten-free option
4 tablespoons smooth peanut butter , no salt added
4 tablespoons maple syrup
3 teaspoon garlic
2 teaspoon Sriracha hot sauce , or other chili pepper sauce
¼ cup veggie broth , low sodium if needed
1 teaspoon sesame oil , optional for taste
Instructions
Make the sauce by putting all ingredients in a small pot and cook over low heat while whisking until thickened, about 4-5 minutes. Once you see the sauce begin to thicken, remove from heat.

Sauté the veggies in oil or veggie broth until just softened, making sure not to overcook. I like mine more al dente but cook to your preference.

Meanwhile cook your noodles. Drain and set aside.

Once the veggies are cooked, add the sauce and mix until well coated. You can keep some of the sauce to drizzle on top. I like them saucy, but add more or less for your preference.

Turn off the heat, and mix in the noodles. Toss to combine. Then serve!
Notes
For a really fast meal, use frozen stir fry veggies and precooked noodles.
If you love sauce, double the sauce here and save to drizzle over the top.
Recipe by Veggies Don't Bite, visit our site for more great plant-based recipes.
Nutrition
Calories: 383kcalCarbohydrates: 63gProtein: 11gFat: 10gSaturated Fat: 2gPolyunsaturated Fat: 1gMonounsaturated Fat: 1gTrans Fat: 1gCholesterol: 1mgSodium: 841mgPotassium: 599mgFiber: 5gSugar: 16gVitamin A: 958IUVitamin C: 111mgCalcium: 112mgIron: 2mg
Nutrition and metric information should be considered an estimate.
Never miss a recipe!
Sign up here and get a FREE quick and easy meal guide!