These vegan lettuce wraps are full of flavor and a perfect appetizer, snack or part of a main meal. The lime dressing takes them to the next level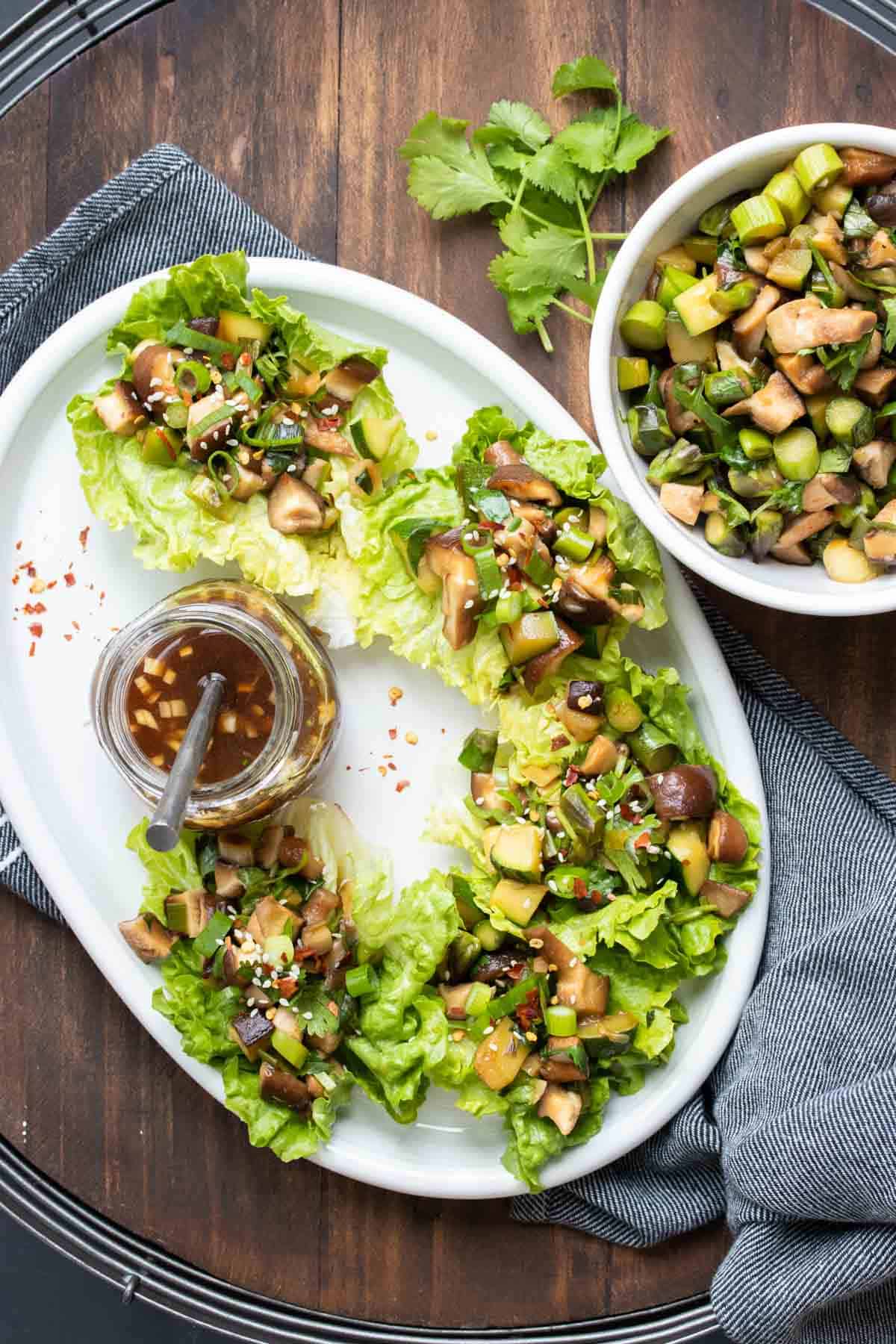 This is a cookbook review written by me on behalf of Tess Masters, for which I received a free copy of the book. All the opinions and text are all mine.
I love mushrooms. And I have always loved lettuce wrap appetizers whenever we go to our favorite Asian restaurant. So I'm pumped that now I can have them at home!
Lettuce Wrap Basics
I'm totally into all things that include wrapped food. Be it a taco, burrito, heck even a slice of pizza that wraps in all it's yummy toppings. So when it comes to a delicious mushrooms mix and some crisp fresh lettuce, sign my up.
Lettuce wraps are simply leaves of lettuce that hold some sort of filling. It's a popular appetizer in many restaurants, which is where I first discovered them.
Ingredients
The obvious main ingredient in a lettuce wrap is lettuce of course! But there are many different ways you can fill them. In this recipe we have shiitake mushrooms as the main star, combined with a few other add ins.
Asparagus
Zucchini
Green onions
Green chile
A delicious lime drench sauce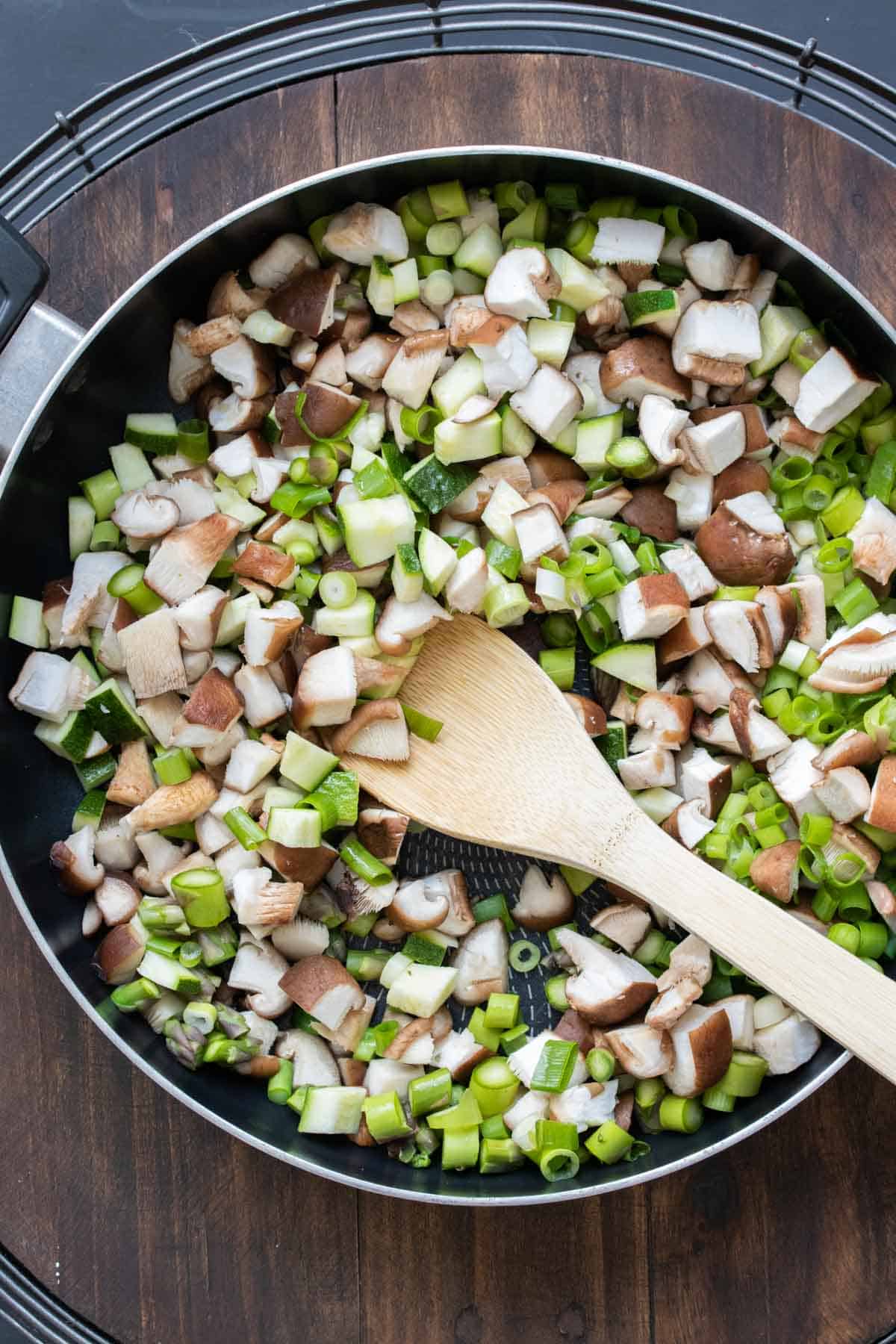 Lettuce to use
While you can really use any lettuce here you want, ideally you want a lettuce that has a wide cup like leaf. Butter, Bibb or romaine are the best choices because they are wide yet firm.
If you can't find those, you can use other types of lettuce, or even collards if you really want. You may just have to double up the leaf so it doesn't fall apart.
How to Make Lettuce Wraps
There really isn't much to making these. The work is simple in all the different parts of the recipe. You need the filling and the yummy sauce. But once you have those you simply fill the lettuce cup and eat!
Saute the filling ingredients in a pan.
Make the lime dressing.
Build your lettuce wraps.
Topping ideas
In her recipe, she suggests topping with red pepper flakes, pine nuts or ground sesame seeds. But if you wanted to make it your own, here are some other things I think would be great:
Tips and Tricks
Here are some tips to make sure your lettuce cups are easy to make and come out perfectly:
Make sure to allow the filling to cool a bit before serving so you don't wilt the lettuce too much.
To prep this ahead of time, sauté the filling ingredients and make the lime dressing. Then heat the filling back up in a pan before serving. You can also serve cold.
You can add in any other veggies you like, or sub out veggies you don't. Some kids don't like the strong flavor of asparagus, so that is an easy one to leave out.
Keep the lime dressing in a separate container and add to easy lettuce wrap so that you can save any leftover filling to heat again later.
Serving suggestions
These vegan lettuce wraps are an amazing appetizer or snack. But they can also be part of a full meal. I love serving them with these recipes:
Common Questions
How do you separate lettuce cups?
The best thing to remember here, is work slowly. The outer leaves will be easier to peel off but as you get to the center it gets a little harder. You can cut the stem and core out to make it easier. Another strategy is to run water over the lettuce, top side up to help separate the leaves.
Is bibb lettuce and butter lettuce the same?
They are both part of the same lettuce family and very similar in structure, color and shape.
How do you store leftovers?
The best thing to do is build your lettuce wraps as you eat them. That way each component stays separate. This is the best way to keep leftovers and maintain the freshness.
This recipe comes from the cookbook The Perfect Blend by Tess Masters. Her book is absolutely gorgeous, with stunning photography. Flipping through the pages, I want to reach out and grab a bite out of each meal I see.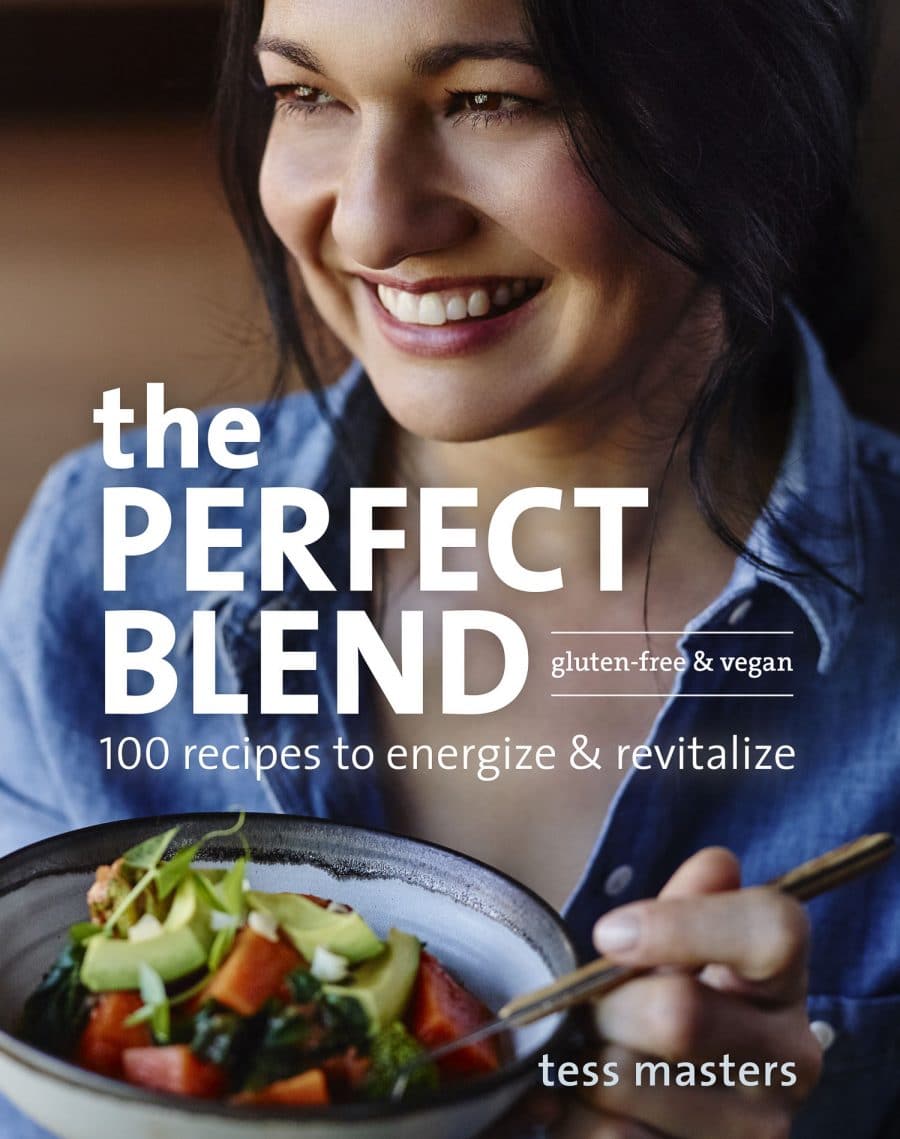 Tess really has a talent for flavor profile! I love how she combined ingredients you wouldn't always think of putting together. Here are a few of my other favorites:
Nosh On Em Nachos (Always say yes to nachos.)
Thai Slaw (Because Thai flavors, yum!)
Sustenance Stew (Almond butter? Amazing.)
Kale Caesar (Love a good Caesar.)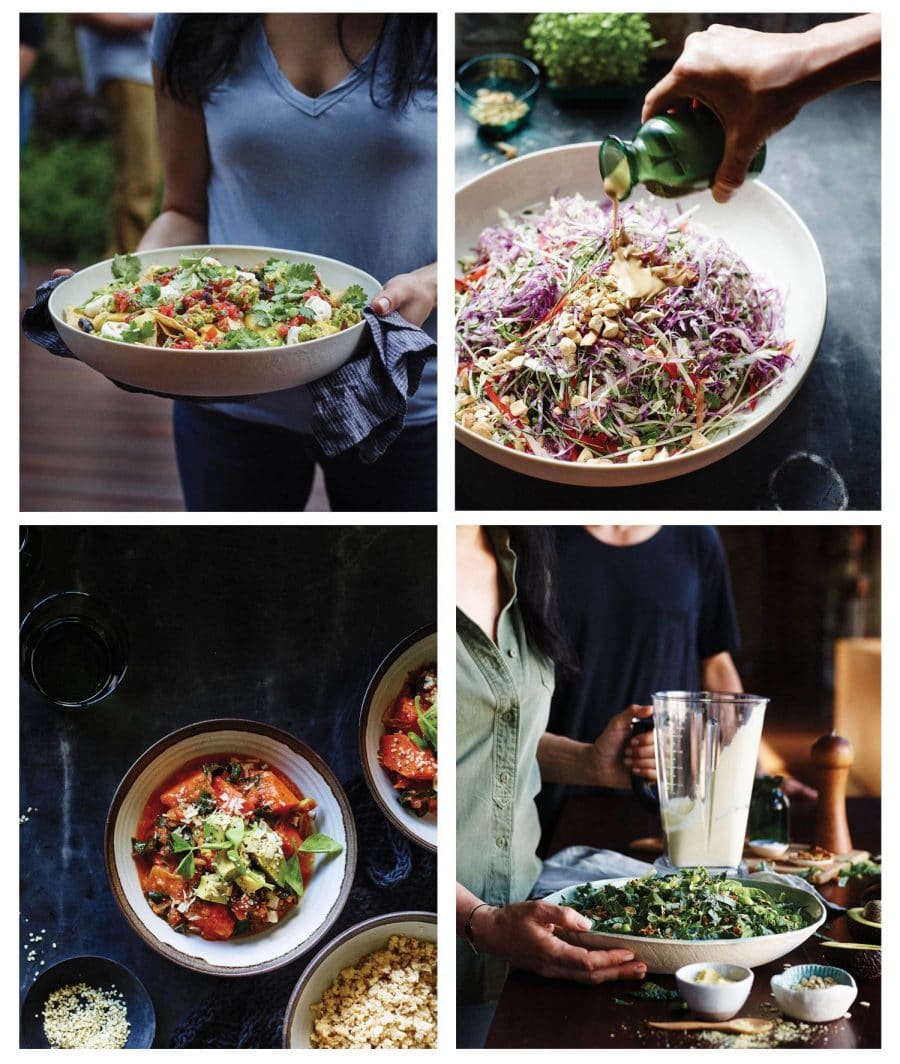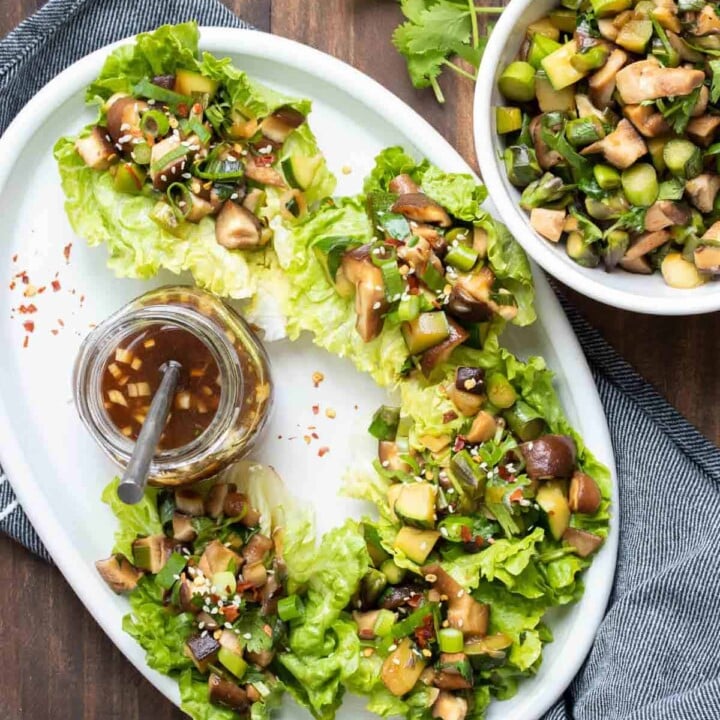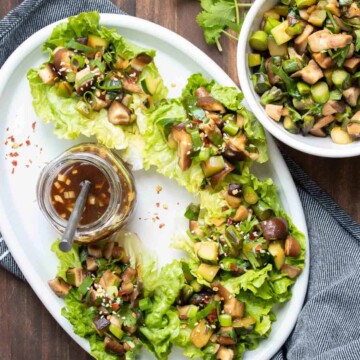 Vegan Mushroom Lettuce Wraps
These vegan lettuce wraps are full of flavor and a perfect appetizer, snack or part of a main meal. The lime dressing takes them to the next level!
Ingredients
Filling
2 tablespoons extra-virgin olive oil , use broth for oil free
1 tablespoon minced garlic , about 3 cloves
1 small green chile , ribbed, seeded, and finely chopped
1 tablespoon minced fresh ginger
1 cup finely chopped green onion , white and green parts
6 cups finely diced shiitake or cremini mushrooms
1 cup finely diced zucchini , 1-2 zucchini depending on size
1 cup finely diced asparagus , about 5 medium spears
¼ cup toasted sesame oil
3 tablespoons Tamari , soy sauce or Bragg Liquid Aminos
1-2 cups loosely packed finely chopped cilantro , depending on preference
16 leaves butter, bibb, or romaine lettuce , large outer leaves of about 4 heads
Optional boosters
Pinch of red pepper flakes
½ cup raw or dry-toasted pine nuts
2 tablespoons gomasio (ground sesame seeds and sea salt or just use sesame seeds)
Instructions
To make the lime drench, throw all of the ingredients, including the red pepper flake booster, into your blender and set aside.

To make the filling, in a large saucepan, heat the olive oil over medium heat (or use broth for oil free) and sauté the garlic, green chile, ginger, green onion, mushrooms, zucchini, and asparagus for 3 to 5 minutes, until the mixture has reduced to about half the volume.

Gradually add the sesame oil and liquid aminos as the mixture cools. Don't overcook or the vegetables will get mushy.

Stir in the cilantro and the pine nut booster.

To assemble, scoop ¼ cup (50g) of the filling into each lettuce leaf, drizzle with 1 teaspoon of the lime drench, and sprinkle with the gomasio booster.

Serve immediately, passing the remaining lime drench at the table. These are fabulous cold, too. Chill the filling and the dressing before assembling.
Notes
This makes 16 wraps, serving size is for 1 wrap.
Nutritional info uses all the optional add ins.
Reprinted with permission from The Perfect Blend, copyright 2016 Tess Masters. Published by Ten Speed Press, an imprint of Penguin Random House LLC.
Photography copyright 2016 by Anson Smart
Recipe by Veggies Don't Bite, visit our site for more great plant-based recipes.
Nutrition
Calories: 108kcalCarbohydrates: 5gProtein: 2gFat: 9gSaturated Fat: 1gSodium: 197mgPotassium: 285mgFiber: 1gSugar: 2gVitamin A: 2647IUVitamin C: 6mgCalcium: 25mgIron: 2mg
Nutrition and metric information should be considered an estimate.
Never miss a recipe!
Sign up here and get a FREE quick and easy meal guide!