Holy moly of all beautiful cookbooks. The Perfect Blend by Tess Masters is simply incredible. I am not only blown away  by how pretty this book is, but the Shiitake and Asparagus Lettuce Cups are TO DIE FOR. All my favorite flavors in a drool worthy dish that I can literally eat until I explode. That lime sauce, omg…if I had a straw I'd drink it like a smoothie. It's that good.
As I am nearing the end of writing my own book (I am so happy I could cry!), seeing this gorgeous book gets me all giddy inside. Tess did a fabulous job with this, I love the amazing flavors, the whole food ingredients and just how unique and colorful all the recipes are. It is a MUST buy! And lucky for you, Tess is not only uber talented, but she is incredibly genuine and nice and is offering a giveaway for you! See details to enter below the recipe!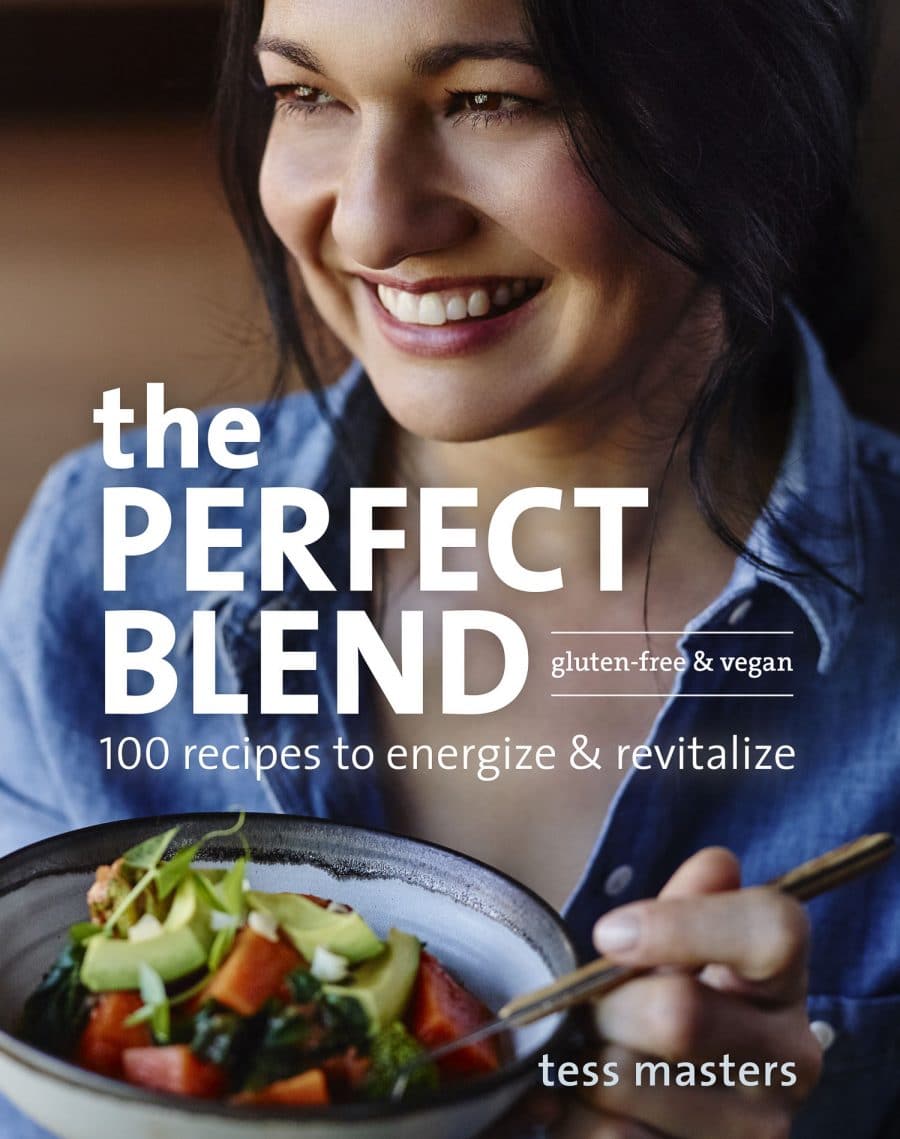 But really, these shiitake and asparagus lettuce cups are amazing. Super easy to make, I suggest doubling the recipe because they go down quick! I used both cremini and shiitake mushrooms, and loved the combo of different flavors and textures. Tess really has a talent for flavor profile! I have a list of all the other recipes I must try from this book, and once my own book is done it's game on.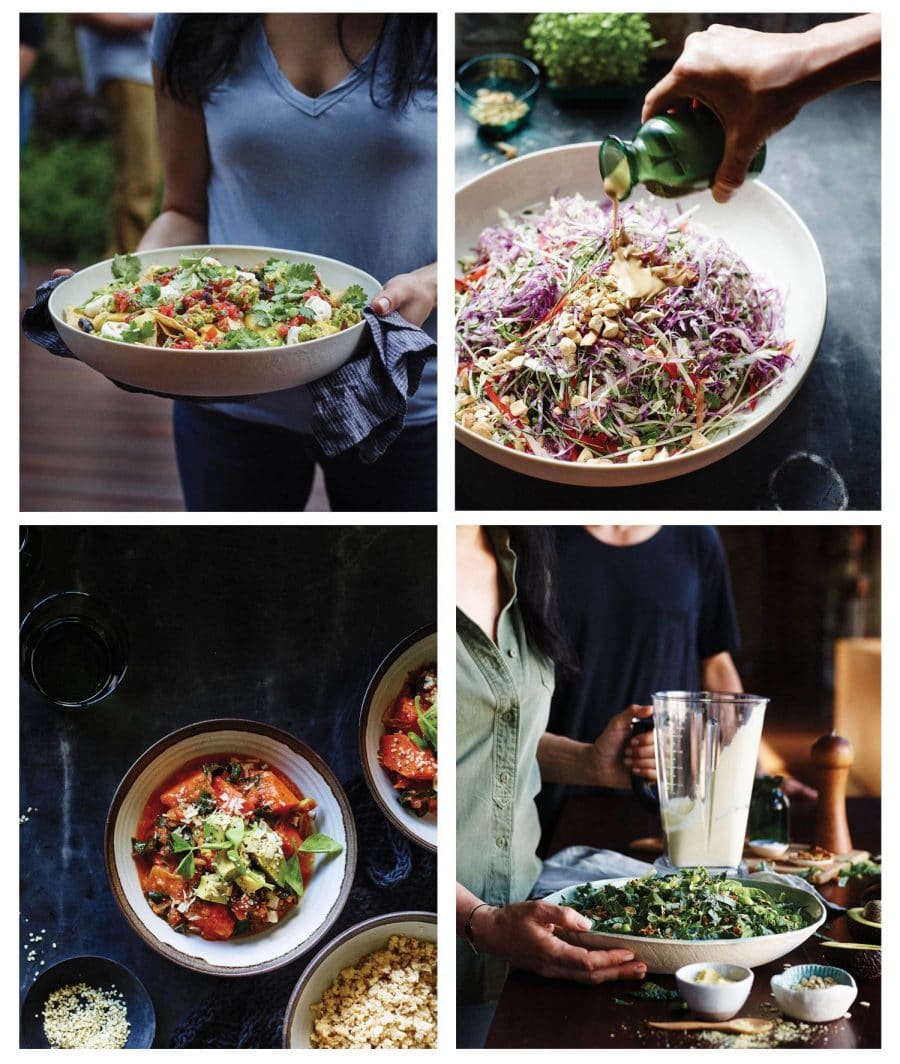 Other amazing recipes from The Perfect Blend:
Nosh On Em Nachos (Always say yes to nachos.)
Thai Slaw (Because thai flavors, yum!)
Sustenance Stew (Almond butter? Amazing.)
Kale Caesar (Love a good Caesar.)
Shiitake and Asparagus Lettuce Cups
"Mind-blowing! Gimme the recipe?" That's the chorus every time I serve these. Lime, sesame, ginger, chile, cilantro, and a kick-ass combo of veggies is killer. The finely chopped veggies give a ground-meat look and feel. So your cups don't fall apart, use butter lettuce or romaine. But, don't stress—your guests will be happy to lick the drench off their hands. To add crunch, top with pine nuts and gomasio; for more heat add the red pepper flakes. Any way you serve these stars, they'll be a sensation.
Servings
:
16
LETTUCE CUPS; SERVES 8 AS AN APPETIZER, 4 AS A MEAL; LIME DRENCH MAKES 2/3 CUP (160ML), FILLING MAKES 4 CUPS (800G)
Ingredients
lime drench
¼

cup

60ml fresh lime juice

3

tablespoons

brown rice vinegar

1

tablespoon

mirin

1

tablespoon

Bragg Liquid Aminos

gluten-free soy sauce, or tamari

1

teaspoon

minced garlic

about 1 clove

1

teaspoon

minced fresh ginger

1½

teaspoons

coconut sugar or other sweetener
filling
2

tablespoons

extra-virgin olive oil

use broth for oil free

1

tablespoon

minced garlic

about 3 cloves

1

small green chile

ribbed, seeded, and finely chopped

1

tablespoon

minced fresh ginger

1

cup

72g finely chopped green onion (white and green parts)

6

cups

312g finely diced shiitake or cremini mushrooms

1

cup

110g finely diced zucchini (1?2 medium zucchini)

1

cup

140g finely diced asparagus (about 5 medium spears)

¼

cup

60ml toasted sesame oil

3

tablespoons

Bragg Liquid Aminos

gluten-free soy sauce, or tamari

1

?2 cup

14g loosely packed finely chopped cilantro

16

large butter

Bibb, or romaine lettuce leaves (outer leaves of about 4 heads)
optional boosters
Pinch

of red pepper flakes

½

cup

70g raw or dry-toasted pine nuts

2

tablespoons

gomasio

ground sesame seeds and sea salt or sesame seeds
Instructions
To make the filling, in a large

saucepan

, heat the olive oil over medium heat (or use broth for oil free) and sauté the garlic, green chile, ginger, green onion, mushrooms, zucchini, and asparagus for 3 to 5 minutes, until the mixture has reduced to about half the volume; gradually add the sesame oil and liquid aminos as the mixture cools. Don't overcook or the vegetables will get mushy. Stir in the cilantro and the pine nut booster.

To assemble, scoop ¼ cup (50g) of the filling into each lettuce leaf, drizzle with 1 teaspoon of the lime drench, and sprinkle with the gomasio booster. Serve immediately, passing the remaining lime drench at the table. These are fabulous cold, too. Chill the filling and the dressing before assembling.
Recipe Notes
nutritional facts (per serving, based on 16 servings)
calories 65 kcal | fat 5.3 g | saturated fat 0.7 g | sodium 224.4 mg | carbs 3.9 g | fiber 1.1 g | sugars 1.5 g | protein 1.4 g | calcium 16.1 mg | iron 0.6 mg
Reprinted with permission from The Perfect Blend, copyright 2016 Tess Masters. Published by Ten Speed Press, an imprint of Penguin Random House LLC.
Photography copyright 2016 by Anson Smart