These incredible cinnamon sugar vegan donuts are easy to make and baked to perfection. Both the regular and gluten-free donuts have an unbelievable texture!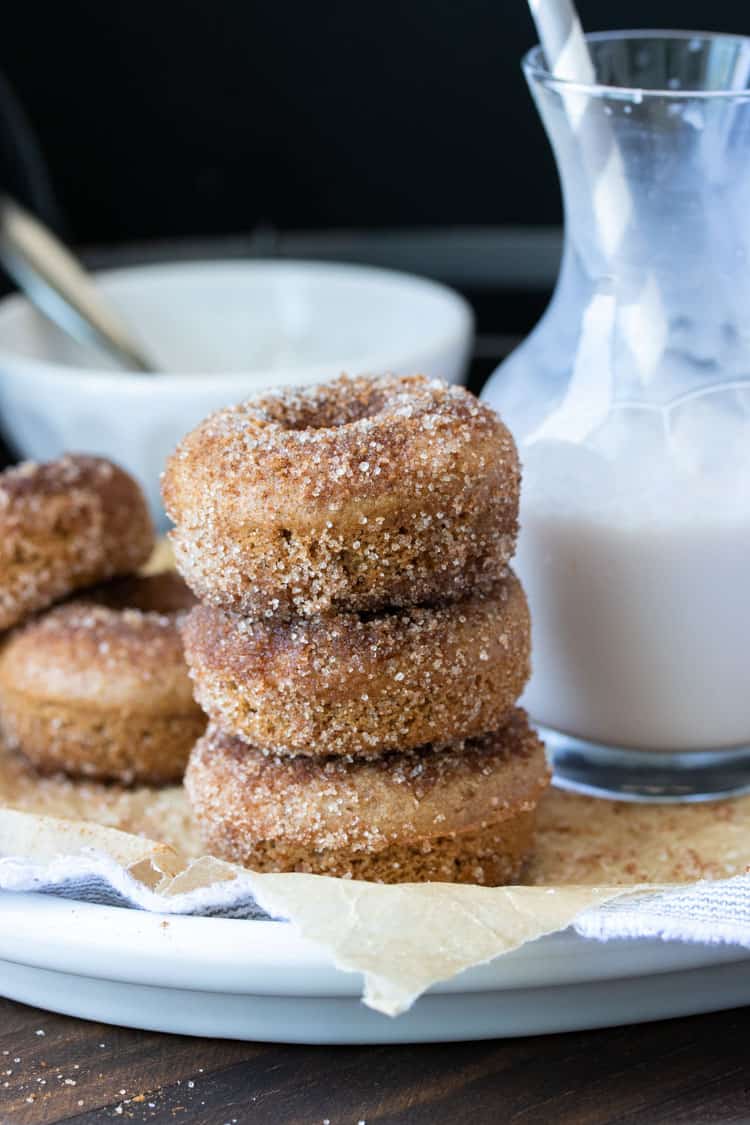 This is a cookbook review written by me on behalf of Melanie McDonald, for which I received a free copy of the book. All the opinions and text are my own.
These cinnamon donuts are insanely delicious. I love the combo of cinnamon and sugar in basically anything, but covering light fluffy homemade donuts has to be one of my favorite!
Vegan Cinnamon Sugar Donuts
I have not always been a donut lover. The one place I eat them is a little bakery over by me, but other than that they haven't been my choice treat. But when I started making them at home, the story changed!
I started my donut journey with these vegan pumpkin spice donuts. And I was hooked! So when I got the chance to review my friend Melanie's new cookbook, Vegan Comfort Cooking, I knew I wanted to share the cinnamon donut recipe.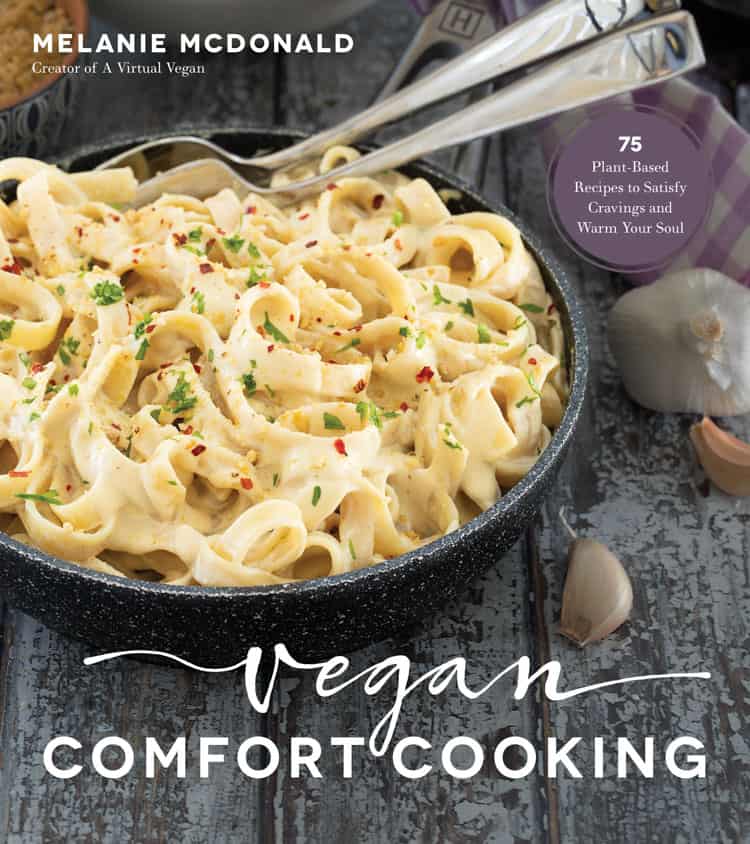 Melanie's book is filled with 75 vegan recipes focusing on comfort foods to warm your soul. The recipes range from brunch to main dishes to dessert and everything in between. I love the unique names of her sections, like "Sweet Talk" for the dessert section!
Some of the recipes that sound amazing to me are:
Black Forest Breakfast Crepes
Super Creamy Butternut Squash and Sage Risotto
Pizza Party Pull Apart Bread
Rockin' Rhubarb Crumble
And she even has a recipe for homemade butter!
But these cinnamon donuts were the ones that won me over. The only thing I did to alter the recipe, was make these donuts gluten free.
Since these are originally made with all purpose flour, and we don't usually bake with that, I figured it would be great to have a gluten free version for all of you that come here for that. So lucky you, you get two versions of one recipe!
Are vegan donuts healthier than regular donuts?
Generally speaking, I wouldn't call donuts a health food. Regular donuts are often fried in oil, making them something you shouldn't make a regular daily snack.
But since I thrive on sharing recipes for traditionally unhealthy options that are made healthier (healthier being the key), this vegan donut recipe is of course a much better choice when grabbing a donut.
I used a combination of gluten free oat flour and almond flour to get the perfect gluten free texture for these. And I subbed coconut sugar for the white sugar. I also tried making them with half cane sugar and half coconut sugar and that worked great as well.
This recipe also calls for vegan butter to help the coating stick, but gives the alternative to coat without it.
Other than that there is nothing in these that is considered unhealthy. And I can assure you that they are amazing!
What donuts are vegan?
Any donut that doesn't use animal products as an ingredient is considered vegan. The ingredients that you could find in a donut that would not make them vegan are eggs, butter and non vegan sugar.
How do you store vegan donuts?
Make sure you allow these to cool completely before storing. You can leave them on the counter to cool. Once cooled, store in an airtight container.
These are also freezer friendly. Wrap them in parchment, foil and then put in a freezer bag or a sealed airtight container. Once you are ready to eat them, defrost to room temperature and warm in the oven for about 5 minutes.
How long do vegan donuts last?
Even though these are best fresh, and most likely will be eaten in entirety, you could keep these in a sealed container for a few days. If you don't think you will eat them in this time frame, first make sure you do in fact have taste buds, and then freeze leftovers.
How to Make Easy Baked Vegan Donuts
These donuts are so easy to make! I cheated because I'm lazy like that and even skipped a step and they turned out amazing!
Mix the ingredients
Pour into a donut pan and bake
Coat in the cinnamon sugar
Devour! Look at that texture!
Pro tip: watch for little thieves!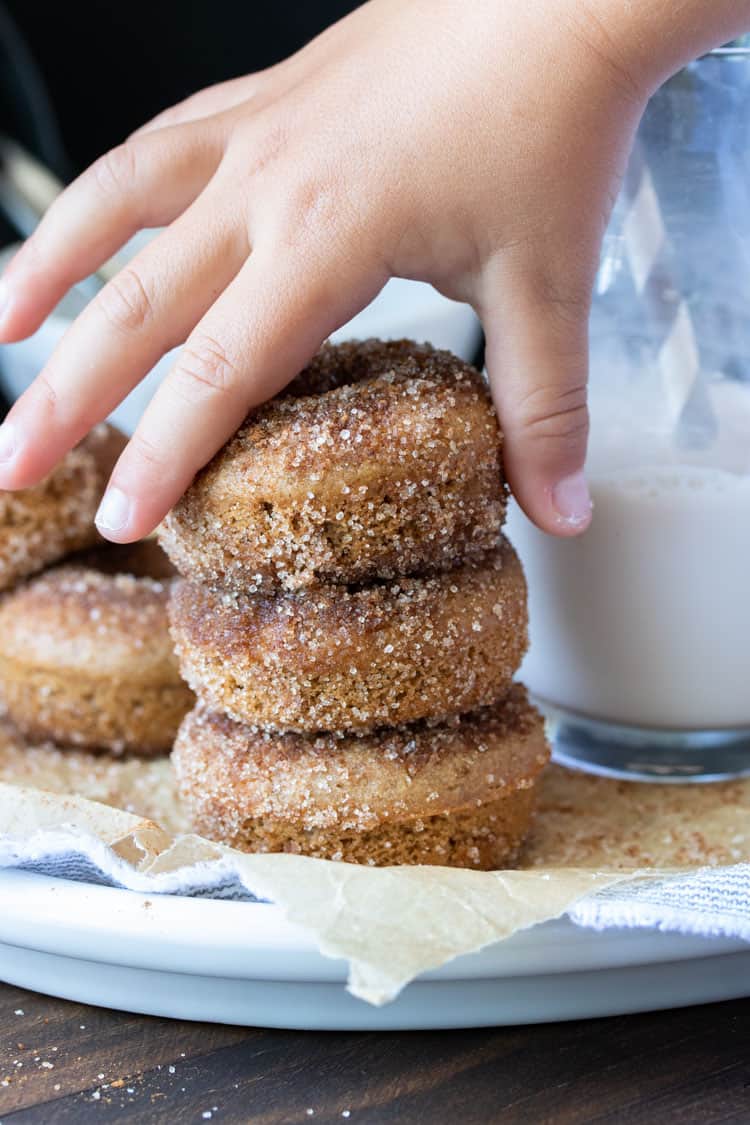 Tips for coating the donuts
There are a few ways you can coat these, using butter to get them to stick or keeping them a little healthier and skipping the butter. Here are a few tips I found when trying both:
make sure the bowls you use are bigger than the donuts and roomy enough to move them around
if skipping the butter dip the donuts into the coating while still hot but not burning your hand (I may have learned that the hard way)
melt the butter slowly so you don't burn it (I also may have learned that the hard way)
when you dip the donut into the butter, shake it a bit to get drips off
when you dip it into the sugar move it around so it gets into the hole too
coat the outer side of the donut first, roll it to get all the way around
coat each of the other sides after that, quickly dipping in butter then sugar
Other flavor and topping ideas
These donuts are easily changed up with different delicious fall spices and other toppings. I actually didn't have the nutmeg it calls for the first time I made them so I used other spices. Here are some ideas:
ground cloves
ginger
all spice
cardamom
I also think these would be great with vegan donut glaze like this easy cinnamon glaze!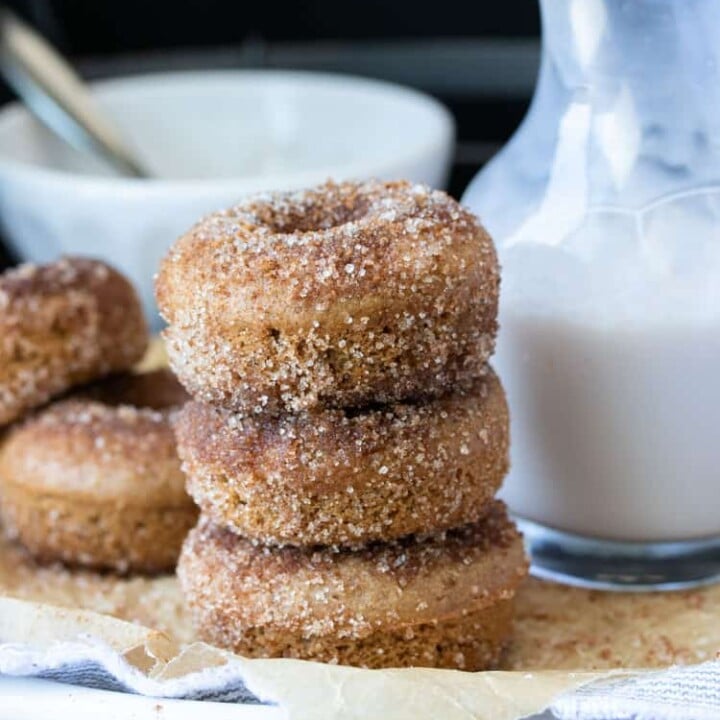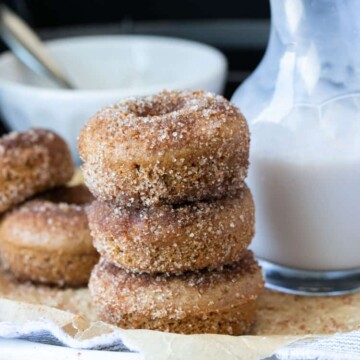 Drool-Worthy Cinnamon Donuts
There is nothing quite like fresh, warm donuts, and with this recipe, you get perfectly soft and fluffy donuts with no deep-frying. They are baked in the oven, but by the time they have been dipped in melted vegan butter, and rolled in their warming, comforting cinnamon-y sugary coating, they taste as if they had been fried. If you cook oil-free, I give instructions for how to make them without the butter; and if you don't own a donut pan, don't worry. You can bake them as muffins or as donut holes in a mini muffin pan instead.
Ingredients
Vegan butter or coconut oil , to keep the donuts from sticking to the pan
19 tablespoons oat flour (1 cup plus 3 tablespoons) , gluten-free (original recipe uses 1 cup plus 3 tablespoons all-purpose flour)
¼ cup finely ground almond flour
½ cup cane or granulated white sugar , I used coconut sugar
1¼ teaspoons baking powder
⅛ teaspoon tsp baking soda
¼ teaspoon sea salt
¼ teaspoon ground cinnamon
¼ teaspoon ground nutmeg , I also tried subbing ground cloves with a great result
2 teaspoons vanilla extract
1 tablespoon apple cider vinegar
11 tablespoons canned light coconut milk (½ cup plus 3 tablespoons)
coating
½ cup vegan butter , optional
½ cup cane or granulated white sugar , I used coconut sugar
2 tablespoons ground cinnamon
Instructions
Preheat the oven to 350°F (176°C) and grease 6 wells of a donut pan with a little vegan butter or coconut oil.

Sift the flour into a bowl. Add the sugar, baking powder, baking soda, salt, cinnamon and nutmeg; then whisk together to combine. (I skipped this and just combined everything in one bowl)

In another bowl, combine the vanilla, vinegar and coconut milk. Stir them together, and pour into the flour mixture. Gently stir until all of the flour is absorbed and you can no longer see any dry flour. Do not overmix or beat the batter. It will be a thick batter. (This doesn't matter as much for the gluten-free version).

Spoon carefully and evenly into the prepared donut pan and level/tidy up the batter with the back of a teaspoon.

Bake for 12 to 15 minutes, or until the donuts are coming away from the edge of the pan and a toothpick inserted into a donut comes out clean. Remove from the oven, allow to cool in the pan for a few minutes and then gently turn them out onto a cooling rack.

If you do not have a donut pan, divide the batter among 6 greased wells of a muffin pan and bake at 350°F (176°C) for 20 to 23 minutes, or until a toothpick inserted into the middle of a muffin comes out clean. For donut holes, divide the batter among the wells of a mini muffin pan and bake at 350°F (176°C) for 8 to 10 minutes.

Coat the donuts. While the donuts are still a little warm, gently melt the vegan butter in a microwave or in a pan over a very low heat on the stovetop. In a bowl big enough to fit the donuts into for dipping, combine the sugar and cinnamon. Using the butter ensures a good amount of sugar sticks to the donuts and helps give a "fried" flavor. However, if you want to keep the recipe oil-free, you can omit the butter, dipping the donuts into the cinnamon-sugar mixture while they are hot, and it will stick to them quite well.

Take each donut and dip it into the butter on each side and all around the edges then immediately place in the cinnamon-sugar mixture and coat on all sides. Be really generous with the sugar coating.
Notes
Reprinted with permission from Vegan Comfort Cooking by Melanie McDonald, Page Street Publishing Co. 2019. Photo credit: Melanie McDonald. 
They are best eaten freshly made but will keep for 2 to 3 days in a sealed container.
tip: The donuts (without the coating) can be frozen for up to 2 months. Thaw overnight in the refrigerator and warm for a few seconds in a microwave or for 5 minutes in a 375°F (190°C) oven; then coat as directed.
These can be made in a mini donut pan to yield 12 smaller donuts.
If you use coconut sugar only, they will not be as sweet as if using white sugar.
The nutrition info was calculated using my gluten-free alternative ingredients, coconut sugar in place of white sugar and without the butter.
Recipe by Veggies Don't Bite, visit our site for more great plant-based recipes.
Nutrition
Calories: 245kcalCarbohydrates: 44gProtein: 5gFat: 6gSaturated Fat: 2gSodium: 190mgPotassium: 184mgFiber: 4gSugar: 18gCalcium: 86mgIron: 1mg
Nutrition and metric information should be considered an estimate.
Never miss a recipe!
Sign up here and get a FREE quick and easy meal guide!